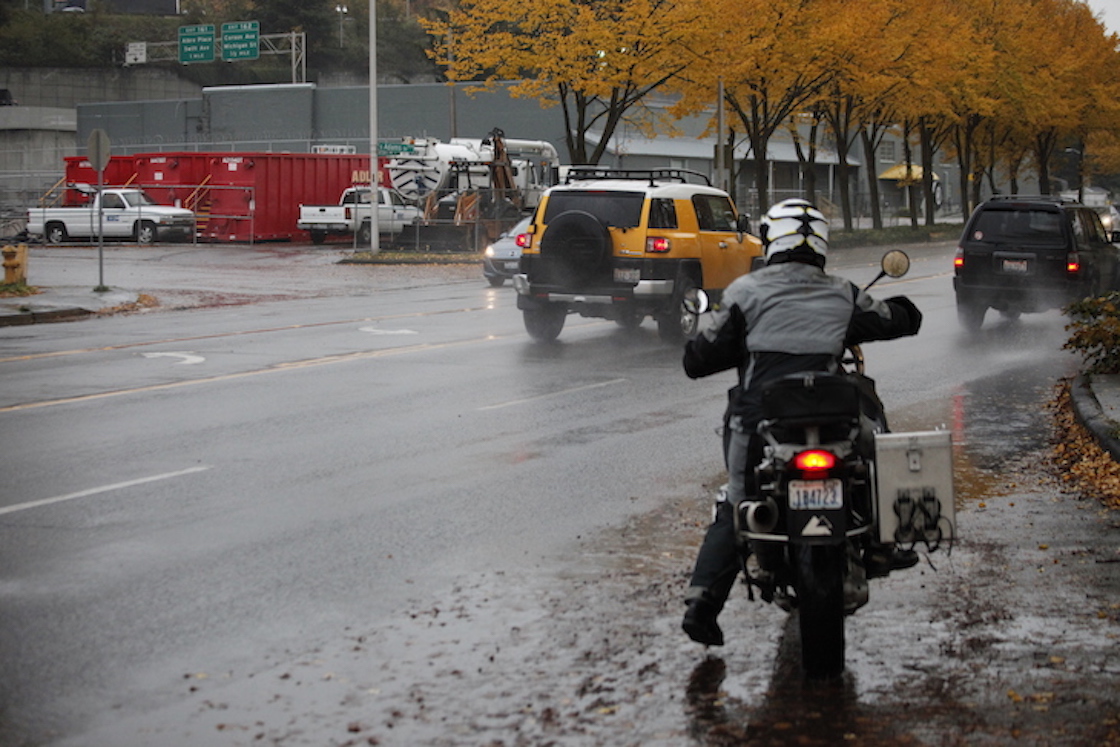 Unless you are living somewhere southern and sunny, summer has faded, and fall never lasts long. Here in Seattle that brings months of gloomy, wet days. Odds are, after the summer your riding gear is not in great shape, even the Gore-Tex stuff.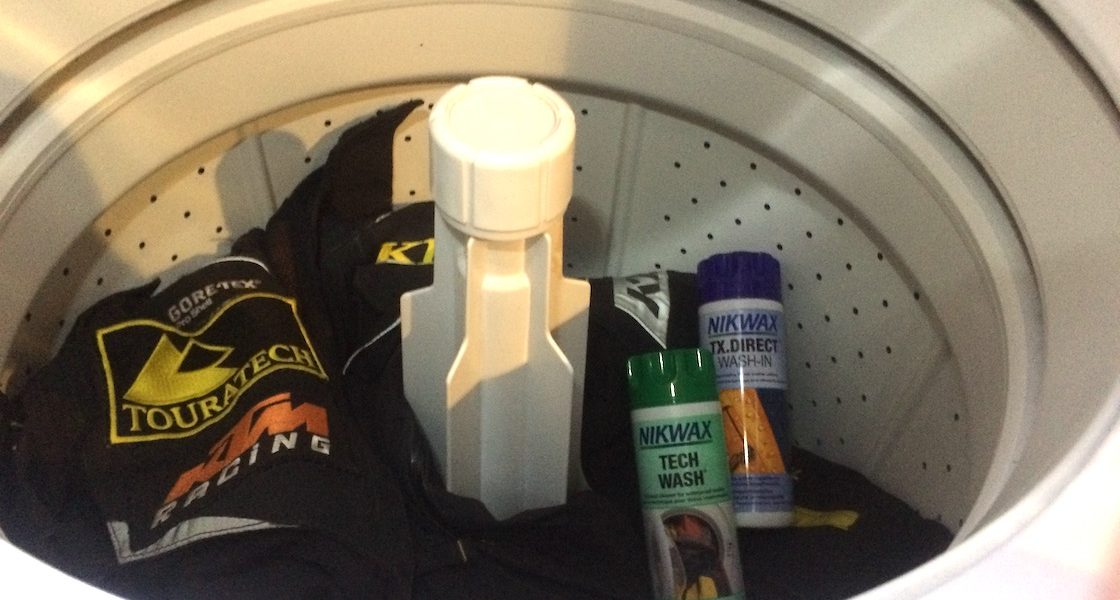 Jackets and Pants
While I end up having to wash my Klim Badlands Pro suit a few times over the summer after long sweaty days preparing for the Touratech Rallies, the full treatment is normally saved for fall.
With the new Touratech Companero World 2 suit, the Gore-Tex layer is on the outer shell. This keeps the waterproof membrane away from the sweat and much of the other hot weather abuse that a single layer suit is subjected to. All of the Gore-Tex (and equivalent waterproofing) riding gear I have seen is machine washable. This may come as a surprise, so don't feel bad if you haven't checked the tags.
You'll want to remove all of the armor, make sure the pockets are empty and I normally zip everything back up. When removing the armor it's normally easiest to pull the sleeve or pant leg inside-out to access the pockets that hold the armor.
Gore-Tex and other performance waterproofing membranes are not compatible with the standard, aggressive, detergents found at the grocery store. I recommend NikWax products for this task. I've been using them for over a decade, and really wouldn't use anything else.
NikWax Techwash is formulated to be safe for Gore-Tex and other high tech waterproof membranes. My understanding is, it washes clean the membrane that allows moisture to escape but not ingress. I honestly don't know the science behind it, but it works. If your suit is still covered with mud it's a good idea to throw it in the shower and at least get the big chunks of trail off before going into the washing machine. Follow the directions on the label and let the machine do what it does.
Once the suit is clean, it's time to re-treat for waterproofness. Nikwax TX Direct Wash-In is the tool for this. It will be added to the washing machine (following the label) and another cycle will be run. From there, it's a trip to the drier on low. Put the armor back in and you're good to go.
A word of caution: the pants will be a bit slippery with a fresh treatment, so watch you throttle inputs the next time out.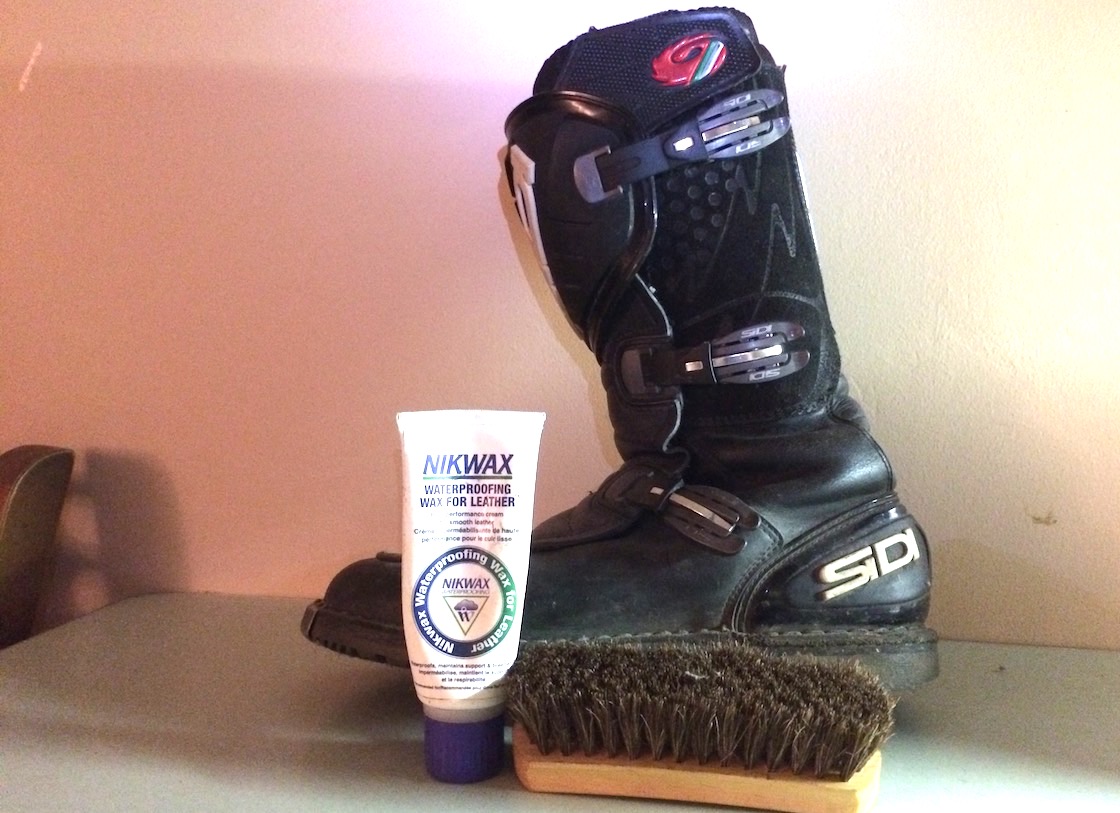 Boots
Just like your jacket or hiking boots, your riding boots need some regular maintenance. You'll want to start with clean and dry boots. While I currently have three pairs of riding boots (Sidi Crossfire 2 SRS, Sidi Vertigo Corse, and Sidi Discovery Rain) only my Sidi Discovery Rains are meant to be waterproof and are the only pair that gets treated for the rain.
For rain-treating I use NikWax Waterproofing Cream For Smooth Leather. I first started using this product fifteen years ago when I bought a traditional pair of Italian backpacking boots. Since then, I have used it on leather jackets, Red Wing workboots, backpacking boots and riding boots. Unlike the more common boot treatments like mink oil, this cream will not soften the leather. Soft boots might sound nice but if you are relying on the leather to provide ankle support you want sturdy, not soft. Mink oil can also cause the leather and thread to break down over time.
A wax based product like NikWax will not have the same effect. The application is the same as with mink oil: rub it in with your fingers, let it sit for a few minutes, then wipe it off. I like to use a boot brush after wiping the excess off to give the boots that factory-fresh shine. It's good to make sure you work the NikWax into the seams and welt to keep the water out.
If I find my feet are damp at some point during the wet season I'll re-treat them. This is based on usage rather than elapsed time.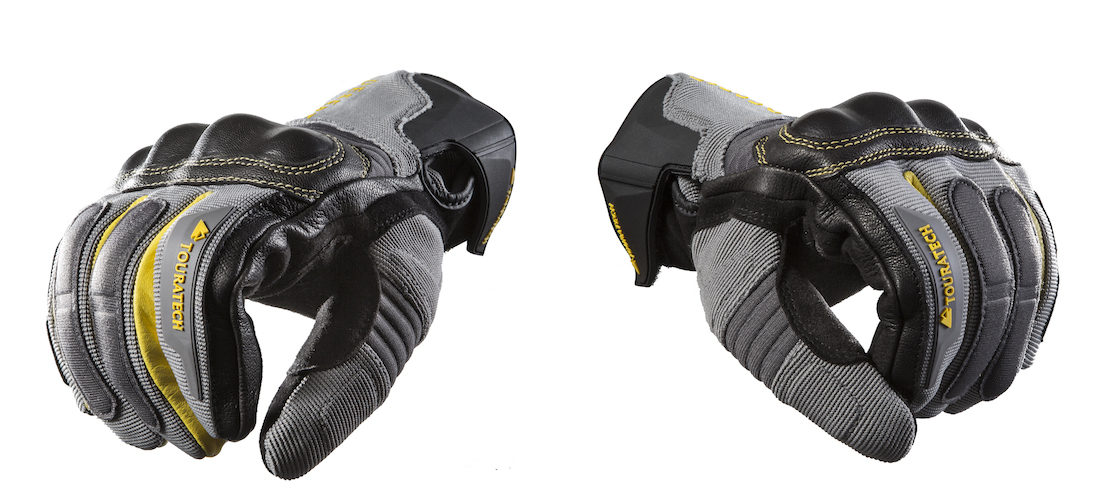 Gloves
I don't do much on the glove front. After years with heated grips and hand-guards I just use my Held Steve gloves all winter and if my hands get wet I deal with it. They're a traditional, all leather construction, gauntlet affair. I rub them down with some NikWax when I treat my boots and call it a day. If you're wearing a textile glove you can throw them in the wash with your jacket.
For leather gloves, NikWax for smooth leather works well. Hybrid leather-textile gloves can be treated with NikWax Glove Proof Rub On treatment or Motorex Protex spray on.
Gore-Tex gloves of course would be best option to stay dry. I haven't personally used them, but many of the current offerings have me reconsidering that. Touratech is introducing a full line of gloves in 2017, so you know those will be awesome!
My hands always seem to get damp, either through leaking or sweating. As long as I am not cold and miserable, I just really don't care much.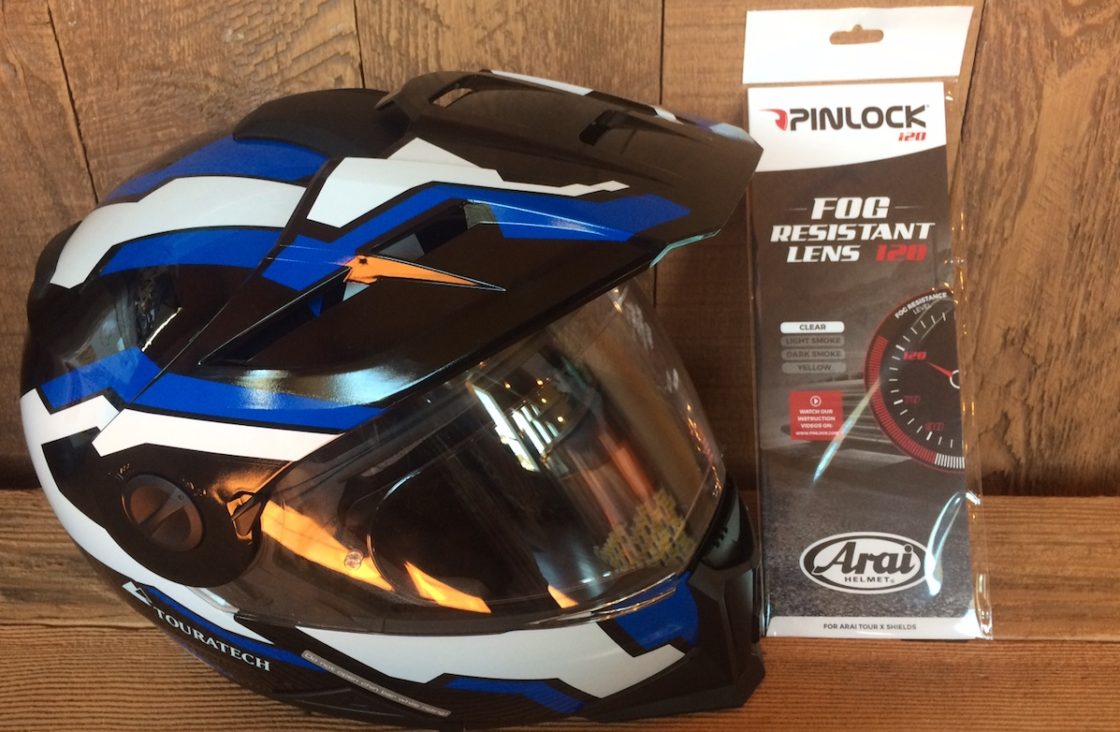 Helmet
Most high-quality helmets will already have a good visor-seal but there is still fog to deal with. If an anti-fog visor insert is an option, use it. The Touratech Aventuro Carbon and Touratech Aventuro Mod helmets both ship with an anti-fog insert. Arai, Shoei, and many other brands also offer this technology after the sale. An anti-fog insert transforms your visor into a dual-pane lens. It's the same technology used in ski goggles and snowmobile helmet visors.
With a small air-gap between the two panes the temperature is equalized, preventing fogging. The science works, I've never had a fogging problem in my years of using one. I've tried many of the spray-on treatments for single-pane visors and none work very well (if at all).
Breath deflectors are another option. The bonus: you get to feel like a fighter pilot. The downside: they can take a bit of fiddling to get to work right and they don't work with all dual-sport style helmets.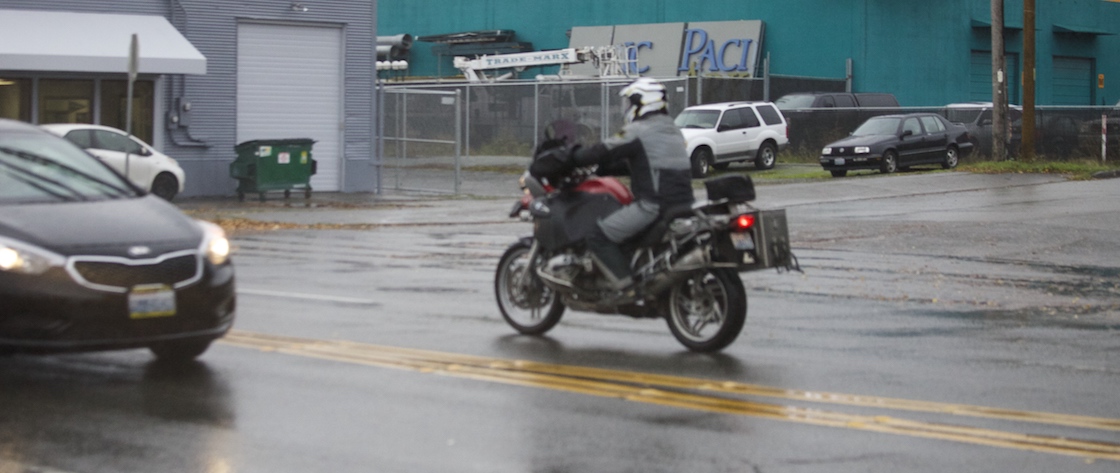 Final Thoughts
In closing, spend a little time getting your gear ready for the wet times and you will enjoy riding in the rain a lot more. The cleaner and treatments I've mentioned are not the only ones on the market, but they are ones I've used for years with good results.
Make sure you fully close any zipper vents. Some manufacturers will have a small "garage" for the zipper pull to go into. Lay out the jacket and ensure all of the zipper pulls are parked fully. Failing to do this is the only time I've had my Klim Badlands Pro leak.
If you're going to ride in continually wet conditions (like we do) and your gear is not cutting it, look at upgrading. The PVC-type waterproof over-suits were great before breathable water-proof material like Gore-Tex were introduced but these days you will suffer in a clammy sweatbox. I still carry one if I'm wearing leather in the summer and there's a slight chance of rain. I don't rely on it for normal rain use. The same goes for a waterproof inner-liner in the jacket and pants. The suit will never dry and you'll feel like you're in a swamp-cooler.
I've yet to find anything that works as well as Gore-tex on the outer-shell for staying dry and warm. I noticed when switching from a suit with a waterproof liner to the Klim Jacket that I layered less and that's a huge plus.
A Touratech Companero World 2 riding suit is engineered for riding in all conditions: cold and wet, hot and dry and everything in-between. It's the best of the best and probably not for a beginning rider unless he or she is going to be doing a lot of traveling or has the budget to sport the best suit on the market. An entry level Klim Gore-Tex suit can be procured for a bit less.
Stay safe out there in the bad weather. Good luck, and godspeed.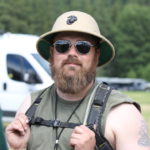 About the author: Eric is an incurable motorcycle nut. He's owned and wrenched on everything from vintage scooters and vintage motocross bikes to modern machines, and now spends much of his time riding and talking about adventure motorcycles. If you have called the Touratech store in Seattle or called the offices, chances are you've talked to Eric. Eric came in second place in the adventure class at the Stumpjumper Desert 100 Race in 2014, and recently finished the 2015 race in eighth place in the same class. He is a key part of the Touratech race team, and when he's not racing a local hare-scramble or vintage motocross race, or working on motorcycles in his garage, he can be found roaming the Cascade mountains on his KTM 950 Adventure looking for new routes for the annual Touratech Rally.
To read more of Archambault's Angle CLICK HERE.