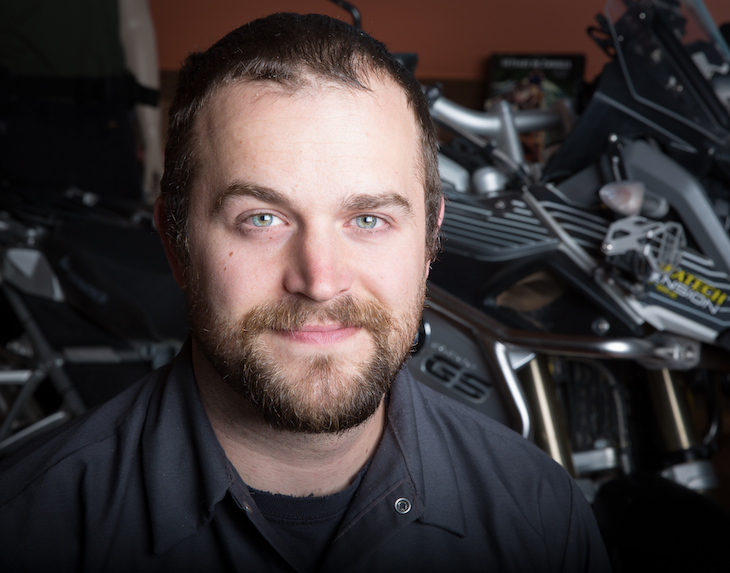 Iain Glynn is Touratech's Chief Riding Officer and part of The Touratech customer service team. He also appears in many of our product and installation videos… Iain is an Adventure Expert. Need advice on parts, gear, installation or anything having to do with your bike? Ask an Adventure Expert.
Bikes owned: Honda NX250, Suzuki DRZ400S, Honda GL1100, Triumph Tiger 955i, Kawasaki KLX400R, Yamaha TTR250, Beta Rev3 270, BMW R1200GS, Husqvarna WR250
Years riding: 12ish
Bikes in your garage: R12GS, DLX400RR, Husky WR250, Beta Rev3
Countries ridden: Canada, USA, Mexico, South Africa, Swaziland,
Favorite ride: Can't choose – they are all good in different ways
Favorite bike: Depends on the ride but if I could only have 1, DRZ400.
Years at Touratech: 8
Tent nights last year: 15 not counting camper nights
Favorite Touratech item: MF-1: it solves a problem that EVERYONE has
Favorite Event: Touratech Rally – duh
Must Have: Time to ride
States ridden: 43 – easier to name states NOT ridden VT, RI, WI, OK, KS, MO, AK, HI
Years in industry: 8
First bike: Honda NX250
Biggest day (most miles): 780mi – 1982 Honda GL1100. The last 150mi were nursing a blown head gasket
Longest ride: 40 days – ~18k miles around the USA.