Now that 2016 has started, it seems like a good time to take a moment and look back on the past year. I realized that I rode in three of the four timezones that make up the lower 48 states last year. It was a mix of terrain. There was the normal commuting and such in western Washington, Touratech Rally West scouting up in the Cascades and ride leading, racing and fun-riding in eastern Washington.
A redeye flight to Pennsylvania for the Touratech Rally East found me riding in the east-coast woods. A road trip to Colorado and California filled out the rest of the mix. I found myself camped out in my Hilliberg Staika tent 19 nights last year. Most of those trips were related to the Touratech Rally West, but there were a few nights at the Desert 100, and one night where I ran to the coast on my KTM 950 Adventure for a surfing trip.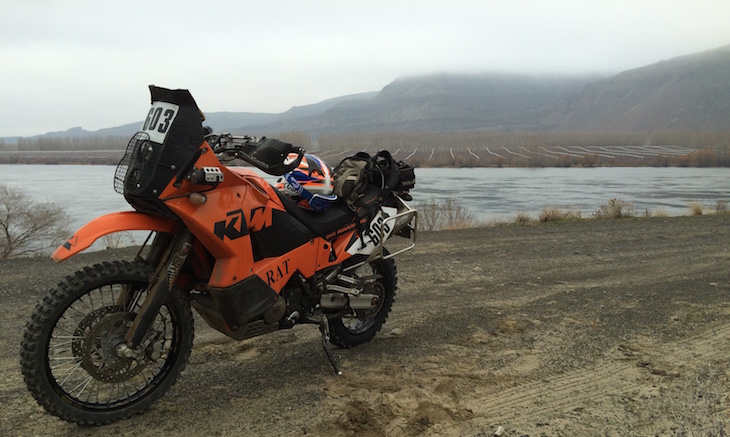 2015 started with a trip to Mattawa to ride the KTM 950 Adventure. Located just east of the Columbia River, this high desert riding area is a place I never ride enough, but always enjoy. This time it ended with me burning up a clutch and making a fire by the great river until my comrades were done riding and picked me up in the van. They arrived with beer and coffee, and I was able to warm up on my ride home. Upon arriving, I started the expensive process of cleaning up the mess of a burned down clutch, and replacing the complete clutch assembly.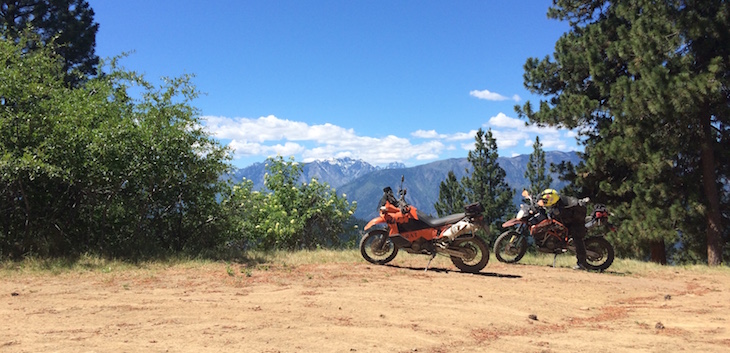 After the Desert 100 the Touratech Rally West loomed. This is my favorite time of the year, it is the better part of two months of riding and camping to prepare for, and execute the Touratech Rally West. More than a month's worth of weekends camping with my friends to scout the routes that will become the rally rides. Then finally the rally itself, a weekend where more than 500 motorcyclists invade Plain, WA for four days of motorcycle shenanigans.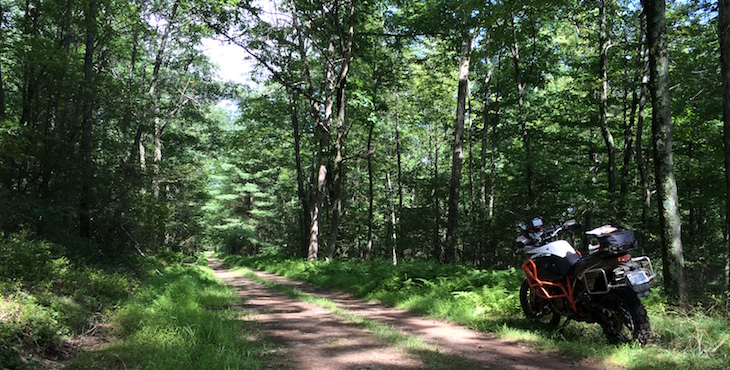 This year Touratech Rally East was introduced. I caught a red-eye flight to Pennsylvania on a Saturday night to work with Pine Barrens Adventure Camp to put the finishing touches on the routes for the rally. A few days riding Touratech-USA's 2014 KTM 1190 Adventure R, and countless hours editing GPS data brought it all together. The event was a huge success! For me it was mostly a whirlwind of sending out rides, teaching classes, and failing to defeat Baja 1000 Champion Quinn Cody in the slow race for the second year in a row.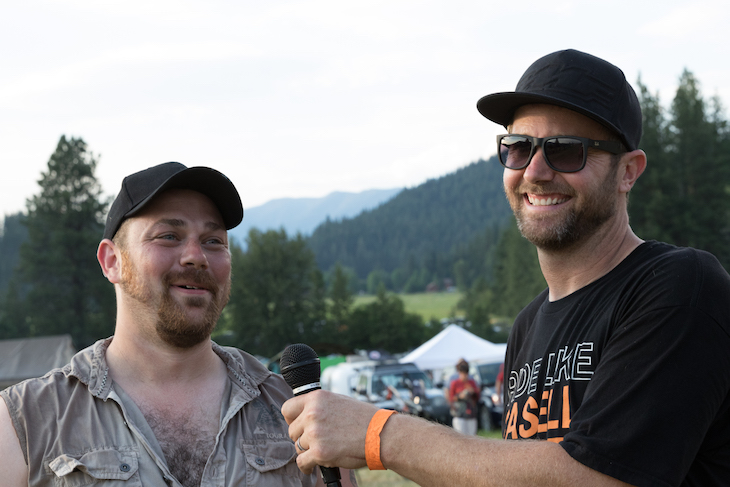 I finally filled the empty spot in my garage with a proper dirt bike! I acquired Paul Guillien's (Touratech-USA CEO) 2009 Husqvarna TE450. A quick ride up in the Cascade Mountains with Iain Glynn (Chief Riding Officer, Touratech-USA) and Alex Martins (the suspension tuning wizard behind Konflict Motorsports) confirmed that I'd made the right purchase. I'm still getting a hard time about my change in stance about four-strokes vs. two-strokes, fuel injection, and electric starters on dirtbikes.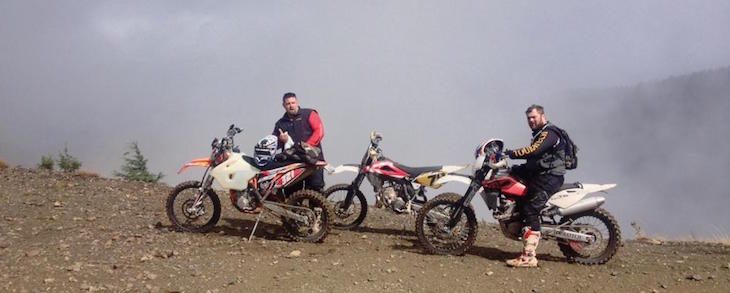 In September, shortly before my birthday, I was on a road trip to the KTM Adventure Rider Rally in Crested Butte, CO. As always, KTM puts on an awesome event. The riding in Colorado was amazing, even with my carbureted KTM 950 Adventure drowning in fuel 10,000 feet above sea level.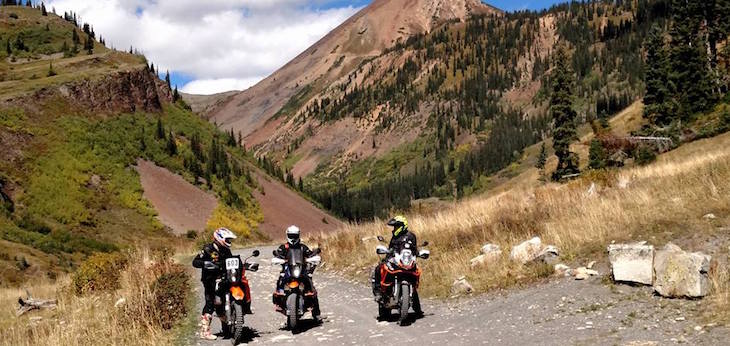 From there I headed to Yosemite for a Horizons Unlimited event. A day spent riding in Moab didn't happen on route as I had hoped. The stop on the hallowed (though flooded) ground of the Bonneville Salt Flats was special, a bucket list event that will happen again. I also pulled off at a random ORV park in Nevada and logged a few miles on my KTM 950 Adventure. I can honestly say I felt like a pro-rider when I was in a corporately logoed Sprinter van selecting the big-bore KTM I wanted to ride in the empty ORV parking lot. The nights in Mariposa, just outside of Yosemite, were fun with Matt Willson also from Touratech. I blitzed back from NorCal to Seattle in one shot, after two weeks on the road I wanted to sleep in my own bed again.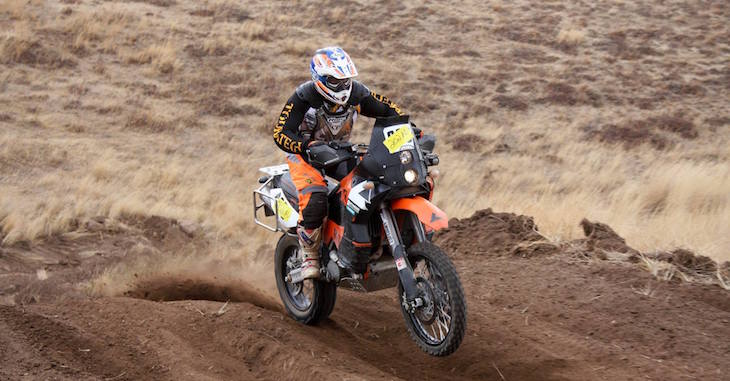 I did get back out to Mattawa on my new to me Husky TE450 the day after Thanksgiving. I had a lot of fun with a couple of buddies. I also realized I need to re-learn how to ride small dirt bikes again after years of flogging a KTM 950 like it was a dirt bike. You might think swapping a 950 for a 450 is easy, but the weight difference also plays out in the handling, it takes a while to change gears I can assure you…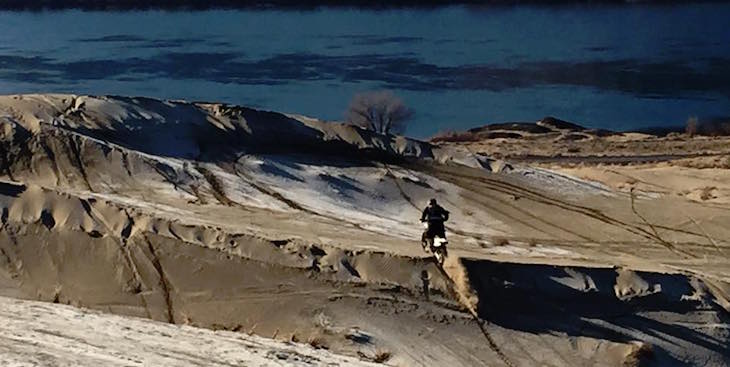 With the start of 2016 already behind us I'm looking forward to another good year. The calendar is starting to fill up once again, with events all over the country. Good luck out there, have fun, and godspeed!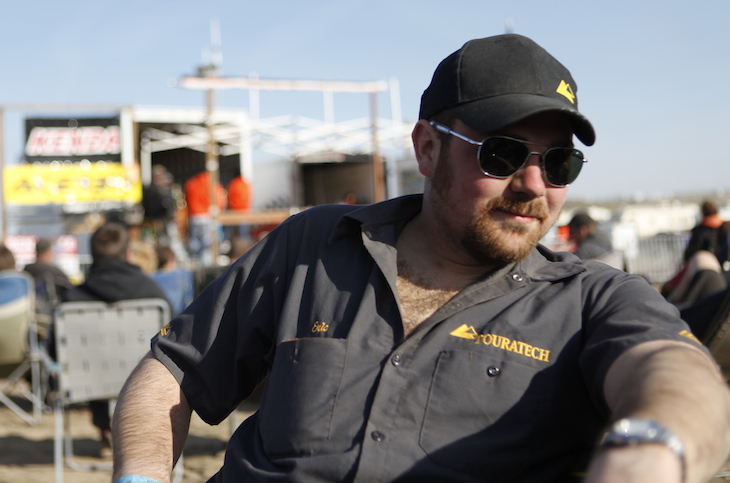 About the author: Eric is an incurable motorcycle nut. He's owned and wrenched on everything from vintage scooters and vintage motocross bikes to modern machines, and now spends much of his time riding and talking about adventure motorcycles. If you have called the Touratech store in Seattle or called the offices, chances are you've talked to Eric. Eric came in second place in the adventure class at the Stumpjumper Desert 100 Race in 2014, and recently finished the 2015 race in eighth place in the same class. He is a key part of the Touratech race team, and when he's not racing a local hare-scramble or vintage motocross race, or working on motorcycles in his garage, he can be found roaming the Cascade mountains on his KTM 950 Adventure looking for new routes for the annual Touratech Rally.
To read more of Archambault's Angle CLICK HERE.