Touratech-USA CEO, Paul Guillien and journalist Jonathan Bentman visited Touratech's headquarters in Germany to see the product line for the new Honda CRF 1000L Africa Twin. As luck would have it, they found the keys to the Touratech-modified test bike and took it for a ride.
Guillien and Bentman put the Touratech-equipped bike through its paces over varied Black Forest terrain and got a feel for the performance, handling, and features of the Africa Twin – including the ABS system, traction control and automatic dual-clutch transmission (DCT).
"We all hoped that Honda would return to the adventure segment with a properly configured adventure bike. I am happy to say, the day has come, and Honda got a lot of things right on this bike." said Guillien.
For nostalgia's sake, the pair grabbed an original 750cc Africa Twin and played time bandit, jumping back and forth from the 1990s to present. While both riders would love to spend more time on the new bike, their first impressions are made quite clear in this video.
Jon: Hi, I'm Jon Bentman from Rust Sports Media.
Paul: And I'm Paul Guillen from Touratech-USA. We are here riding Touratech's highly modified Honda Africa Twin motorcycle. We're out here in the Black Forest of Germany. What do you think of the bike so far?
Jon: I've got to say I fall in love easily, and this bike, I've already loved. It's really dynamic, isn't it? It's got the dynamism of a KTM rather than the BMW, if you know what I mean. It really wants to go, it's light, 21-inch, 8-inch, great on its tires, isn't it?
Paul: Yeah, off road, I thought it was fantastic. The 21-inch front wheel, I felt like it was really balanced. The suspension is better than I expected, so I think for doing the type of riding we do in the U.S., back country discovery routes, things like that, I think this is going to be a good choice.
Jon: Yeah. I think the problem is trying to slow down, because it has that capability. People like me are giving really quickly and just it's spinning up the whole time, you can really pin the brakes. The ABS is working awesome. Suspension's tracking. You can get away with some liberties on this.
Paul: Yeah. Do you think this is close to a Yamaha Super Ténéré, an F800GS, a KTM? Where would you put this?
Jon: Yeah. I think it's got the soul of a KTM. It's born in competition. The CRF is not there for any social reasons. It's because it has got that ability. So I think I pitch it above the F800 GS. It's got a more dynamic, faster thing, but yeah, KTM 1190's there, super-powerful, but I don't know. It's 100 horsepower but it's all good, isn't it?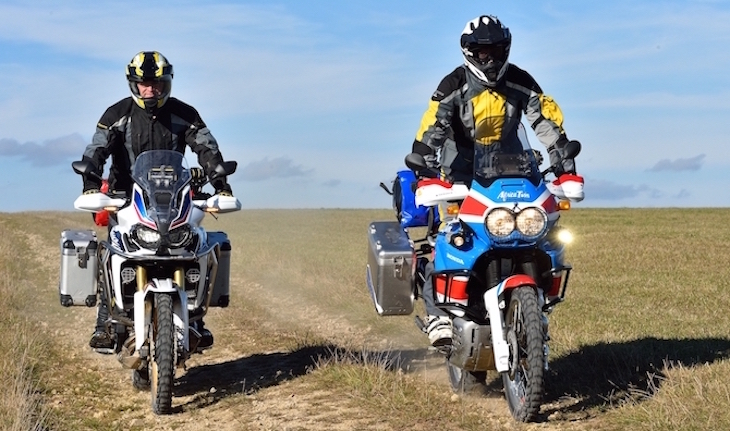 Paul: Yeah. How did you feel the brakes were?
Jon: Brakes are really nice. They need to be, because you're getting hot too often and I think they're excellent. They test the suspension, because we hit around here. We can't ride too much rough, and so you're testing the suspension with the brakes.
Paul: On the other side of the equation, the traction control. So it took us a while to figure out how to defeat that, how to turn it all the way off, but in the process, we had learned that it has three different modes. So it can allow you to pitch the back end out at varying degrees, but then we figured out by holding out the lever all the way in, you can turn it off altogether, what was that like?
Jon: Not good for your health, is it? It's awesome. You have supernanny, nanny and gentle, and then you have…you're in A&E before you know it. This has really gone wrong, which is excellent. But you then get the full horsepower, don't you? And on the loose stuff, she's wild. So actually it's probably best to leave one bar on at least even if you're good.
Paul: Yeah, I think so. With this much horsepower off road, I think you need a little bit of help, a little intervention from the computer. But there will be times certain terrain where you just want to turn it off: in the sand, in the loose stuff on climbs, you're going to want to turn it off. By the way, when you first got on the bike with the traction control off and you took off, you completely roosted me on the old Africa Twin, so thank you.
Jon: Yes. Sorry about that.
Paul: I'm not going to tell who put the dents in the tank on that.
Jon: Freshly painted, isn't it, I think? But the automatic gearbox on this needs a little discussion is very good, I think. I was super-skeptical, didn't want it. I'd soon have a manual, but actually with the paddle shift, you can override it nicely. If you're in a touring mode, you just want to go along. It actually works really nice. The auto-selection generally works nicely. I think a lot of people are going to get a lot of value out of that despite all my thoughts that it wasn't going to happen. But you can override it. I think, personally, yeah, still a manual is my choice. But I wouldn't say, "Don't touch this with a…" This is actually really interesting, and I think the more you spend with it, the more you'd like it.
Paul: Yeah. I'm much more open-minded to the automatic transmission than I thought I would be. The main thing is those paddle shifters. You can get a handful of throttle on this and just downshift, and it's like hitting a turbo button. The RPMs climb and it just shoots out of a cannon. It's really pretty fun.
Jon: Yeah. Excellent.
Paul: So bottom line on this bike: Africa Twin, just coming out, what do you think of it?
Jon: I give Honda 10 out of 10. Damn. It is. It's that exciting. I think it really brings something fresh and new to the market and I think a lot of people are going to be excited and we need that. We need excitement and adventure, and it's going to do it.
Paul: Yeah. I think that it's going to really open the market. I think there's a lot of Honda-loyal people out there, guys like me that grew up on their XR100s and just love the brand. It's going to get them into the adventure segment. I think it's going to be at a price point where it'll be a good entry-level bike, but it can really climb with you. You buy a KLR650, and in a year, you've outgrown it. But this bike at the price point you can get into it, it can be your first bike, but you can ride it for a long time because I think you'll have to be an expert rider to really outride the capabilities of this bike. So I'm pretty happy with it.