I am not going to deny that buying a new motorcycle can be a great experience. Knowing the history from day one is awesome. I bought my 2005 Suzuki SV650 brand new, and since I was working at the dealership, I uncrated it myself and was the first person to ride it. That being said, out of the 25 or so motorcycles I have owned, it was the only one I bought new. Buying a used motorcycle is normally cheaper, and if done smartly, there are good deals to be had. Reflecting on my own experience, buying everything from almost-new demo models to basket cases that were literally in boxes, I have worked up a guide to help you buy your next machine.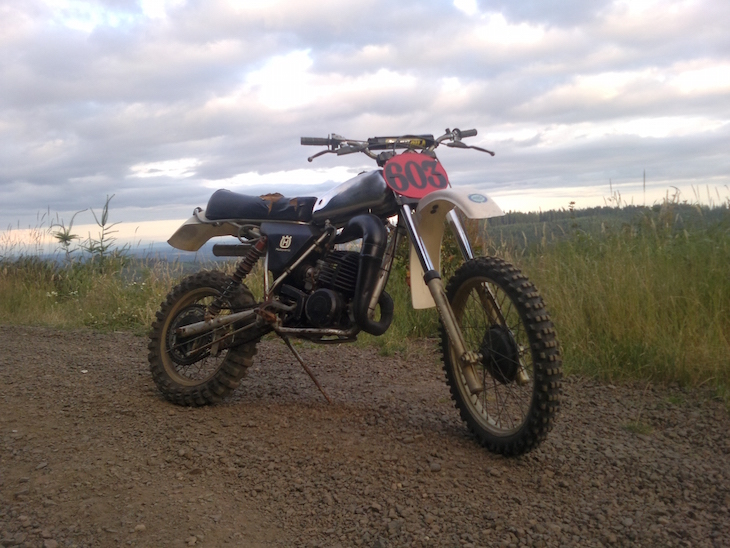 1979 Husqvarna 250 CR
Do your homework
Once you have decided on the models you are shopping for, read up on them. If you are debating between a few different models, try to test ride them. Many bikes that look similar on paper have very different personalities. Learn the common problems, modifications and service schedule, and then figure out how you plan to set it up. With this information, you will be less likely to have any surprises when you get that 'new-to-you' bike into your garage. This will also give you the ammo to talk down the price if things need to be replaced. Research the actual local-selling price for the motorcycle you are looking for. Pricing guides like Kelly Blue Book (KBB) are a good starting place, but often do not always accurately reflect actual selling price. I recommend surfing Craigslist and the 'For Sale' section of motorcycle forums to get a feel for the going rate. If you have a friend that is pretty savvy on motorcycles, bring them along when you go to check a motorcycle out. A second set of eyes is always good, and it is nice to have someone with you to talk things over.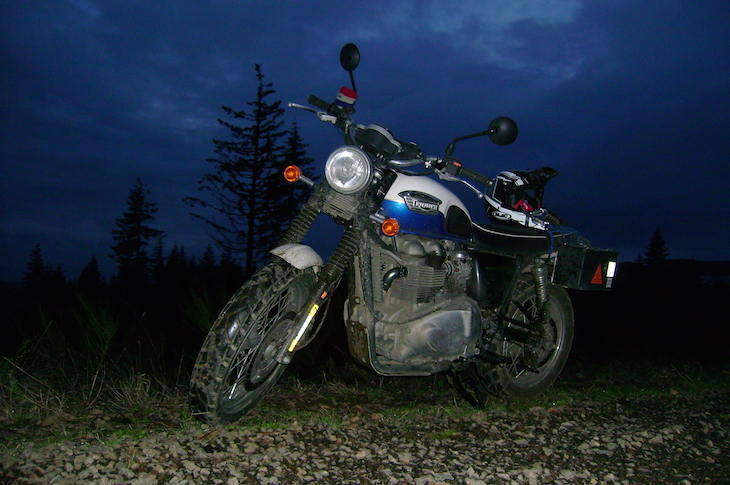 2006 Triumph Scrambler
Dealer vs Private Sale
The dealer vs private sale question is much the same as with cars. Dealerships are often easier to shop. They have their inventory online, regular hours to check out the bikes, sometimes they offer warranties and they can make the financing process easy. The downside is that used motorcycles at dealerships tend to cost a bit more. Someone traded it in for a price they were ok with, and now the shop has to make their money on it. Prices are normally less negotiable and much of the history of the motorcycle can't be gleaned as in a private sale. What I mean on the history part is a shiny, clean, freshly detailed motorcycle will tell you less about how it was used, and the dealership is less likely to know any issues or how it was maintained and used. With a private sale, you get to talk to the actual owner of the motorcycle, which can provide valuable insight. Ask a lot of questions, 'how was it used?', 'why are they selling it?', 'anything wrong with it?", things of that nature. In my experience, people are pretty honest and it can be hard to lie with someone looking at the motorcycle. The price is often more negotiable or lower to start with than at a dealership. For older motorcycles or those with higher mileage private sale is often the only option.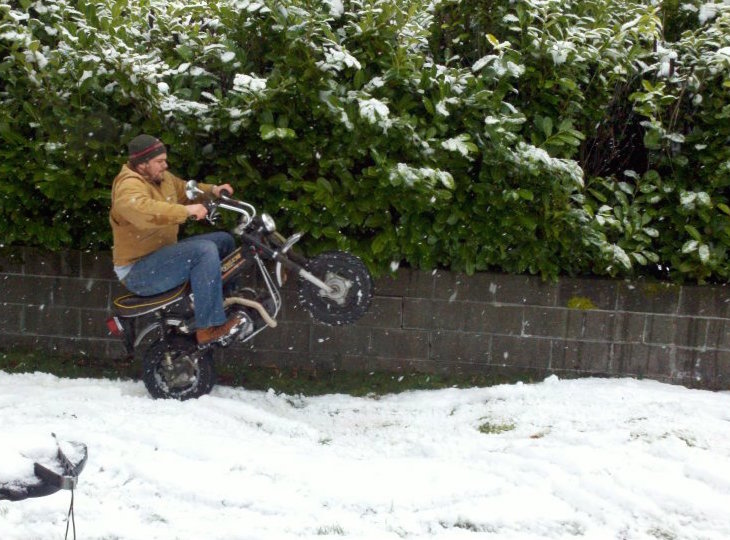 Honda CT70
Things to look for
The general condition of the motorcycle can say a lot about the life it has lived and how it was cared for, regardless of what the seller tells you. Is it dirty with scratched body work? Does it look like it was run hard and put away wet? Is it clean and looks new, even though the odometer reads many miles? I like to have the bike cold when I start it, though I never request this. Just touch the engine case to feel if it is warm. If it has been pre-warmed up that often means it does not want to start cold. This is less of an issue with modern fuel injected motorcycles, but something I always check. Look at the consumable wear parts, things like tires, brakes, and fork-seals. While I would not pass on a motorcycle that needed the tires replaced, I would want the price to reflect that new tires are needed. Maintenance records or receipts are always good. Personally I keep an excel spreadsheet for all of my motorcycles with dates of service and when parts were replaced. Besides knowing when things were done, records will show that the owner cared enough to keep them. If you are checking out a motorcycle in someone's garage take a look around. Is it clean and organized with other nice machines, or is it a mess with lots of broken garbage. I realize that I am asking you to make judgments here, but if the guy just told you he does all of his own maintenance, and his toolbox is not much more than a pile of vise grips and hammers, you might want to factor that in.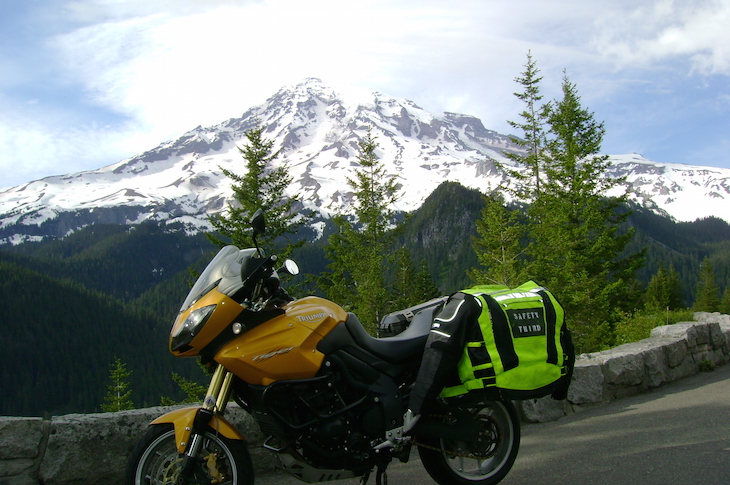 2007 Triumph Tiger
Negotiating
When buying from a dealership, you will probably have less room to wiggle. If you are looking at a private sale, always negotiate in person. It is ok to ask if they are firm on the price before going to look at the motorcycle. There are two major reasons to always negotiate in person. First, the seller has already heard a bunch of offers from people that haven't even seen the bike yet, and as a seller, this is very annoying. Second, and more importantly, if you offered the seller less before seeing the motorcycle in person, then see a bunch of little stuff on the motorcycle that you didn't know before, it is hard to lower the price any more.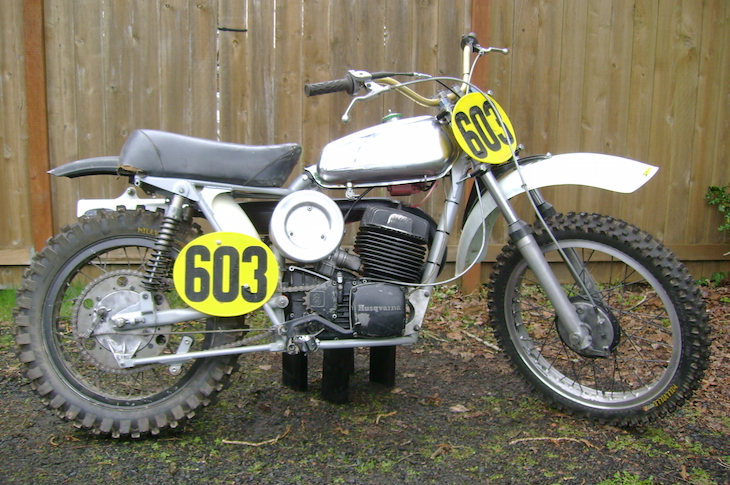 Husqvarna 400CR
When offering a lower price, always explain why you are offering less. Telling the seller something like"8k is a fair price for the bike, but I need to buy a $350 set of tires and put new fork-seals on it too, will you take $7,500 for it?" It is good to remember that accessories that you do not want, or will be replacing, do not add value to the motorcycle. For example if the motorcycle has OEM panniers on it and you are planning on replacing them with a set of Touratech Zega Pro panniers, their value is pretty much nil. Be ready to walk away if the motorcycle is not as advertised, or at a price you want to pay. Don't let the excitement get the better of you.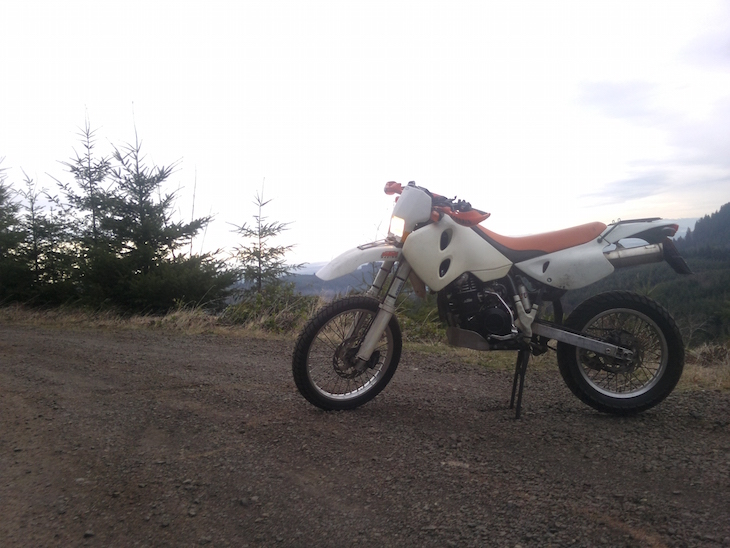 1995 KTM 620 RXC
Bottom Line
As with many things, do your homework, try to be patient, and be honest with yourself about what you are getting into. Happy hunting, good luck, and godspeed.
To read more of Archambault's Angle CLICK HERE.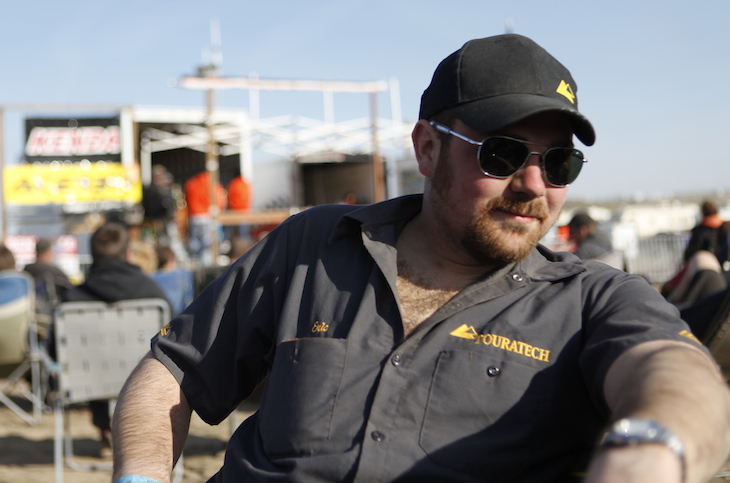 About the author: Eric is an incurable motorcycle nut. He's owned and wrenched on everything from vintage scooters and vintage motocross bikes to modern machines, and now spends much of his time riding and talking about adventure motorcycles. If you have called the Touratech store in Seattle or called the offices, chances are you've talked to Eric. Eric came in second place in the adventure class at the Stumpjumper Desert 100 Race in 2014, and recently finished the 2015 race in eighth place in the same class. He is a key part of the Touratech race team, and when he's not racing a local hare-scramble or vintage motocross race, or working on motorcycles in his garage, he can be found roaming the Cascade mountains on his KTM 950 Adventure looking for new routes for the annual Touratech Rally.