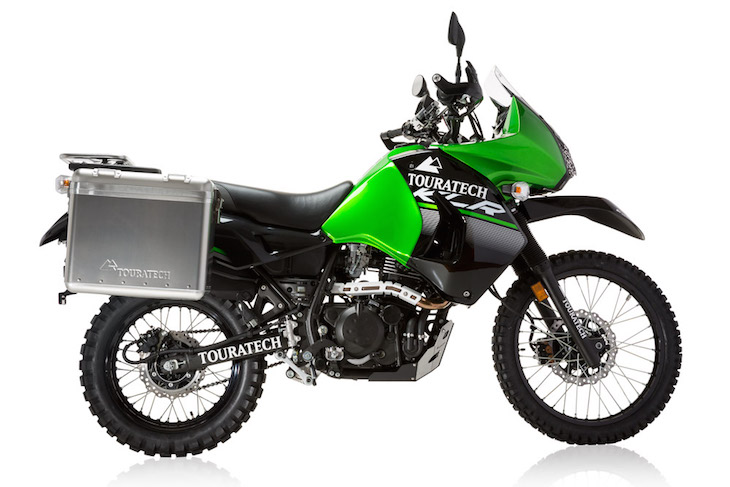 The Kawasaki KLR 650 is a bike that has a reputation as the "gateway drug" for the Adventure Motorcycle culture. Riders with a desire to ride dual-sport can pick one up at a price that's relatively lower then most entries in the segment and once they're hooked they move to a BMW GS or KTM 990 and never look back.
But not all KLR owners move away from their green machines. Many develop a love for the durability, adaptability and dependability of the KLR and continue to ride them for years.
"I love my KLR 650," said a Touratech-USA follower on social media when we posted photos of our recent purchase. "I bought one in 2003 and haven't ridden another brand since. They last forever."
Touratech accessories adorn the motorcycles that circumnavigate the planet and more riders than ever are dipping their toes into the adventure motorcycle waters with the Kawasaki KLR 650. With that in mind, Touratech recently acquired a 2015 KLR 650 and built it up from head to toe with parts designed in Germany specifically for it.
Here are the highlights:
Because we planned to build a machine capable of carrying standard adventure touring supplies, the first step we took when building the KLR 650 was to replace the rear shock with the Touratech Explore HP Rear Shock ($1095). It makes a massive difference in performance. Over-built by design with heavy-duty materials, 50% more spring pre-load adjustment, and adjustable rebound damping the Explore HP is tuned for optimal performance with a fully loaded KLR650. This shock is made for adventure riding.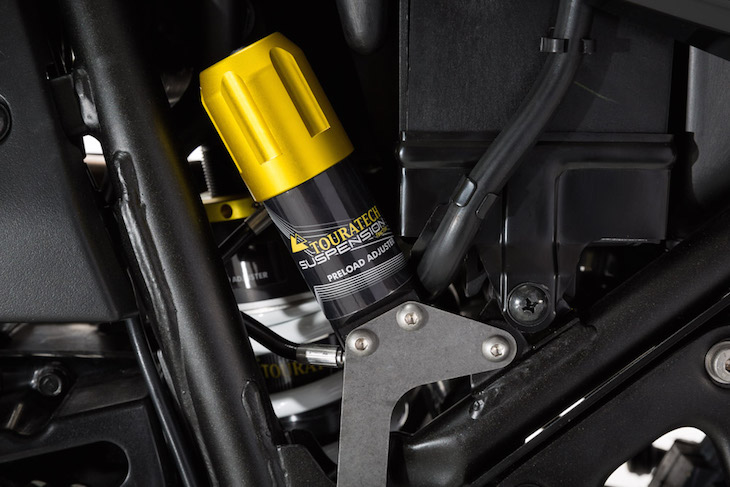 Touratech Suspension uses a separation piston instead of an oil emulsion design to keep the damping consistent, no matter how hard you ride. An oil emulsion shock will tend to "foam" when heated up and ridden hard and change the damping characteristics. Touratech shocks feature a floating piston design that keeps the oil and nitrogen separate for consistent performance.
After installing the new rear shock we completed our suspension upgrade with Progressive Fork Springs ($199). This makes a significant improvement in handling and braking, both on and off-road. This spring kit from Hyperpro is a quick and inexpensive way to drastically improve the KLR's handling performance, or to revive a worn out set of springs. The progressively wound springs for the front suspension give you a plush ride at slow speeds, but when the road gets rough, or you decide to push hard in the corners, the springs are much firmer at the bottom of the travel where you need it the most.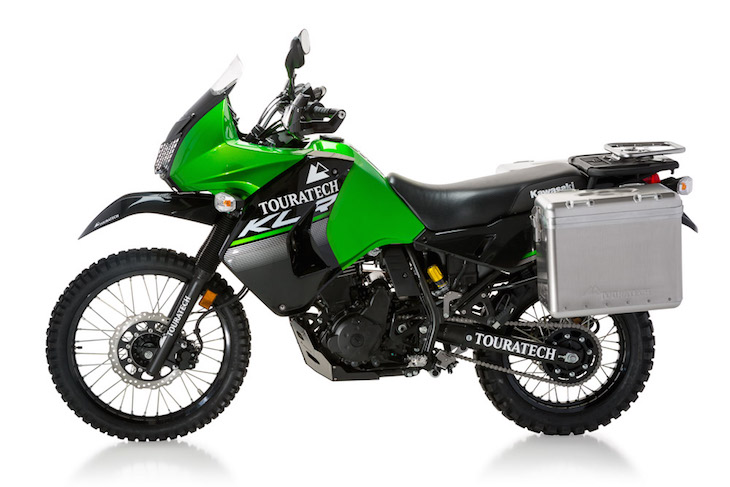 Any bike set up for adventure touring needs stout luggage. Touratech recently introduced the Zega Mundo Pannier System ($1199). This, newest edition to the Zega pannier family are rugged, reliable and affordable boxes. Made of 1.5mm aluminum sheeting and a cutting-edge production process these panniers are waterproof, dust-proof and designed to meet and exceed the challenges of motorcycle travel. Not only are Zega-Mundo Panniers a terrific luggage choice, they're a great addition to any campsite and can be used as a chair, a table a water-basin or a beverage cooler.
The Pannier Racks are black, made of 18mm steel tubing and are engineered to take the impact of a fall and double as protection for the sub-frame of the motorcycle.
If the KLR 650 was going to be set up for taking on the world (or at least packing everything you need to take on the world) then a top-case rack was needed. The Zega Pro Top-Case Rack ($208) was easy to install and is compatible with the 25 and 38 Liter Zega Pro cases with the Rapid Trap quick release system.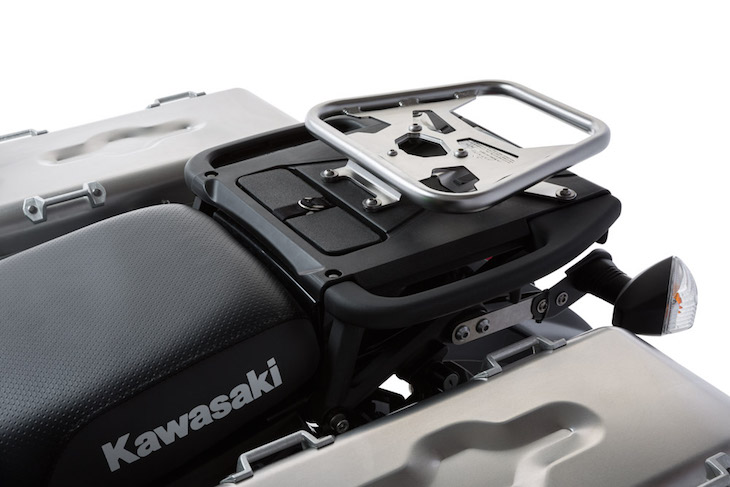 All it takes is one thrown rock from a faster moving motorcycle or car to crack your fragile headlight housing. The black powder, Stainless Steel Headlight Guard ($99) is precision, laser-cut to fit the Kawasaki KLR650 perfectly. The extremely strong grid pattern will deflect even the biggest rocks and it looks cool too!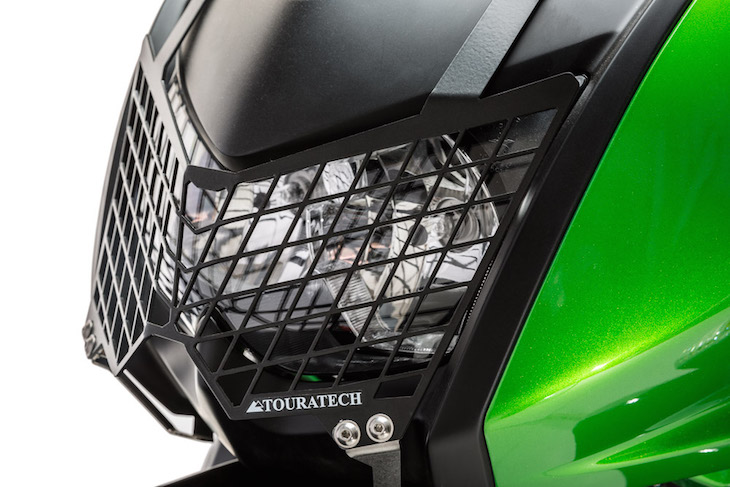 Adventure riders can invest a lot of money the gear they wear and having to replace expensive pants can be painful on the pocket book and painful on the inner thigh! The Exhaust Header Guard ($56.00) protects the header from dents and dings but its primary function is to protect riding pants from burning on the hot exhaust.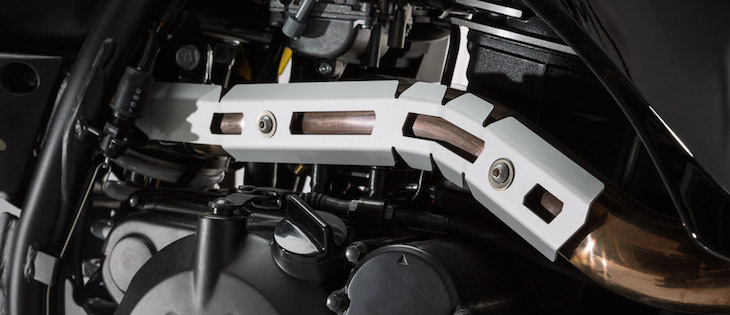 Gloves can only give a limited amount of protection from rocks and debris on the road or on the trail. Touratech Hand Guards ($132) are built out of extremely tough plastic and are available in several colors. They're flexible and absorb impact instead of transferring it to your handlebars or bar mounts like a rigid aluminum or steel guard.For an additional level of coverage in the rain and wind we installed the optional Hand Guard Spoilers ($35).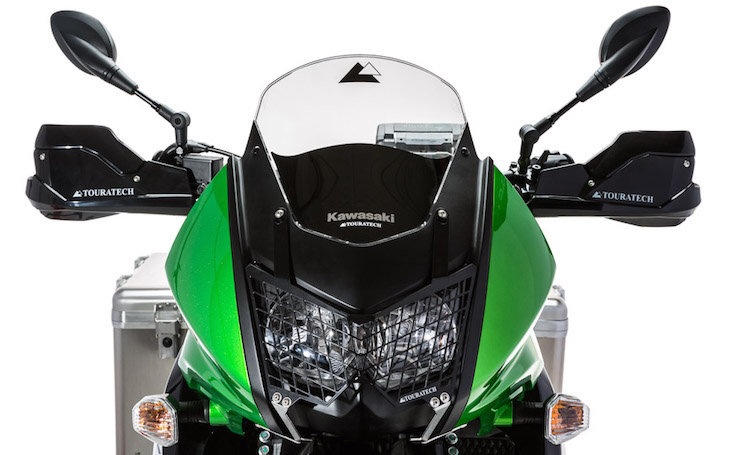 After installing the hand guards, the 30mm Bar Risers ($69) added extra clearance between the handlebars and the front fairing. Depending on the adjustment of your handlebars and hand guards, the hand guards could make contact with the fairing at a full-lock turn without bar risers installed.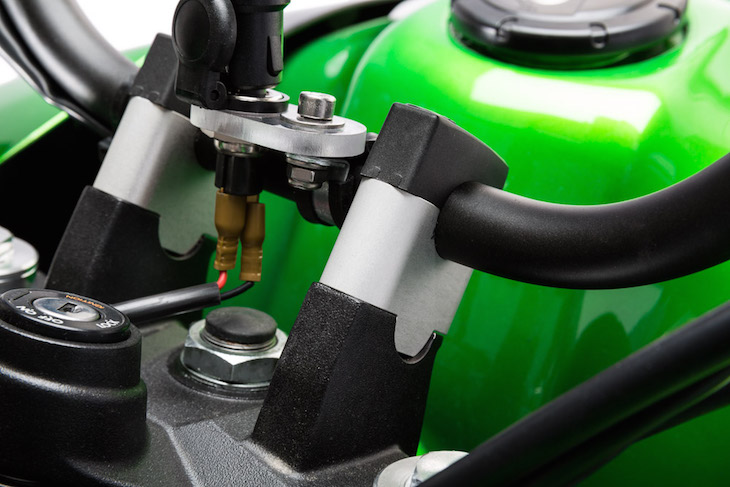 Every dual sport motorcycle needs protection for the vulnerable front and underside of the engine. Precision made in Germany from 3mm, thick aluminum and 2mm stainless steel plate, the Skid Plate Engine Guard ($137) will keep the KLR 650 safe from large rocks, stumps, or debris thrown from the front tire. It was easy to install with supplied hardware and required no modifications to the bike. This skid plate even has a cutout to allow draining of the engine oil.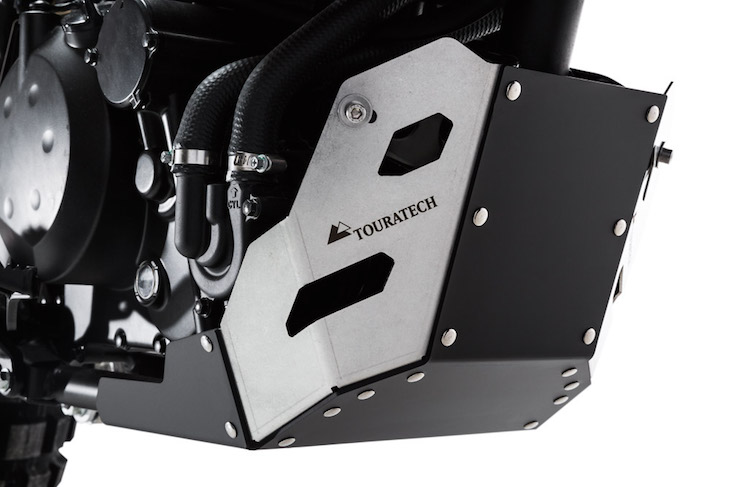 A broken side stand switch on a KLR650 will quickly stop your ride in its tracks and require inconvenient trailside electrical repairs. Simply put, without a working sidestand switch, your KLR will not be able to run in gear. The stainless Touratech Sidestand Switch Guard ($29) was and designed specifically for Kawasaki KLR650. It's a nice piece of extra armor!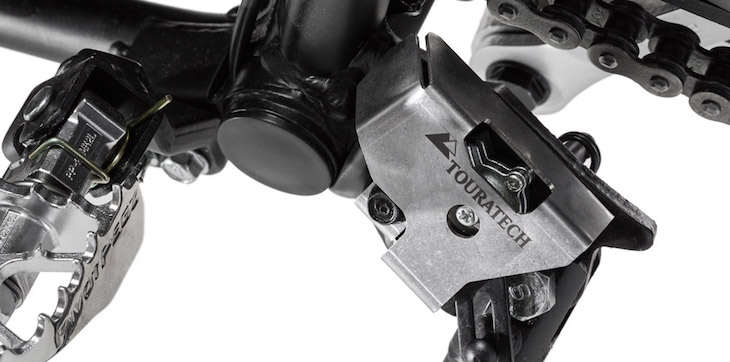 With Pivot Pegz MK3 ($169) the KLR 650 got not only mega wide (60mm) platform, but a state of the art grip pattern and spring loaded pivoting action. This foot-peg upgrade enhances grip and load distribution for the KLR, creates easier access to brake and gear levers and reduces impact and fatigue. The Mark 3 Pivot Pegz are designed to reduce mud packing in the peg and the quality is world-class!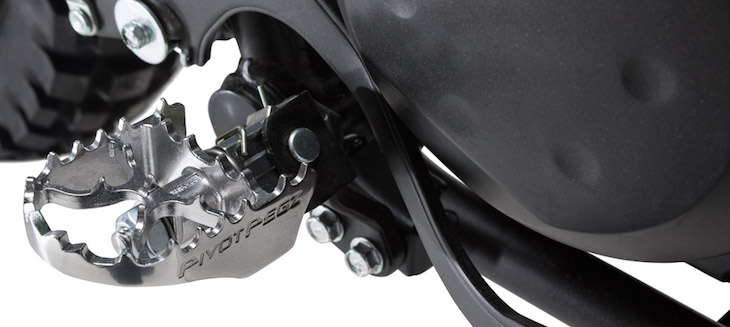 Zumo 660/665 Locking GPS Mount V2.0 ($189) from Touratech is an easy and convenient way to secure the GPS unit to the KLR 650. The spring-actuated opening mechanism makes it quick and easy to lock the unit into place and just as easy to retrieve it. This mount secures the ZUMO GPS unit with a positive closing structure that locks with a key. The mount further protects the valuable GPS with a vibration absorbing mounting system.
The easy to install Folding Mirror ($49) are a terrific option when doing upgrades. They make riding through the brush, brambles and branches of the backcountry easier because they fold in, and away from obstacles that snag and can wreak havoc on a ride.
Continental TKC80 Dual-Sport Tires ($269) have long been the tire of choice for touring and dual-sport motorcyclists world-wide. This tire provides a great mix of on and off-road stability and traction and was the perfect way to finish our KLR 650 build.