This is the latest post in a series that follows Matt and Brayde Willson's motorcycle journey from Seattle to Tierra del Fuego over 120 days.
Bogota
Back on the road, we were able to take advantage of the newly completed Ruta del Sol on the way to Bogota. It was nice to able to actually ride at highway speeds for much of the time again, something we haven't been able to do much of since arriving in Colombia due to heavy traffic. Once we got to the big city, we headed toward a hostel our contact let us know about. Unfortunately, we discovered it was actually full for the night, so back on the road we headed. After circling around Bogota's maze of one-way streets for a couple hours in the rain, we finally managed to score a decent hotel with secure parking. Our purpose for making the trip to Bogota was to get new tires for the bikes. The bad news is that that didn't actually have the tires we had been told were there. The good news is that they did have some replacement parts for the 650 that we weren't expecting. To get those parts, it took us 1 ½ hours to ride 12 kilometers in gridlock traffic. It doesn't take a mathematician to see that we spent more time sitting than riding. The effort was worth it, though, and after a stop at Bogota's Touratech shop, followed by more riding in the rain—seems this is a theme in our trip—we installed the parts, and the 650's in pretty good shape again!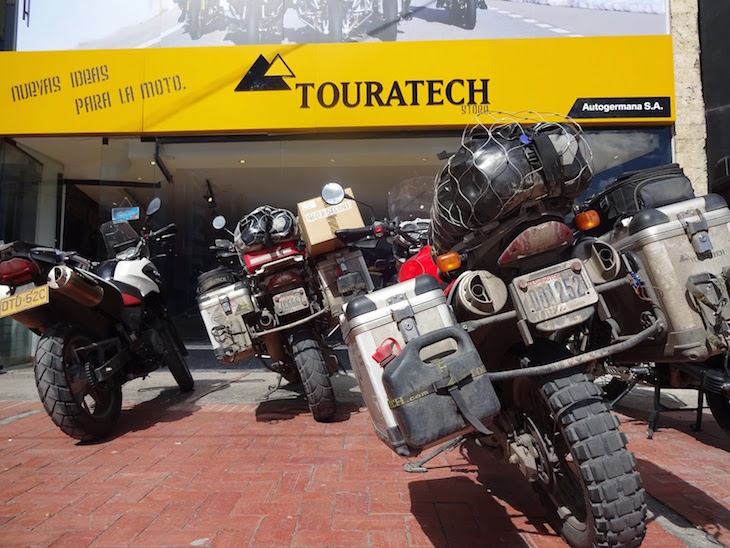 Coffee Country
We're not sure if traffic is always this thick in Bogota or if it's a symptom of the holidays, but it took us an hour to go 11 miles while leaving town. Sheesh! Needing a break from big city life, we set our sights for the small town of Salento in coffee country. Happily, as we got further from Bogota and closer to Salento, traffic got lighter and lighter. We've been struggling a bit with ATM's accepting our debit card here in Colombia, so we started pulling into towns well before Salento to make sure we had enough money on hand. This process took us into the town of Calarca, where they clearly do not get regular moto tourists: when we pulled into the central square, we were swarmed by locals curious about us, our bikes, and the trip. People literally lined up to ask each of us questions! We tried to leave politely a few times, but each time, we were caught by more people wanting to chat. Sometimes, during journeys like our own, it's not about us and our schedule. Rather, it's about being open to experiences as they come, which makes everything richer anyway.
When we finally rolled into our destination, Salento, we couldn't have dreamed up a more quintessential setting. The town itself is small and nestled on a hill surrounded by coffee plantations.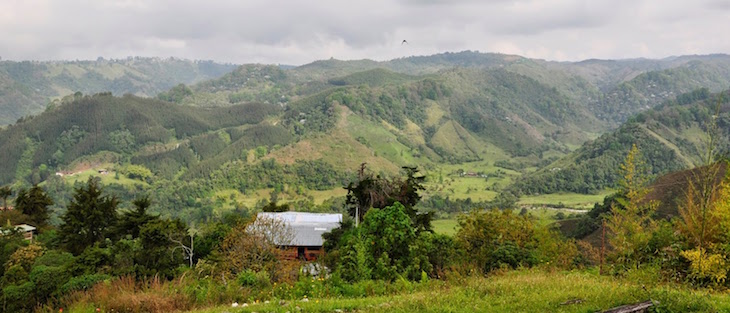 We stayed at a 100 year-old coffee plantation turned hostel and were not disappointed with the experience. In the morning, we took a tour of the plantation, learning about the coffee process from start to finish. It was filled with bean tastings at every stage as well as many cups of the final product, of course. Because coffee grown in the traditional manner requires planting fruit trees every third row in order to provide shade for the beans, we got to partake in bananas from the tree, too. Awesome. If ever you get the chance to visit this corner of the world, we highly recommend it!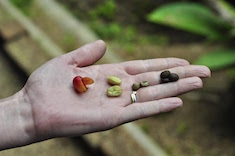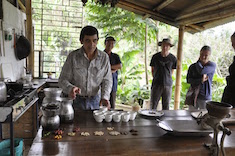 Afterward, we jumped in a very full, old Land Rover out to Valle de Cocorá. This unique valley is filled with pastures punctuated by extremely tall palm trees. Someone forgot to tell the trees that they have no competition for light out there, so the trees grow up to 200 feet tall, making them the tallest palms in the world. The ride out, it was absolutely pouring rain; luckily, that subsided shortly after we arrived. There are great hikes through the valley, but because of the rain and time constraints, we stuck to the main road and still felt satisfied with the trip.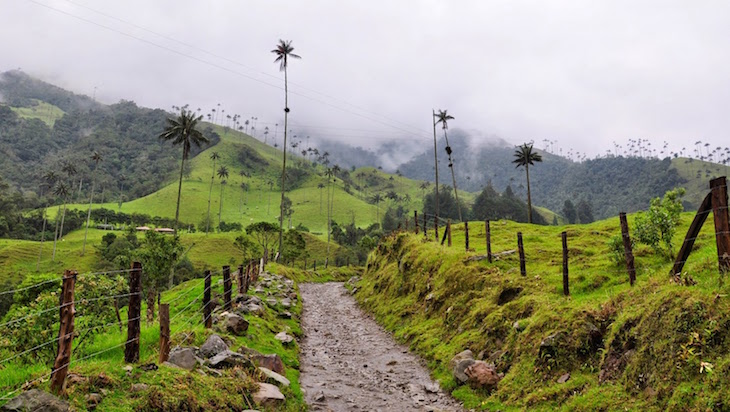 That night, along with some new friends from our hostel, we tried our hand at the local game tejo. Who could resist a game of throwing stones at explosives? Truly, the game is set on a clay "board," where four triangles of gunpowder are placed around a ring. Players stand about 20 feet away (the local, hardcore players stand more like double that) and huck stones, or "tejos," of various shapes and sizes at the triangles and score points by either exploding a triangle or getting closest to the metal ring in a round. Think bowling on steroids meets shuffleboard, with some explosives thrown in. And naturally, beer is involved on the side. A good time was had by all, indeed.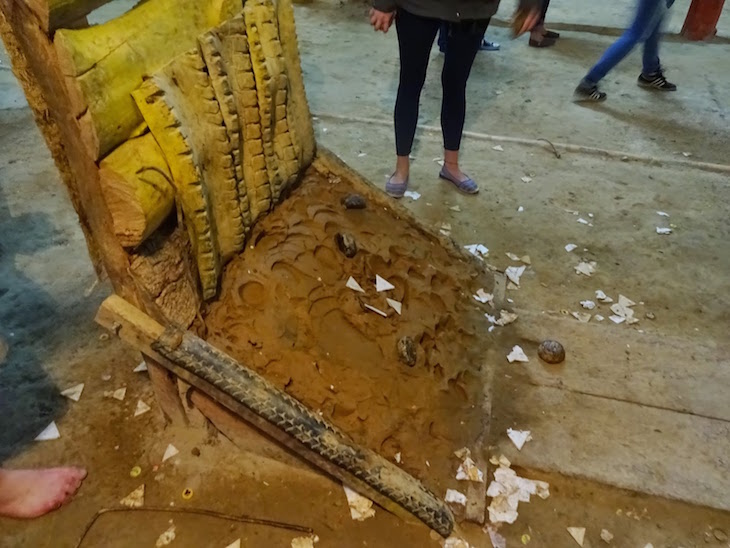 Southern Colombia
We could've stayed in Salento for a long time, but we are starting to feel the pressure of the clock, so we begrudgingly head off. We'd much rather stick to the small country towns, but we still need new tires for the bikes and have been told we may find success in Cali, so that's our destination. The highway and lighter, Sunday traffic made the trip relatively quick and painless and allowed time to both get settled and explore a bit. We hiked up from our hotel to the top of Colina de San Antonio to enjoy some drinks on a rooftop terrace and take in the view. Once again, we found ourselves wrapped up in a Christmas procession, this time with a marching band played by the local police. Later, we stumbled onto a whole section of the downtown transformed into a Christmas wonderland. The Latin Americans really know how to celebrate this holiday. In the morning, we found a huge district dedicated to motorcycle shops and managed to find one of the four tires we needed: a rear for the 650. It wasn't the TKC 80 we were aiming for, but it was still an enduro tire that could support the weight of a heavier dualsport. Turns out, the 650's rear is a common size, but the 1200's rear is not, nor are either of our fronts. Given our recent luck, we decided to pounce on the offer. 1 out of 4 is better than 0 out of 4.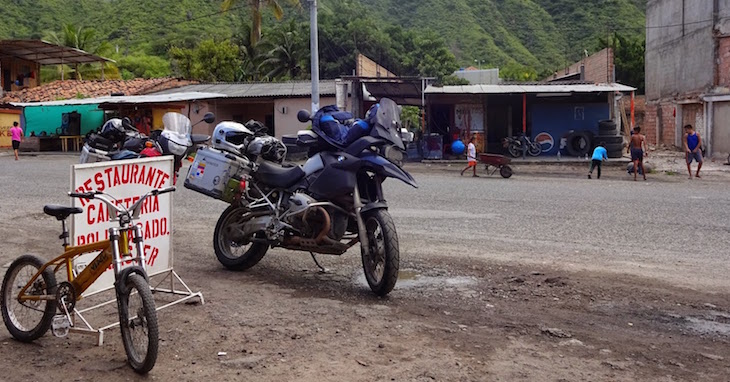 With the new tire strapped to the back, we set off for a smaller town further south. Around quitting time, we pulled into Popayan and bumped into a hostel whose sign had a silhouette of a 1200GS rider—how could we go wrong? The staff were friendly, helpful, and all riders themselves. After a stroll around the old town center, which was packed with people Christmas shopping, we headed back to change the tire on the hostel's front sidewalk. Half an hour later, the 650 had a new rear tire. That night, we were allowed to park in the lobby, which is always appreciated.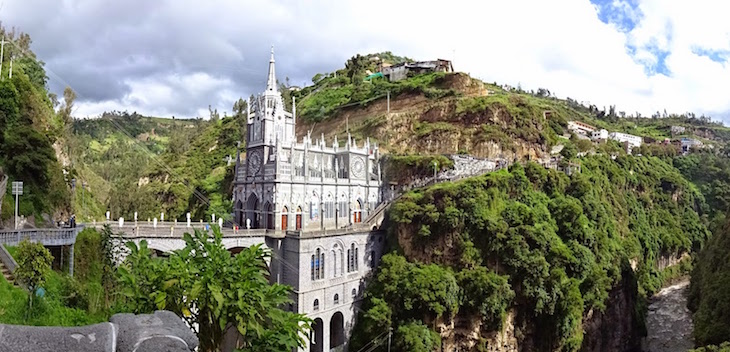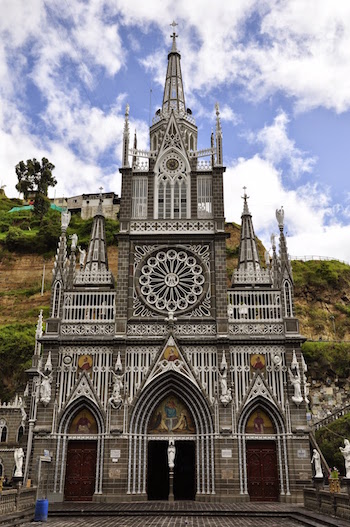 With so many fantastic experiences in Colombia, it was harder than we expected to finally say goodbye. Could anywhere else be as good? Guess we'll find out.
About the authors: Matt Willson is the product line manager at Touratech-USA. He's been with the company for 5 years and has been riding motorcycles longer then he can remember. Matt's wife, Brayde spent her life around motorcycles and the two have been riding together as long as they've been together. Brayde rides a 2007 BMW F650GS and Matt rides a 2006 BMW R1200GS

To read more Willson 120 posts CLICK HERE!