Story By: Lost Not Found
Sarah Tesla & Richard Rae
Elite. Suicidal. Daring. Adventurous. Epic. Our recent behind the scenes look inside the Dakar Rally was an experience we'll never forget.
Dakar fever was in the air. We'd been traveling in Argentina for a few weeks and getting caught up in the hype from TV commentary, billboards, and seeing adventure bikes making pilgrimages from Argentina, Chile, and Bolivia adorned Dakar stickers. People talk about the Dakar with a sense of reverence and awe. It is notoriously the worlds most challenging overland race. Its legacy is filled with triumphs, death, political unrest and conquering the human condition. So what is it really like? We went behind scenes in Rosario at the Hipódromo parque de la Independencia bivouac to find out.
Photo: Sarah Tesla
When we arrived around noon, Dakar staff were still in the beginning stages of getting set-up. Turning a horse racetrack into a somewhat liveable and logistical hub was feat in itself. The grounds were dusty, hot, and buzzing with mini-bikes. Once the main tents for food services, showers, and press were set-up, Dakar staff could take a breather and took advantage of event sponsor hospitality. The government of Argentina supplied a tent with fans to cool people down, loungers, free wifi, and a bar. Feeling a bit like outsiders, as we were certainly less sun-caked and smelling better than most folks, we did our best to blend in.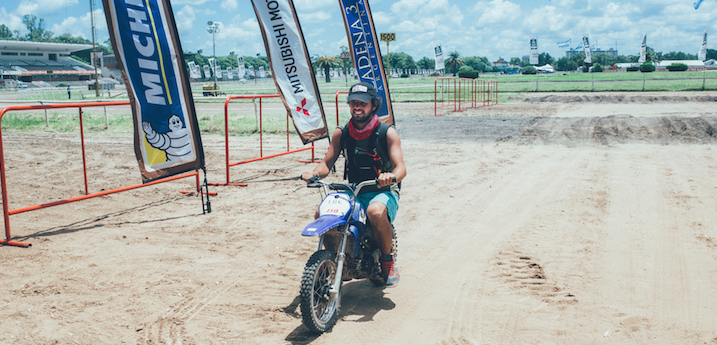 Photo: Richard Rae
Crowds were already starting to gather along the road to welcome riders to the bivouac. There was a parade-like atmosphere with music playing, vendors selling ice cream, and families setting up lawn chairs. The waiting game was underway as competitors battled it out on the route. We checked the bulletin posted outside the press tent periodically for updates on rankings and penalties.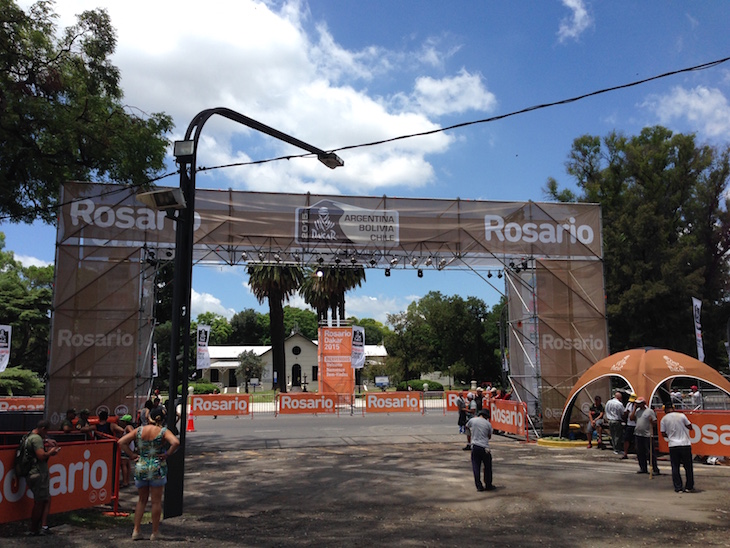 Photo: Sarah Tesla
This particular day was Stage 12, a gruelling 800 kilometres from Termas de Rio Hondo. No one was expecting to see any competitors until after 5pm, but around 4pm we were rattled out of our 40° haze by helicopters descending upon us, honking in the distance, and cheers. Competitors were nearing the Rosario city limits and support trucks were being ushered into their spots. Endurance, concentration, and patience were needed to get through this day. The finish line was near!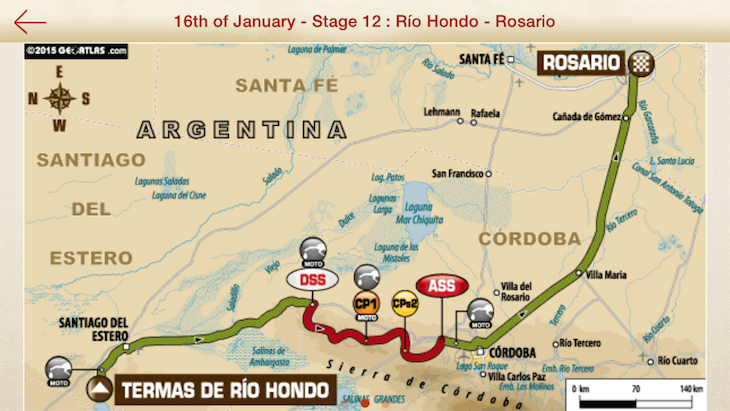 Team Chile's support truck was one of the first to arrive and they were excited to chat with us and show us around their truck. They'd just spent 14 hours on the road and looked quite like someone would after spending 9000km behind the wheel: tired, but in good spirits.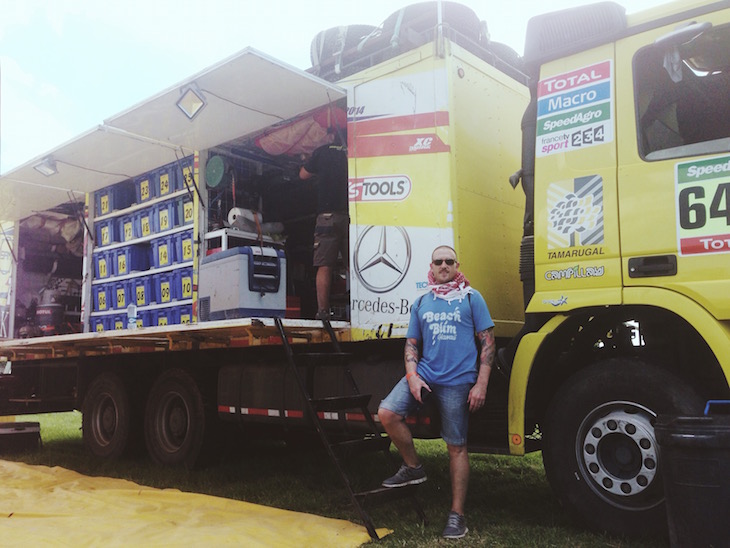 Photo: Sarah Tesla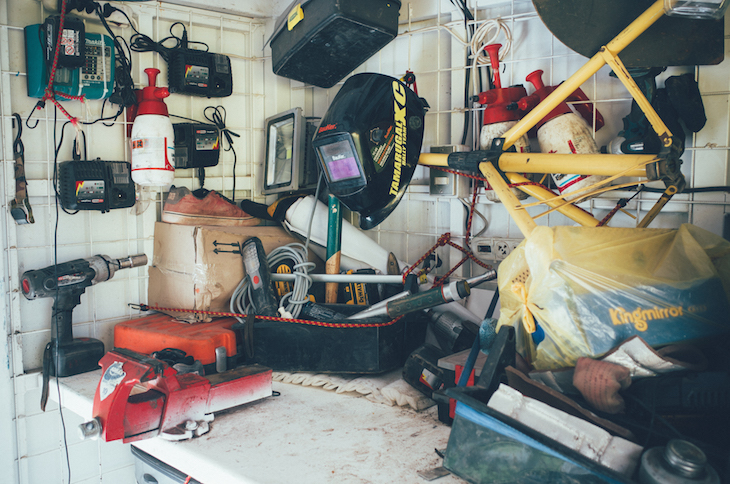 Photo: Richard Rae
Then finally motorcycles! It was a thing of beauty to watch these road warriors ride along the dirt track looking like they'd just returned from a mission to Mars. Covered head to toe in dirt, rider and bike looked comfortably as one. Just human and bike battling out the elements.Scores of people were honking and cheering as they pulled up to entrance to get time stamped and pick up their road book for the final day. Once checked in, it's off to camp to find their support vehicle and start the cycle all over again.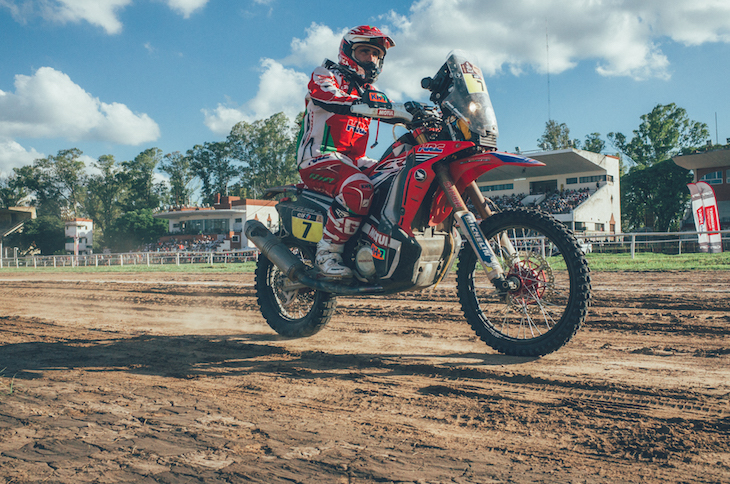 Photo: Richard Rae
Mechanics jump into action once the bikes arrive, first taking them to the wash tent to get hosed down and cleaned up. Once that's done it's back to camp where it looked to us that nearly everyone stripped these bikes clean and began making repairs and adjustments to nearly every nook and cranny. Granted, with only one more day to go, absolutely no one wanted to risk a mechanical failure after coming this far.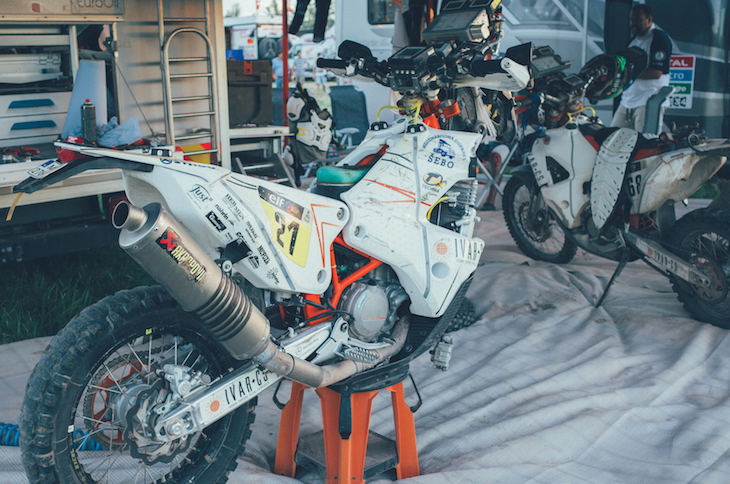 The riders themselves were weathered, weary, and wounded. Medical staff provided by Dakar were on hand to provide much needed physiotherapy, massages, and doctoring of sores and general ailments. When you see photos of smiling faces from riders like Laia Sanz, who was the first woman to place in the Top 10, or Marc Coma who has won 5 consecutive Dakars, you certainly aren't getting the full picture. Our observations gave us the sense that when you're surviving on such focus, determination, and adrenaline, that energy just shines through when the cameras are clicking. In person, you can see the wince right through the crooked smiles. Doing what you love has that kind of effect. Take the cameras away and the fatigue is there. There is so much mental energy these riders harness that keeps them going and battling it out day-in, day-out.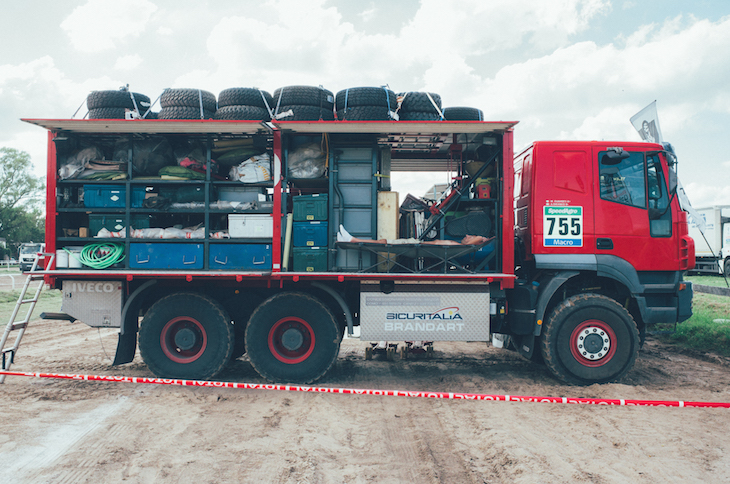 Photo: Richard Rae
Before long, the sun had set and flood lights took over. We meandered through the haphazardly organized rows of the competitors area taking in the scene. By 10pm, several riders still hadn't arrived and their support crews couldn't do anything but anxiously wait. For those vehicles that made it in, everyone was settling into a long night ahead. Riders found quiet places to dig into their road books, mechanics wearing headlamps were knee deep in parts and grease getting ready for one final triumphant day.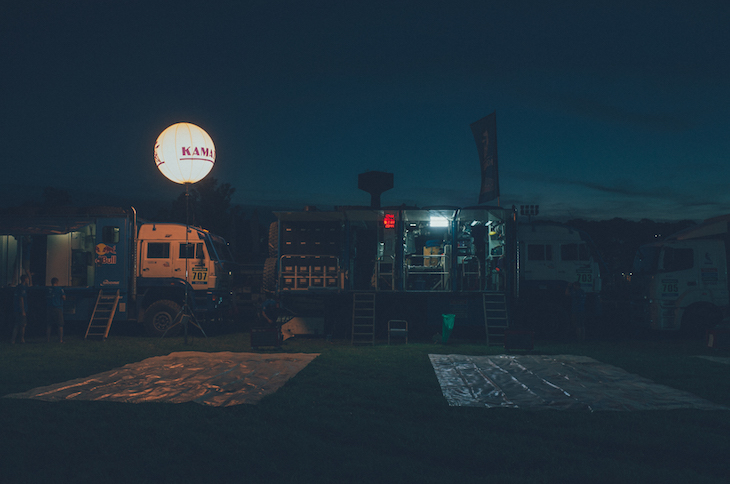 There were 168 entries in the bike category and 79 at the finish line. For some people, this is the first and last. For others, this is the start of an unquenching thirst for punishment and a part of their legacy.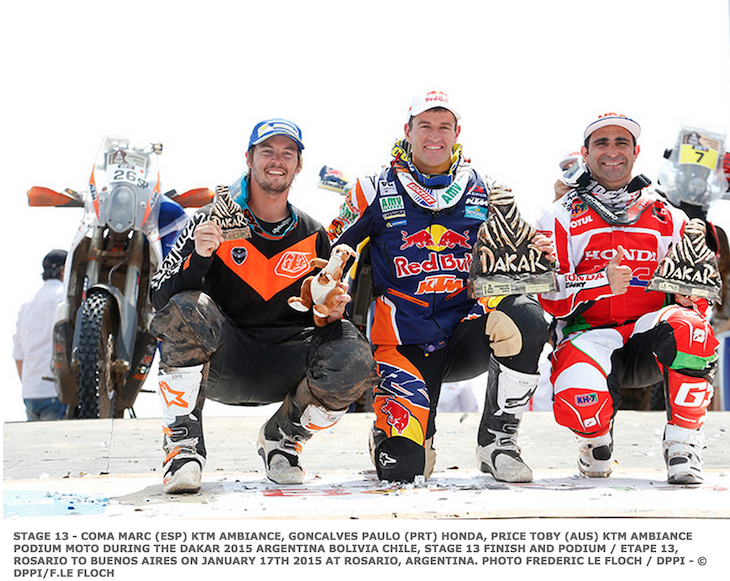 Sarah Tesla and Richard Rae are freelance journalists that covered Dakar 2015 for Touratech-USA. Look for more from them here and at:
Instagram: @lostnotfoundin
Twitter: @lostnotfoundin
Facebook: www.facebook.com/wearelostnotfound
Web: www.lostnotfound.in