Simon and Lisa Thomas have been traveling the globe on motorcycles continuously since 2003. Along the way they've been providing amazing stories and images of their adventures. Now, they 've given us a glimpse into their daily lives.
Location: Ushuaia, Argentina, patagonia.
Wow what a day…
By 7:00am the window frames of the club Nautico hall sounded as though they were about to lose their battle with the wind. Tired as we were, there was no chance of getting any more sleep. And so by 7:30am we'd rolled up mattresses, stuffed away sleeping bags and were toasting our feet a few feet away from the metal boiler that Sebastian had already lit that morning. With a few 'Olas' exchanged we got the coffee on and set about getting ourselves sorted for the ride south to Ushuaia. Sebastian had already warned us that the weather forecast was for extremely strong wind with gusts up to 90kmh. On a bike that just doesn't sound good. We figured we'd ride as far as we could until it became too dangerous or simply until our nerve ran out.
It took us all of 15 minutes to get dressed. We looked and felt like the sodding Michelin Man. Layers upon layers. We´d learnt from yesterday's experience. We hadn't got togged up like this since Norway. Every bit of clothing we had was on us. "I can't sodding walk in this! How the hell am I going to be able to ride in it", Lisa blurted with a grin. Thermal tops were layered with T-shirts, which were covered with wind stopper riding gear, which in turn was covered by heated jacket and then finally Gore-Tex riding suit. God help us if we need the loo fast.
We followed Sebastian on his quad out of town. We were thankful for his in-town short cuts. With a wave of adios we were off. In spite of the cold, the idea that we were now only 150 miles away from Ushuaia and from reaching one of our ´big goals´ was exciting. We have seemingly been talking about getting to Ushuaia for so long; this is it! Before long we´d actually be riding into the 'most Southerly Town in the World´, we were buzzing.
Glimpses of the grey, cold view out over the windswept ocean came and went and before long the plains had opened up. Only the appearance of random forested cops broke up the beating we were taking from the relentless wind.
80-miles out from Ushuaia and we´d briefly swapped the decent tar of the Routa 3 for slippery mud track. No sooner had we mentally prepared ourselves for another hour of mud, rock and ripio then we were back on shiny newly laden tar. Wow, great.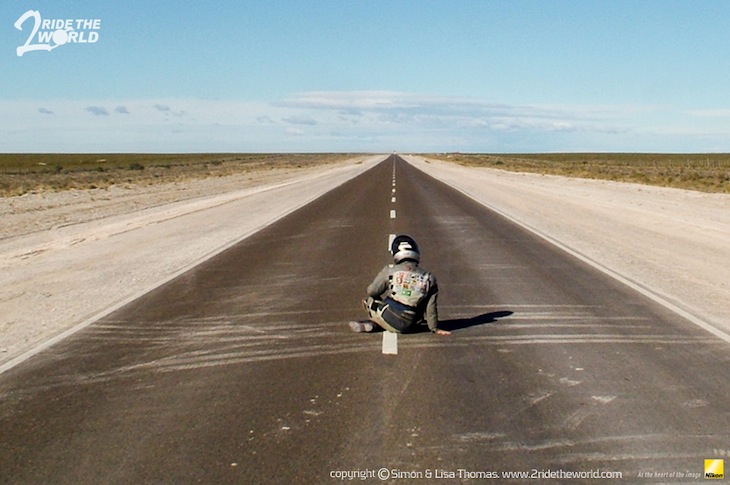 Naively we 'ooohed and ahhed´ over the castor sugar topping of snow that dusted the fiery red upper branches of the tree line. 20 minutes later, our eager cooing had turned to base expletives. As we climbed the winding road higher into the mountains our problems were
only starting. Thick snow was now settling and 3-4 km´s on, and it was getting worse. The heavy trucks carrying goods in and out of Ushuaia had compacted the road slush into treacherous hard-packed ice. Things were getting silly…and more than a bit scary. The only vehicles now on the road were the trucks. Worryingly now, even the trucks coming towards us had snow chains on. "Bloody hell what´s ahead of us"? Not much was being said between Lisa and I, but we both knew we were thinking scary thoughts. I didn´t want to voice my concerns, that would somehow make 'them' real.
We were crawling along in 1st gear, our problem was that we were on tight bends, creeping along but in contrast, the huge trucks had sped up. If one of those guys loses it for a second we´ll be hamburger meat on the side of the road. An hour later and things hadn´t improved we managed to cover 10km. With Lisa´s 3rd slip and my umpteenth close call we needed to stop. The snow was still coming down hard and fingers and toes were frozen. Each time one of the bikes went over, we´d have to unload completely, tank bags, roll bags and everything on the back. We´d slip and slide around in the snow and ice attempting to right the overturned bike as it slid further horizontally as we lifted. After Lisa´s last fall, we could see a long bolt lying in the snow. We were pretty sure it wasn´t there prior. Shit! On closer inspection it turned out to be one of her sub-frame bolts. Great, this meant it was time to lie down in the freezing snow and try to get the nuts and bolts back in. 20 minutes later and we were good to go but even more frozen.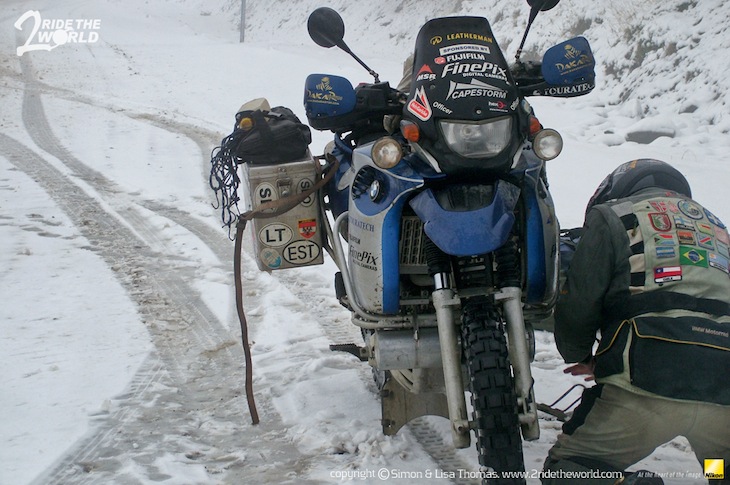 We nervously continued down hill. Both feet stuck out, sliding along the hard packed ice. Our front wheels locked up with the slightest touch of the brakes and then would judder as the ABS went ballistic. On our slow downhill descent we´d passed two cars that had fallen foul of the ice. Wheels were now spinning furiously. Both cars had slid half off the road and had little chance of getting back on without help. We were having problems of our own.
5 Km further on and at last we again had some traction. The snow and ice had cleared and we could once again pick up our speed and enjoy one long fast bend after long fast bend. After the frustration of the snow and ice this was a complete surprise. We relished the New grippy tarmac that carried us through open hillsides lit in fiery red autumnal beauty.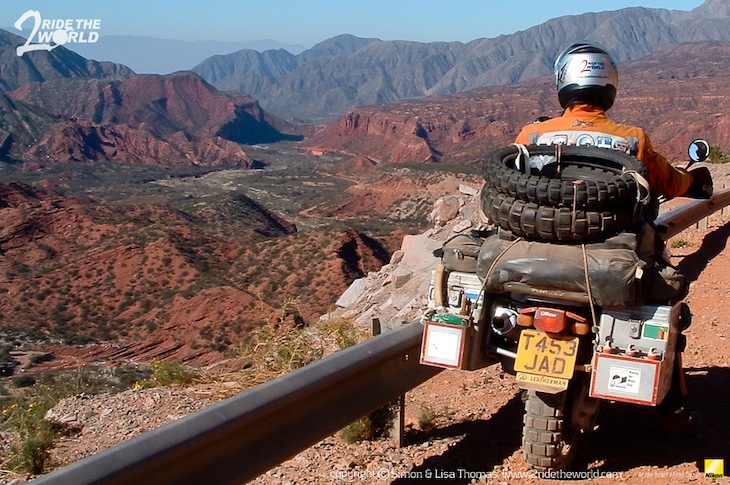 The large brown, wood carved sign simply read "Welcome to Ushuaia, the most Southerly town in the World". We´d made it! After all the miles, countries, high, low and hospital visits we were finally here. We´d come so far since leaving Nordkapp, Norway, the most Northerly point we could ride to. We were both hit with a sudden wave of relief and emotions. We just had to pull over share our excitement and of course take a few photos.
We rode through town slowly trying to take it all in. We were desperate to heat up. Sat inside a small café we sipped on freshly brewed black adrenalin Juice (coffee) and let sensation slowly return to numb fingers. Slowly even colour returned to wind beaten faces, whilst outside our parked bikes were already drawing attention. Coffee really can be medicinal.
The light outside was already softening in the last few hours of the day. We needed to get a move on, find somewhere to camp and get ourselves sorted. An hour later and we´d ridden the rough but easily navigated dirt track into the park Nacional Tierra del Fuego. The snow had now turned to rain. Passing the first ´pay for us´ campsite we´d continued on for another 5 km and had finally made our new home right next to the river.
We´ll see what happens tomorrow, right now we´ve been in the tent for 3 hours, under a barrage of heavy and constant rain. We´re on our fourth cup of instant hot chocolate and our eye lids are slowly closing. We here at last!
Please read more about Simon and Lisa's adventures at: 2RidetheWorld.com