This is the tenth post in a series that will follow Matt and Brayde Willson's motorcycle journey from Seattle to Tierra del Fuego over 120 days.
We bid farewell to Alfonso and Maria, then set off for the long haul to Mazatlán, Sinaloa. We were warned that the ride would be straight and boring with lots of tolls. Boy, were there tolls! Matt estimates we spent around 500-600 pesos in total, and some toll booths were only a few kilometers apart. The 400-mile trip was broken up with several construction zones, where we watched guys pour steaming tar from milk jugs cut in half and hand shovel hot asphalt from the back of a dump truck. It gives some perspective on how much money and technology has changed construction methods in the US.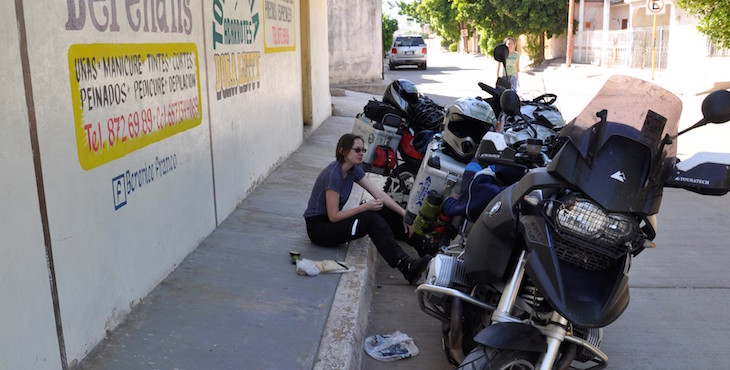 Along the way, we stopped for a lunch break in Guasave. While Matt ducked into a corner store for taco fixin's, I sat with the bikes and met a lovely father and baby boy who came up to chat from their house across the street. The guy was incredibly patient and helpful with my rudimentary Spanish, and we "chatted" about motorcycles (he was a fellow rider) and our trip.
While I was making friends outside, Matt was making friends inside. He emerged with chicharrón, limes and avocados, which we proceeded to wrap in enormous tortillas that Maria sent us off with, called "bed sheet tortillas." To give perspective, one tortilla made four tacos.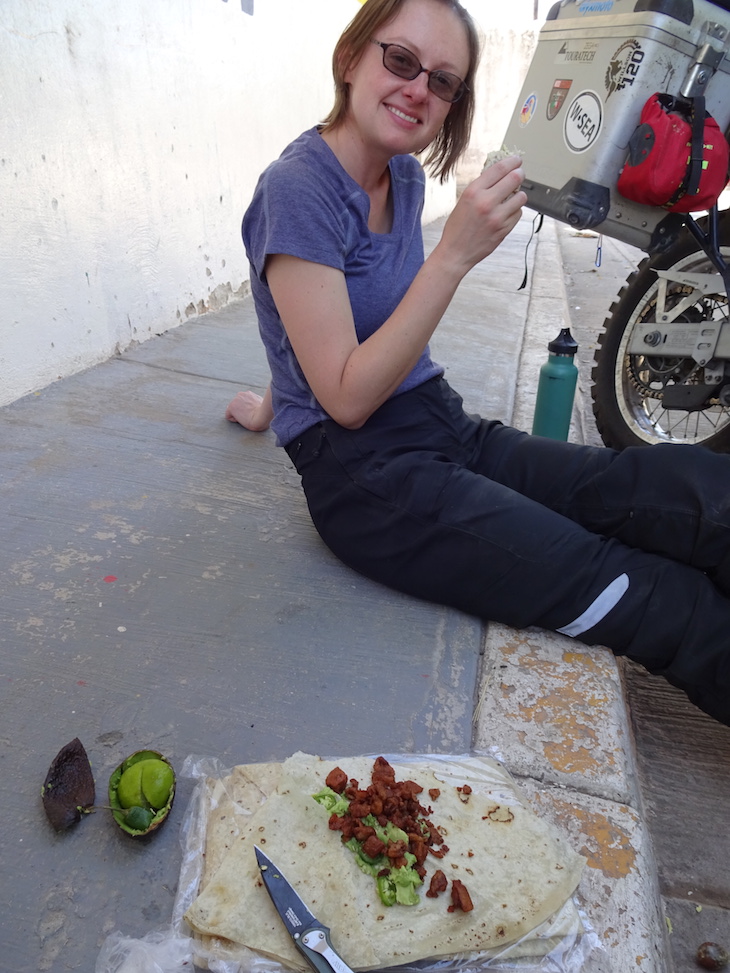 When we were done, Matt asked the little shop if they had a bathroom, and before we knew it, they let us in the back to use their private baño. To sort of say thanks, we gave them our card and stickers… which they brought back out to us to sign, along with free cokes and lollipops! We walked over to the family across the street and gave them the same sticker, and they invited us to join them for dinner. Such sweet people; I hope they weren't disappointed later when they discovered we aren't famous.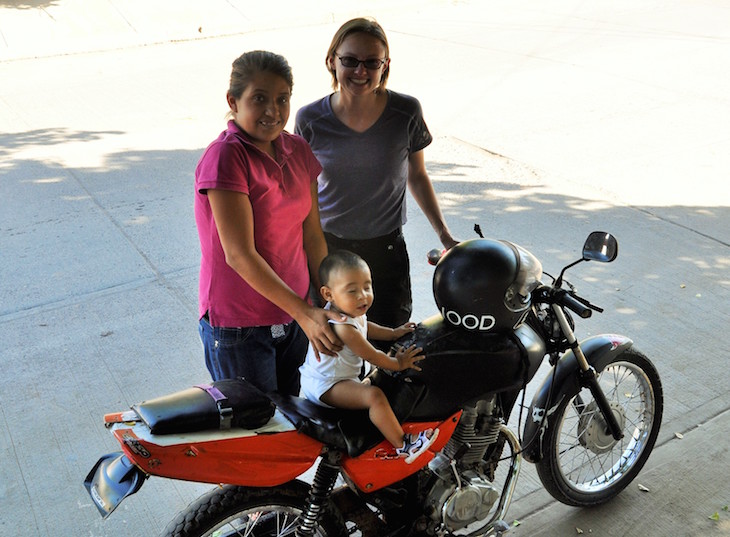 As we rode through sunset again (oops!), we were bummed to think about the view we were missing from our friend Glen's spectacular penthouse condo in Mazatlán. We made it shortly thereafter, though, and enjoyed the impressive view nonetheless. Glen has traveled the world on his BMW 650 Dakar and now lives part time in Mazatlán. He generously let us spend the night there with him, and we shared quesadillas and travel stories until the wee hours.
The next morning, after almost convincing Glen to ride with us, we set off for our first short day of riding so far. While planning the trip, Matt figured we could make our goal of Ushuaia in four months by riding about 150 miles per day. We've been putting in long days so far in an effort to bank the miles for future days when we want to have short, or no riding.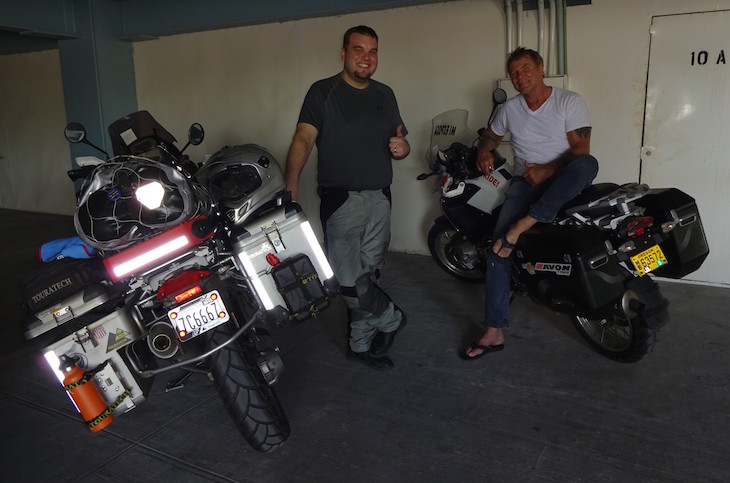 This day's ride was scheduled for Mazatlán to Durango, a distance of 165 miles. We wanted to take the free road, known as the "Devil's Backbone," but many locals warned us against it for its narrow lanes, blind corners, and heavy use by semis pulling double trailers. It was hard to resist (and we almost ended up accidentally taking the free road anyway!), but we opted for the toll road and enjoyed wide, new roads through several tunnels and over the tallest bridge in North America, the Baluarte Bridge. The scenery changed from an arid climate with sand and cacti to a temperate one with lush, green forests.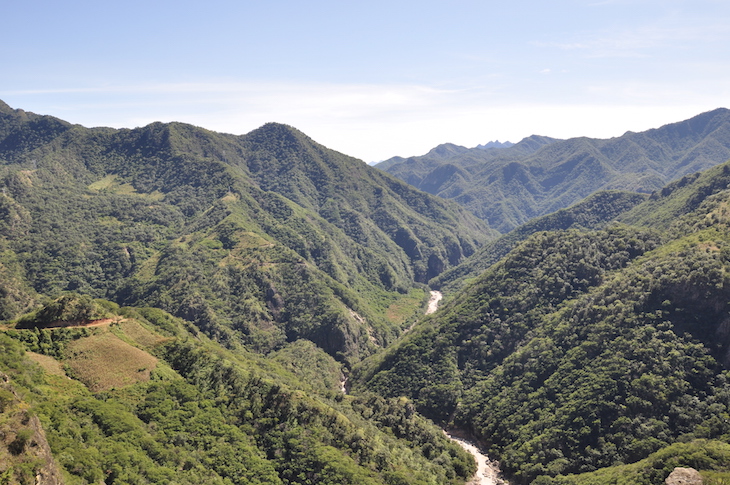 We eventually left the road for gas and lunch in El Salto, which ended up being another fortuitous stop. While we munched down our food stand gorditas, we watched a BMW F800GS pull up and proceed to come over to us. Turns out this 20-something guy rode to Tierra del Fuego himself last year. Small world! As we chatted more, we learned he lived in Durango. Before we knew it, he offered to ride the rest of the way with us and put us up in an empty apartment at his family's house. He kept saying how much the success of his own trip last year was enabled by the generosity of others and this was his opportunity to give back. How could we say no? So, off we went to finish out the ride into Durango on the tail end of the Devil's Backbone, which was nice and twisty through hilly pasture area.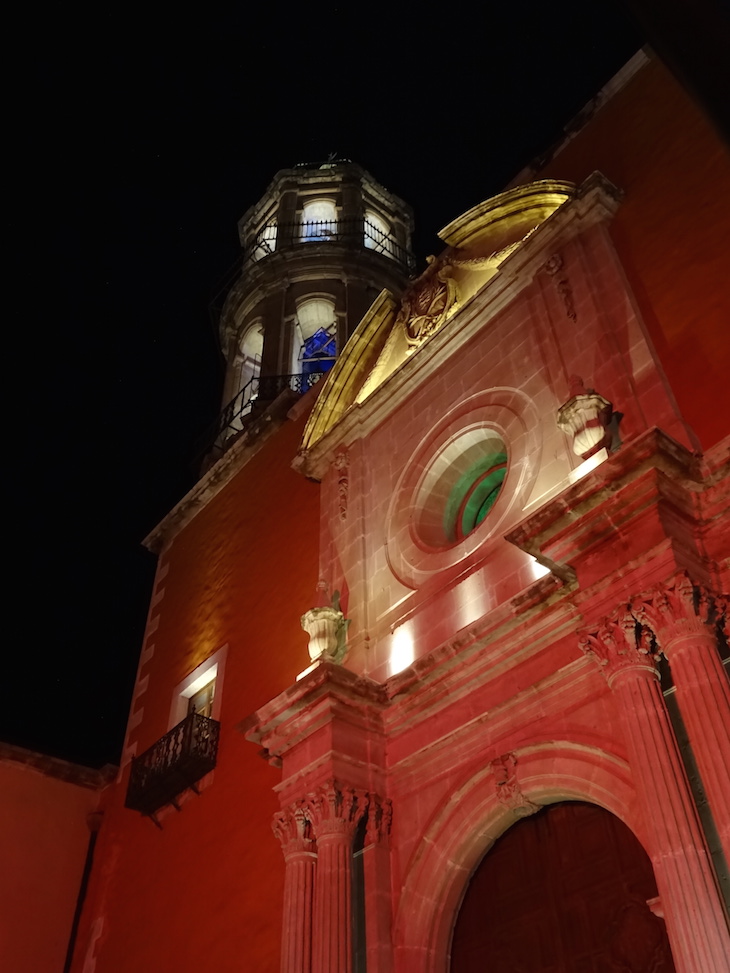 When we arrived at Hector's house, his family graciously invited us to a BBQ and wouldn't take no for an answer. The food was simple and delicious, we participated in a mezcal taste test, and we got more Spanish practice in! Afterward, we walked to Durango's historic city center and took in all the live entertainment local families were enjoying in the plazas on this nice Sunday evening. We both absolutely adore the plaza lifestyle of Mexico, where everyone—young and old—comes out to socialize at the end of the day. It's something we're looking forward to for the next four months.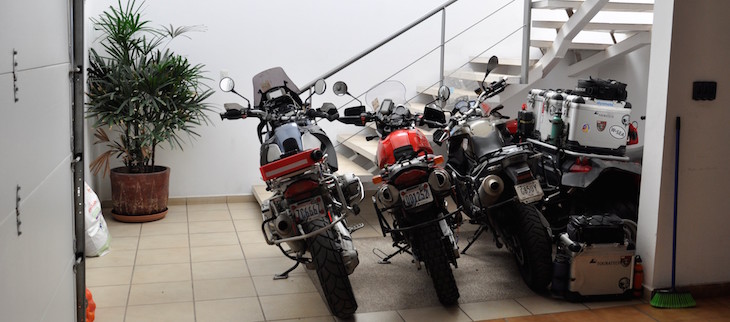 About the authors: Matt Willson is the product line manager at Touratech-USA. He's been with the company for 5 years and has been riding motorcycles longer then he can remember. Matt's wife, Brayde spent her life around motorcycles and the two have been riding together as long as they've been together. Brayde rides a 2007 BMW F650GS and Matt rides a 2006 BMW R1200GS
To read more Willson 120 posts CLICK HERE!