This year, when Suzuki introduced the re-vamped and updated V-Strom DL1000, eyes across the adventure motorcycle industry turned their gaze upon the industry's newest offering and the reviews have been positive across the board.
The new, V-Strom sports a smooth-running, 90-degree, twin-cylinder 1037cc motor that is water cooled and fuel-injected. It's sleek, good-looking and powerful. It's a welcome addition to the adventure motorcycle line-up and it helps open the sport up to even more riders across the globe.

Working with Suzuki, Touratech equipped two V-Strom DL1000's with accessories for Claudia and Mirko Nagler, as they prepared to embark upon a long distance trek that will take them through North and South America over 18 months.
The Nagler's mission is called "2 travel – a motorcycle adventure on behalf of children". They hope to help improve the quality of as many children's lives as possible as they ride over forty thousand miles. "I think there will be many opportunity's to help during our journey," said Claudia.
Lets's take a look at the Touratech additions to the new Suzuki V-Strom DL1000: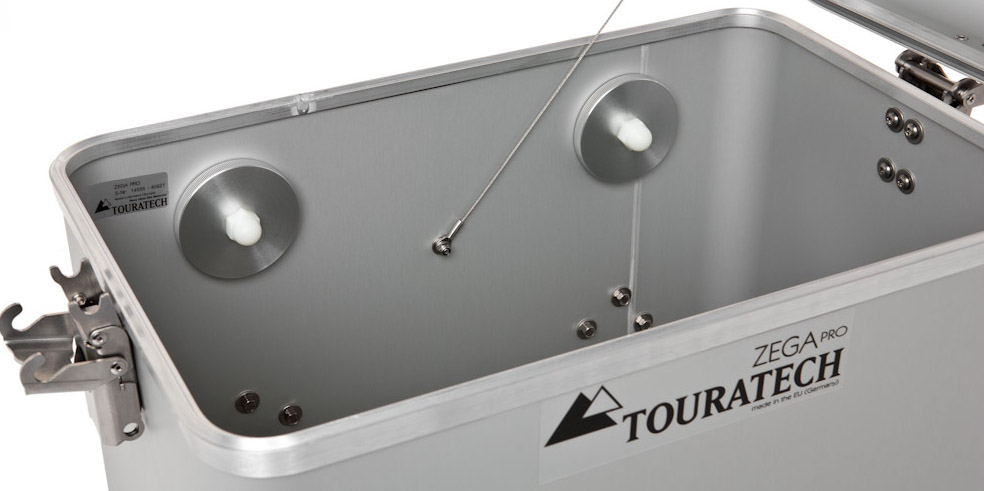 Zega Pro Pannier System: Starting at $1456
Security means a lot of different things to an adventure rider. Whether it's trusting that your gear is safely stored while you make a stop or that it's dry during a river crossing you can rely on the Touratech Zega Pro as the standard in pannier systems. Versatile enough that you can sit on it, use it as a table or utilize the removable lid to stage your tools when you're making a repair and strong enough to brave the most challenging conditions, Zega Pro panniers have provided secure, dry storage for riders around the world.
The body and lid feature rounded lines with rugged corner protection that is easily replaceable. Low profile anchor loops provide a flat surface that makes the pannier a good seat at the campfire. Crafted with 1.5mm aluminum and stainless steel rivet construction these sturdy panniers are available in 31, 38, and 45 liter sizes, three different finishes: bare aluminum, anodized silver and anodized black.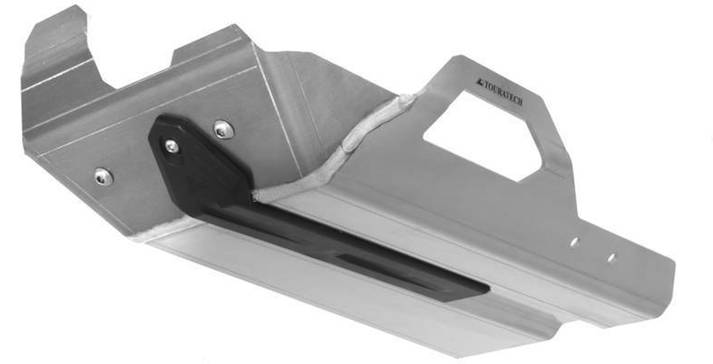 Exhibition Skid Plate: $393.70
The single most distressing issue with the V-Strom DL1000 is that the underside is very low and fully exposed. Rocks, sticks and other hazards can wreak havoc upon the engine, exhaust manifold and oil filter if you're planning any off-road adventures. The Touratech Exhibition Skid Plate was engineered to solve this problem. This skid plate does not mount to the engine in any way, and distributes any force from an impact directly to the frame of the motorcycle.
The Expedition Skid Plate also features a high-strength, fiber-reinforced polyamid nylon slider that absorbs impact and provides a sliding surface for negotiating obstacles. It's wide and long design gives excellent coverage to the bottom of the engine block, exhaust headers, and also extends upwards at the front to protect the oil filter.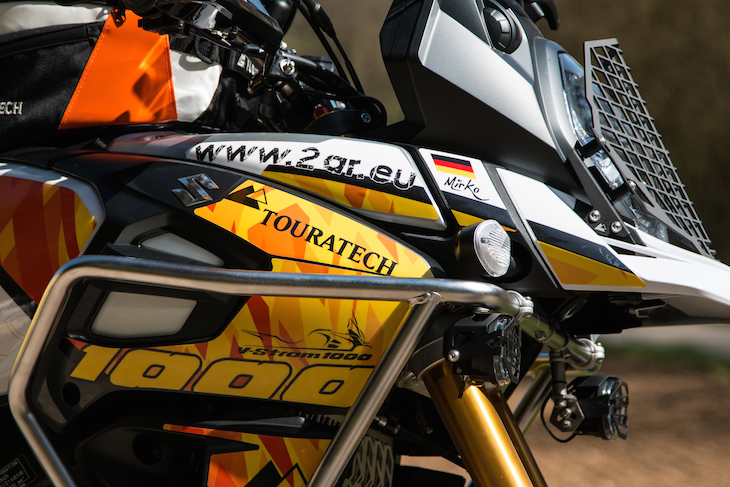 Crash Bars: $428.10
They're called crash bars for a reason, but even the slightest fall can cause considerable damage to your V-Strom DL1000's plastic fairings, radiator or fuel tank. Touratech Crash Bars are tough, stainless steel and mount directly to the frame transferring the force around it using a strong cross-brace system.
Made of robust 2mm wall thickness, 25mm (1-inch) diameter stainless steel tubing, these crash bars offer the best protection on the market for your Suzuki V-Strom DL1000. The bars look great on the motorcycle with their low profile design and bright electro-polished finish.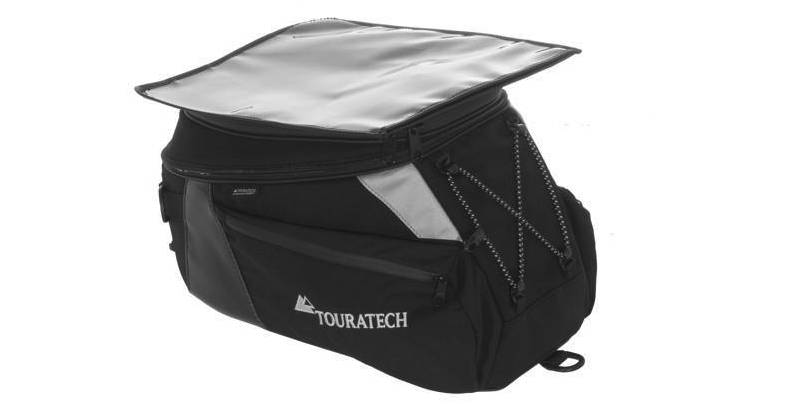 Expandable Touring Tank Bag: $386
With the panniers and top-case filled with all of your camping necessities, it's also great to have a place for quick-access items like maps, sunglasses, wallets, and cameras. The unique shape of the V-Strom's fuel tank requires a bag that fits properly and the Touratech Expandable Tank-bags fill this role perfectly, giving you an up-front storage solution for all your personal items, and a good place to display a map while riding.
Touratech Expandable Touring Tank-Bags are handcrafted in the Black Forest of Germany out of the finest materials, and boast a long list of features, specifically for touring and adventure riding.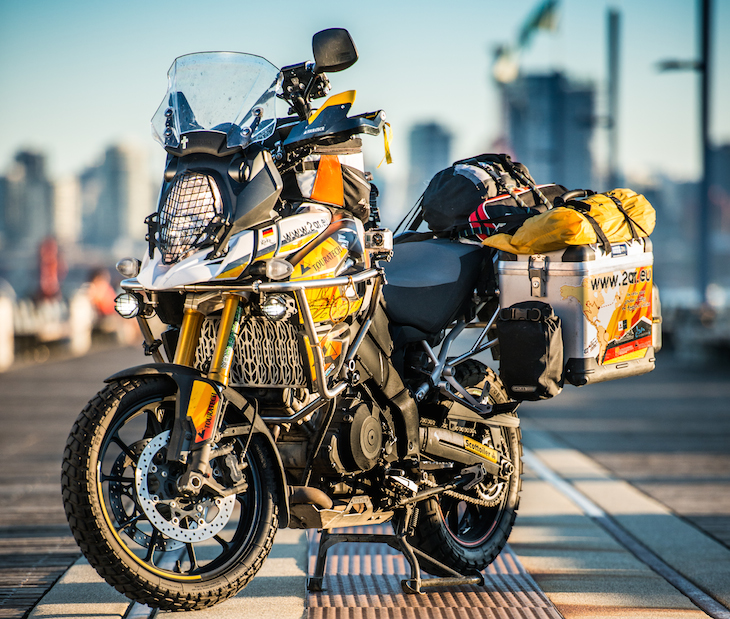 Touratech GD Hand Guards: $126.11
Flying rocks, debris or a passing tree branch can injure your hands and if your Suzuki V-Strom DL1000 falls to the ground, damage to the levers, controls and bars is inevitable. Touratech provides terrific protection for you and your motorcycle with its sturdy, stylish and flexible GD Hand Guards. These tough hand guards are built to absorb impact rather then transferring it to your handlebars or bar mounts, like steel or aluminum guards will do.
Available in several different colors, these guards come with all the necessary mounting hardware and are designed to be an exact fit for your Suzuki V-Strom 1000's original handlebars. If you'd like extra wind and rain coverage, additional spoilers are available for purchase separately.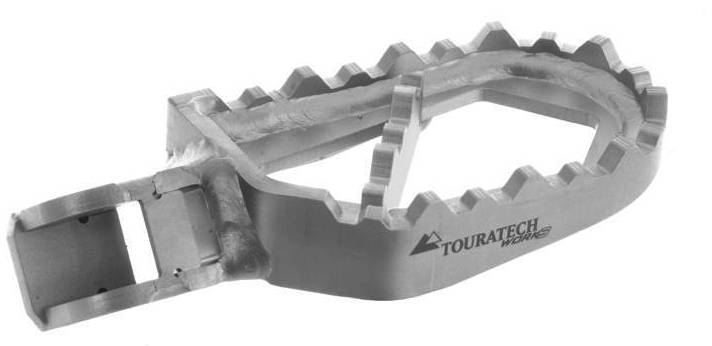 Touratech Works Foot Pegs: $196.40
The Suzuki V-Strom DL1000 Works Foot Pegs from Touratech are some of the strongest and most stable foot pegs on the market. The wide, grippy, high ground clearance design of the Works foot pegs is specifically engineered for street and off road touring.
These "Works" foot pegs were designed specifically for the needs of long distance touring and off-road riding on your DL1000. The serrated claw design of the peg has plenty of grip for off-road riding, but the teeth are rounded on top so they won't tear up your nice touring boots. The open design of the pegs allow clay, mud, and rocks to fall through, keeping your traction no matter what the weather or terrain. You'll never need to worry about slipping off your Suzuki's pegs when they're wet or muddy.
The low profile design of the pegs allow more ground clearance than most other aftermarket foot pegs. The chamfered bottom edge will give you more room for clearing ruts, rocks or stumps when riding off road. Their bright stainless steel finish with laser inscription will stay looking nice for as long as they're mounted on your motorcycle.