After three consecutive high-mileage days, the BMW Motorrad GS Trophy riders today were allowed some respite, with a stage distance of 230km it was set to be less a strenuous day. Only it wasn't! The day again featured a 'black run' to properly test the riders' technique and ended with a suitably physical Canadian theme – 'The Logger Games'.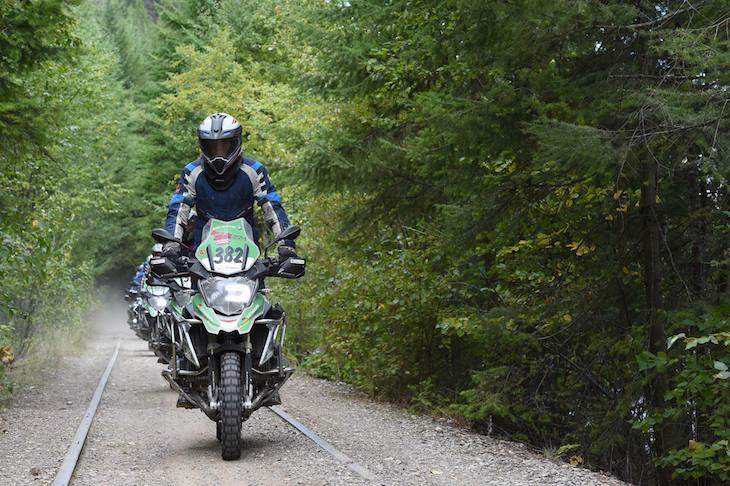 The departure time in Christina Lake came at a later 8am and the riders were visibly more rested, given the extra hour's sleep. They were in good spirits too after the local community served them breakfast. The interaction between the people of Christina Lake and the GS Trophy riders has certainly been one of many highlights of the trip so far. On the trails the action came fast. The first ride of the day followed the rail bed of the former Columbia and Western Railway track for the 75 km that link Christina Lake and Castlegar. Tracing a magnificent arc through the mountain valleys, the track offers fantastic views of turquoise lakes and high mountains but thick dust clouds and occasional deep gravel sections saw a few riders take falls. There were no injuries and only superficial damage to the bikes.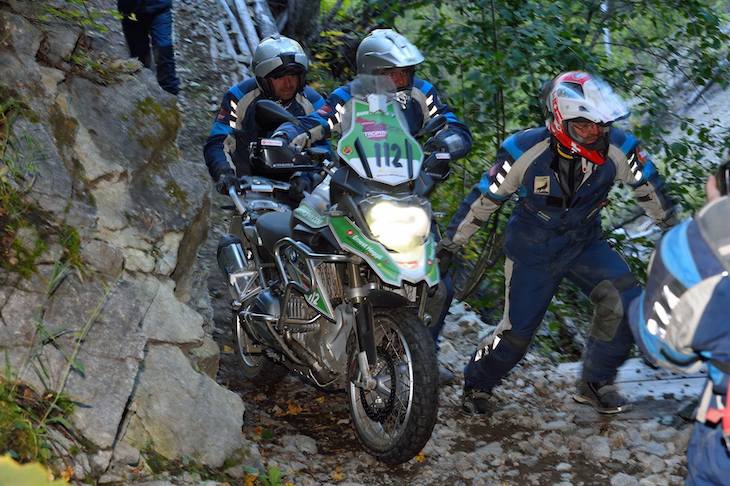 After 30 km of off-road heaven, the riders arrived at Special Stage 10, Pioneer Bridge, where three team members and their team journalist had to push one of their BMWs down and up a tight, rocky path against the clock. The fastest time went to Team CEEU. Continuing on the railroad trail for another 45km, and through a series of tunnels, the teams took a short road liaison before arriving at the day's 'black run' – an intense zigzagging climb through challenging terrain and dense foliage. Then it was a dash towards the picturesque town of Nelson, where the 'Logger Games' special stage awaited on the shores of Lake Kootenay.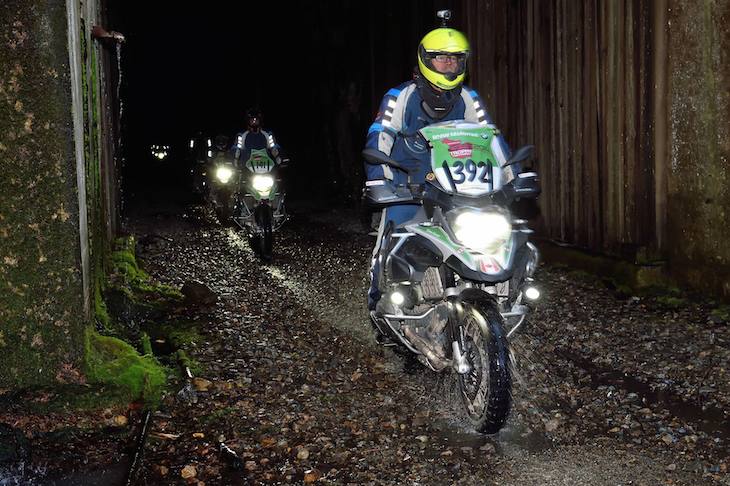 First, it was axe throwing, cross-cut sawing and log rolling challenges that were truly took most of the riders out of their element. Not surprisingly, Team Canada were one of the best, nearly bringing an overdue victory to the host nation, but it was Team CEEU who were the overall winners!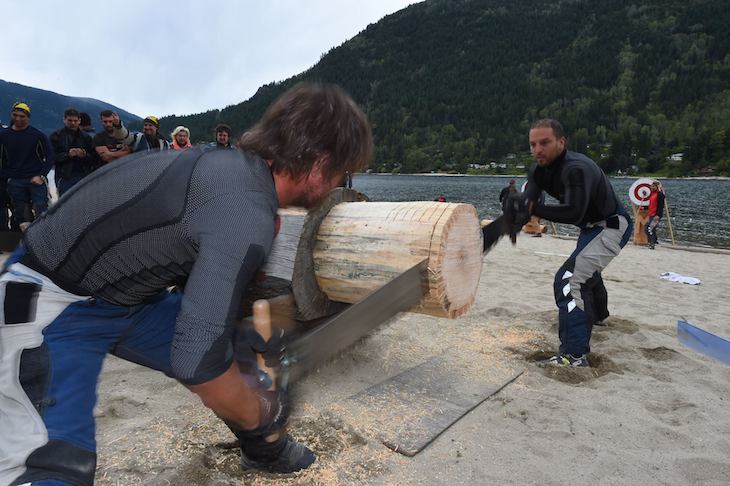 At Nelson, among the supporters in the crowd was Marc-André Octeau, who was also one of the Team Canada competitors from 2012. He was injured in the early stages of the South American GS Trophy. "I must be one of the only guys to be associated with three different GS Trophies," Octeau said. "In 2010 I qualified for the team but our baby's 'due date' clashed with the Trophy and I had to give up my place on the team. In 2012, I managed to qualify for Team Canada again, but my Trophy dreams ended early after a heavy crash on the motocross special. And now here I am in 2014, coming back to the Trophy. The organizers have invited me to ride the final three days with them so I feel incredibly privileged to be able to do this."
Team CEEU have significantly consolidated their lead at the top of the standings, but the spirit of the GS Trophy is reflected in the comments of Leonardo Noyola Vogel, of Trophy newcomers Team Mexico, "First of all, the GS Trophy is a lot of fun," he said. "The last three days have been great. We've made a lot of friends from around the world. Everyone is so friendly. It is very cool. It was a good day, we enjoyed the technical riding and we're sure it's going to be even better tomorrow."
BMW Motorrad GS Trophy 2014, Day four overall standings:
1 CEEU 148pts
2 South Africa 120
3 France 117
4 Russia 90
4 USA 90
6 Argentina 89
7 Korea 73
7 Italy 73
9 Germany 71
10 Alps 69
11 UK 67
12 Latin America 60
12 Brazil 60
14 Canada 56
15 Mexico 48
16 Japan 36