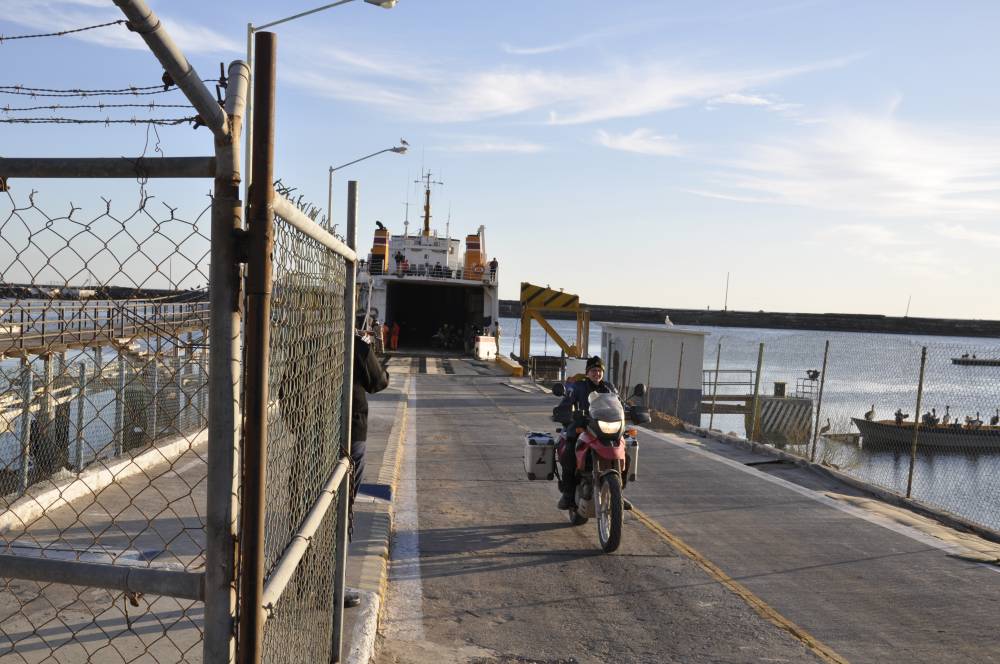 Upon disembarking from the ferry, we once again had our panniers and gas tanks searched and travel documents reviewed. Apparently drug trafficking is worse on the peninsula, so they have to be extra careful. And then we're off to grab breakfast in Santa Rosalía proper. Today's an easy day. We make our way from the east coast of the peninsula over to the west coast. Given that our ferry left a day earlier than anticipated, time is on our side.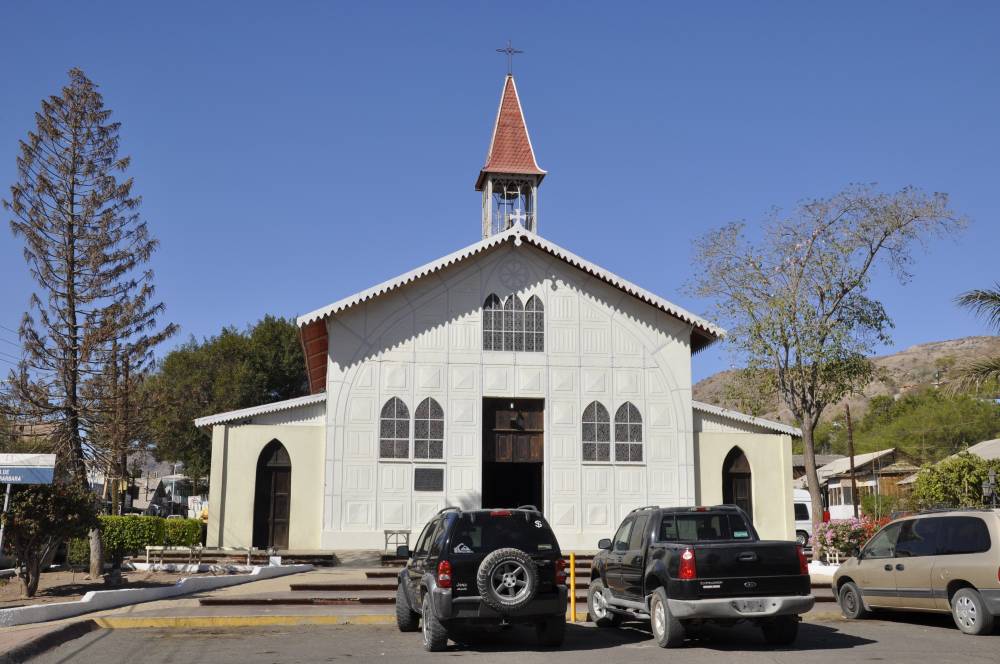 This church in Santa Rosalia was actually built in France, disassembled, shipped to Mexico, then assembled in place
We head out along the coast through a mining area, then off through the desert for a long stretch. After about an hour, we pull into the little town of San Ignacio for a break. The town is literally an oasis in the middle of the desert, all palm trees and water. Crazy! A family-run convenience store rushed in all of their helado when they saw us, so we grabbed some cones and relaxed in the shade. You can tell we're now in Baja by all the motorcycle and truck racing stickers plastering every window and wall of the businesses.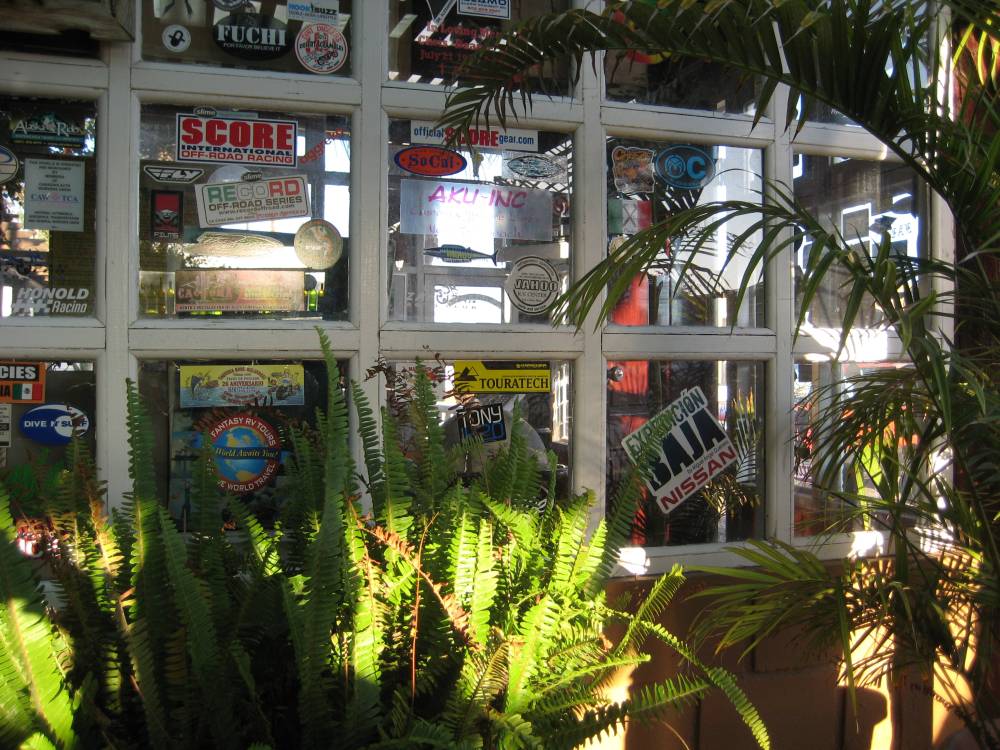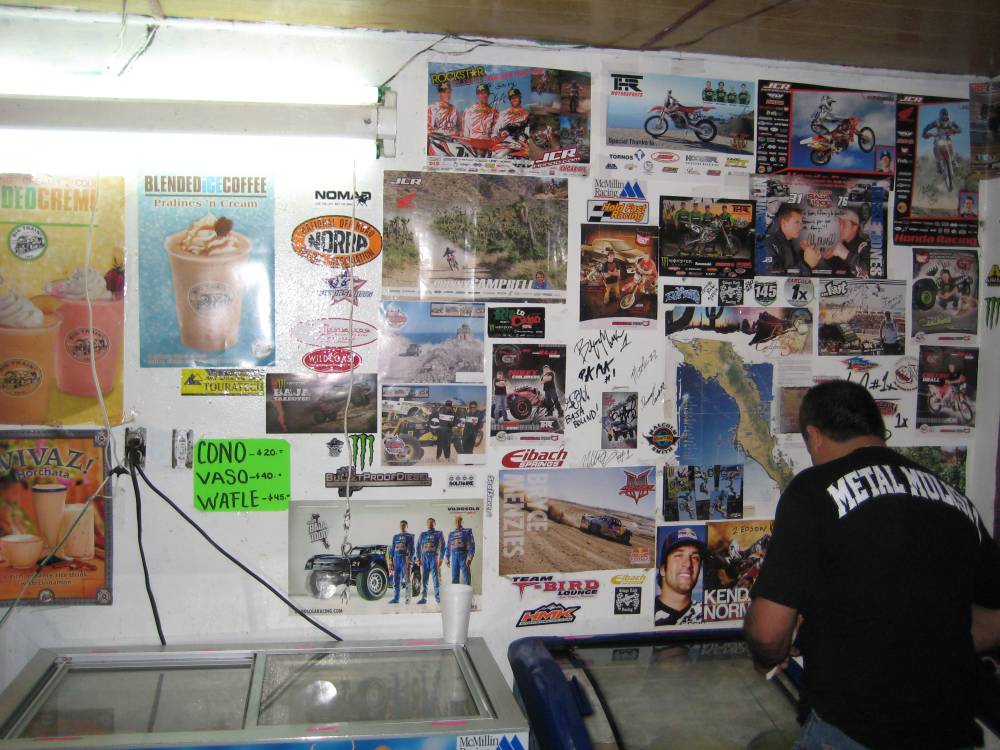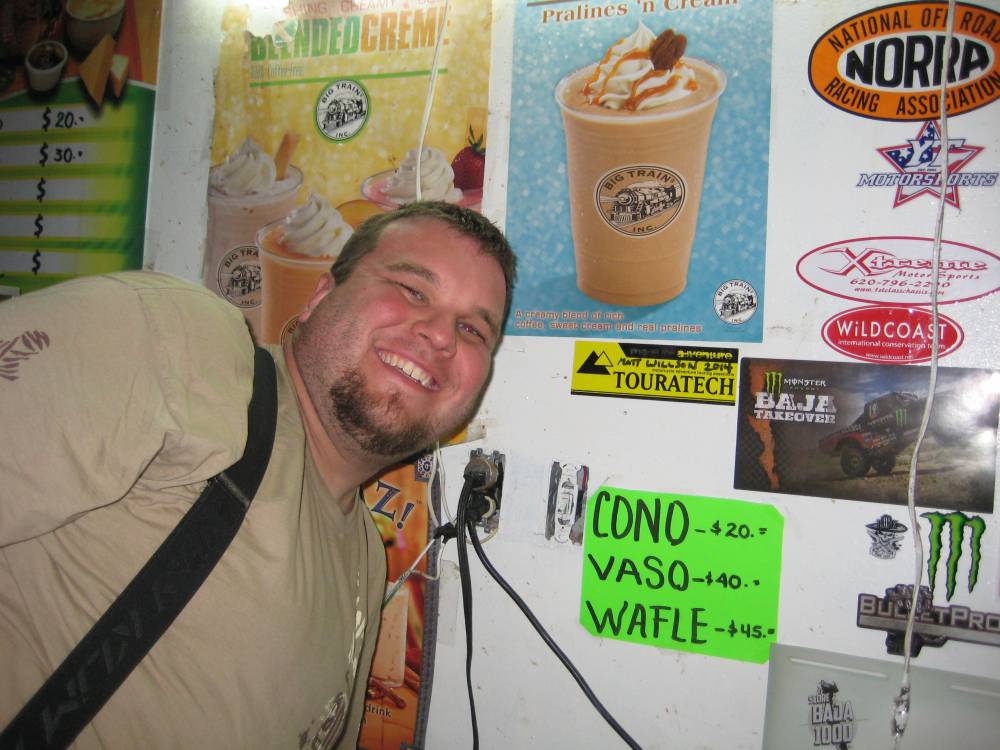 We make it to our destination of Guerrero Negro by mid-afternoon and are left to our own devices until dinner later in the evening. So, we take the opportunity to do a little laundry in our hotel room sink and then go out in search of fish tacos. Matt's been looking forward to them all trip, and we are now in the perfect region to find them. As we head out, Juan and Alfonso tell us about a fish taco truck they visited earlier that's amazing. Unfortunately, by the time our group gets there, they've already folded up shop. Food vendors sell the catch they get for the day and then close down, which typically happens by about 2:00 or 3:00. So, we "settle" for some yummy al pastor tacos instead.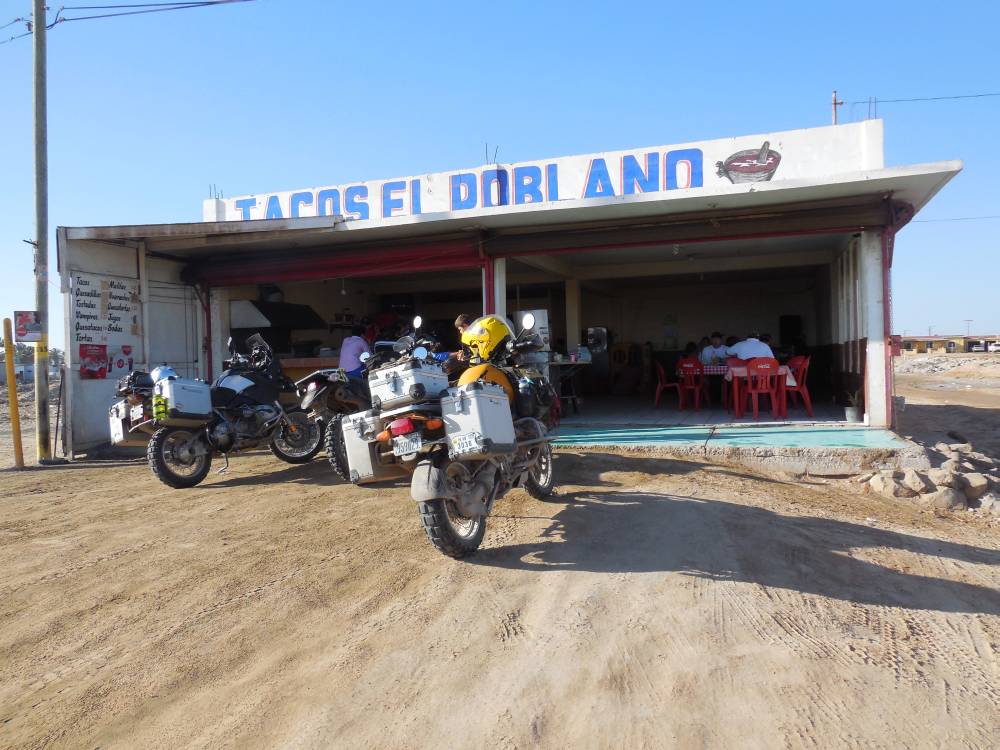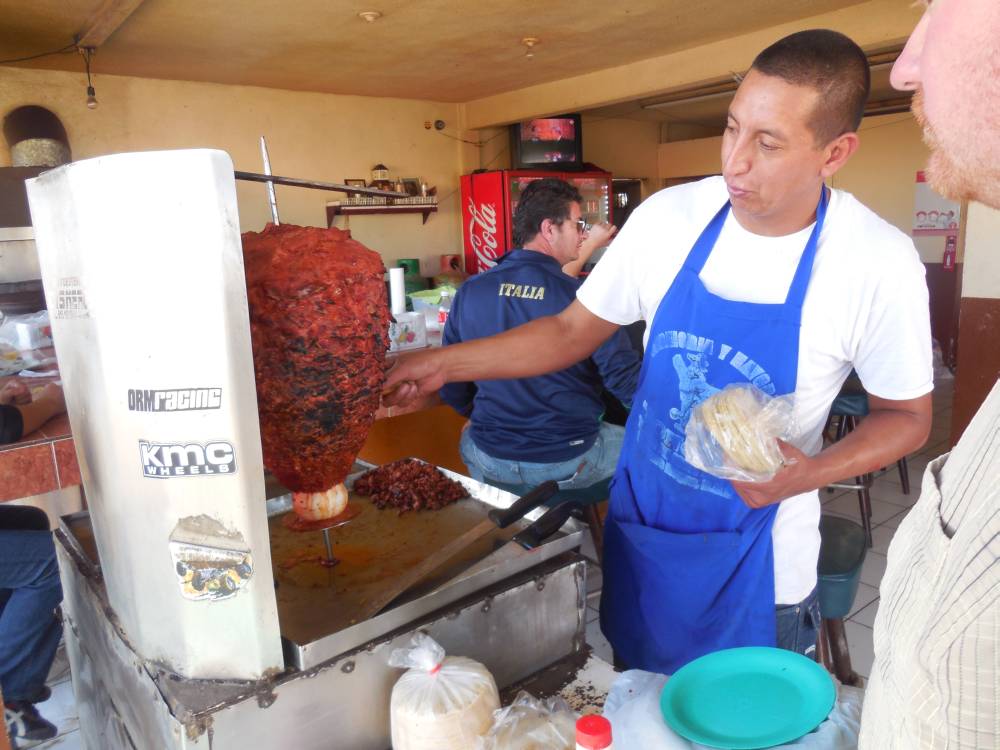 As we're looking around the town after lunch, we run into four more BMW GS riders. Wouldn't you know, Matt knows them through work, and we all end up sharing cervezas and talking about riding plans. Such a small world, and riding is always a universal language.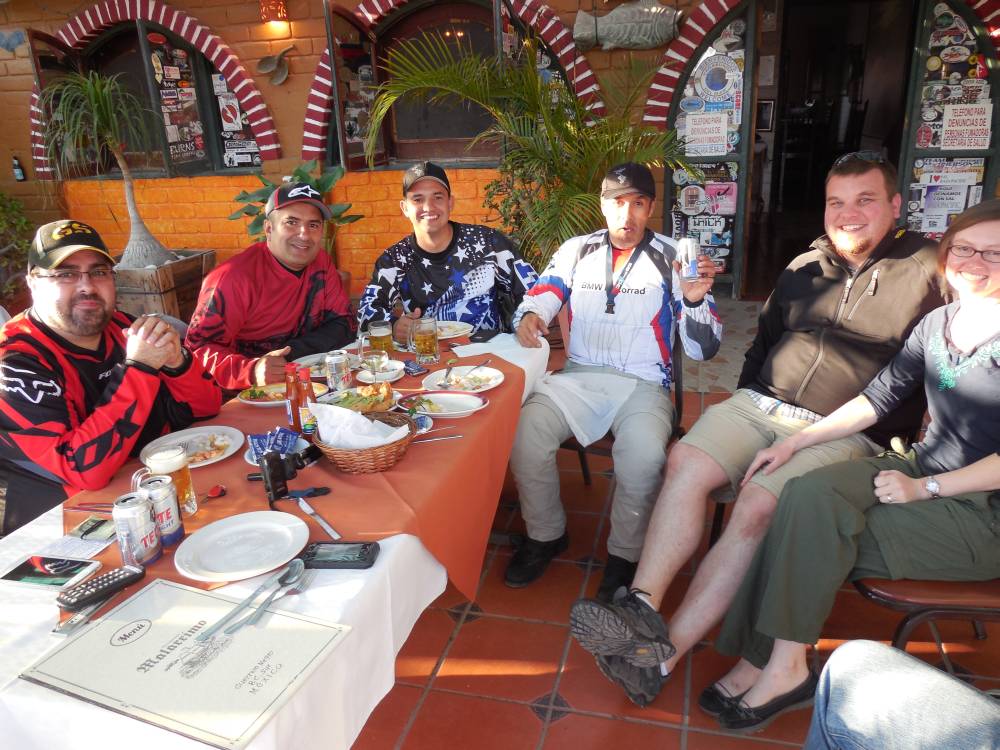 Matt & Brayde with Marco and his crew. Small world!
Tonight we're joined by Skip, the founder of MotoDiscovery. He has taken a very long bus ride all the way down Baja to meet up with us and join us for the rest of the tour. We're treated to a great dinner of fresh caught fish, abalone, and ceviche made with only the freshest seafood at a local restaurant.
Tomorrow, we go whale watching and then head back to the east side of the peninsula for a day of rest. Hard to believe we've passed the halfway point of our trip; it's been a great ride so far.
– Matt & Brayde