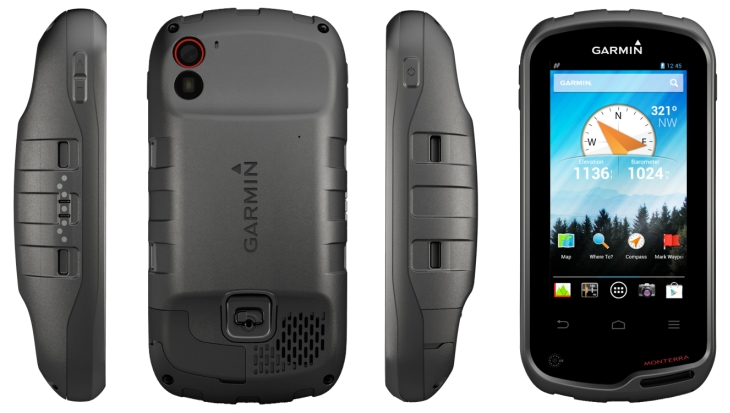 8 Reasons To Be Excited About The New Garmin Monterra GPS
Last year Garmin announced the latest of their "On the Trail" GPS receivers. It's quite a departure from their previous handheld GPS's because the underlying Android OS is fully exposed to the user much the same as an Android smartphone. That should already get you thinking of all the things you could do with such a device. Here are just eight of the reasons I'm excited about this Adventure Riding GPS receiver.
Reason #8 The Monterra exceeds my 13-point Adventure Riding GPS Basic Criteria! More about that HERE.
Reason #7 Durable Mounting – Uses the Garmin AMPS Rugged Mount and Touratech Locking Mount!
Reason #6 Great Camera – An 8 Megapixel Still and 1080p/30fps HD Video Camera and LED Flash! This camera is not an afterthought and it has many of the standard smartphone camera features. Don't like those features? Load one of the many Google Play offerings!
Reason #5 Multi-Select – More often than not, GPS receivers don't make it easy to manipulate your data on the device. With the Monterra you can select a bunch of Tracks you want to move to Archive using the multi-select mode and then move them all at the same time. Multi-select also works in the Waypoint Manager and the Route Planner!
Reason #4 3D MapMerge™ – Garmin's new multi-map 3-D rendering feature will really give you that "look ahead". By enabling your BirdsEye Sat Imagery and your favorite Topo map you'll have a true 3-D map of that section of the Backcountry Discovery Route you're about to tackle!
Reason #3 Flexible Connectivity – Want to share your Tracks, Routes, Waypoints, Maps, Photos or just about anything else whether you're connected to a network or not? How about listen to route navigation prompts with your Bluetooth Headset? The Monterra has WiFi(b/g/n), Bluetooth 4.0, ANT+ and NFC!
Reason #2 Apps – Install your own Android Apps to configure a highly productive GPS Adventure-tool! I have several of my favorites like the Earthmate App for my inReach. I can check and/or send messages right from my Monterra as well as watch my Tracking progress real-time using the saved off-line maps. All that while I'm still following my active route in the Garmin Outdoor App!
Reason #1 Powerful Editing – Routes transferred to the Monterra can be edited on the device. And, to add even more flexibility, while you're navigating your route, if you need to add a last minute side trip, you can insert multiple via-points into the route!
There's a lot more to the Monterra so if you're looking for the "in-depth" review, check out my Monterra article at www.GlobeRiders.com
Dan Townsley, GlobeRiders
Click HERE to see our complete GPS comparison post.
Click HERE to order your Garmin Monterra GPS unit.