Shortly after BMW introduced their updated F800GS, the team at Touratech-USA installed a number of adventure accessories which turned the 2013 F800GS into the ultimate adventure motorcycle.
Touratech-USA's General Manager, Paul Guillien, then spent a few days in the backcountry testing both the bike and the accessories our team installed, including the new Expedition Skid Plate, Works Footpegs, Upper Crash Bars and more.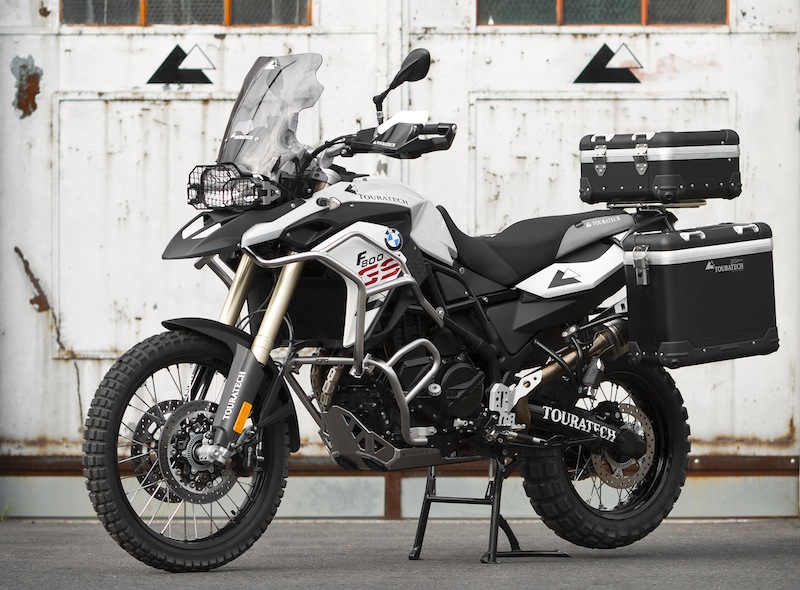 Full Video Transcription:
We've completely outfitted our 2013 BMW F800 GS with Touratech parts and now we're taking it out for an epic ride. We made arrangements with BMW to get this bike as early as possible so that we could test it by putting all of the Touratech parts on and just get a sense for it. One of the things we do at Touratech is we talk to customers who are thinking about what bikes they want to buy. Either they're on the phone or they call, or we see them at trade shows and they're trying to figure out what's the right bike for them. So we like to get some experience on it, know what the new features are like and that way we can help customers make informed choices about what motorcycle to buy.
The F800GS is a great motorcycle and Touratech's got some parts and some accessories that allow it to become a real long distance travel motorcycle thanks to our pannier system and tank bag and all the protection items. We take a good motorcycle and make it a great motorcycle for long distance travel by adding the right accessories.
Touratech has a complete line of accessories for the 2013 F800GS. We have the Zega Pro Pannier System, as well as a Rapid Trap Topcase System. We have crash bars, upper crash bars, an all the usual bits to protect the bike and give you a good luggage options for carrying all the gear you need to for long distance traveling.
For the 2013 F800GS, Touratech's gone back to the drawing board and completely redesigned the skid plate. So we have a very robust skid plate now that covers all the critical areas. It's welded. It's heavy gauge aluminum, and it also has some plastic sliders across the bottom. It's unlike anything you've seen and we're really excited to have this signature item for this motorcycle.
Touratech has a smoked tall windscreen for the F800GS. It's got a nice tint to it. It's darker, so it looks really nice with the white bike and it accents some of the black parts on the motorcycle. It's tall and it creates a nice bubble of wind protection, which prevents buffeting and it's very comfortable on the highway.
Touratech has a new line of foot pegs for almost all the adventure models. It's called the Works Footpeg. It's a much wider platform and I've been riding with them today and they're very comfortable. It's a nice large platform. You can still operate the brake and the shifter comfortably and it just feels much better standing up for long distance than the stock pegs.
Touratech has two different sized topcases for the F800GS. There's a 38 liter and the 25 liter. They're available in three colors – there's anodized siler, anodized black and bare aluminum. All of our topcases come with the rapid trap option, so it's a quick release system that allows you to snap it onto the bike easily and also remove it in seconds.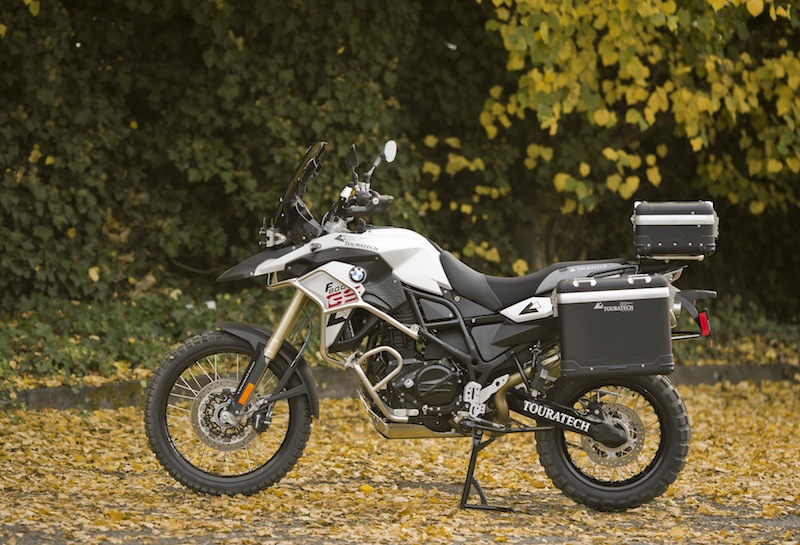 BMW really did it right with the F800GS, but after a few years there were some customer complaints and some things that weren't ideal in some people's view. One of them was the suspension that a lot of people found to be a little bit soft especially for off-road riding or riding at speed. So, BMW has addressed that with the new 2013 model by giving it an ESA suspension so you actually have three different adjustments. I can tell already after only a few hours of riding off-road, I haven't bottomed the bike out yet, where as on the older models it was common to bottom them out unless you had some aftermarket suspension. I think they've really done a good job addressing one of the biggest complaints about the older bikes.
The F800GS is a great bike for a wide variety of terrains. It's actually quite fun in the city. It's a good grocery getter if you have tight parking areas and things like that. It's really flexible. It's also fun on twisties and mountain highways where you can go long distances. It has good fuel range and it's a lot of fun. And then if you see a dirt road off to the side, you can hit it and this bike can go just about anywhere through sand and rock. We just did a river crossing here and it does those just fine because it's got the taller travel suspension and it's just ideally suited for a wide range of terrain.

Although the suspension on the 2013 F800GS is better than previous models, many riders will find that it's too soft, lacks sufficent pre-load adjustment when the motorcycle is fully loaded with luggage and does not have a high-performance feel when riding off-road. So for the rider looking for superior pre-load adjustment, world class handling both on and off-road, durability and serviceability, Touratech now offers a complete line of suspension for BMW's 2013 and 2014 (non Adventure model) F800GS!
Touratech Extreme Shock: $1795
Touratech Expedition Shock: $1495
Touratech Explore HP Shock: $1095
Touratech Progressive Shock & Fork Spring Kit: $359
Touratech Suspension is purpose built for adventure touring motorcycles with luggage. The damping characteristics, high-strength shaft, 6082 T6 aluminum shock body and extra pre-load adjustment are ideal for loaded adventure bikes. While every shock in the range is heavy duty, additional features including hydraulic preload adjustment, remote reservoir, adjustable high-speed and low-speed compression damping and (PDS) bottoming prevention technology can be found in the higher end of the range. Available for most BMW, Yamaha, Suzuki, Kawasaki, and Triumph models of adventure motorcycles. Touratech will customize the spring to match your weight and riding style and usually ships within 24 hours.

Click HERE to see our complete line of accessories for BMW's 2013(+) F800GS.