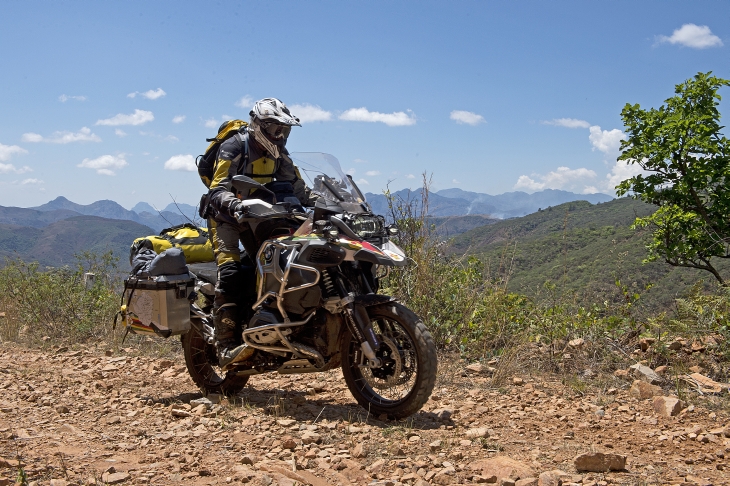 BMW's new 2014 R1200GS Adventure is the distance traveler's version of the water-cooled R1200GS motorcycle. The Adventure features protection accessories and other upgrades for off-road touring. And while the new R1200GS Adventure model is ready to explore the world direct from the factory, there were a few Touratech accessories and protection parts our CEO, Herbert Schwarz, installed on his water-cooled R1200GS Adventure prior to a three-week expedition from South Africa to Zimbabwe and back.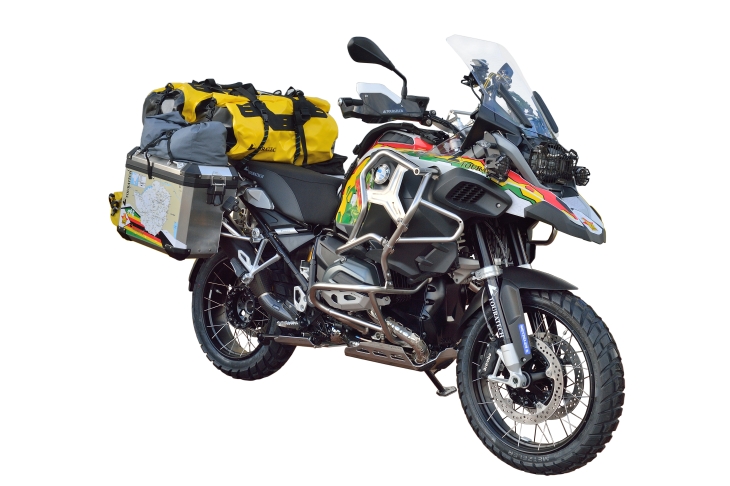 Here are some of the Touratech accessories available for BMW's new R1200GS Adventure:
Expedition Skid Plate – $375 – $450
Touratech's Expedition Skid Plate offers an ultra-strong stainless steel sub-mount, 4mm thick aluminum construction with corrugated channels for extra strength, replaceable polyamide nylon sliders, low-profile design, and complete coverage of the engine. This armor is finished with polyamide nylon rails that absorb impact, protect bolt heads and provide a sliding surface for overcoming obstacles.
Plug & Travel Suspension – $1,495 – $2,495
Touratech's new Plug & Travel Suspension system, the world's first aftermarket shock that is plug & play with BMW Motorrad's new water-cooled R1200GS.
Works with stock controls and ride modes on your water-cooled BMW R1200GS Adventure. Over-sized 46mm damping piston for cooler temperatures and reliable performance. Large oil reservoir and floating piston design for smooth and consistent handling. Adjustable high & low speed compression damping for tuning your ride. Fully serviceable for long life and consistent performance.
15mm Bar Risers – $74
Riders can customize the fit of their R1200GS Adventure with a set of Touratech bar risers. When the bike fits the rider, long trips are more enjoyable. Touratech bar risers for the 2014 R1200GS Adventure increase bar height 15mm.
Expandable Touring Tankbag – $386
A generic fit tank bag just doesn't belong on a refined machine like the R1200GS Adventure. Choose a tank bag that will stay in place because the bottom panel is molded to the shape of the bodywork. Touratech offers the highest quality and best fitting tank bag designed specifically for your R1200GS Adventure. Hand-made in the black forest of Germany, Touratech tank bags are packed with features designed by riders for riders, specifically with adventure motorcycle touring in mind.
Adjustable Brake Lever – $130
There's nothing worse than stepping for the rear brake and having it in the wrong place. Many riders find the brake pedal too low and hard to reach while standing. This folding rear brake lever from Touratech lets you adjust the height and forward position of the brake pedal on your BMW R1200GS, while adding the extra protection of a folding tip.
Ultimate Headlight Guard Package – $185
This Ultimate Headlight Guard Kit from Touratech combines the two best guards available for your liquid cooled BMW R1200GS. Including both a clear plastic headlight guard and a stainless steel grid guard, this kit allows you to switch between the two styles in seconds. Whether you're riding a dusty off-road track, or commuting on the street at night, you'll have the right protection for your R1200GS water boxer's headlight.
Touratech Comfort Seat – $489 – $538
Don't waste a perfect ride with a bad seat. We all know how important comfort is on an Adventure Touring motorcycle. Your seat is the largest connection between you and your bike, and can make or break a trip. Upgrade your comfort level and make those long days in the saddle more enjoyable with a Comfort Touring Seat from Touratech.
Large Sidestand Foot – $41
Touratech's Large Sidestand Foot stabilizes the R1200GS Adventure when parked in grass, gravel, mud or forest soil. The increased surface area of the Touratech Sidestand Foot dramatically improves the stability of the R1200GS Adventure, making off-the-beaten-path parking much easier.
GPS Handlebar Bracket Adapter – $74
A brand new GPS unit for your motorcycle, and nowhere to mount it? This GPS bracket bar from Touratech gives you a solid attachment point on your Water Cooled BMW R1200GS. for any one of our locking GPS mounts. Gone are the days of trying to read shaky GPS screens or dealing with broken plastic pieces. Made of stainless steel and anodized aluminum, this handlebar mounting adapter is built to go the distance.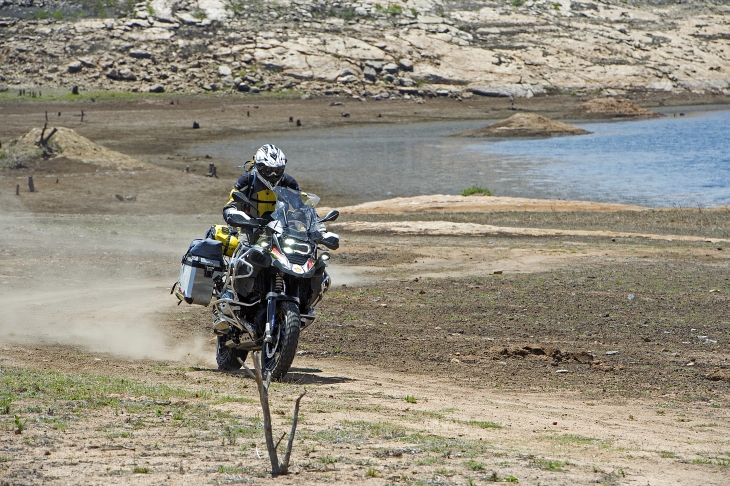 How is the new GSA?
After riding the new R1200GS Adventure in Africa, Herbert felt a significant improvement in the fly-wheel mass of the motor, which made it easier to ride off-road and less likely to stall during slow speed maneuvers. The team at BMW Motorrad reports these improvements were achieved by adding 2.1lbs to the crank shaft and incorporating a vibration damper between the gear box and drive shaft for on the Adventure Model.
The increased ground clearance and longer-travel suspension make the bike downright fun to ride when the pavement gave way to dirt tracks. The long-travel suspension also helps manage the additional weight that comes on the ADV version.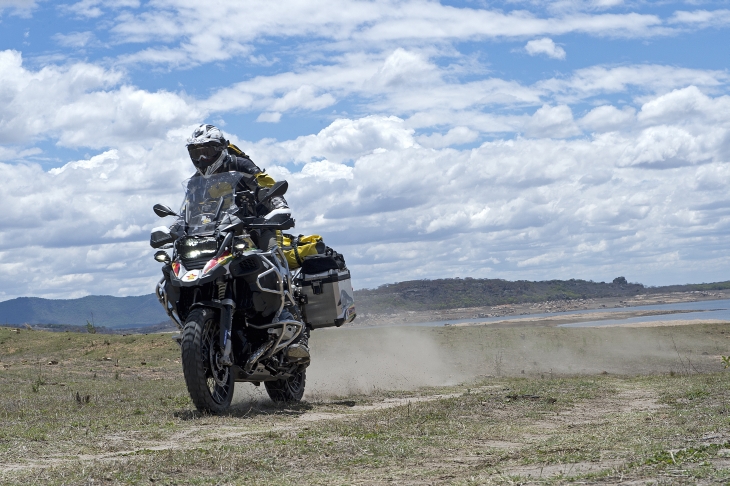 Handling and stability have been further improved for the 2014 models with a steering damper installed on both the GS and GSA models at the factory. Although this steering damper is not adjustable, there will be an adjustable version available from Touratech for both the 2014 GS and GSA as well as the 2013 GS which doesn't come with one from the factory. The Touratech Adjustable Steering Dampers will be available in early 2014.
The extra-capacity aluminum fuel tank gives confidence to explore further and spend less time hunting for a gas station. For the recent African expedition Herbert found the extra fuel capacity was critical, because petrol can be rare in rural Zimbabwe. And perhaps the most obvious thing Herbert enjoyed about the new bike was the redesigned look; a rugged, off-road styling that reflects the character of the latest BMW R1200GS Adventure.

Click HERE to see the six reasons we're excited about BMW's new Adventure.