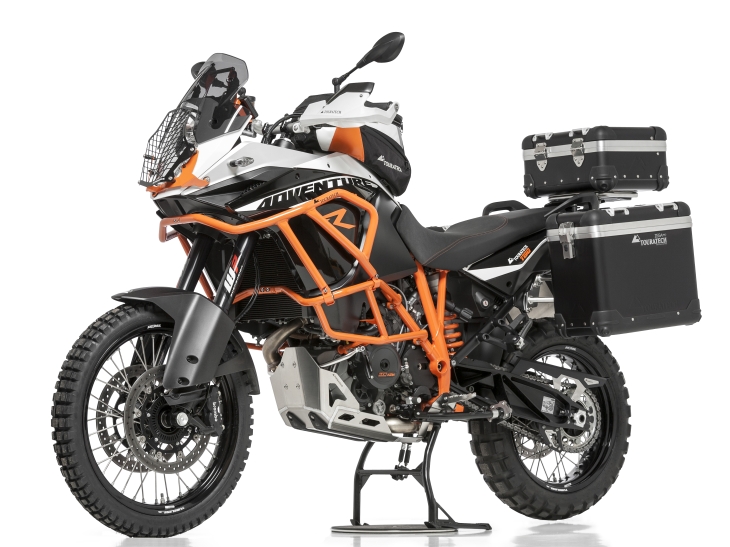 Electric anticipation surrounds the shipment of KTM's new 1190 Adventure R. Replacing the tried-and-true 990 Adventure, KTM's new 1190 is a 148hp, gravel-eating adventure motorcycle offering precise handling, class-leading braking, and a suspension capable of handling even the most extreme off-road conditions.
What the new KTM 1190 Adventure R lacks, however, are the accessories that will allow it to safely venture long distances carrying everything you'll need along the way. So, when a new 1190 Adventure R arrived at Touratech-USA, the team was eager to install an assortment of the most important protective parts including their new Expedition Skid Plate and Quick Release Headlight Guard. The Touratech team also equipped the KTM with a set of Zega Pro panniers, a Zega Pro Topcase, Expandable Touring Tankbag, Large Sidestand Foot and a GPS Mounting Bracket.
Here's a list of the accessories Touratech-USA installed on the 2013 KTM 1190 Adventure R: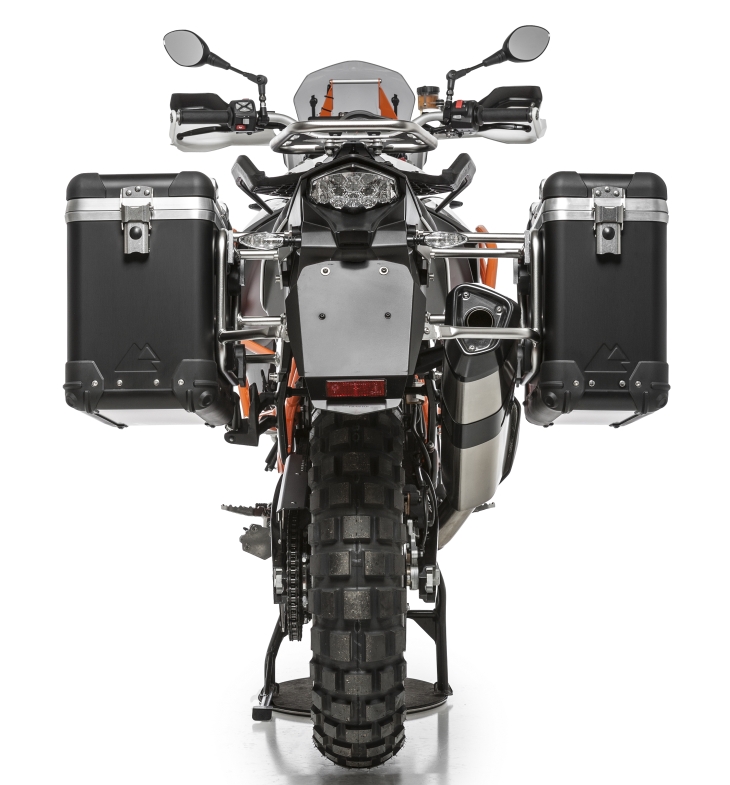 Zega Pro Pannier System: $1,300 – $1,502
A high performance adventure touring motorcycle like the KTM 1190 adventure deserves the best possible luggage system. The KTM 1190 Zega Pro Pannier System is the best aluminum luggage on the market, backed up with many years of development, testing, and 'round-the-world travel.
Touratech Zega Pro panniers have provided secure dry storage for adventure riders the world over. The body and removable lid feature rounded lines with rugged corner protection that is easily replaceable. Low profile anchor loops provide a flat surface that makes the pannier a good seat at the campfire. Crafted with 1.5mm aluminum and welded/stainless steel rivet construction these sturdy panniers are available in 31, 38 and 45 liter sizes.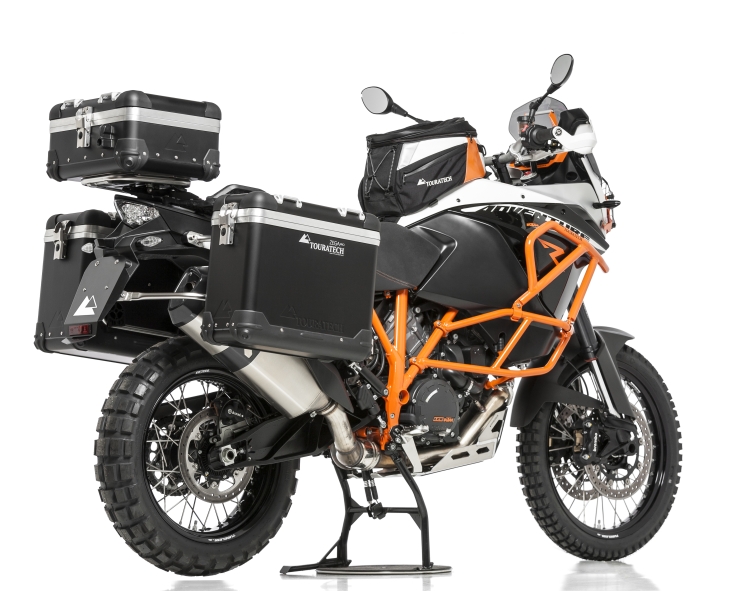 This strong and durable topcase rack for the KTM 1190 Adventure or ADV R gives you a stable place to mount any Rapid-Trap equipped Zega or Zega Pro topcase.
Made entirely of stainless steel and specifically designed for the KTM 1190 attachment points, the topcase rack is the perfect way to attach ZEGA PRO Topcases equipped with the Rapid Trap system to your bike. The Topcase rack can be used on its own or in conjunction with our pannier system.
25-Liter Rapid Trap Zega Pro Topcase: $572
Shapely, sturdy and state-of-the-art, this case meets every requirement. Made from 1.5 mm thick aluminum at our factory in Niedereschach, Germany, this case is waterproof, dust-proof and extremely tough. The heavy duty protective plastic strips on the corners and bottom edge are bolted on – which means they can be replaced if necessary. The single latch of the topcase can easily accept an integral lock cylinder so your possessions will be secure while you're away from the motorcycle.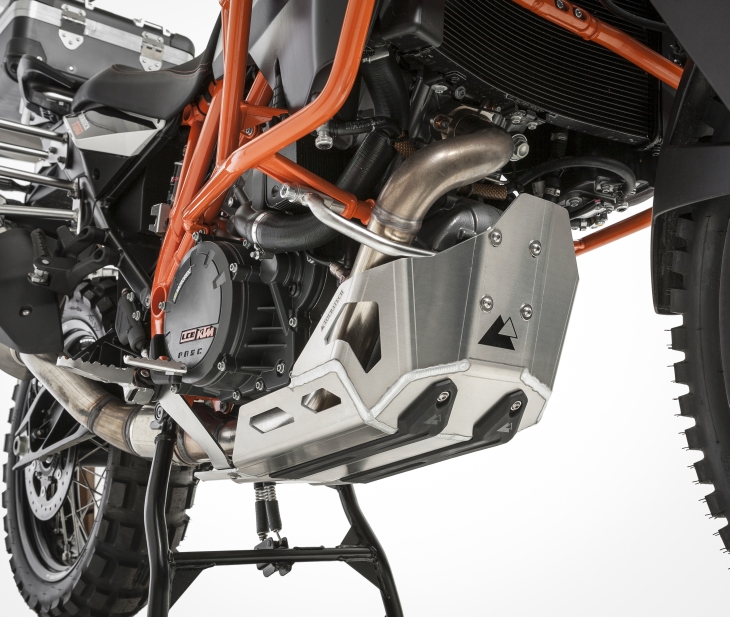 The Touratech Expedition Skid Plate offers the ultimate in engine protection for your KTM 1190 Adventure or ADV R. With its tubular front sub-frame, stainless steel mounting brackets, and 4mm thick corrugated aluminum construction, no other skid plate on the market comes close to the level of protection this engine guard offers.
The ultimate bolt-on protection for your KTM 1190 Adventure. Touratech's Expdtion skid plate offers an ultra strong mounting system, 4mm thick aluminum construction with corrugated channels for extra strength, replaceable polyamide nylon sliders, low profile design, and complete uninterrupted coverage.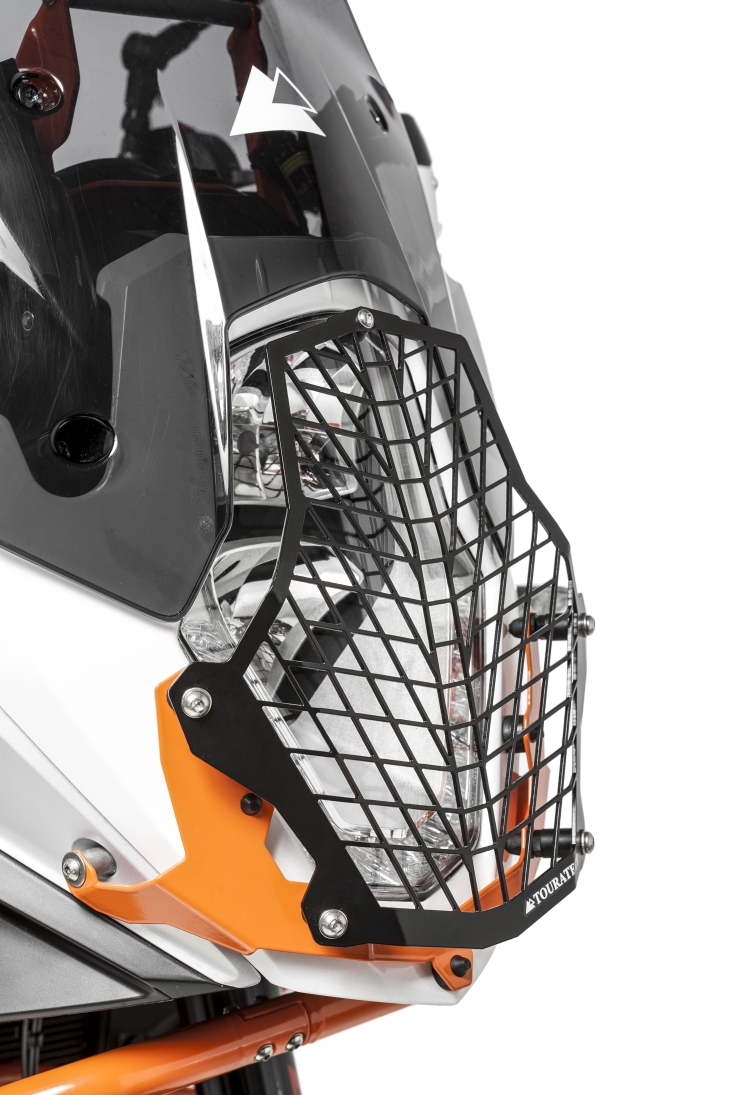 Quick-Release Stainless Steel Headlight Guard: $131
One thrown rock from another motorcycle or a passing semi-truck and it's lights-out on your adventure. Protect your expensive KTM 1190 headlight assembly with a strong laser-cut stainless steel grid. The design accents the unique styling of the 1190 Adventure or Adventure R and looks great with a black powder coated finish. The mounting brackets are available in black or KTM orange.
This quick-release headlight guard for the KTM 1190 Adventure or ADV R removes instantly for easy access to clean dust or dirt off the headlight assembly to maximize light output.
Touratech 25mm Bar Risers: $74
Nothing rides better than a motorcycle that fits like it was made for you. A set of bar risers from Touratech will open up the ergonomics of your KTM 1190, making long stretches of road riding more comfortable, and will keep you in control during technical off-road riding up on the footpegs.
Many KTM 1190 riders find that increasing bar height makes a noticeable improvement to their comfort. Raising the bar height results in a more upright position which can relieve neck and back strain. Touratech bar risers also enable a more comfortable and controlled standing position, which is ideal for off-road riding or just stretching the body on a long ride.
Touratech bar risers for the KTM 1190 Adventure or ADV R increase bar height 25mm (1″). This height ensures you do not have to modify, replace, or re-route your existing brake lines or other controls.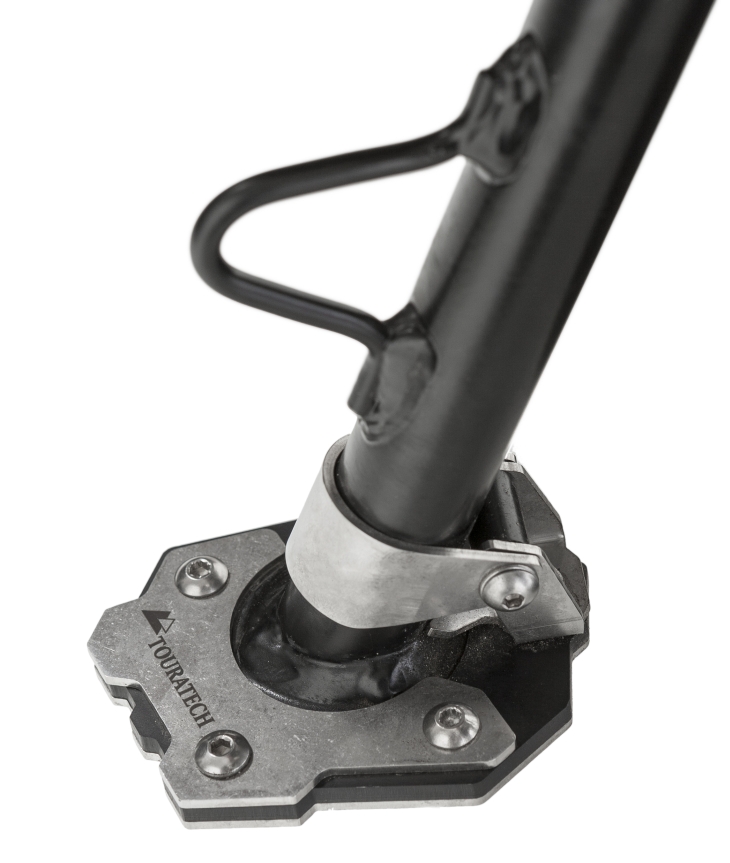 Touratech Large Sidestand Foot: $41
Touratech's Large Sidestand Foot stabilizes your KTM 1190 Adventure or ADV R when parked on the side stand. Whether you find yourself parking in grass, gravel, mud or forest soil, the increased surface area of the Touratech Sidestand Foot dramatically improves the stability of the 1190 Adventure making your off-the-beaten-path parking much easier.
The Touratech Large Sidestand Foot is the choice of travelers the world over because of its solid stainless steel construction, well engineered fit and strong 3-bolt mounting connection. The stability of this sidestand foot is further increased by the upper clamp mount, bracing the foot against the sidestand.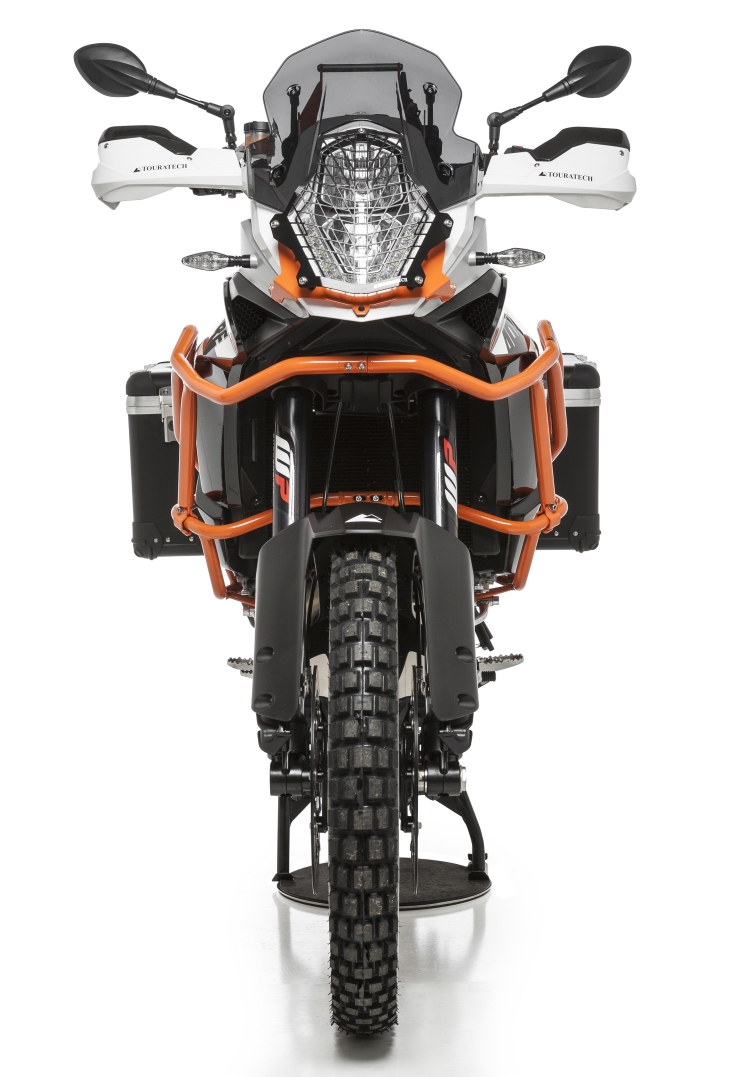 Touratech Hand Guards: $112
Protect your KTM's bars, levers, and controls with a set of Touratech handguards. Built out of extremely tough plastic, these hand guards give you the benefit of being flexible, absorbing impact instead of transferring it to your handlebars or bar mounts like a rigid aluminum or steel guard.
Available in several different colors, these guards come with all the necessary mounting hardware and are designed to be an exact fit for your KTM 1190 Adventure's original handlebars.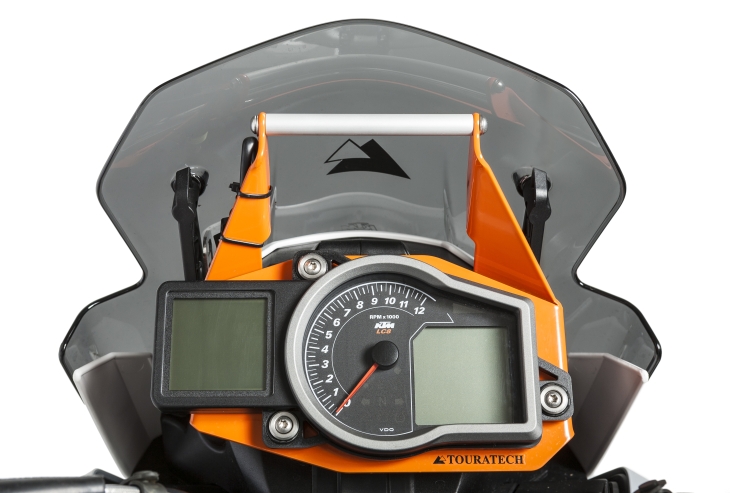 Mount your GPS securely above your KTM 1190 Adventure's gauges with this GPS mounting adapter from Touratech. With your navigation screen directly in the line of sight, you will no longer have to look down or to the side while you're riding, greatly increasing safety while you travel.
Precision engineered, this adapter is manufactured in Germany by Touratech out of laser-cut stainless steel and aluminum. The bracket provides a 12mm (1/2″) cross bar right above your gauges, the perfect location for your GPS screen. The 12mm cross bar provides a robust mount for any one our our Touratech locking mounts.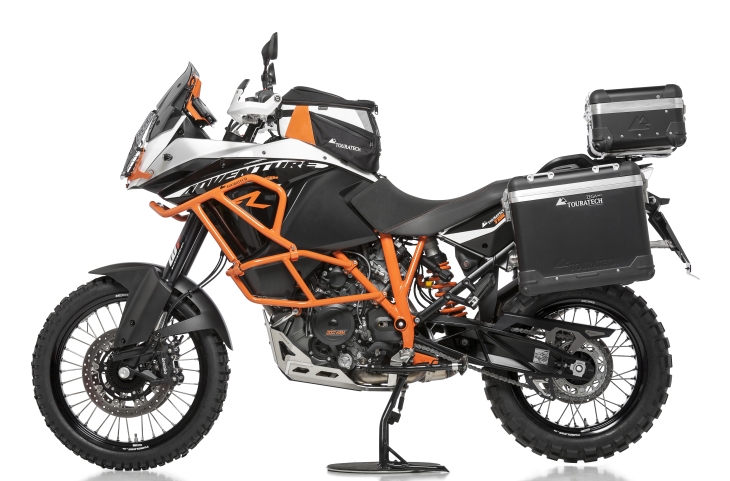 Tired of replacing plastic chain guards? The flimsy stock plastic chain guard that comes standard on the KTM 1190 Adventure works for preventing chain oil fling, but that's about it. This beautiully laser-cut and anodized aluminum and stainless steel chain guard from Touratech not only looks great on your KTM 1190, it is also strong enough to last a worldwide expedition and protect against chain breaks and other chain malfunctions.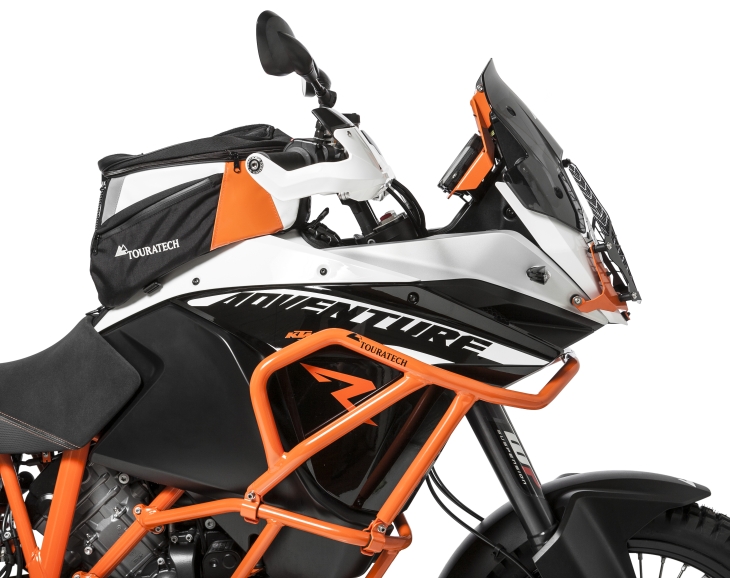 Expandable Touring Tankbag: $386
A generic fit tank bag just doesn't belong on a refined machine like the KTM 1190 Adventure. The unique shape of the 1190's tank requires a tank bag that fits properly to keep the bag from sliding around and distracting the rider. Touratech offers the highest quality and best fitting tank bag designed specifically for your KTM 1190 Adventure or Adventure R. Hand-made in the black forest of Germany, Touratech tank bags are packed with features designed by riders for riders, specifically with adventure motorcycle touring in mind.
With your KTM 1190's panniers and topcase filled with all the camping necessities, it's also great to have a place for quick-access items like maps, sunglasses, wallets, and cameras. Tankbags fill this role perfectly, giving you an up-front storage solution for all your personal items, and a good place to display a map while riding. Touratech expandable touring tankbags are handcrafted in the Black Forest of Germany out of the finest materials, and boast a long list of features, specifically for touring and adventure riding.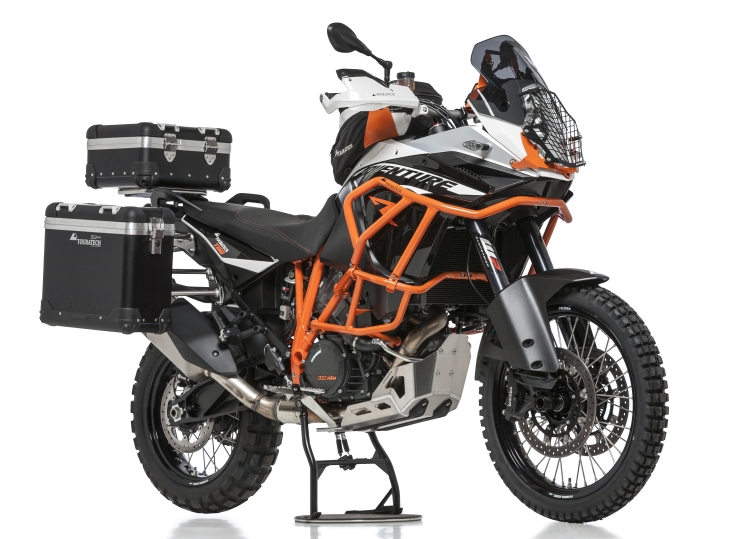 Click HERE to see Touratech's complete line of accessories for the 2013 KTM 1190 Adventure and Adventure R.
NOTE: Touratech's Upper Crash Bars for the new KTM 1190 Adventure are currently being developed in Germany, and should be available in the United Starts sometime in the early part of 2014.