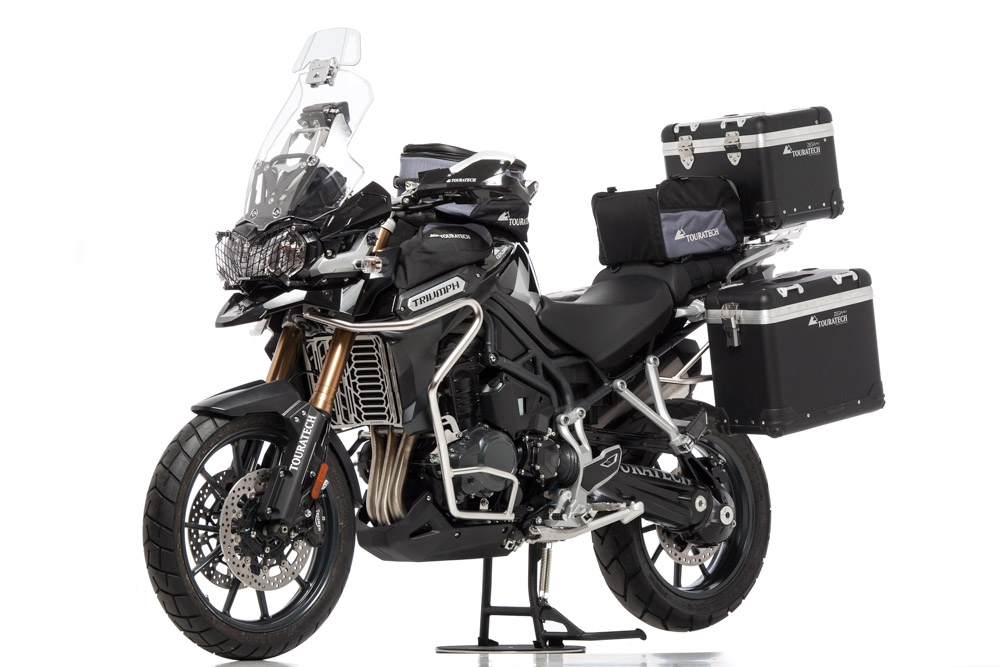 When Triumph unveiled the Tiger Explorer, their first full-size adventure touring bike, the ADV motorcycle industry held its breath. Could Triumph's new triple compete with BMW's ever popular R1200GS? Was this an authentic adventure bike? But because the bike has quite a few things in common with its Bavarian brethren – a shaft-drive, single-sided swing arm, 1200cc power plant, ABS and traction control – Triumph's new Tiger appeared, on paper, to be an excellent adventure motorcycle. And now, after numerous ride reports and reviews, we know the new Tiger is an excellent addition to the adventure motorcycle market. So to celebrate its successful integration into the industry and to prepare the bike for its first adventure, we decided to outfit our 2013 Triumph Tiger Explorer with a handful of Touratech accessories.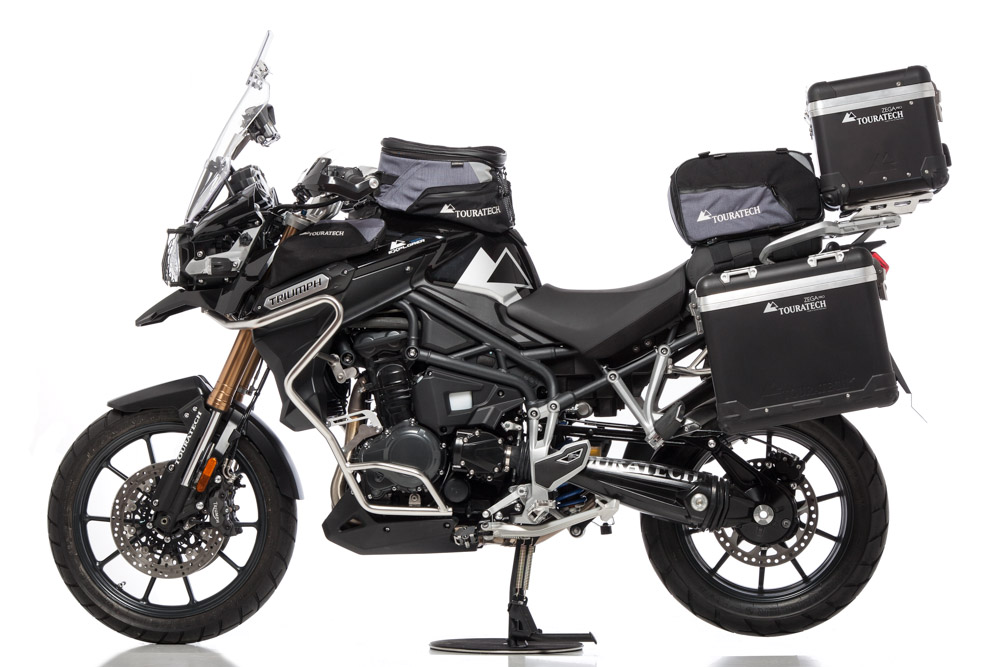 Zega Pro Pannier System: $1,325.70 – $1,537.50
The Touratech Zega Pro pannier system is the ultimate luggage solution for your Tiger Explorer. Zega Pro panniers have provided secure and dry storage for adventure riders the world over. The aluminum body and removable lid feature rugged corner protection, as well as low-profile loops that provide a flat surface to secure additional dry bags. Crafted with 1.5mm aluminum and stainless steel rivet construction, Touratech's Zega Pro panniers are available in 31, 38 and 45 liter sizes and three different finishes: bare aluminum, anodized silver and anodized black.
Stainless Steel Crash Bars: $397.00
A simple fall on the Triumph Explorer can turn into a serious expense in both time and money replacing plastic body panels. If your motorcycle tips over, no matter the road or conditions, you'll want full protection between the expensive plastic fairings, engine, and the ground. For the most complete protection of your Explorer's engine and fairings, install a set of Touratech stainless steel crash bars.
Made of stout 1 inch thick stainless-steel tubing, Touratech crash bars are designed to take the impact of a fall and distribute the force around the frame and engine, protecting both the engine and your expensive plastic fairing pieces. Our designers have done an excellent job of keeping the bars compact while complimenting the overall lines of the Triumph 1200. These bars give the Tiger Explorer an off-road adventure style image that can't be ignored.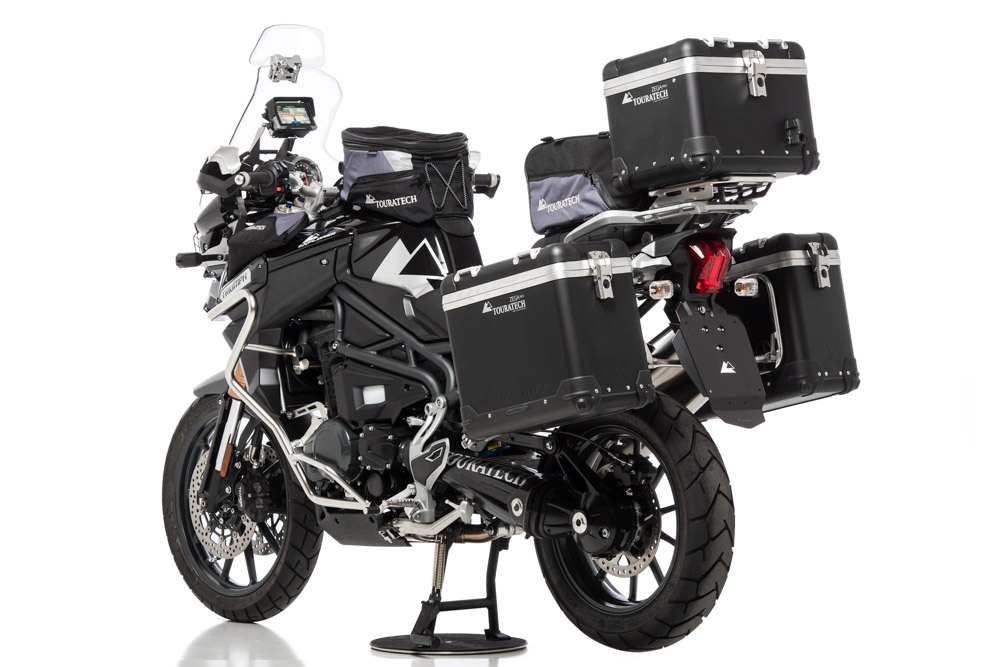 Aluminum Radiator Guard: $147.20
The Touratech Radiator Guard for the Triumph Tiger Explorer protects your critical and expensive radiator from rocks and debris, while maximizing airflow to your bike's cooling system. The louvered design and air intake ports have been optimized to direct air flow into the Triumph's radiator while protecting it from damage.
Made from laser cut aluminum at the Touratech factory in Germany, Touratech guards are made to exacting standards and have protected adventure motorcycles in the most rugged and remote corners of the world.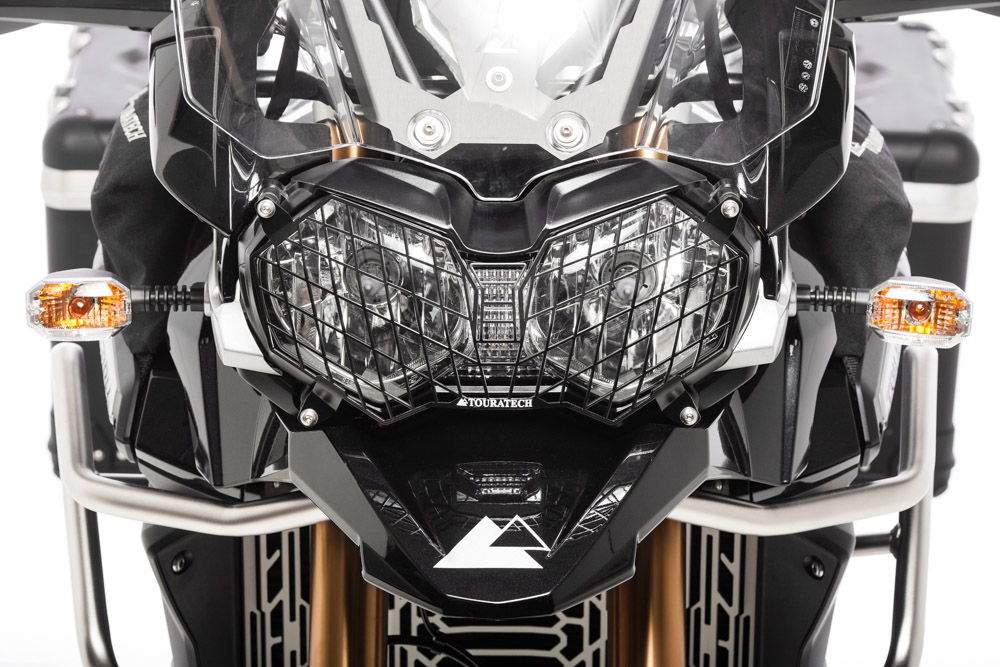 Quick-Release Stainless Steel Headlight Guard: $130.80
Don't let the lights go out on your next adventure! Touratech has developed a stainless steel guard with quick-release mount that allows you to easily keep the headlight on your Triumph Tiger Explorer clean and free from damage.
Touring Tank Bag: $371.30
This expandable touring tank bag from Touratech is the perfect piece of travel luggage for your Triumph Tiger Explorer. With its secure and easy to use mounting system, it is a great bag to take with you on long or short trips, and is removed easily for refueling or to use as a backpack.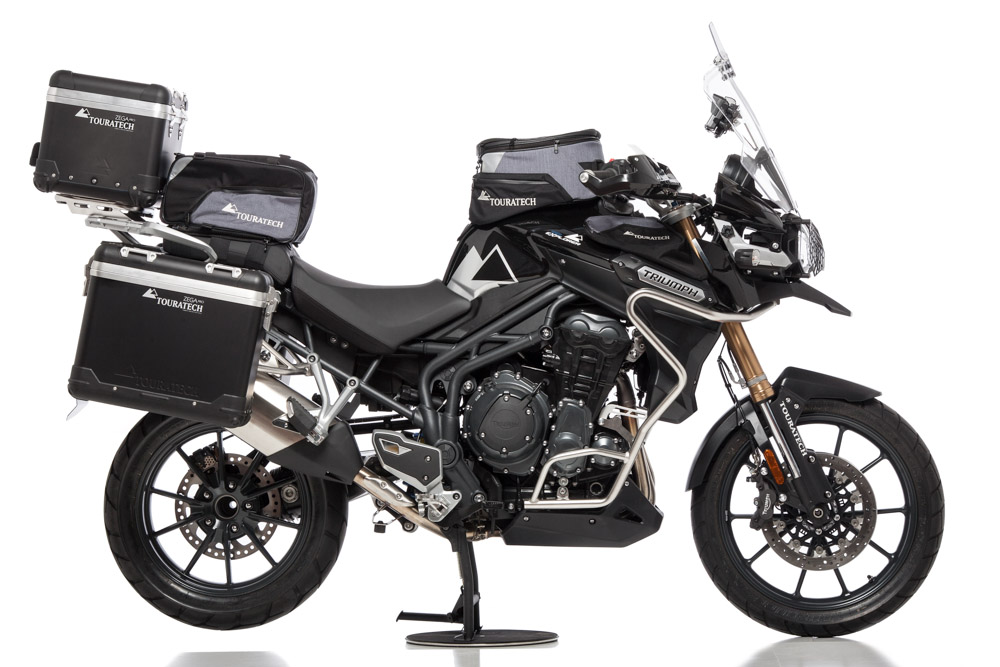 Passenger Seat Touring Bag: $329.70
The Touratech passenger seat bag offers the best luggage solution to keep your luggage close to the motorcycle's center of gravity. This bag is easy to strap on the passenger seat of the Tiger Explorer and offers water-resistant zippers, two-piece construction (base plate can be left on the seat and quickly secured with two zippers), elastic band at the top for securing gloves, loops for additional straps, backpack carrying function with included shoulder straps, and reflective trim.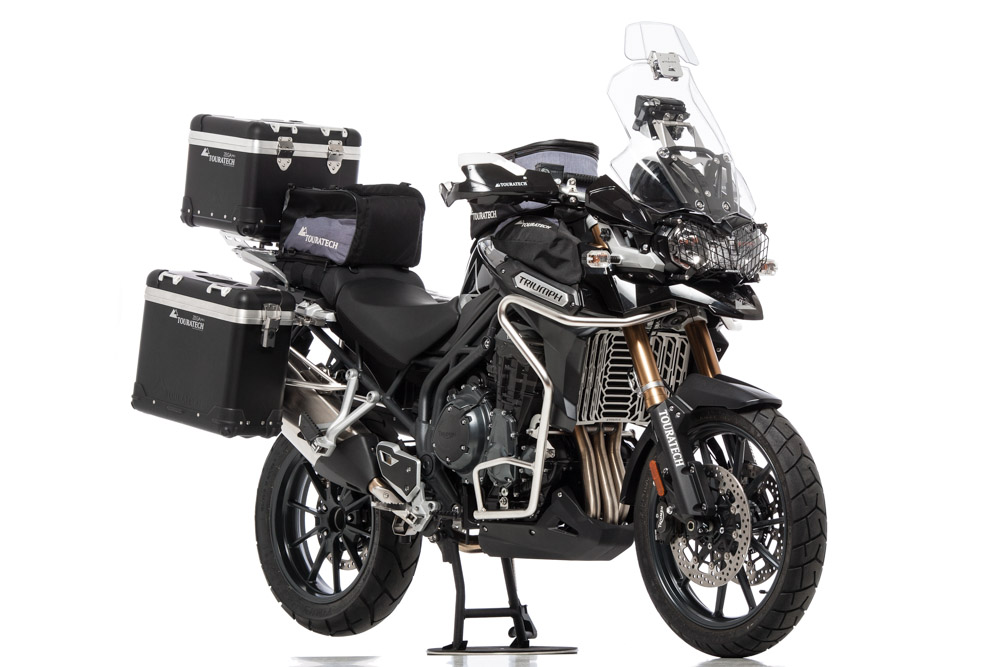 Zega Pro Topcase System: $735 – $767.60
Specifically designed for the Triumph Tiger Explorer, the Zega Pro topcase is made from 1.5 mm thick aluminum at our factory in Niedereschach, Germany. The case is waterproof, dust-proof and extremely tough. The heavy duty protective plastic strips on the corners and bottom edge are bolted on – which means they can be replaced if necessary. The single latch of the topcase can easily accept an integral lock cylinder so your possessions will be secure while you're away from the motorcycle.
Click HERE to see our complete line of accessories for the Triumph Tiger Explorer.