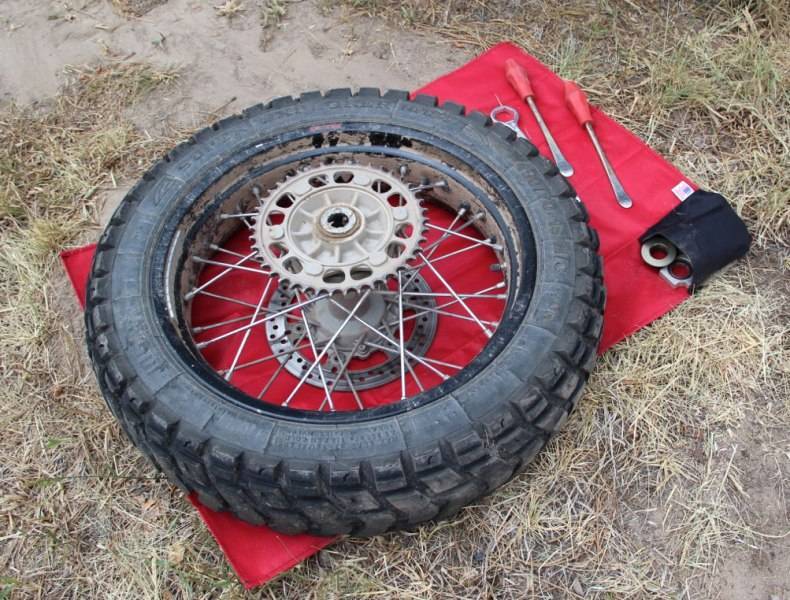 We asked our 'Chief Riding Officer,' Iain Glynn, for a few tire repair recommendations ahead of a weekend ride a few months ago. Among the things he suggested were a proper pair of tire irons, an electric pump and a digital tire pressure gauge. Take a look at all of the items Iain suggested we carry to make sure we stayed fully inflated.
The electric pump is essential for Adventure bikes because adjusting tire pressure for riding conditions is so common. This pump is small, cheap, and effective.
The 45g CO2 is the best way to set the bead on a tubeless tire. Ideally you will never break the bead if you are running tubeless tires but when you do, the low volume of electric pumps is often not enough to set the tire bead on the rim. The rope style plugs are a must have for off-road riding with tubeless tires. The mushroom plugs are really only good for nail/stick punctures but off-road you can get sidewall cuts, pinch flats, or rock tears in the tire and the rope style plugs can be easily doubled or tripled to fill the gash. Tube patches are also included in this kit so it covers any type of repair. Also note that we sell refills of the rope style plugs.
These are just good, inexpensive tire levers, If your bike has a 22, 24, 27, or 32mm axle nut I usually suggest a pair of these.
If riding off-road I always recommend carrying a spare tube that fits the largest diameter rim of the bike even if the bike runs tubeless tires/wheels. There are times where it is safer and faster to just install a tube in the tire rather than trying a questionable patch/plug. A larger tube can be easily installed into a smaller diameter tire and even a 21″ tube in a 17″ wheel will last long enough to get you out of most trouble. I never patch a tube unless it is my only option.
Simple, reliable, accurate tire gauge.
This is mostly for the tube tire guys but it is a small and handy tool that just takes a lot of the suffering out of changing tubes. It also has a built in valve core puller.
The changing mat keeps grit and dirt out of your wheel bearings, and gives you a convenient pocket to store small items like valve cores while changing a flat. It can also be used to stand on when changing in and out of your riding gear.
For that whole kit you are looking at about $160, but you are truly prepared for any tire related issue on a tube or tubeless bike. This is what I carry when I am leading group rides and I have fixed more flat tires than I care to think about.
– Iain Glynn