At Touratech-USA our mission is to provide you with a complete line of essential accessories and gear for Adventure motorcycle travel. This is especially true with Yamaha's XT1200Z Super Tenere. Touratech-USA stocks the most complete line of guards, protection, ergonomics, luggage, navigation, and lights for the Yamaha XT1200Z Super Tenere.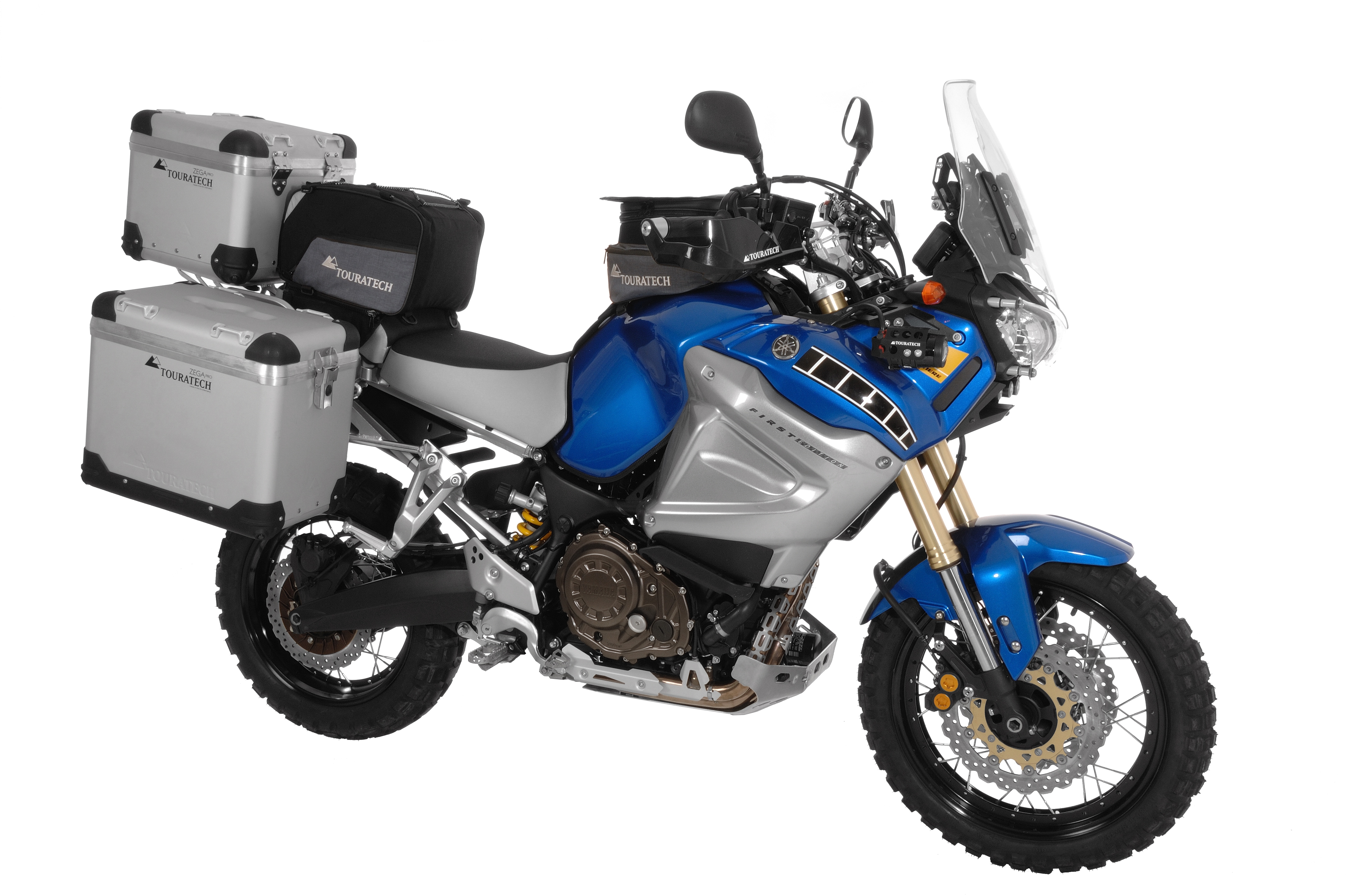 Like many other adventure motorcycles, Touratech has designed a broad selection of parts ranging from pannier systems, luggage solutions, protection and guards, lights, ergonomics, navigation, and many other accessories.
Every part we sell is designed and engineered specifically for your Yamaha and has been thoroughly tested during countless off-road tours through the most remote places in the world. Below are just a few of the most essential parts for the Yamaha XT1200Z Super Tenere that we carry: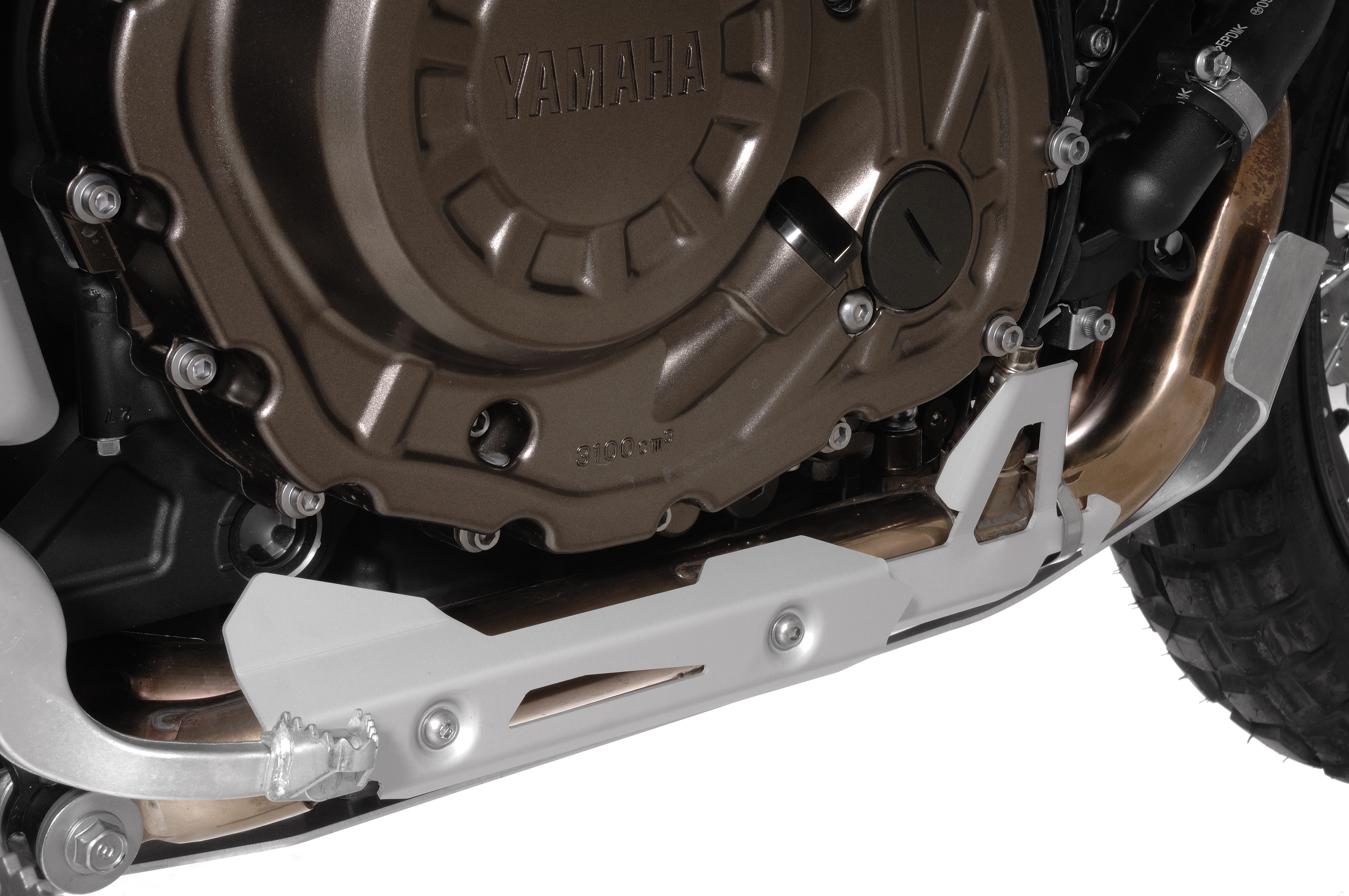 When riding off-road, the exhaust manifolds of the Super Tenere are vulnerable to the onslaught of flying rocks and debris. Touratech offers two guards to protect the manifolds on the XTZ. The left side manifold flexible guard is a universal product that has proved its effectiveness on many different off-road models, and works perfectly on the Yamaha. The "Manifold Guard, Bottom Right" on the other hand, has been specially developed for the Super Tenere. With these guards, your exhaust system will be safe from dents and dings.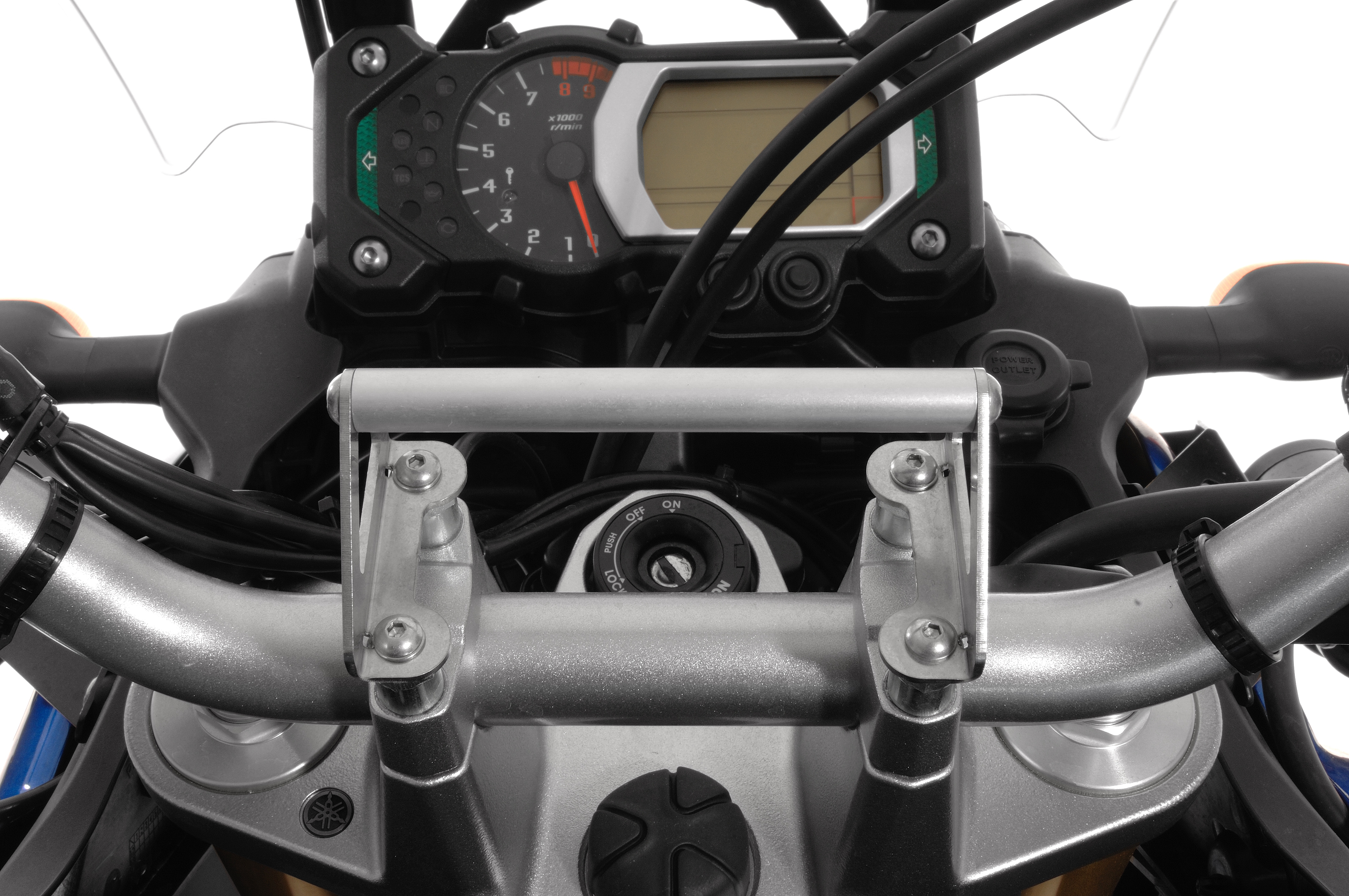 This GPS bracket adapter from Touratech is a great place to mount your GPS or other navigation devices to the handlebar mounting clamps on your Yamaha XT1200Z Super Tenere.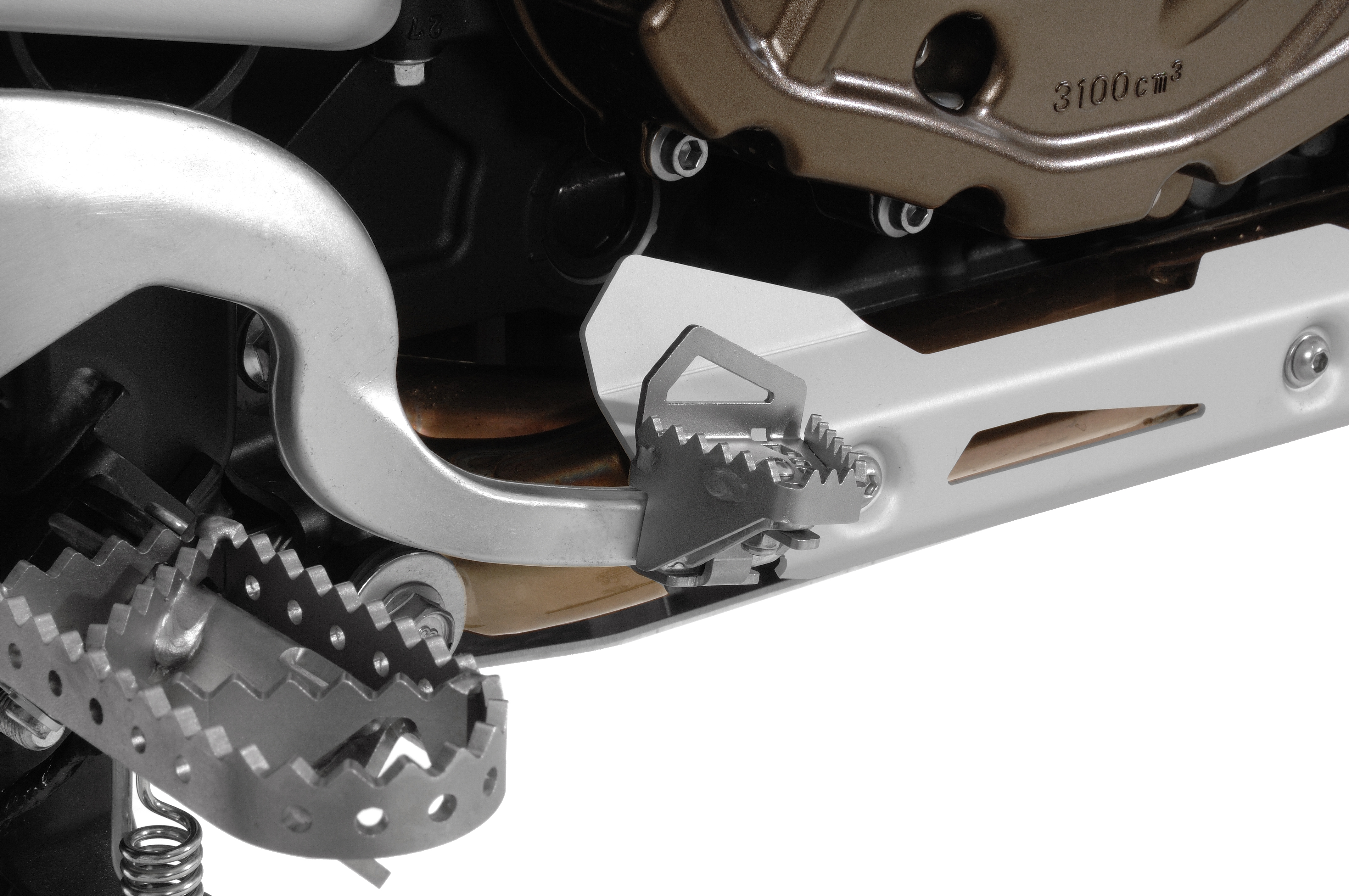 The footprint of the stock brake pedal of the Super Tenere is quite small, especially if you wear off-road riding boots. Touratech has designed this large, serrated foot brake pedal extension in stainless steel, so you can safely stop your Super Tenere, even if you're wearing mud-encrusted motocross boots.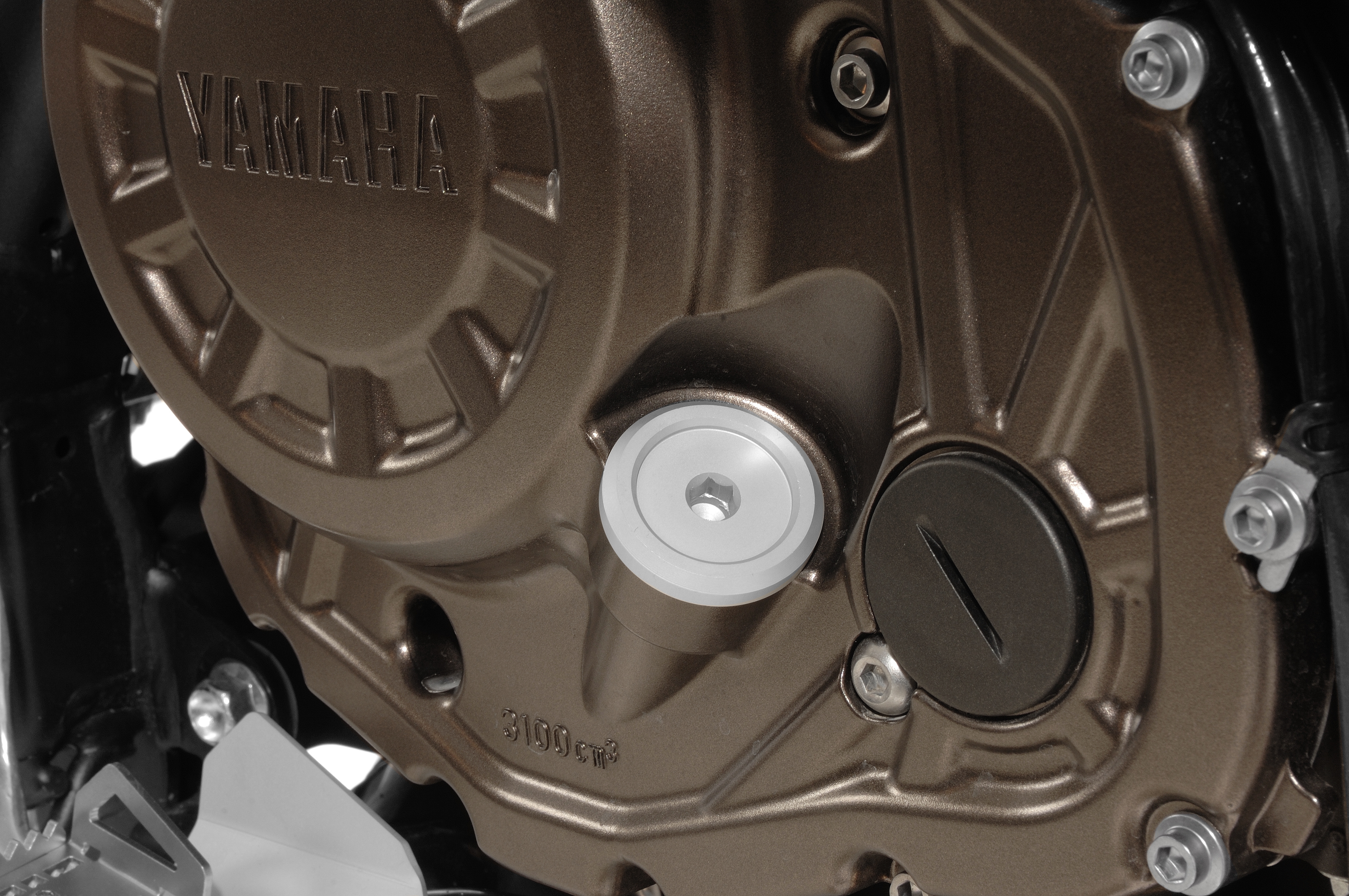 This oil filler cap from Touratech will protect your engine from unwanted contaminants while at the same time adding a great accent to the side of the Yamaha XT1200Z Super Tenere engine. Included is a handy hex wrench to fit on your keychain! Made of anodized aluminum.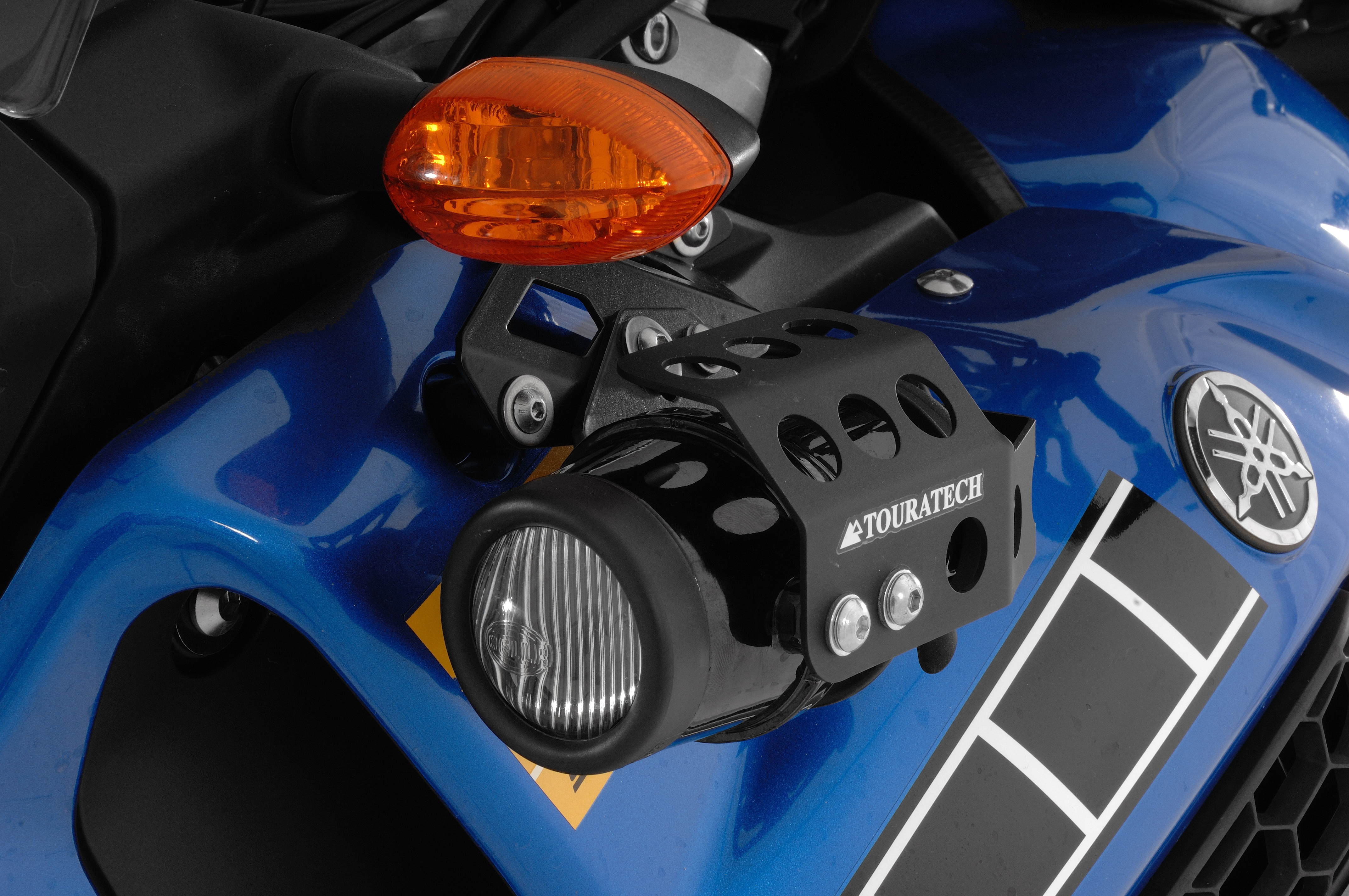 These auxiliary lights from Touratech offer considerable improvements in active and passive safety to the Super Tenere. Thanks to the high-tech lamps from Hella, your path is much better illuminated at night and in foul-weather conditions. During the day, the intense light pattern makes you and your motorcycle much more visible to other motorists. The fog light ensures significantly better close range visibility in foggy and rainy conditions, while the Xenon (HID) light, which operates in combination with the high beam headlight, provides far brighter illumination down the road. These auxiliary headlights are available separately, but work perfectly together as a pair.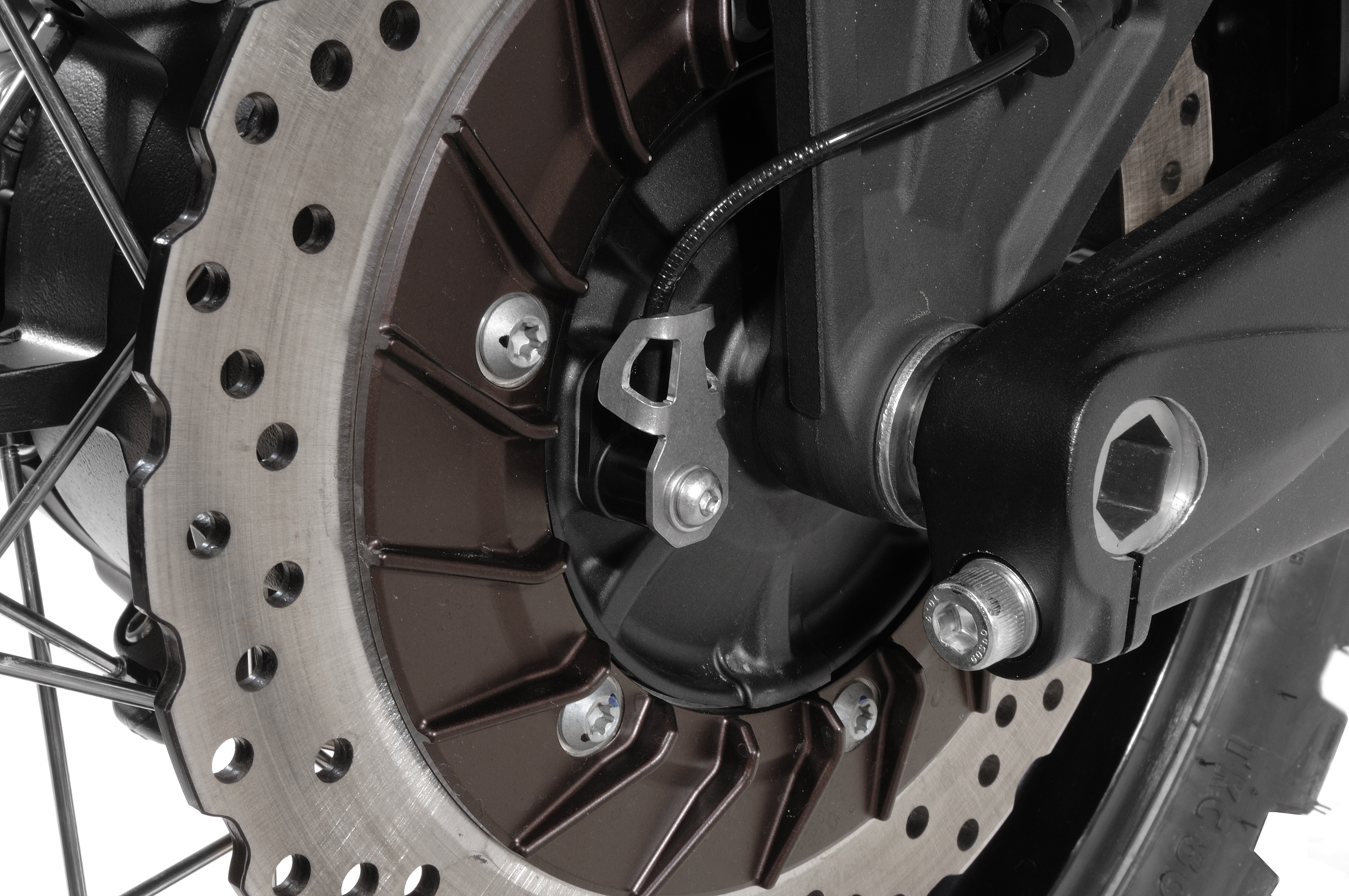 The ABS sensors are a critical part of the safety system on the Yamaha XT1200Z Super Tenere and are also very vulnerable. Touratech has developed these simple protection items to keep your bike on the road during that long tour. Made of strong laser cut stainless steel, these guards will protect your ABS sensors against flying rocks and other debris you might encounter on, and off pavement.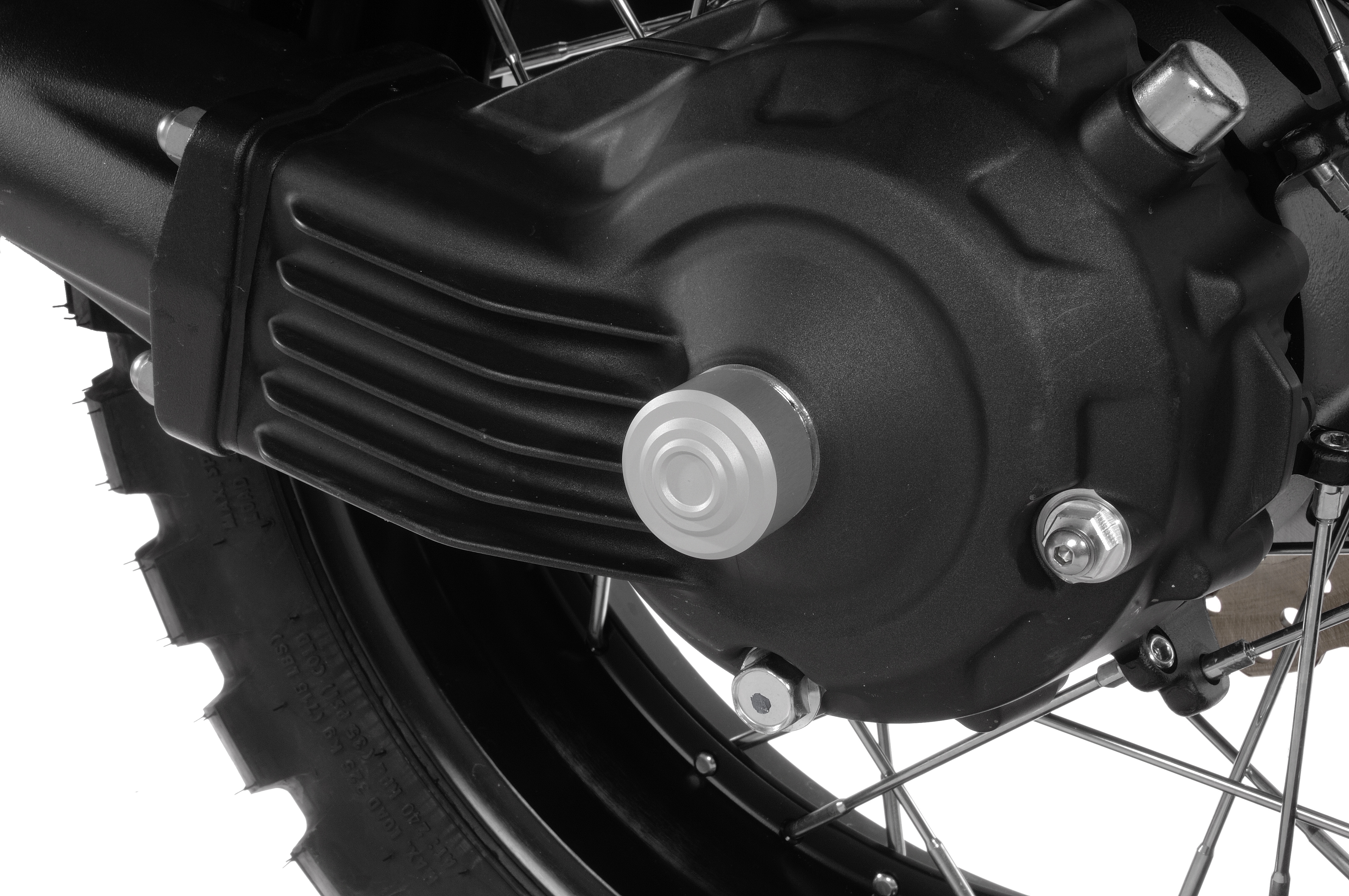 This little cover from Touratech is a great accent for the rear of the Yamaha XT1200Z Super Tenere. Milled from a single piece of aluminum then anodized, this cover will stay looking nice for many miles down the road.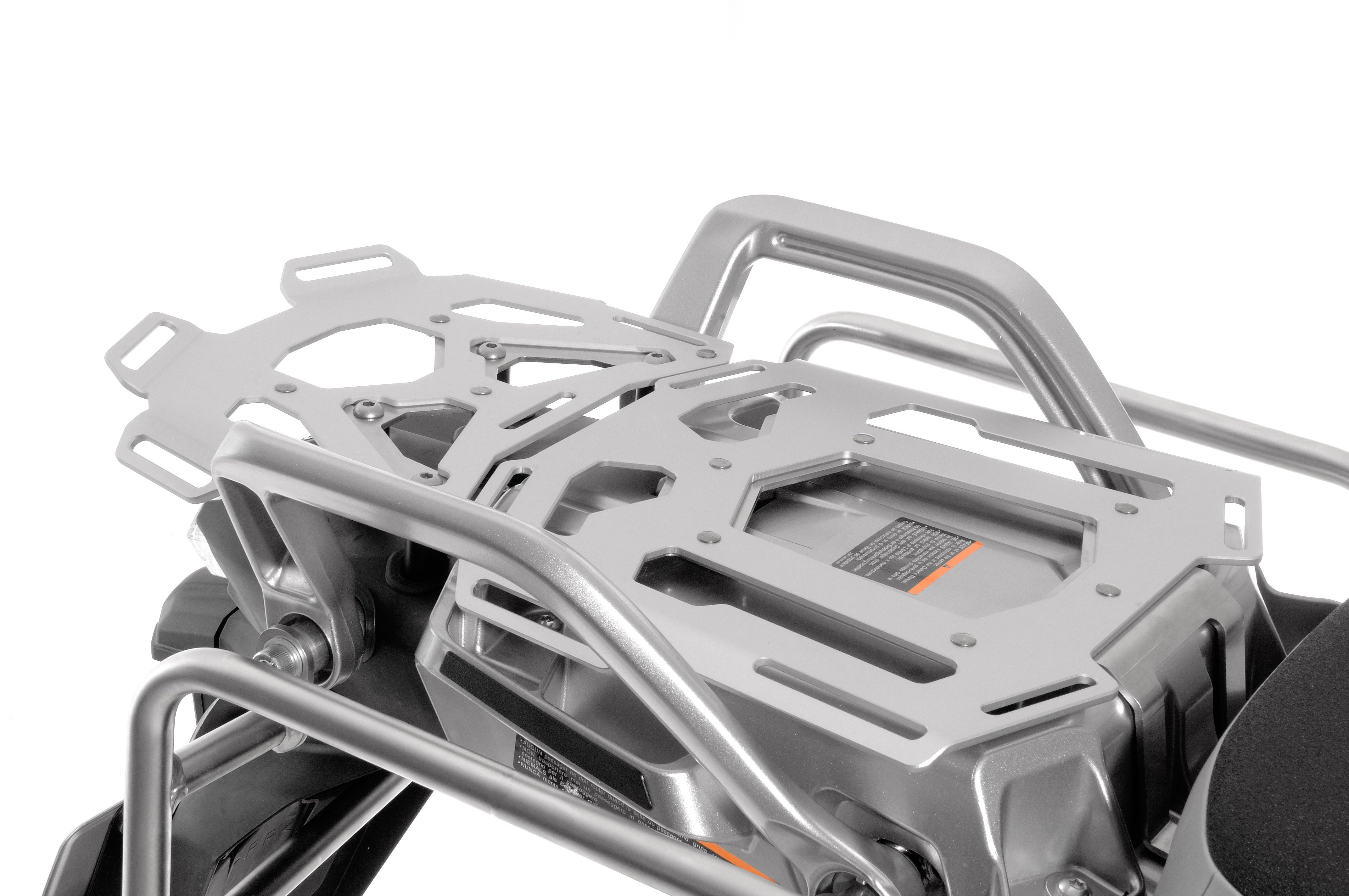 This luggage rack from Touratech installs in place of the passenger seat, creating the perfect platform for strapping down dry bags or other luggage to your Yamaha XT1200Z Super Tenere. By adding a platform close to the rider, you are able to keep the weight closer to the rider and thus balancing the bike better with a full load. Pair this passenger seat rack with our tail rack, and have a continuous flat surface to tie luggage down to. This rack is laser cut from anodized aluminum and has many tie-down points for your straps.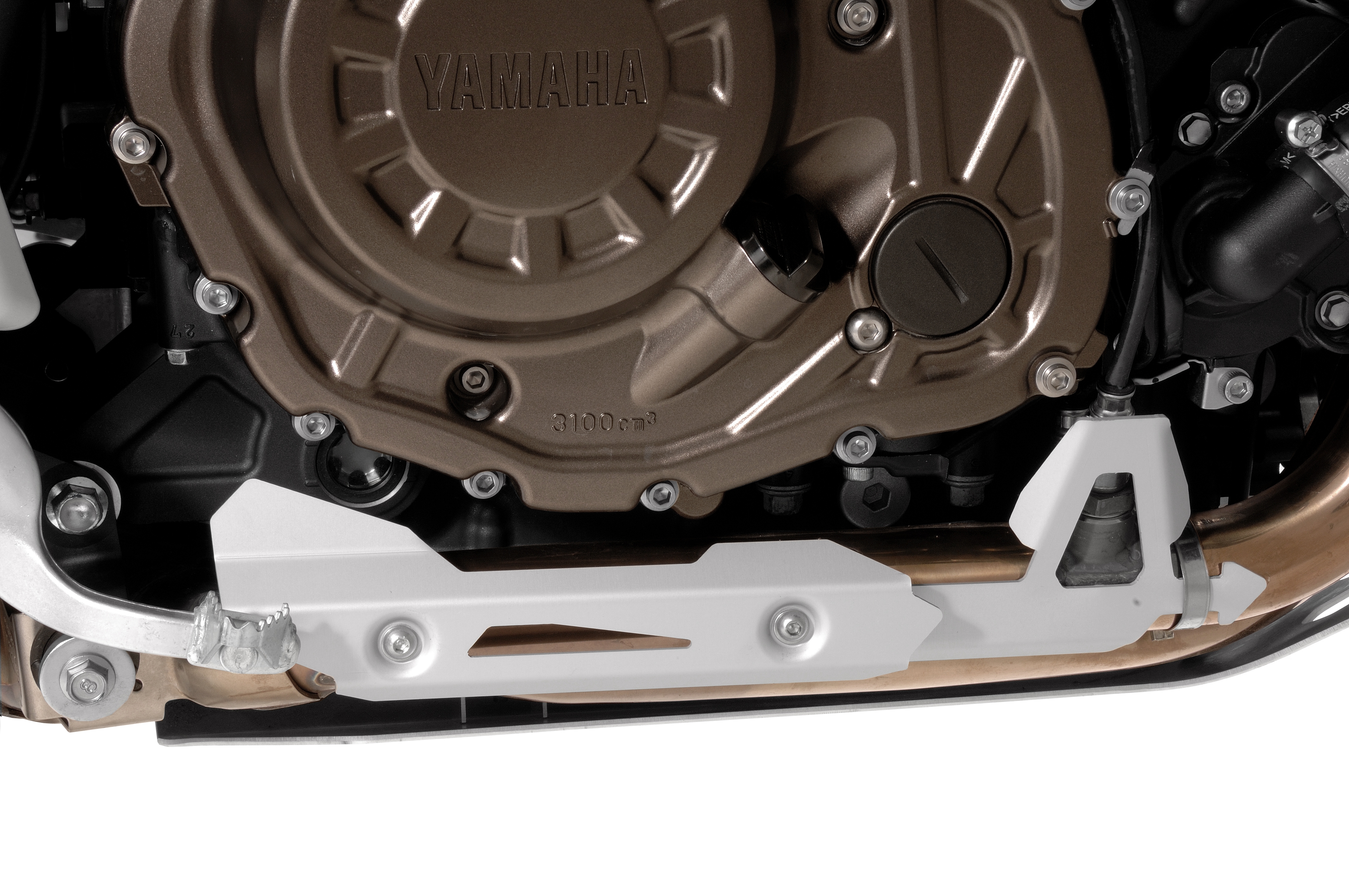 Oxygen Sensor Guard
Protect a vulnerable component of your Yamaha Super Tenere's emission system with this oxygen sensor guard from Touratech. Made of laser-cut anodized aluminum, this guard is strong, lightweight, and even looks great on the manifold of the motorcycle.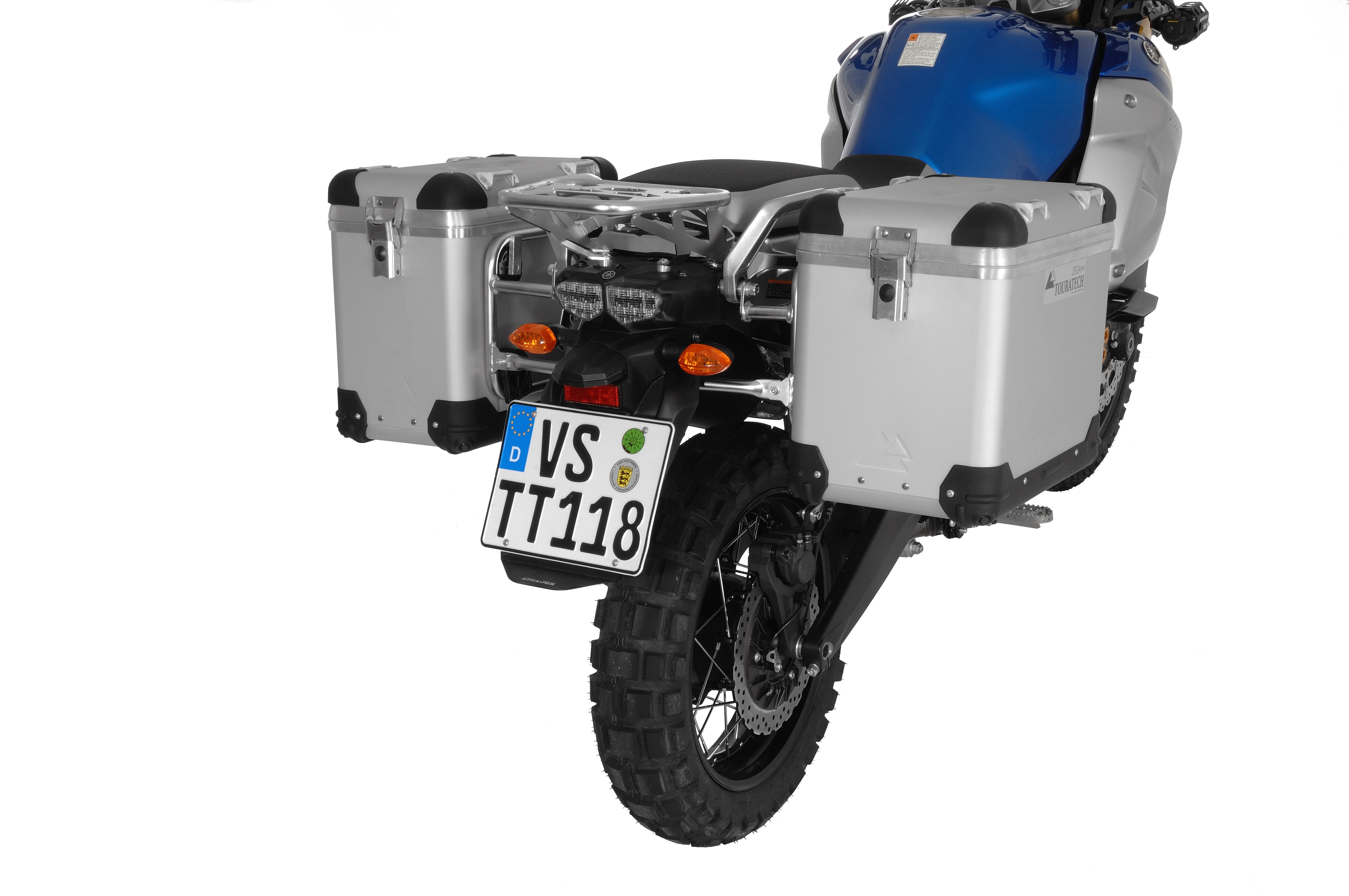 Zega Pro Pannier Systems
Perfectly matched to the Super Tenere's geometry, the Touratech stainless steel pannier rack hugs the rear frame closely while protecting it in true Touratech fashion. A choice of ZEGA Pro cases are available with a capacity of 31, 38, or 45 liters and bare aluminum, or silver and black anodized finishes.
Zega Pro 25L Topcase w/Rapid Trap
With its 38 or 25 liter volume, the Zega Pro Topcases provide a decent amount of luggage space (the 38L case will fit a full face helmet). The topcase is mounted on a sturdy stainless steel rack that can withstand the harshest off-road use. The Top case is available in bare aluminium, silver anodized, or black anodized finish. These cases also come with available "Rapid-Trap" which is a quick release lever to remove the topcase from the rack.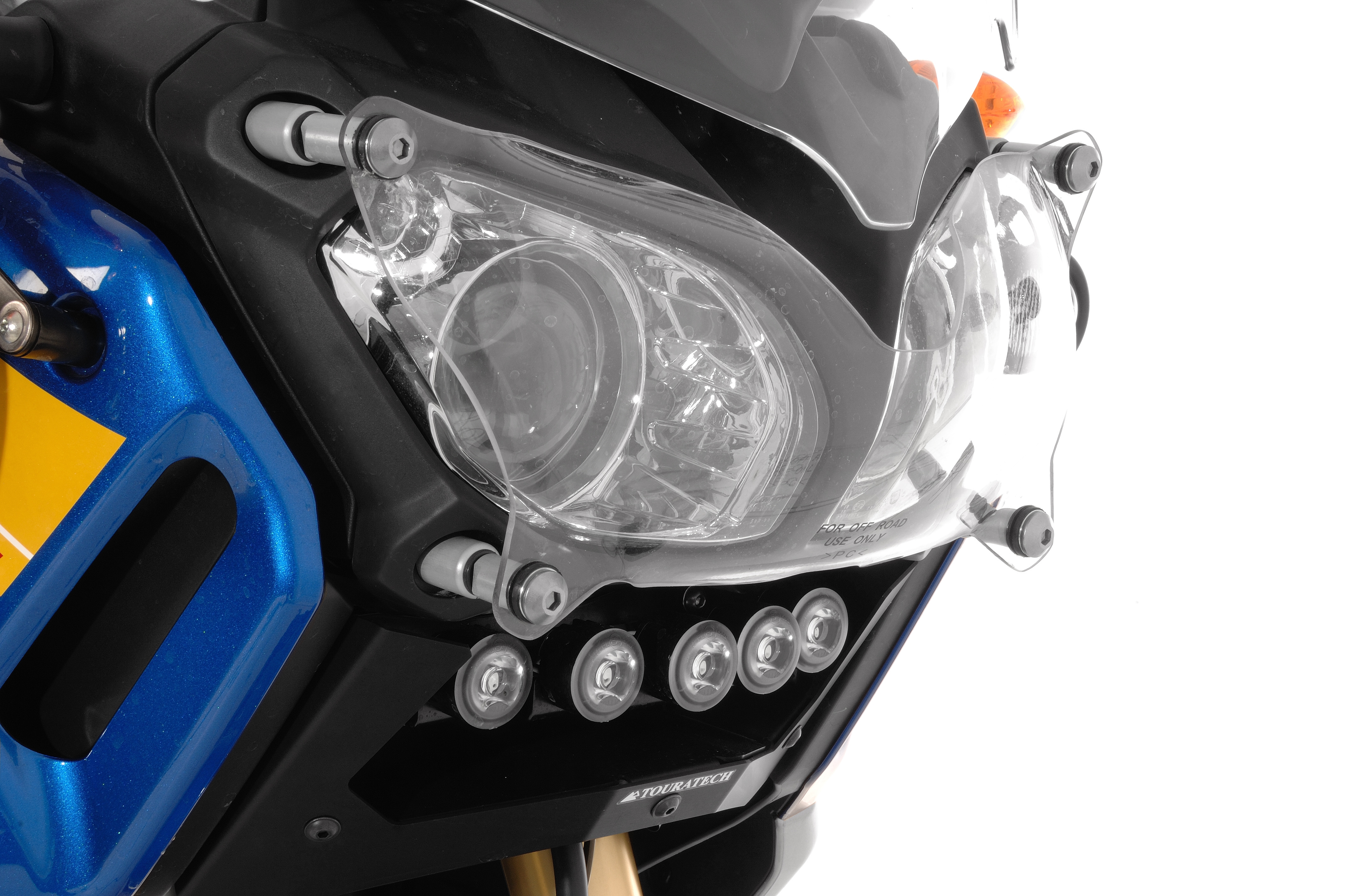 Increased visibility and cool "Audi-like" design now available for the Super Tenere. The DayFlex LED daytime running light system is contained in a specially developed plastic housing for the Super Tenere. The 5 LED lamps in the unit only consume a total of about 8 watts and last 30 times longer than a H7 halogen bulb.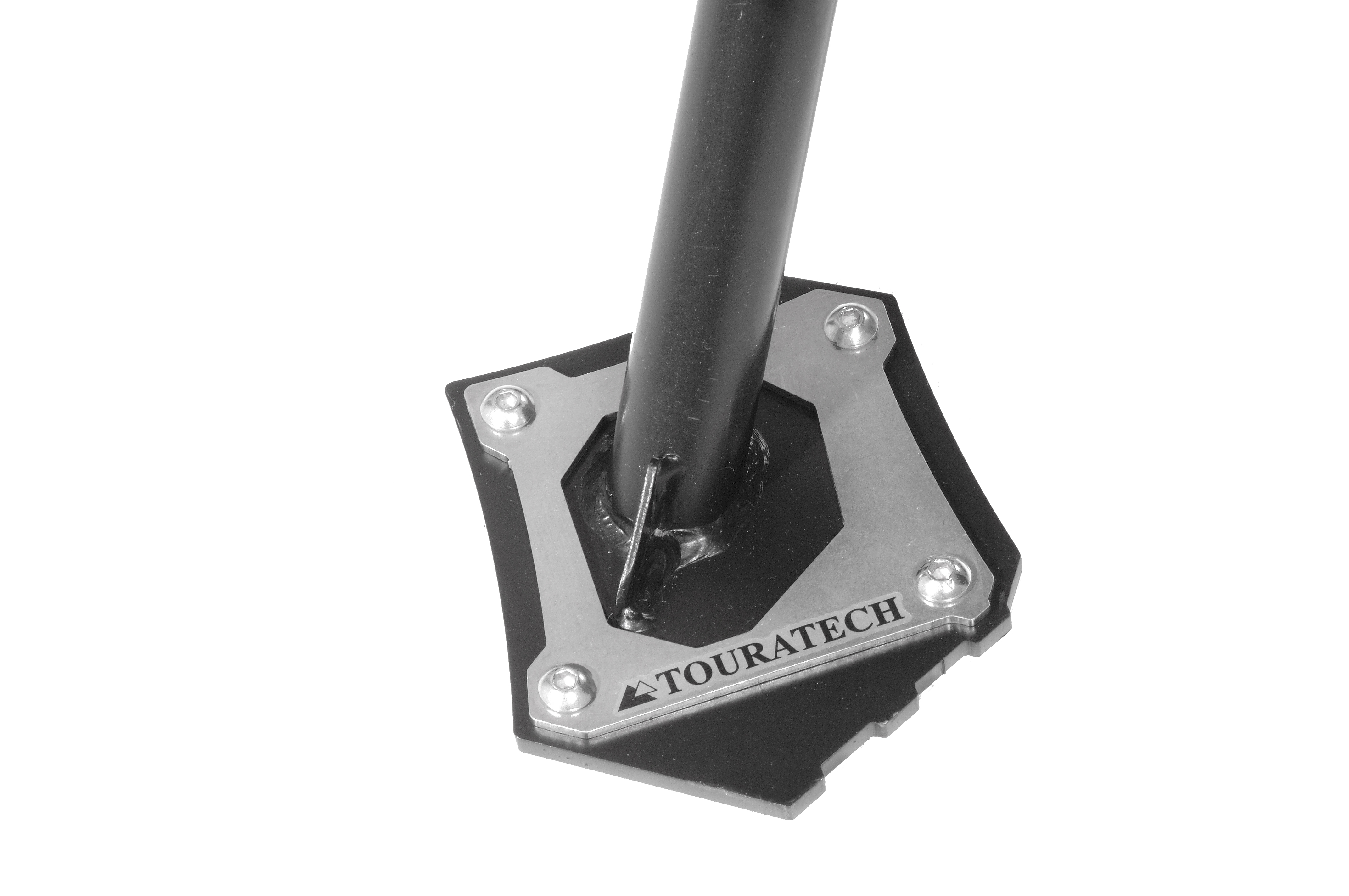 Larger Sidestand Foot
Wet meadows, soft asphalt, deep gravel – there is often no solid ground available where you park your motorcycle! The original side stand easily sinks into soft surfaces, but the Touratech larger sidestand foot provides a simple and effective way to keep your bike upright in any conditions.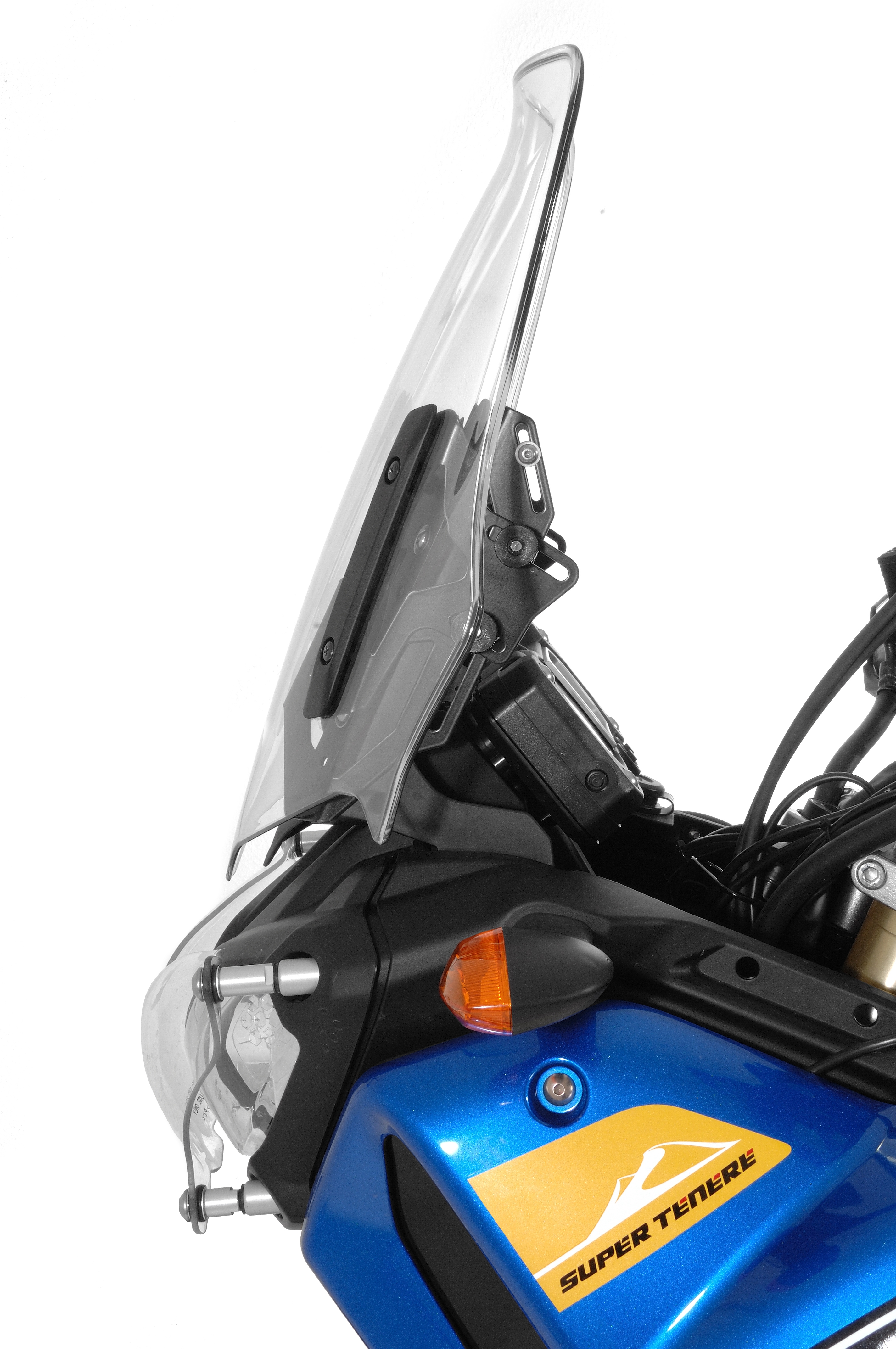 With the success of the Touratech Desierto fairings for the BMW GS motorcycles, Touratech decided to apply the same technology to the Yamaha Super Tenere. This windscreen adjustment bracket for the Super Tenere gives you infinite height and angle adjustment for the stock Yamaha windscreen. As an added bonus, this bracket even includes a GPS mounting bar to locate your Touratech GPS mount over the motorcycle's gauges in the line-of-sight.