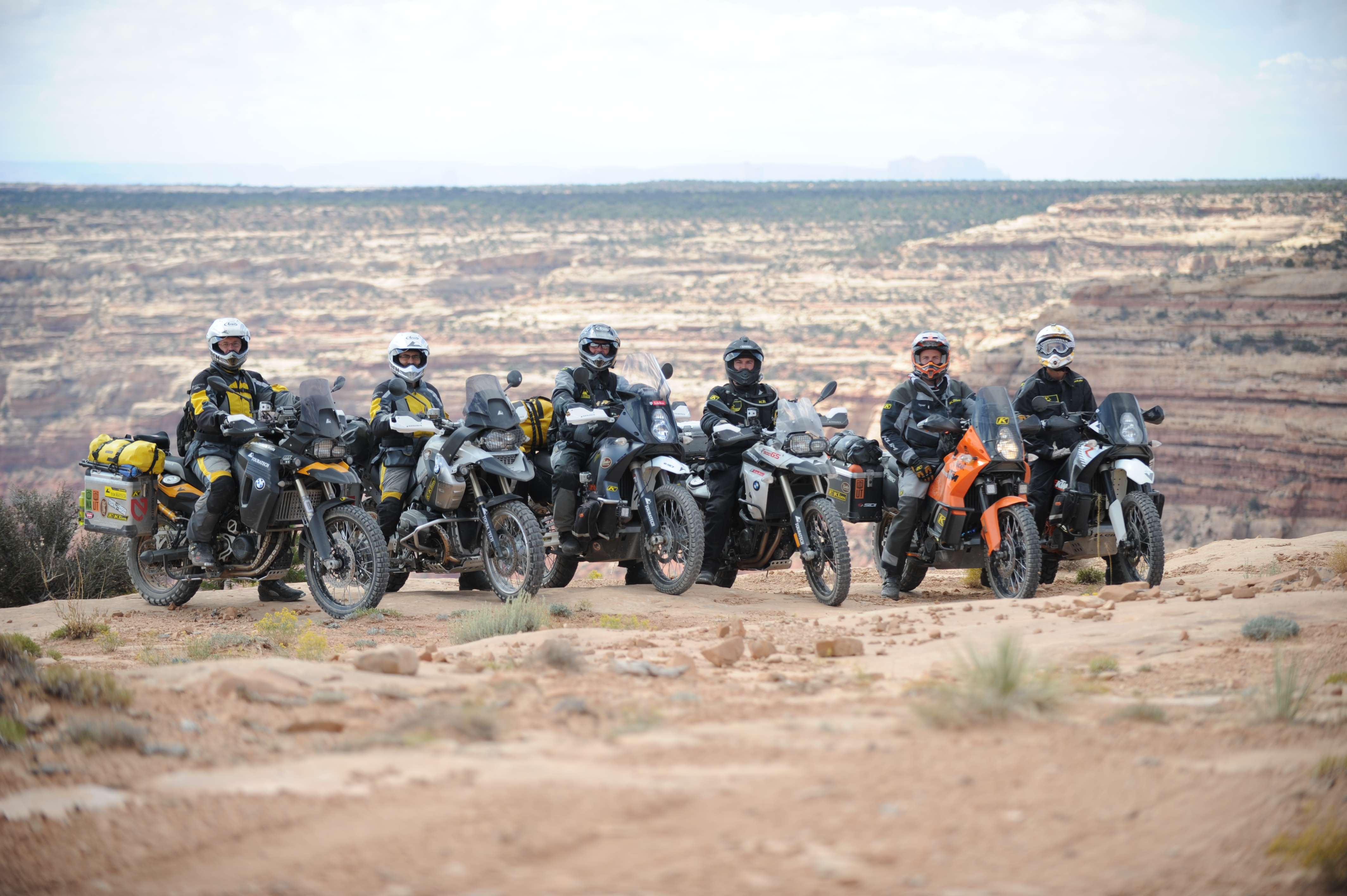 Touratech-USA's Tom Myers and Paul Guillien, accompanied by a group of riders that included Bryce Stevens of Trails.com, Rob Watt of A990 Bags, Joe Lloyd of Curbsyde Productions, Justin Bradshaw of Butler Motorcycle Maps and Justin Summers of KLiM, spent eight days in the Utah backcountry working to establish an off-road route across the state, what they've dubbed the Utah Backcountry Discovery Route.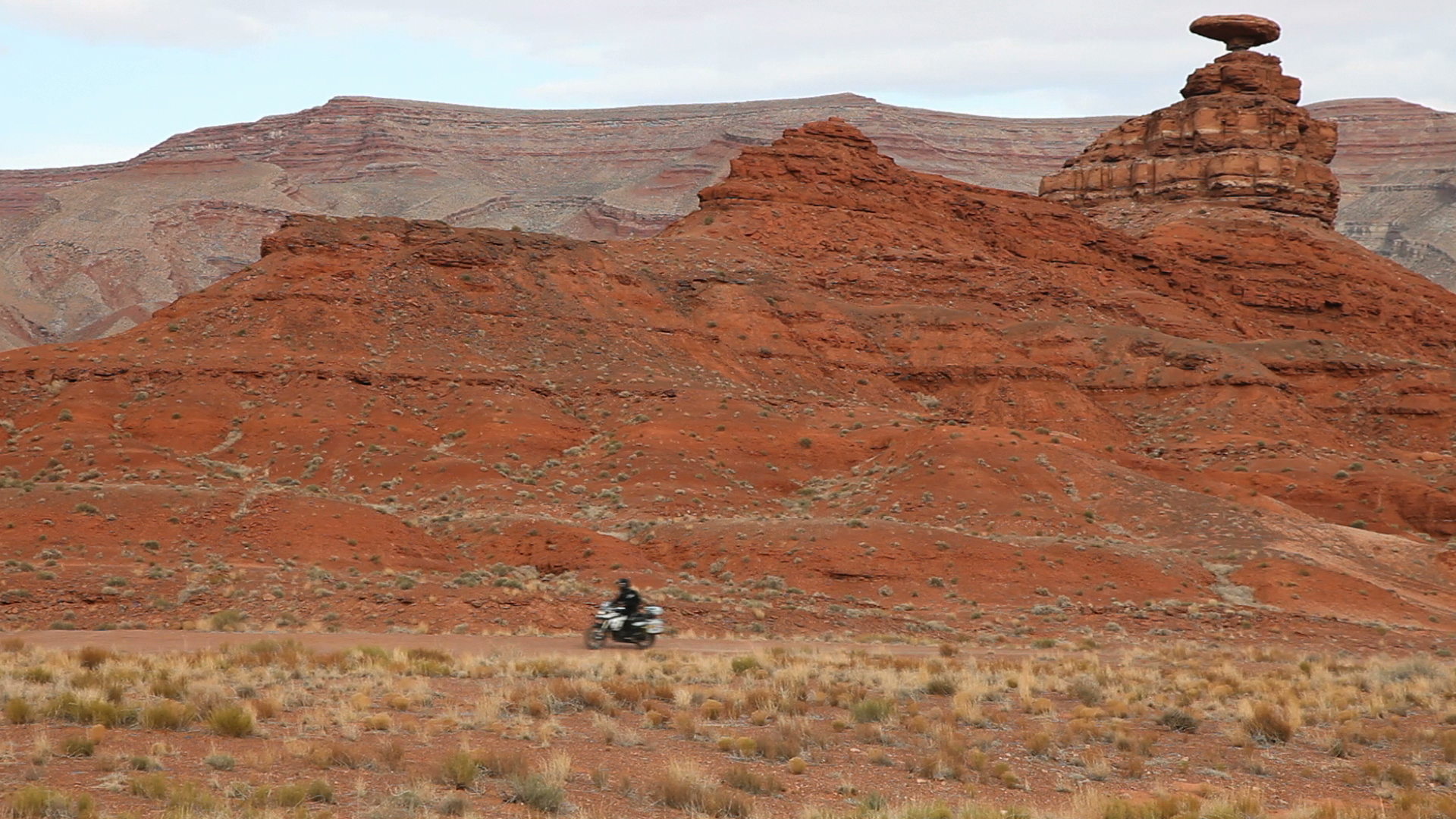 Our trip begins in the tiny town of Mexican Hat, near the Utah/Arizona border. The town is named after a gravity-defying rock formation which is in the shape of an upside down sombrero sitting atop a narrow pinnacle of rock. We take a close look at the Mexican Hat rock before finding a dirt road that leads us into the Valley of the Gods.
The landscape seems familiar to me – I keep expecting Wile E. Coyote or Road Runner to dash across the road, as this place looks like it's right out of my favorite cartoon from childhood. This scenic sandstone valley is dramatically colored with deep shades of reddish brown.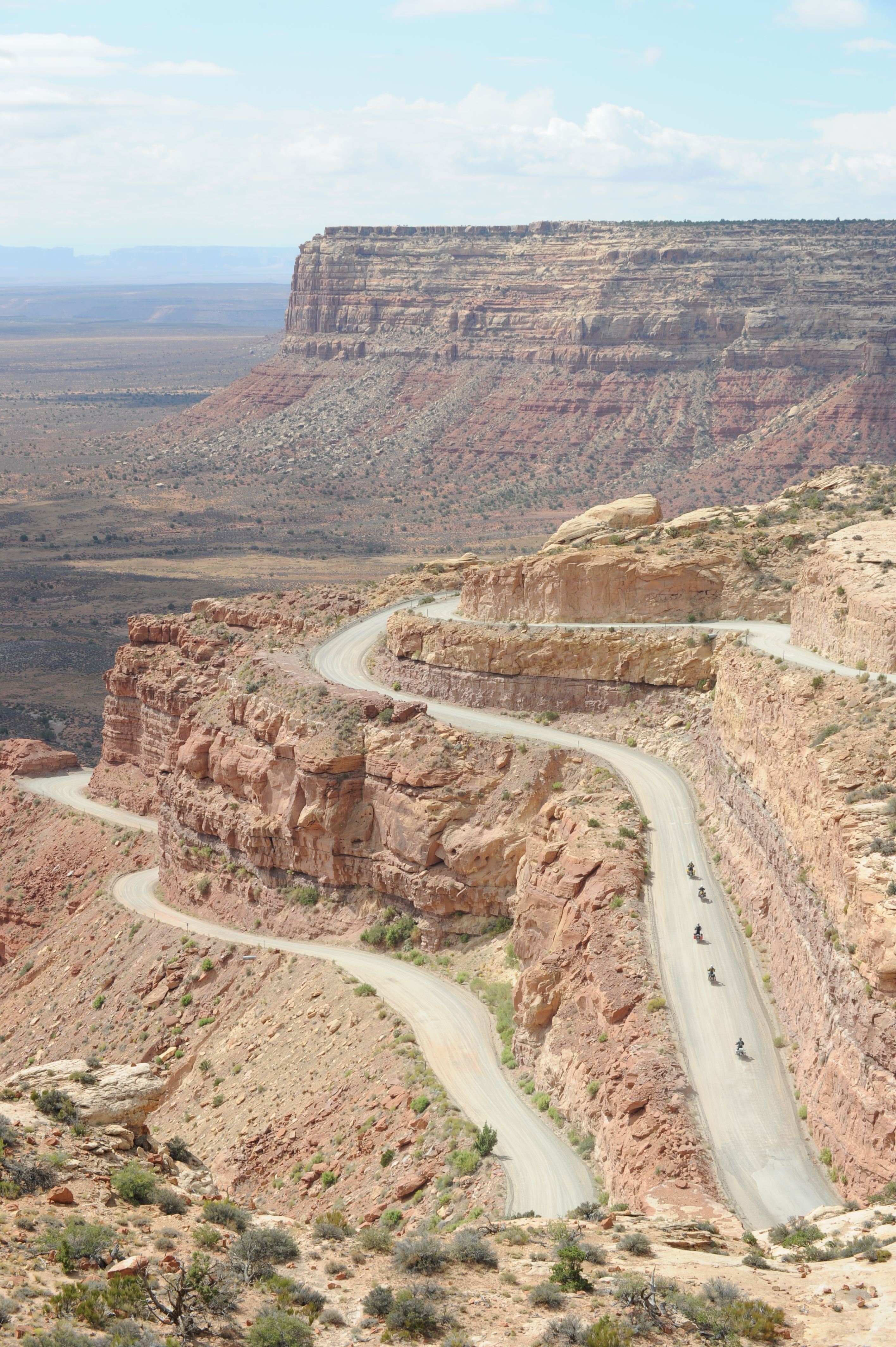 We come to Cedar Mesa where we scale a 1,200 foot cliff on a serpentine ribbon of gravel road scratched into the side of the rock face. This civil engineering masterpiece is called the Moki Dugway.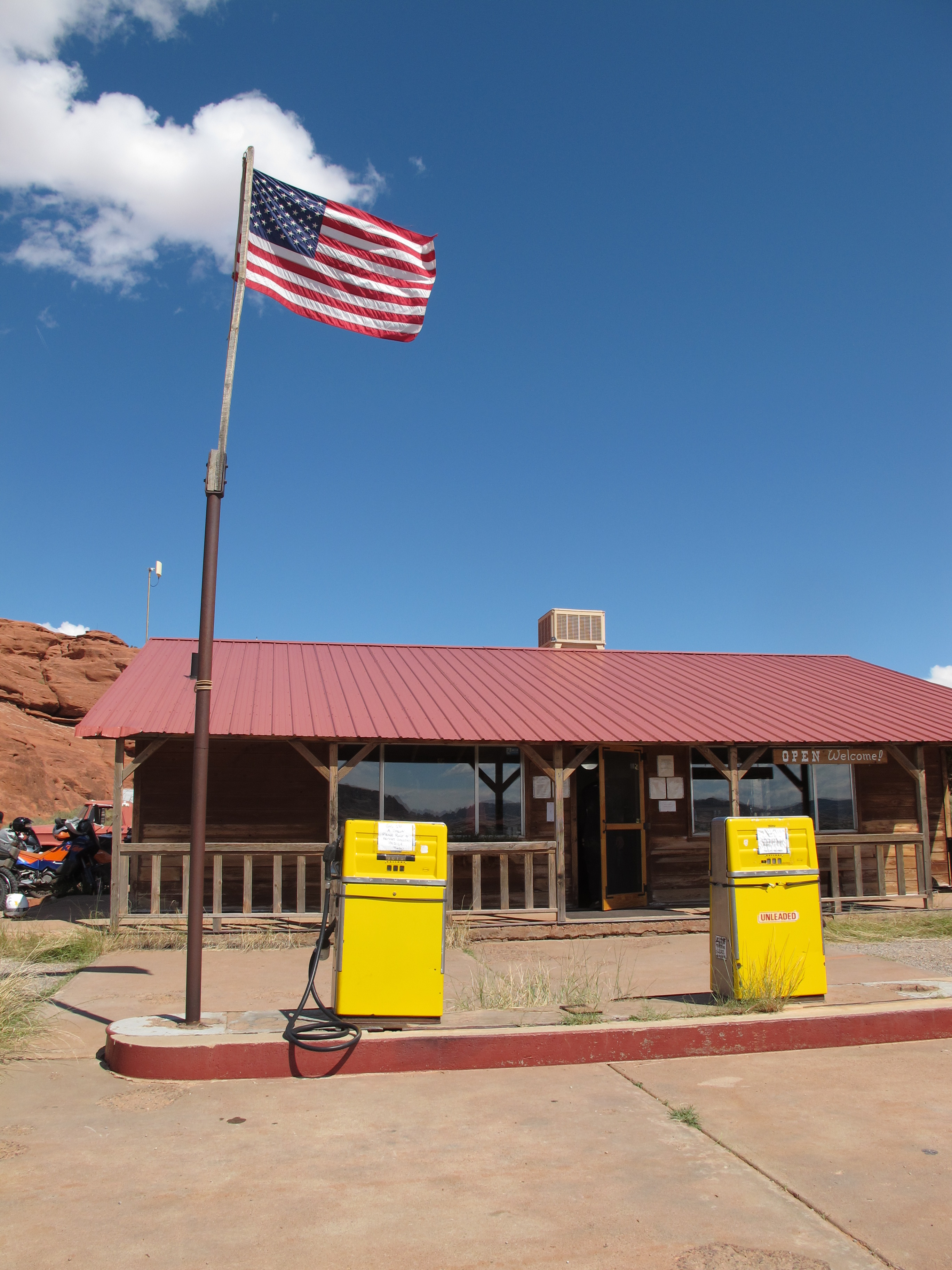 We visit Newspaper Rock, a dense collection of Petroglyphs that date back some 2,000 years. These rock carvings are the work of ancient native tribes including the Archaic, Basketmaker, Fremont and Pueblo cultures. This rock tells many stories and is a window into the lives of the people who lived here centuries ago.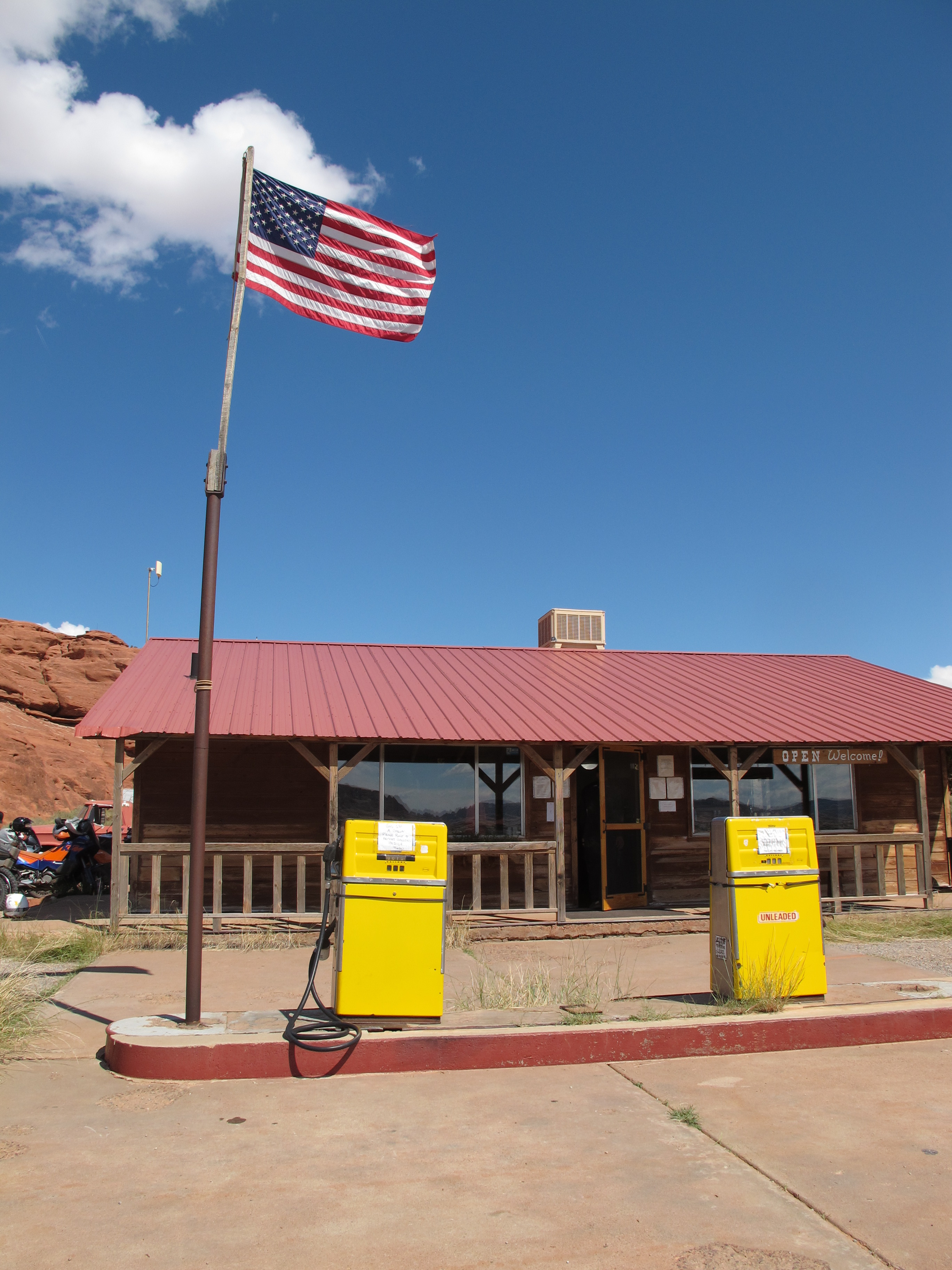 The route leads us toward Canyonlands National Park, where we gas up at the Needles Outpost, a remote store with basic supplies and fuel, which sells for an eye-popping $6.50 per gallon! We double back away from the park and follow a rugged dirt road through the Hamburger Rock area toward Lockhart Basin.
It's here that we find the tracks get challenging with deep sand, loose rocks and a river crossing. As we reach increasingly difficult terrain, our ride leader Rob Watt reminds us that we've yet to see the technical section. His words have me worried a bit, because this section of trail seems plenty difficult to me.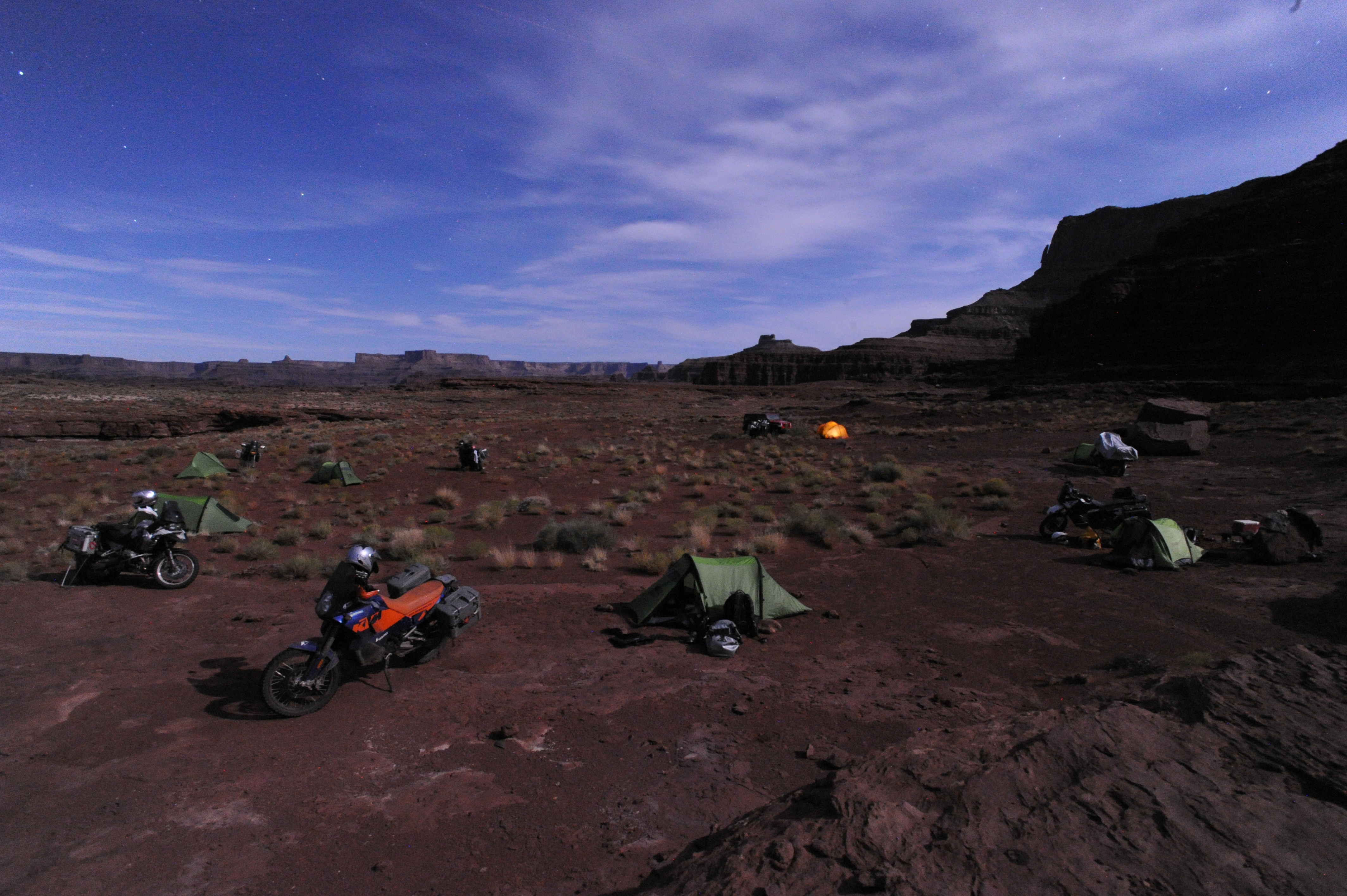 We approach the first "technical section" and it stops me in my tracks. I am looking up at a steep hard rock face that appears more like a staircase than a road. I decide to take it wide and somehow manage to bounce my way up the rocks.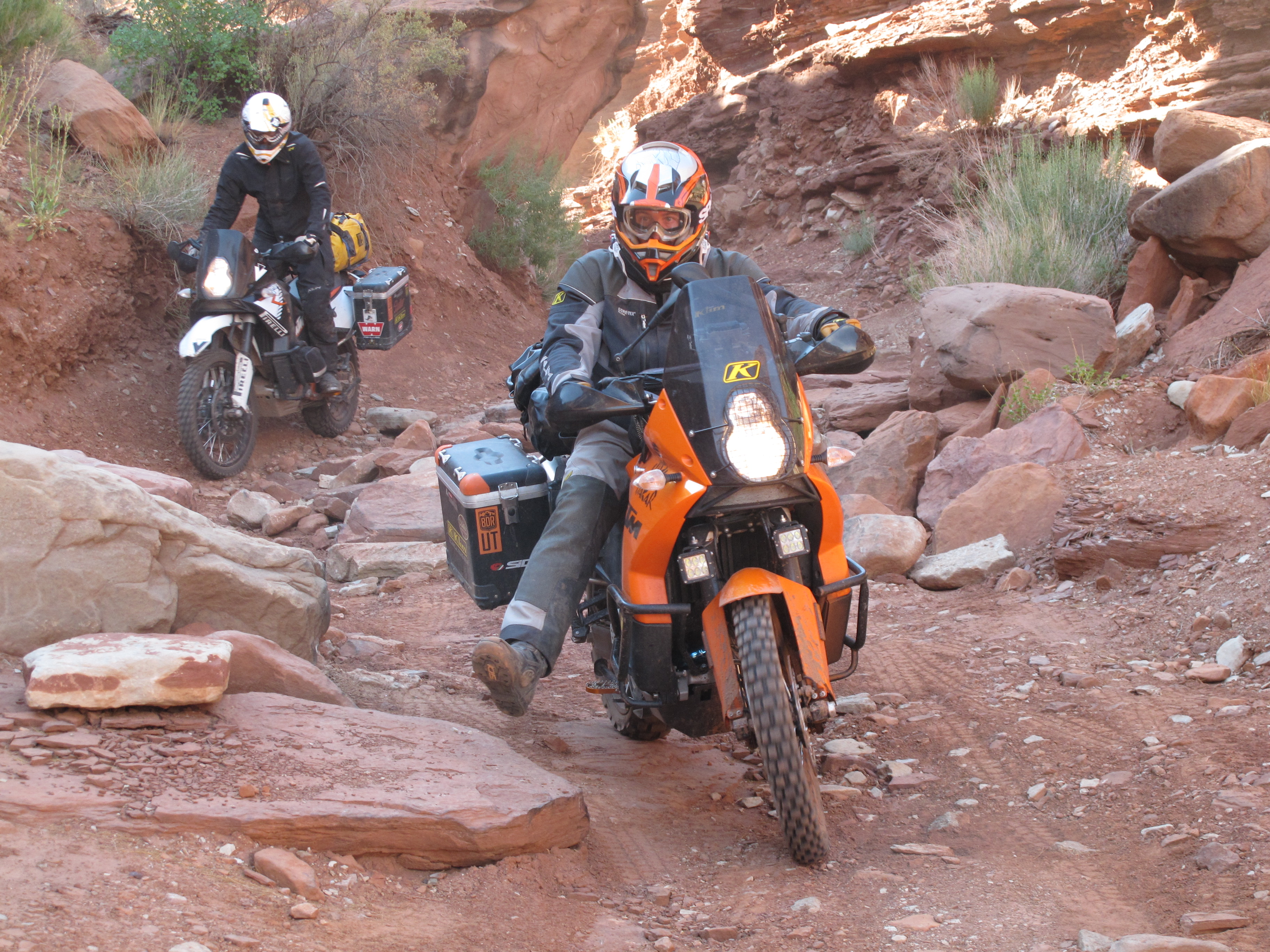 We move a few rocks into the cracks to make some of the large steps easier to roll up for the rest of the riders in our group. One by one each person rides up the steep and jagged section, some requiring the help of others to get their large bikes up this stretch, which seems like a trials course for big bikes.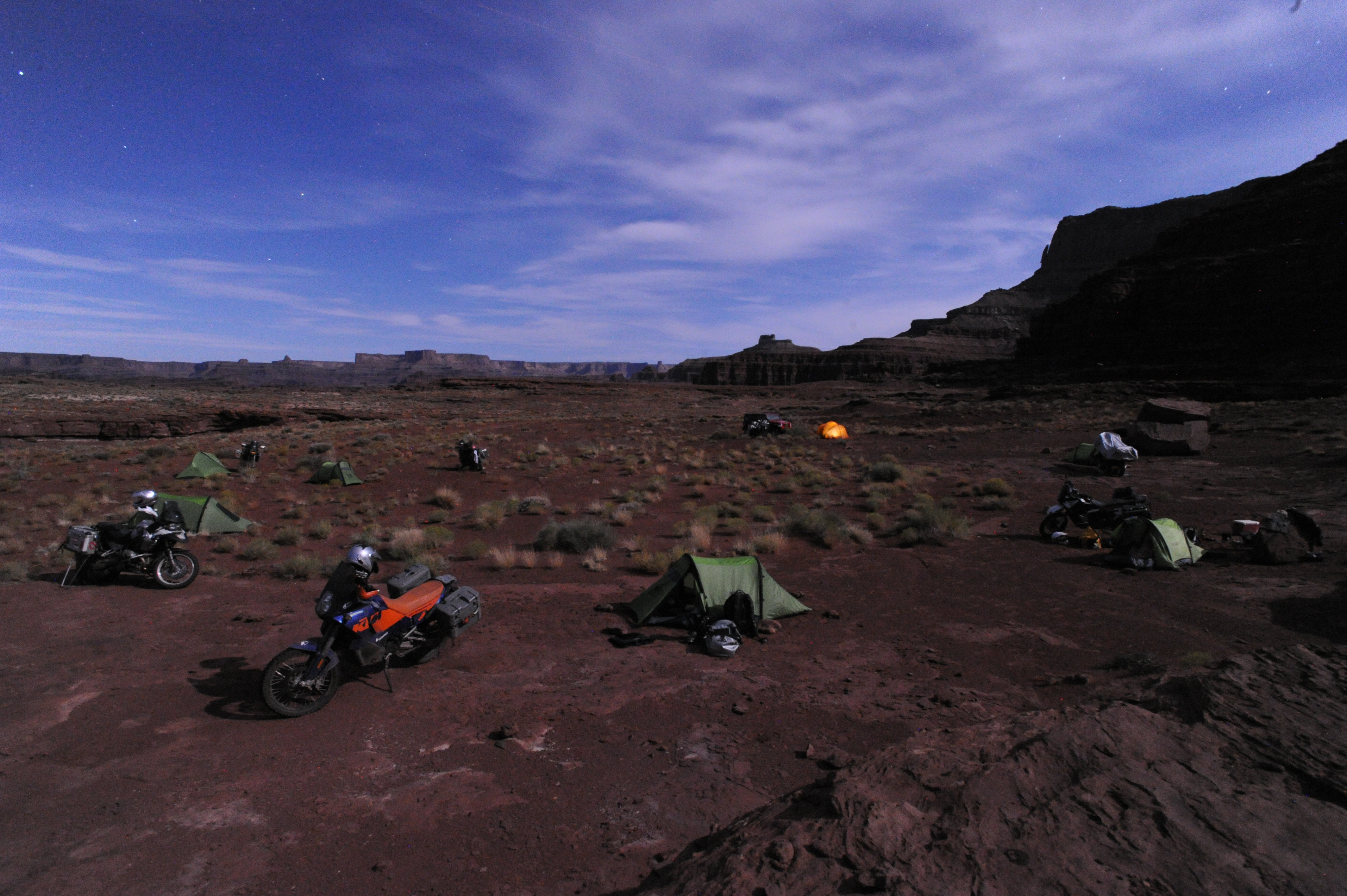 This remote section of road has no bail-out options for nearly 50 miles. It has steep cliffs to the East and the Colorado River to the West. Our only choice is to continue forward toward Moab or turn back toward the Needles Outpost. About mid-way through Lockhart Basin we notice the sun setting and decide to make camp. This is a wise choice as some in our group are exhausted from the difficult terrain.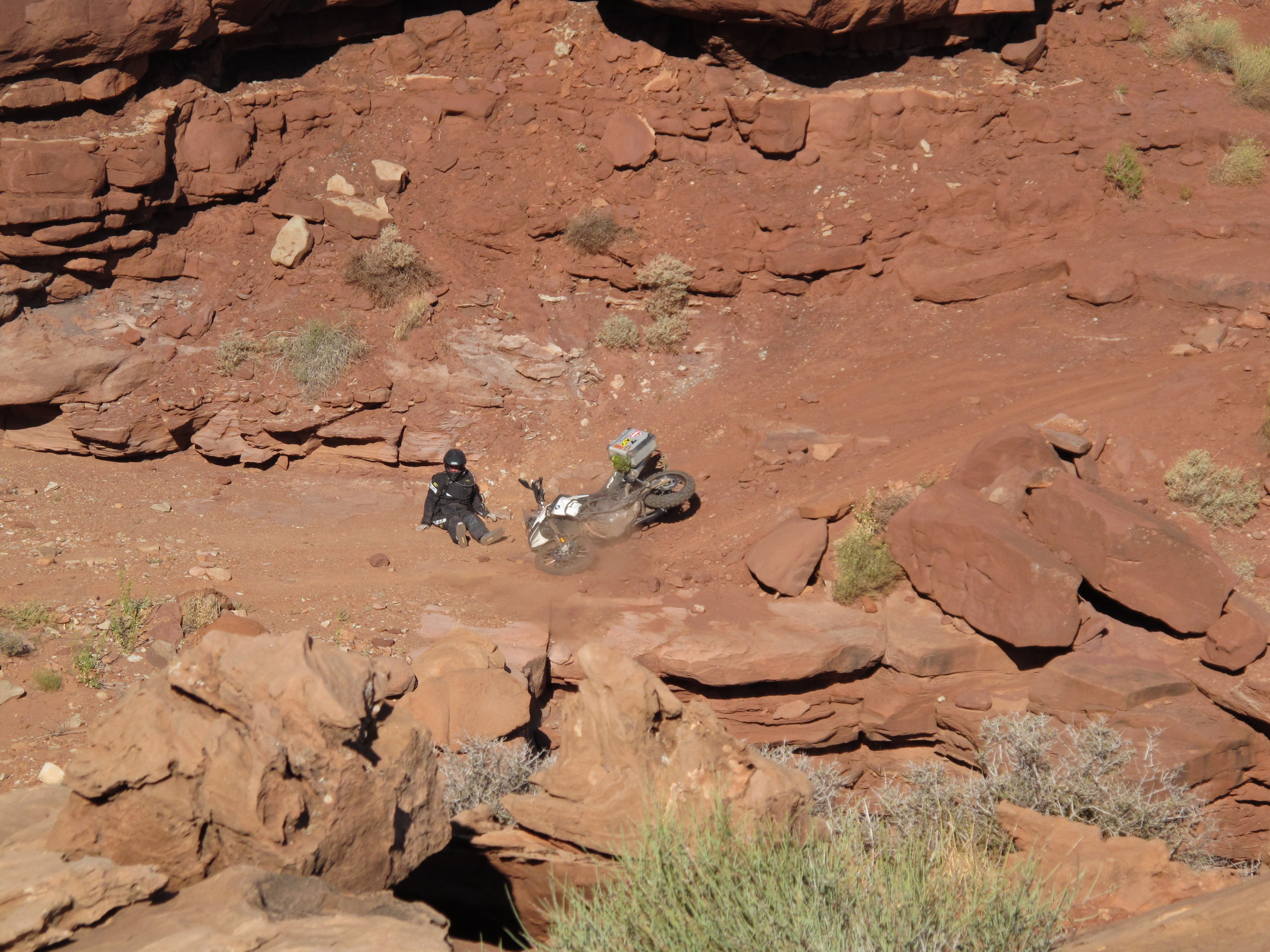 At daylight we head north, wrestling the bikes over 30 more miles of rugged trail through the Lockhart Basin. A few of the bikes have new dents and dings, but the skid plates and crash protection items did their jobs and kept all of the bikes in good working order, despite numerous falls on the rocky trail. We find ourselves in the famous tourist destination of Moab by noon.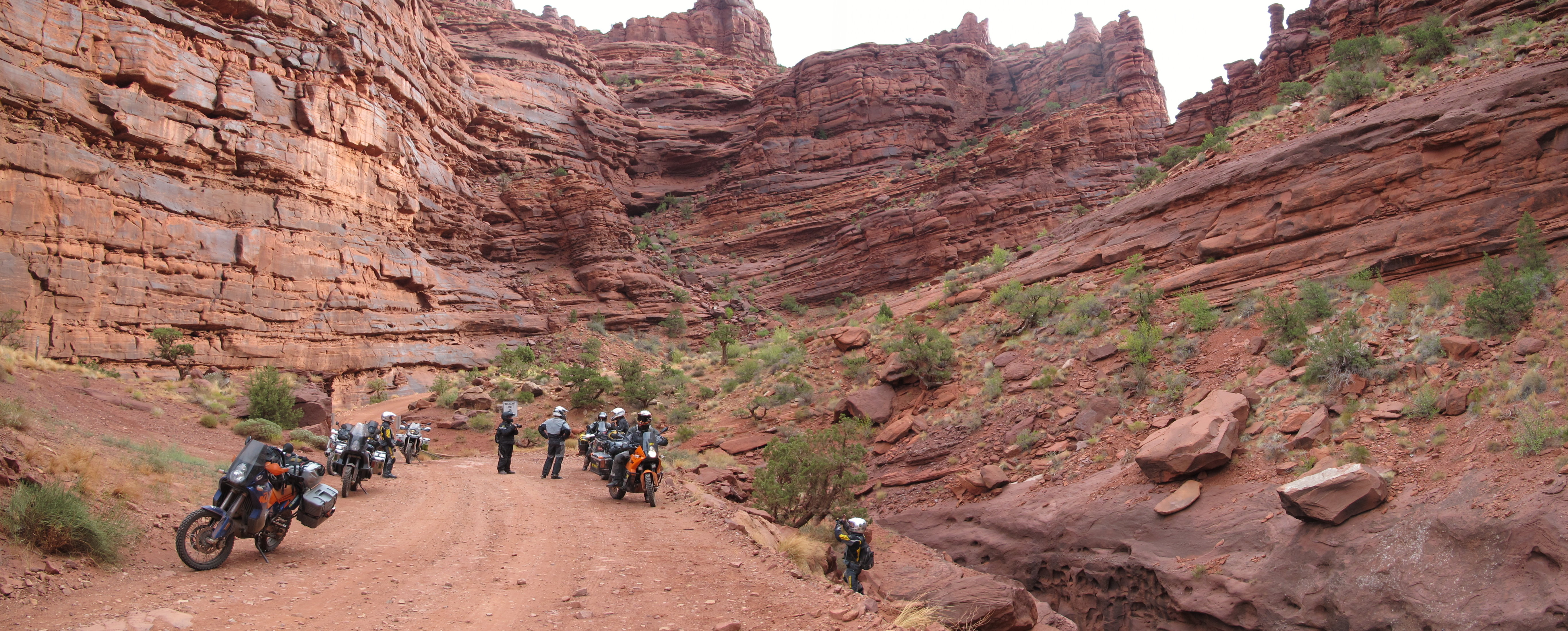 After a re-supply of gas, food and a quick lunch in the hot sun, we duck out of town to the east on Sand Flats road and escape civilization once again. We spend the night in Onion Creek, a narrow red-rock canyon with spectacular towering cliff walls. Our camp is right on a small creek, so we are able to clean up a bit after another dusty day in the saddle.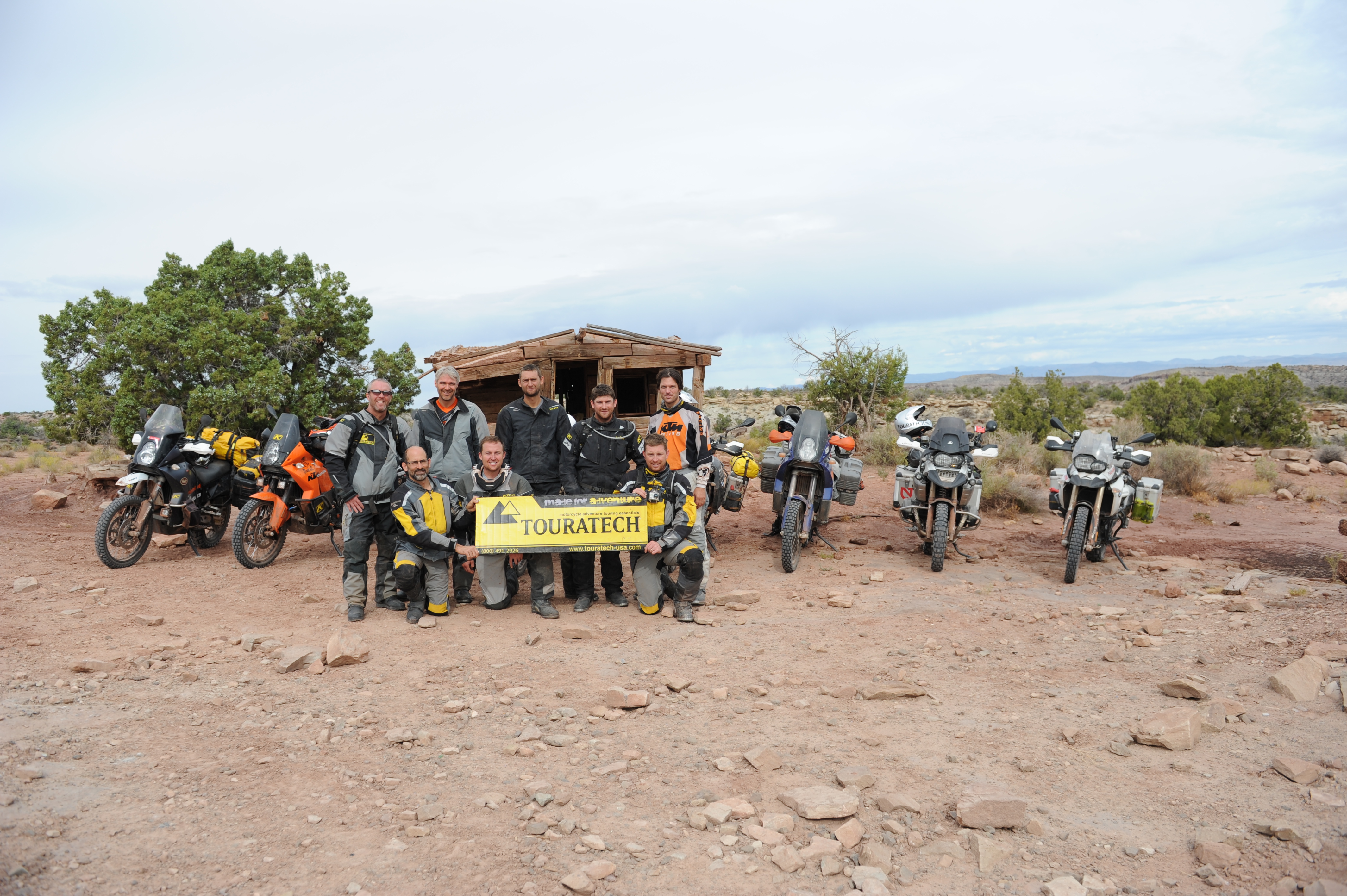 Morning comes and we are blazing through barren landscapes on a network of roads that all seem to have washouts from recent rain storms. After a few scary moments, I try to keep my eyes on the road and my hands ready to brake because these wash-outs can take you down if you hit them to fast.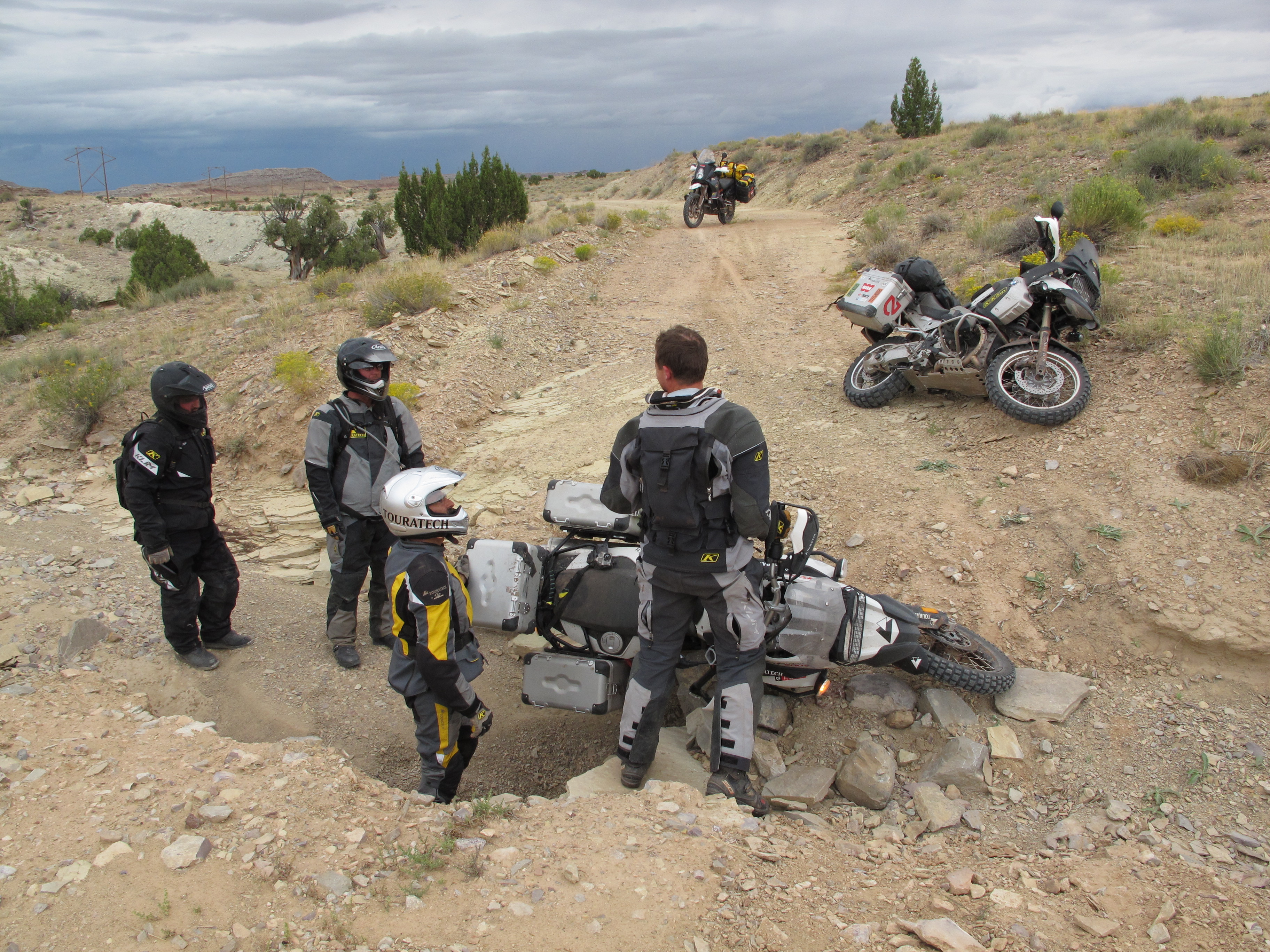 Today we see more than one bike go down crossing these missing pieces of road. It's in this section of Utah, near the old mining town of Sego, that we discover a twisty road that has an incredible rhythm and fun factor to it. I comment to Bryce, "did they try to make this road this curvy and fun to ride or what? It's like you couldn't build a road this fun if you tried." That night at camp, the smiles on the team's faces tell the story.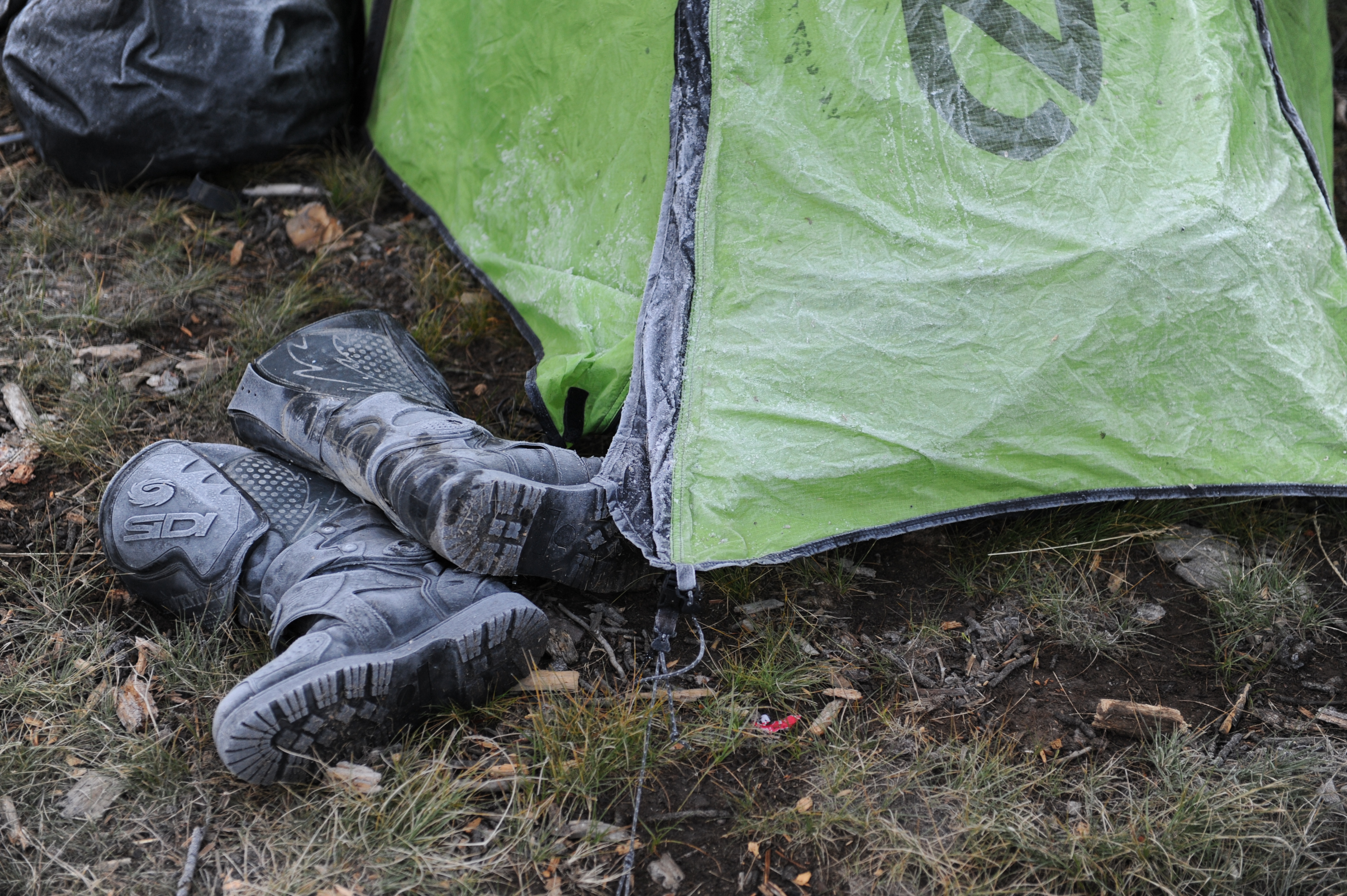 There is no doubt that Utah is downright magical in terms of the scenery and unique landscapes. It actually feels too good to be true – right until you discover the state's dirty little secret. Mud! Calling it mud is misleading. I'm from the rainy Pacific Northwest, I've ridden in lots of mud and this is unlike anything I've ever seen.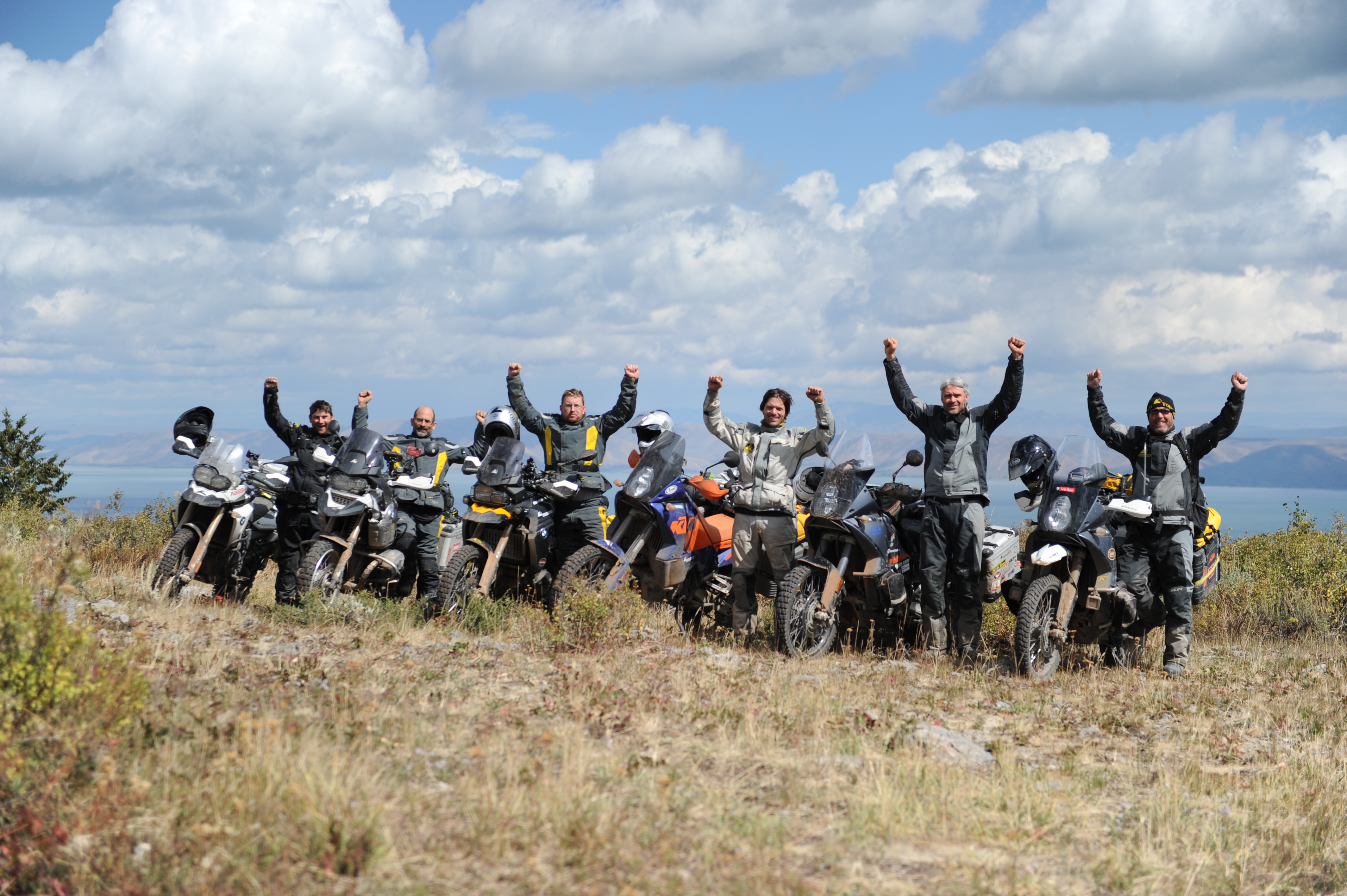 On Reservation Ridge, we're following a crest at around 9,000 feet when a rain squall opens up. Less than a mile into the rainstorm our bikes begin to get stuck in ruts and riders struggle to keep the bikes upright. In just a matter of minutes, our front wheels cease to rotate due to mud packing into the fenders. Earlier in the day I saw a warning sign that read "Roads May Be Impassable Due To Storms." Now I realize what they meant as we sit on the side of the road for several hours waiting for it to dry out. This drying phase can take hours, or days, depending on the sunlight, wind and precipitation in the area.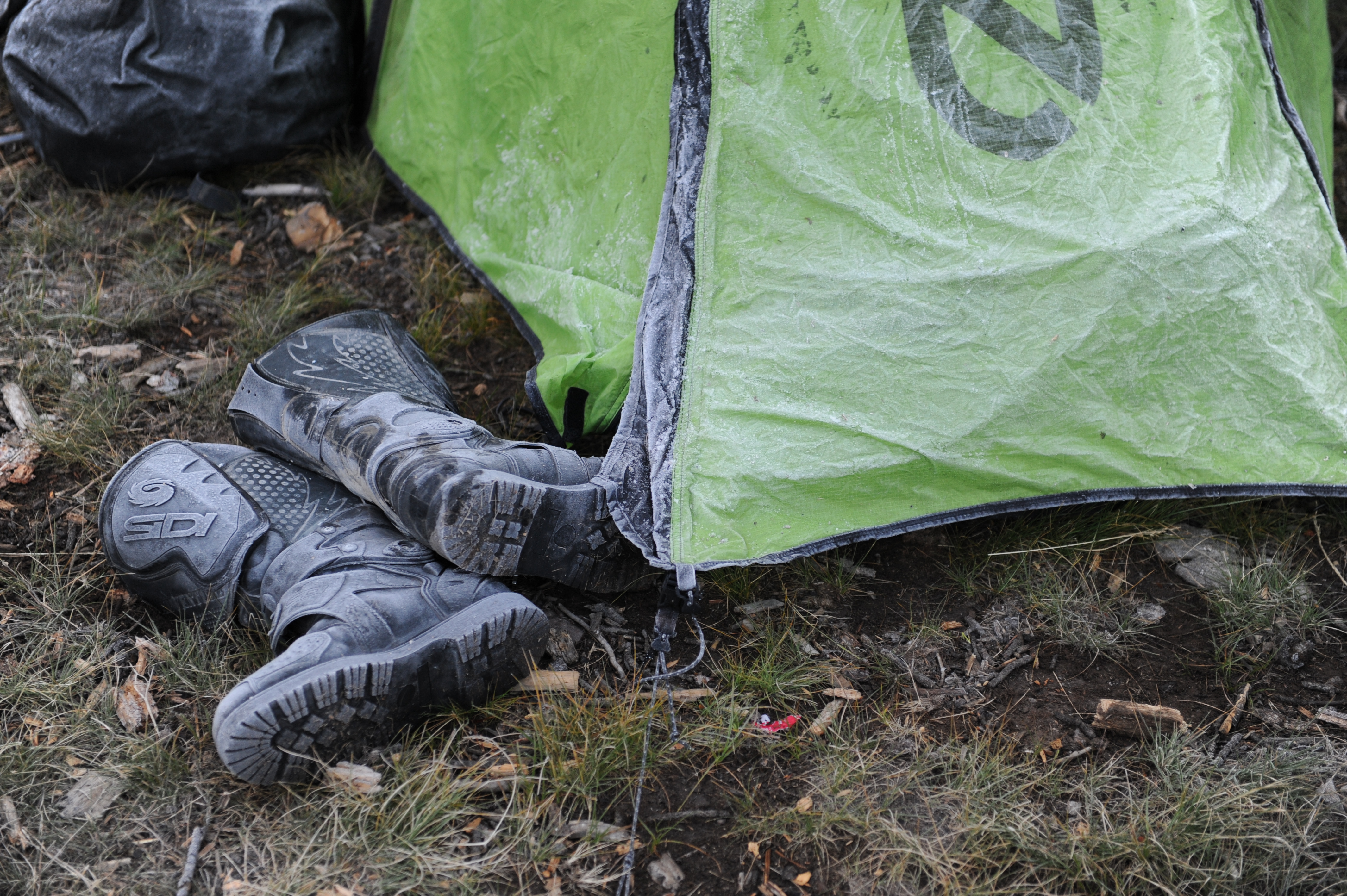 The road finally dries up and we carry on Northward into the Wasatch Mountain range where we camp next to an alpine lake at nearly 10,000 feet. Although it's September the temperatures dip below freezing and we have frost on everything in the morning. In this high country the terrain can be moist and rocky. The wet rocky terrain is challenging and the team lends a hand to each other to get through tough stretches.
After eight days of backcountry motorcycle travel, we get to the lookout spot we've been hearing about. The dirt road we're on comes out to a bluff overlooking Bear Lake which extends into Idaho. Finally we are looking at the state we've had in our sights for over a week. Thinking back over the last 8 days we spent riding across these unique landscapes, I say to myself, "I feel like I know the state of Utah."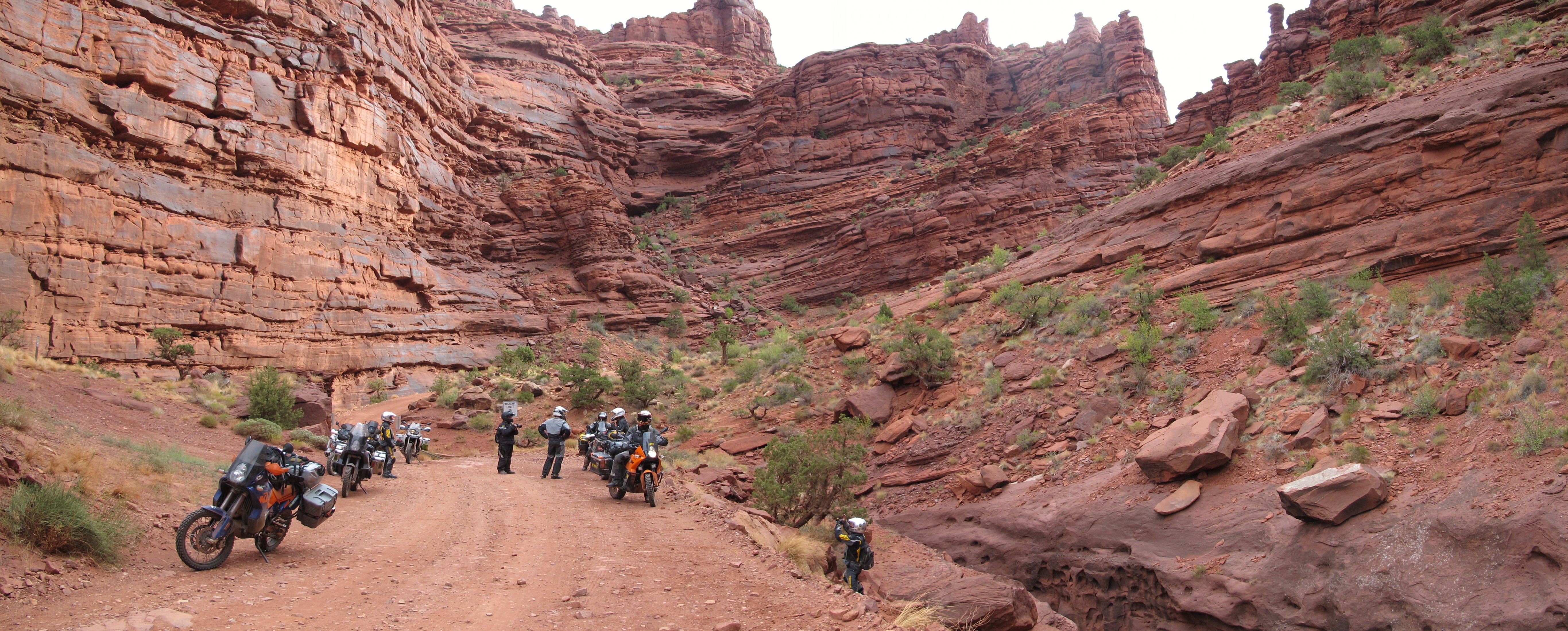 For more information on the Utah Backcountry Discovery Route visit the following websites: UTBDR or Backcountry Discovery Routes
Images: Jonathan Beck & Flora Lloyd
Editorial: Paul Guillien