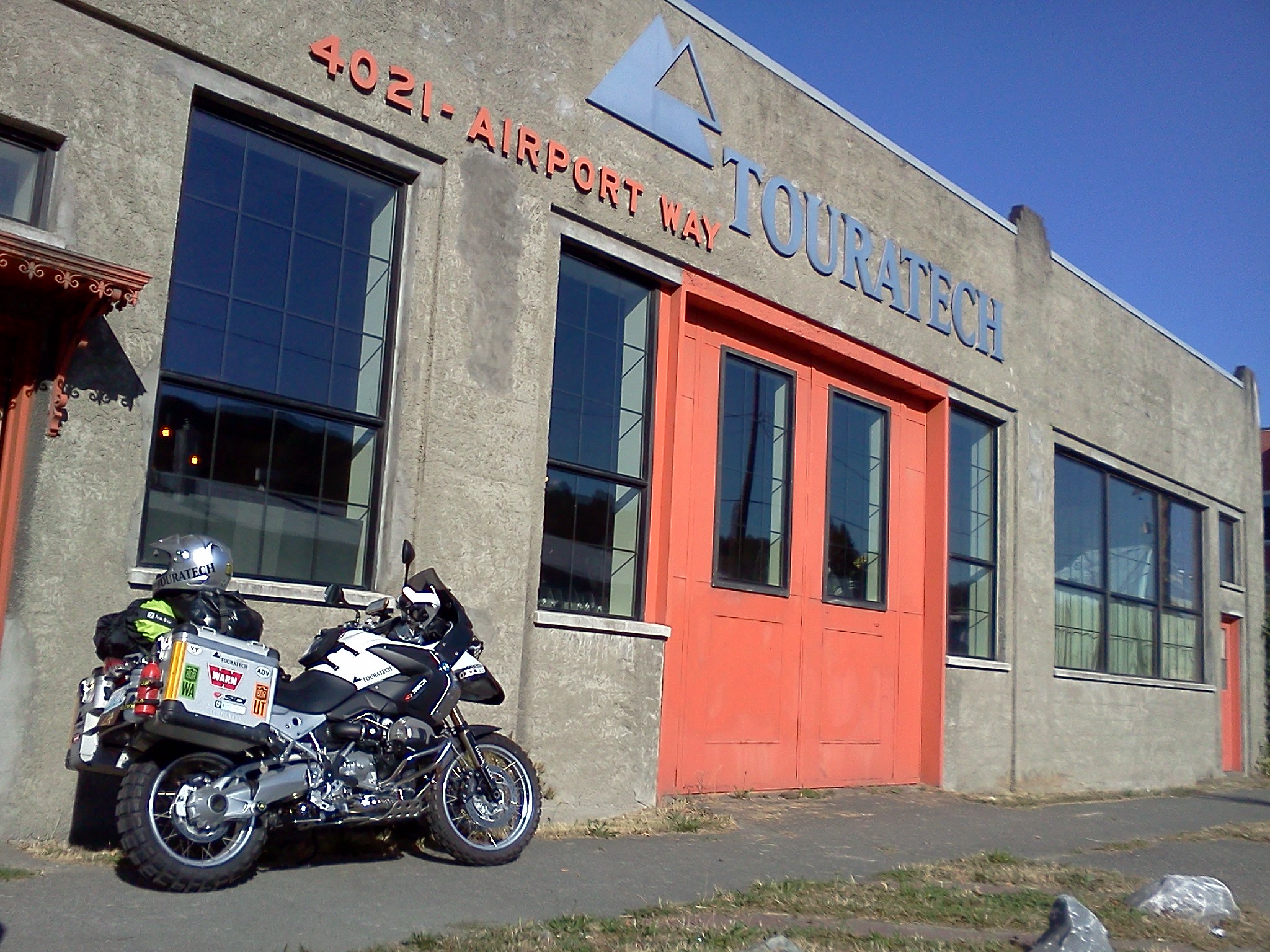 Tom Myers, President of Touratech-USA, left our Seattle headquarters this morning aboard our new BMW R1200GS and will soon join Paul Guillien, Touratech-USA's General Manager, and the rest of the Backcountry Discovery Routes team, to being documenting the highly anticipated Utah Backcountry Discovery Route.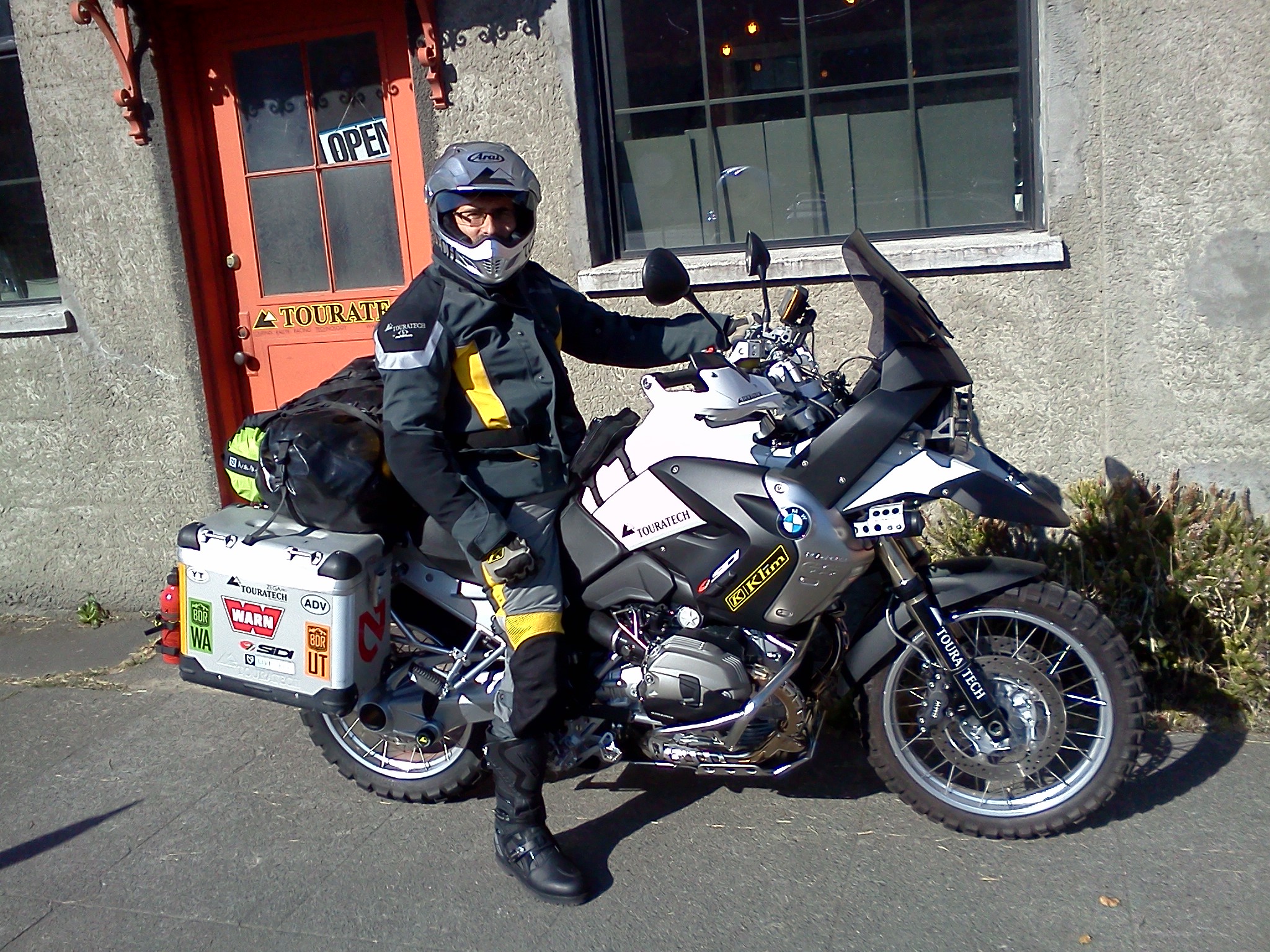 Riding Touratech-USA's new 2011 BMW R1200GS (which only has 25 miles on the odometer), Tom will ride from Seattle, WA to Boise, ID where he will have the bike serviced before riding on to Mexican Hat, UT where he will join the rest of the BDR team and begin the 1000 mile off-road journey across the state of Utah.
UPDATE: 09-07-2011
Its hot, 94 degrees. I'm wearing the Touratech Companero Riding Suit. I have just the inner suit on and can feel a cool breeze blowing thru the the suit. Its perfectly comfortable.
The Touratech R1200GS has 257 miles on it now. With the Desierto III fairing it's a comfortable ride, a real pleasure.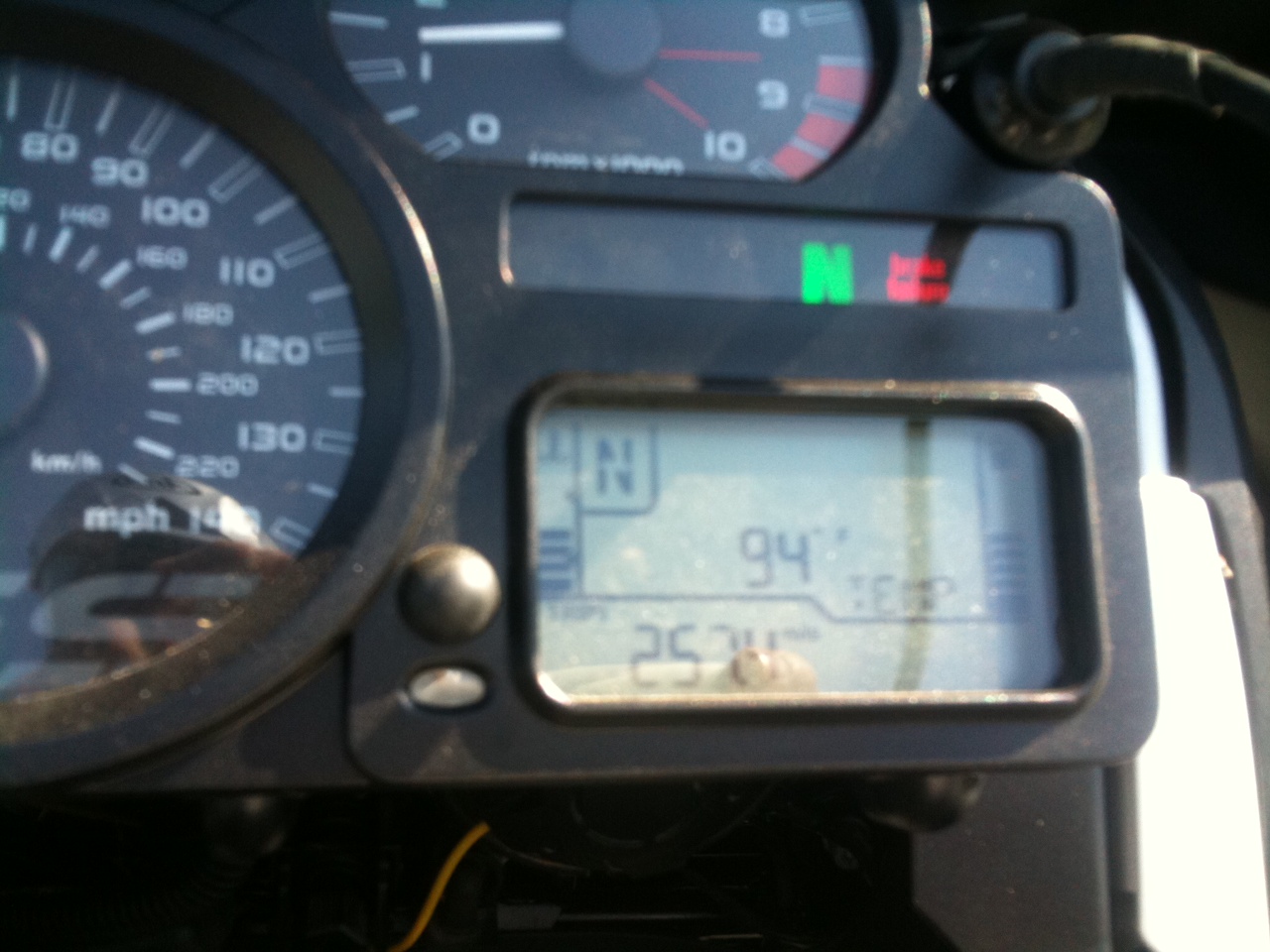 I'll camp tonite off the highway in the National Forest, somewhere past Baker City. I'll get up early and ride into Boise for my 600 mile service at Big Twin BMW.
In my mind I picture a nice camp next to a stream, a place to read my book and a nip from a small flask of scotch…
Tom
UPDATE: 09-08-2011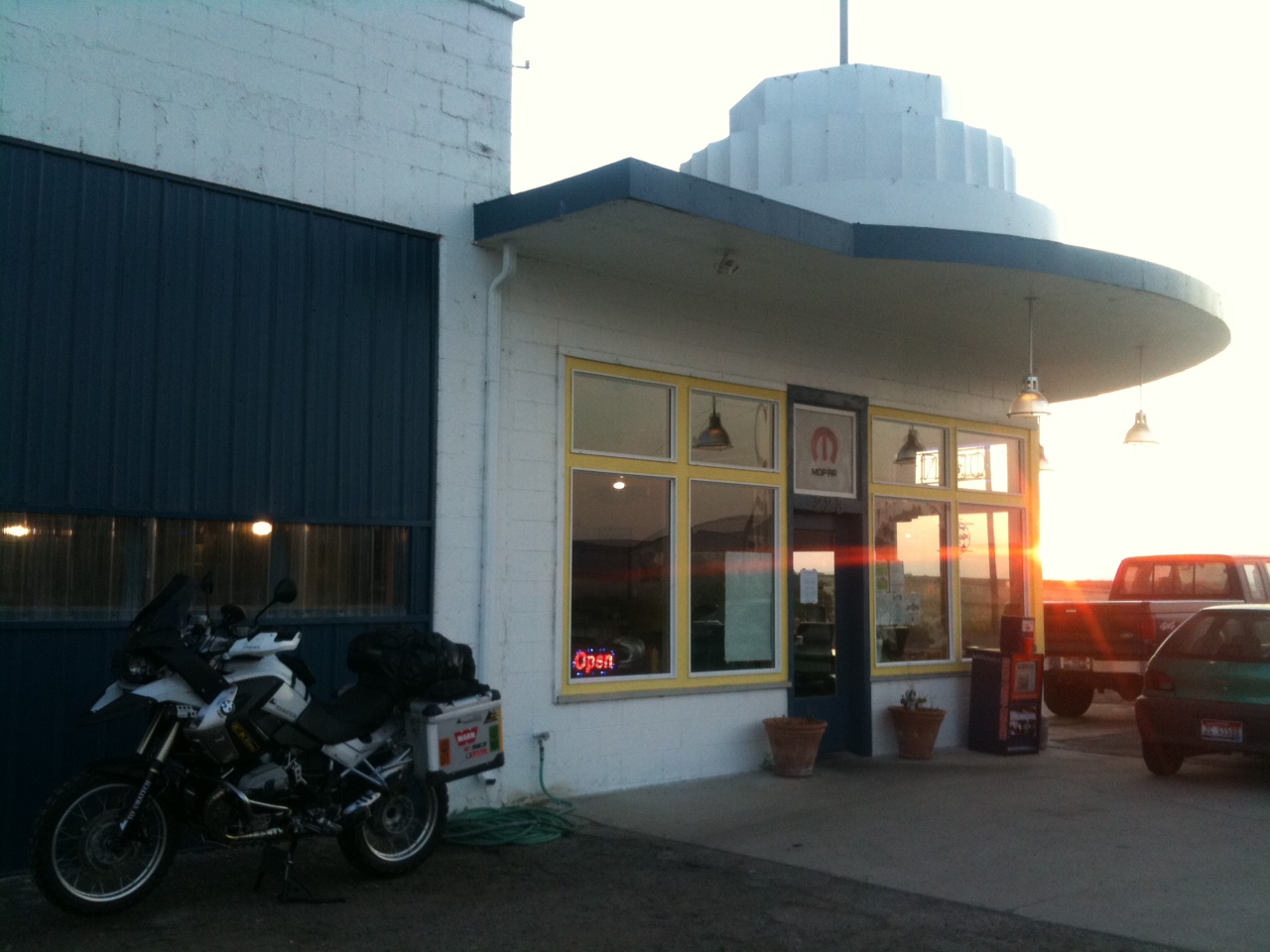 At the end of the day I didn't find that idyllic spot by the river… Idaho, outside of Boise is a patchwork of farms, and the Nationall Forest was too far off I-84. So I stayed in a little motel in Parma.
This morning I was on the bike before the GPS switched to its daytime screen. Passing through the first little town of Notus (pronounced "notice"), I "noticed" a little cafe called "The Garage." Cool place, and the only place in this little town, so I stopped in for breakfast.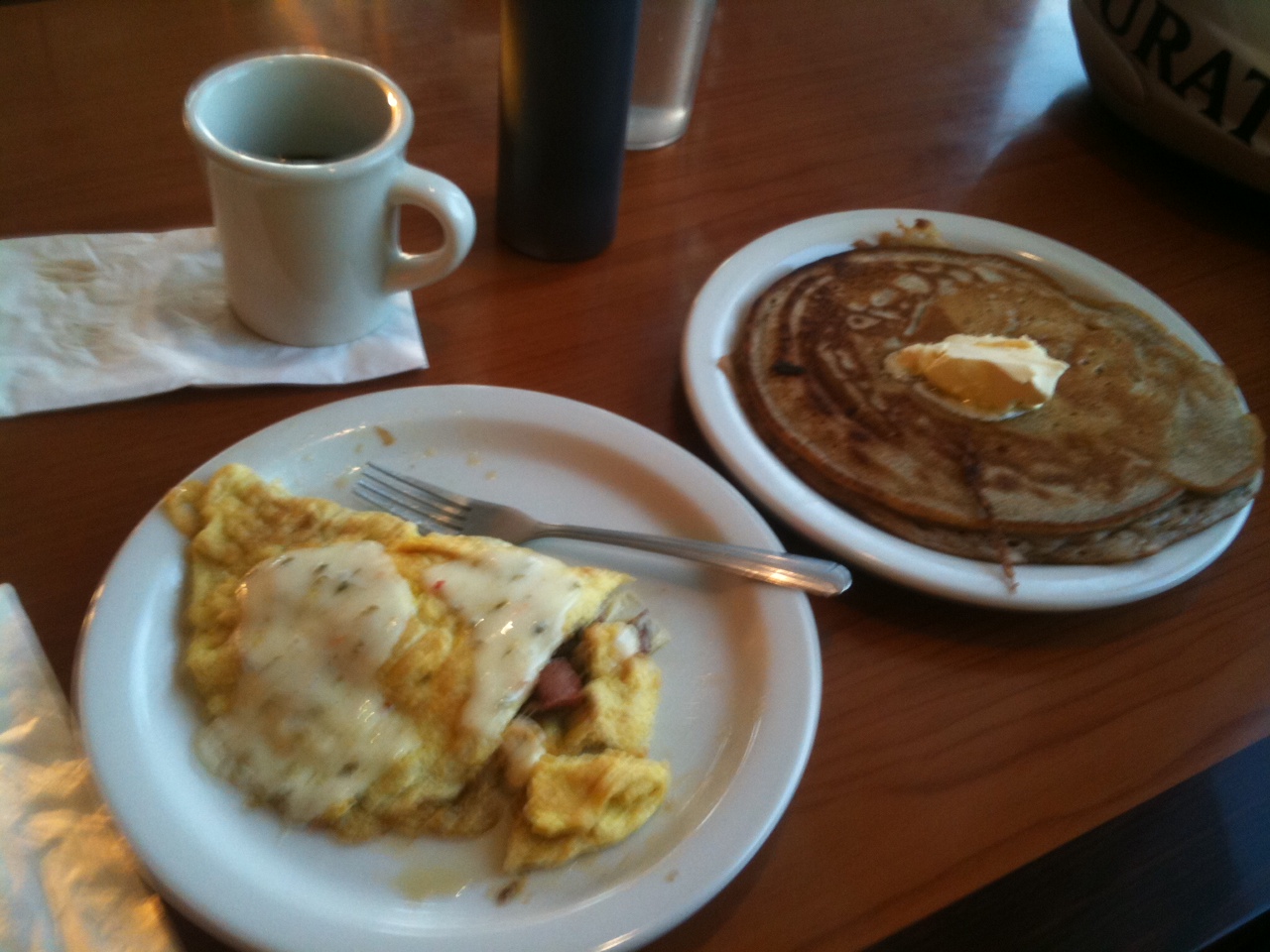 I ordered "The Gran Torino" which was an omelet with chorizo and pepper jack cheese, and a large whole wheat pancake.
A great start for the day, not to mention the privilege of jumping on a great motorcycle. That is one fine-lookin machine! Not a scratch on it… yet.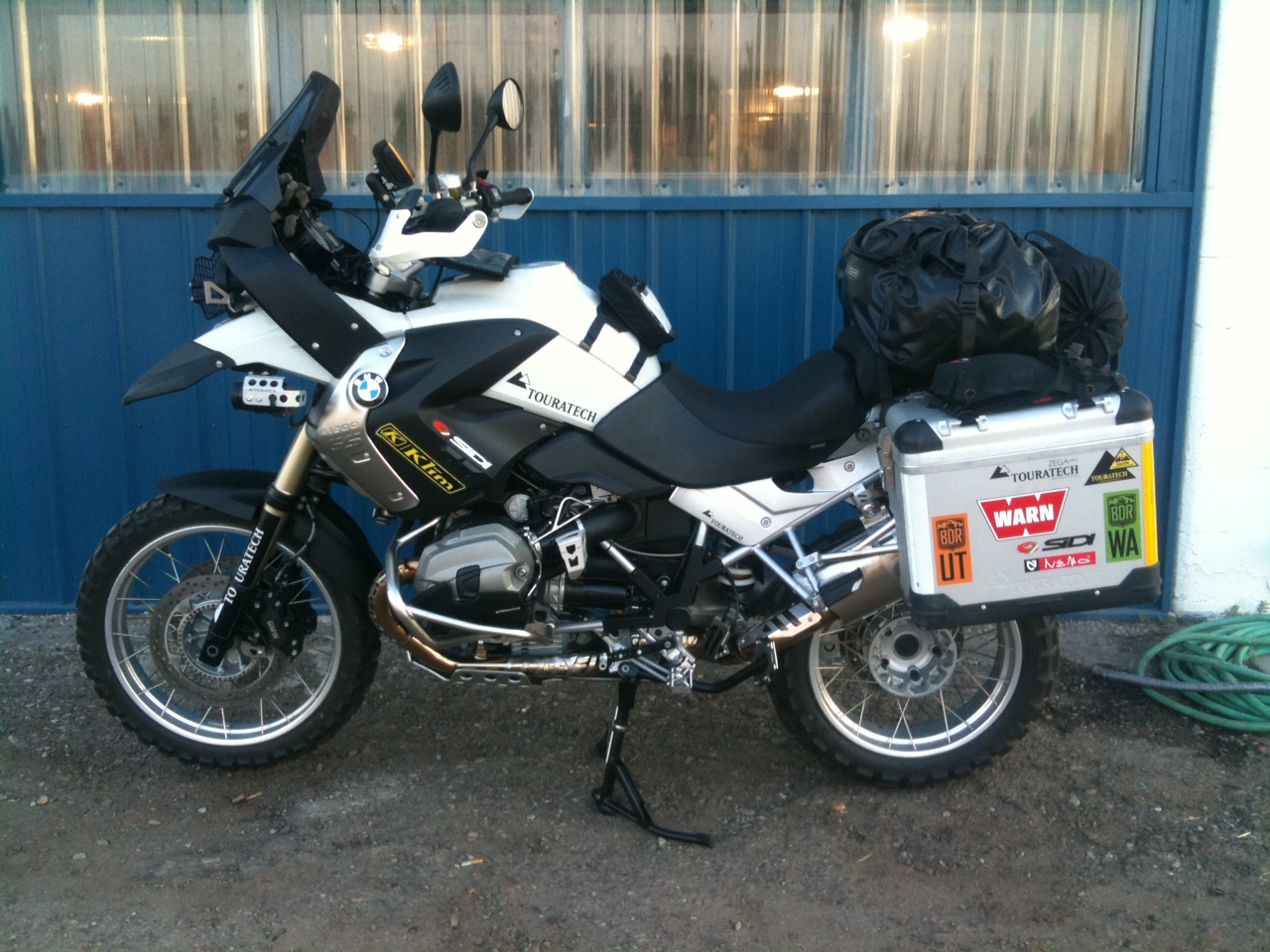 This mornings business is to stop by BigTwin BMW in Boise, ID for the "600 mile service" at 9am then off to visit BMW Motorcycles of Utah in Sandy.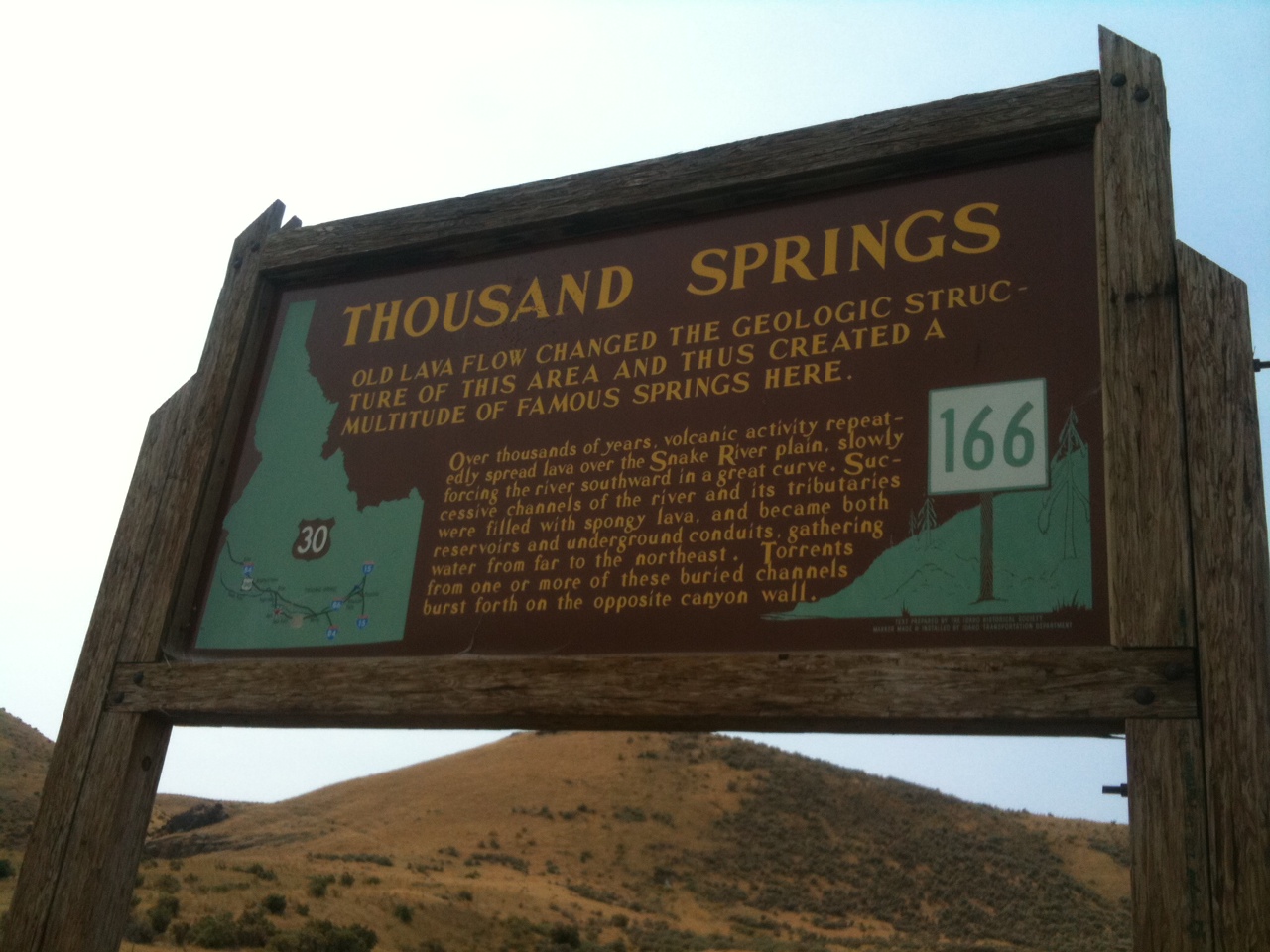 I decided to take the US-30 Thousand Springs scenic byway, off I-84 from Bliss to Buhl, Idaho.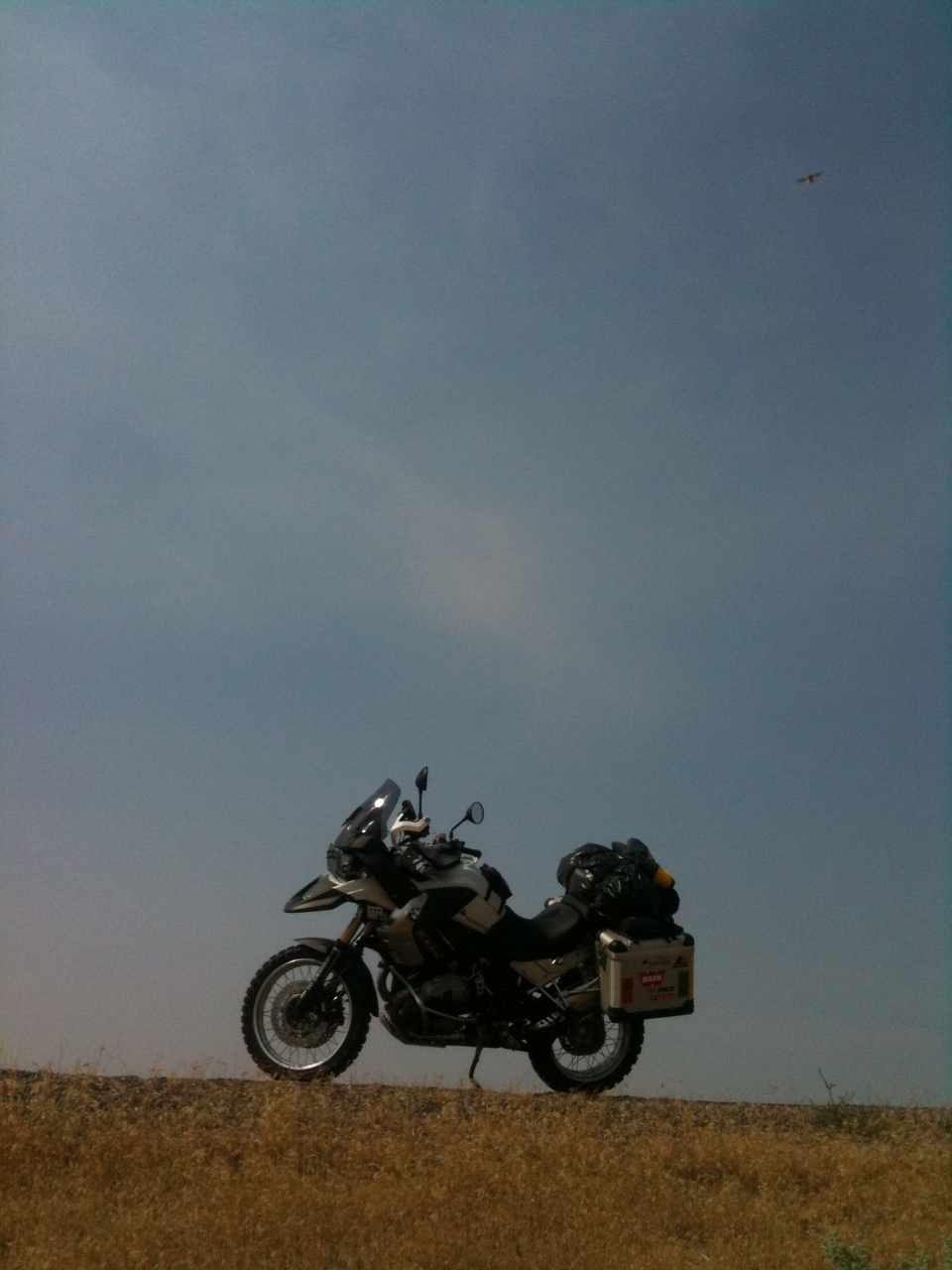 Once again I'm glad I have this Touratech Companero Riding Suit. I'm wearing just the inner jacket and pants, that has all the protection and pads. The air flows right thru it. Whenever I stop I realize how hot it is, and can't wait to get back on the bike for some breeze.
Onward to Salt Lake City, my goal is to make it to BMW of Salt Lake before they close.
Tom
UPDATE: 09-09-2011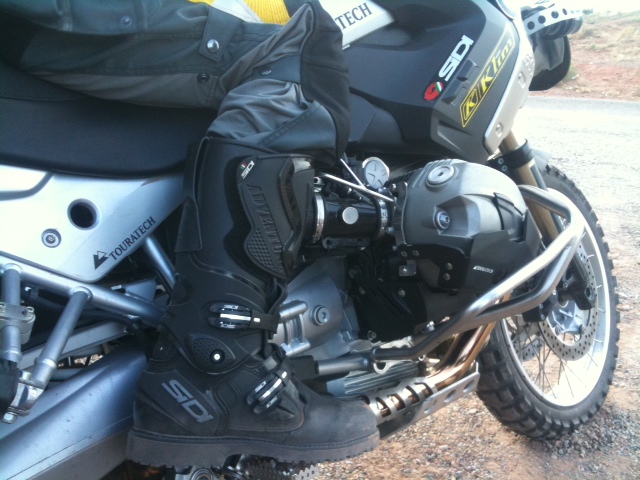 Today's ride was the best yet, just secondary highways through the canyonlands. The summer storm we passed thru gave way to clear skies and the best views. There is nothing like the canyonlands, I'm in awe every time.
My SIDI Adventure Rain boots lived up to their name and didn't leak a drop. Plus they've been very comfortable from the moment I put them on.
Tom
UPDATE: 09-10-2011
Haven't had a lot of opportunity to send photos. Here is Sunday nights camp at 9,000 feet in the Abajo mountains. It rained HARD again and sent us scurrying into our tents. This time it was just AFTER dinner.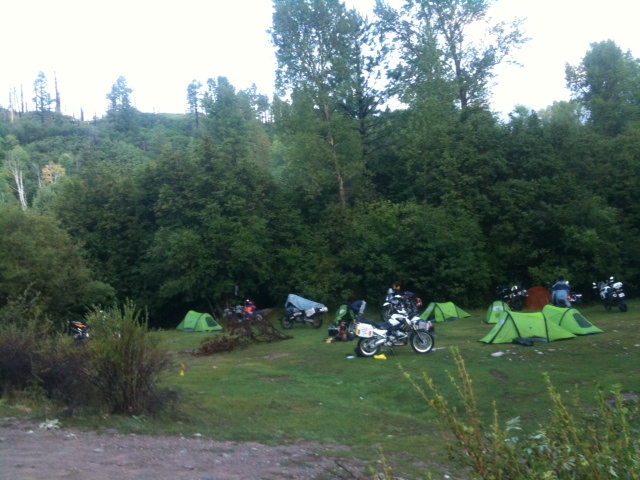 Thats my sparkling new 2011 BMW R1200GS in the center, surrounded by green NEMO tents. The tents are cool, there are no poles. The structure of the tent is a pressurized "air column" bent into an arch. With no poles they pack up small. We left the mountains and went into the desert on Monday.
Tom
UPDATE: 09-11-2011
Monday was a good day because we got into Redrock desert country. Last night we were in the forest, in the mountains. Today we will camp in the desert. We bought some water and a few supplies, as well as gasoline (for $6.50 per gallon!) from the spirited woman that runs the Needles Outpost. We headed North through Lockhart Basin towards Moab. It's 70 miles and will take us 8 hours because we are stopping to film.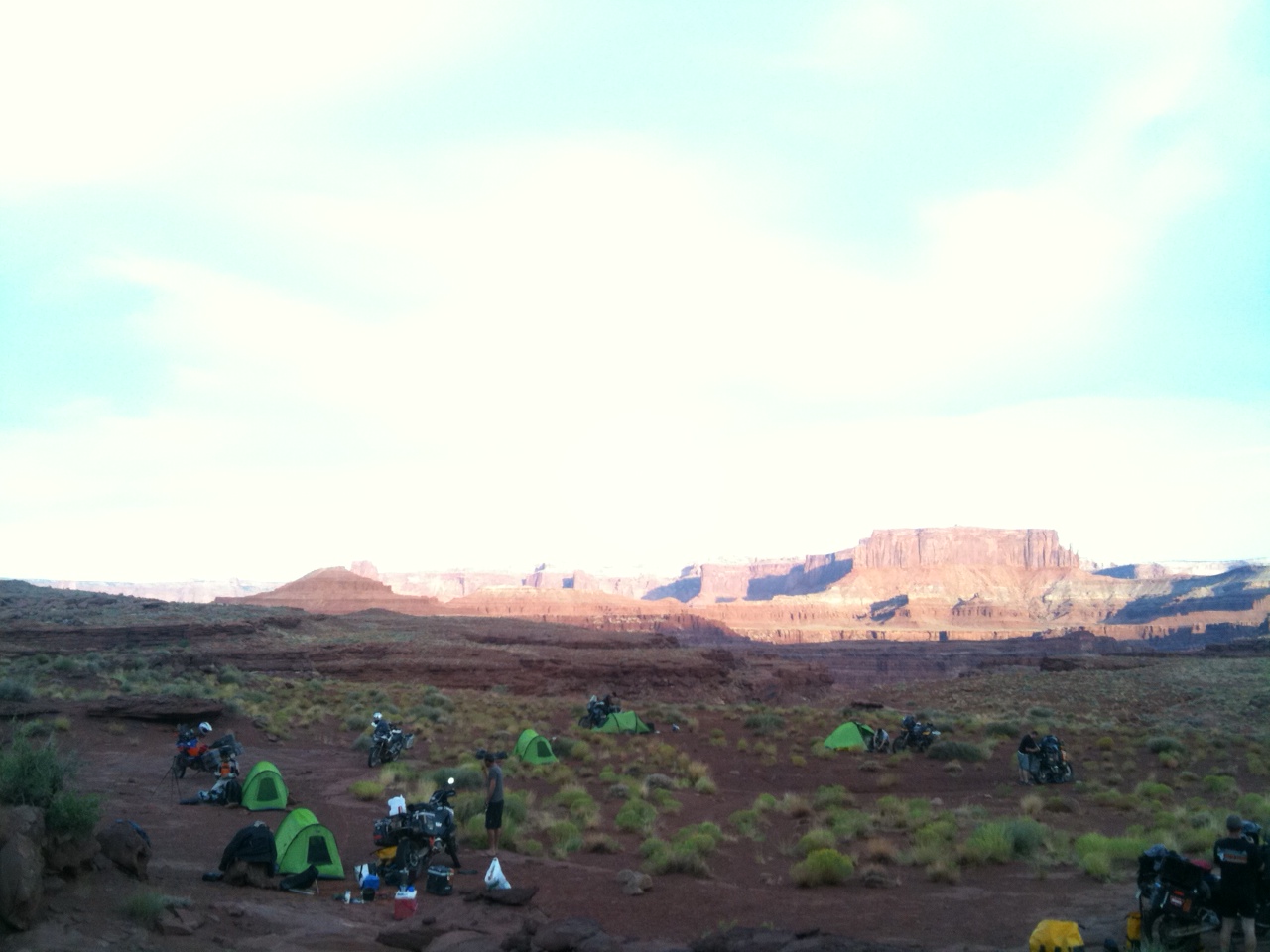 To me Lockhart basin has been the highlight of my trip so far. I needed a redrock fix. The terrain reminds me of the old "Road Runner" cartoons, it almost looks fake.
We camped in the desert, as planned and awoke to a spectacular vista.
Tom
About the Utah Backcountry Discovery Route (UTBDR)
Following the success of the Washington Backcountry Discovery Route, Touratech-USA has partnered with KLiM Technical Riding Gear, Butler Motorcycle Maps, WARN, Nemo Equipment, SIDI Boots, BMW Motorcycles of Utah, Edge Powersports KTM and Noren Films, to ride and document their second Backcountry Discovery Route, the Utah Backcountry Discovery Route.
The Utah Backcountry Discovery Route, or UTBDR, is a scenic driving route across the state of Utah, from Arizona to Idaho, for dual-sport adventure motorcycles and 4×4 vehicles. This 1000 mile long south-north route uses mostly un-paved backroads and will pass through a number of iconic locations including Moab, Valley of the Gods, the Abajo and La Sal Mountain Ranges, Nine Mile Canyon, and the northern Wasatch Mountains.
About the Backcountry Discovery Routes
Backcountry Discovery Routes is 504c non-profit organization that promotes community-based efforts to establish and preserve off-highway routes for adventure motorcycle and dual-sport travel. Our current projects include the Washington Backcountry Discovery Route and the Utah Backcountry Discovery Route.
Click HERE to view the UTBDR photo gallery.