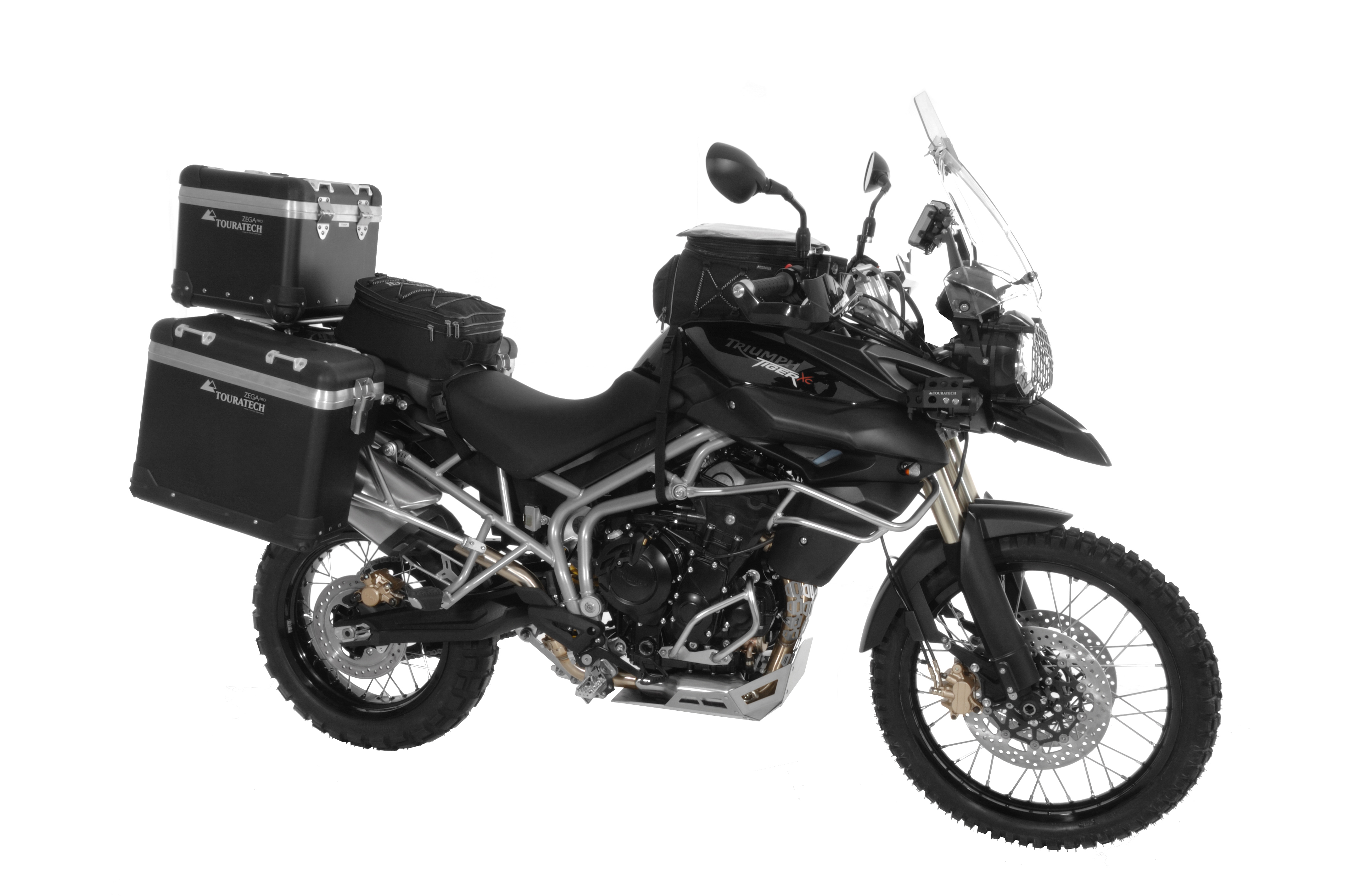 The adventure touring experts at Touratech have developed a full line of accessories for the latest entrant to the middleweight adventure motorcycle category, the Triumph Tiger 800 XC. In true Touratech fashion, their designers have come up with a long list of protection and guards, auxiliary lighting, ergonomic enhancements, aluminum pannier systems, tank & tail bags, navigation, and more, most of which, will hit the U.S. shore before the Tiger 800 motorcycles arrive.
Touratech is excited to see Triumph announce its new 800cc version of the already popular Tiger, and wasted no time getting to work designing and fabricating the accessories to transform it into a truly capable world traveler.
"It's great when an aftermarket company like Touratech can develop a complete line of accessories for a new motorcycle before the first one is even delivered in the U.S., helping the customer envision the potential of their new machine before they pick it up at the dealership."
-Paul Guillien, General Manager, Touratech-USA
To see all the Triumph Tiger 800 XC accessories currently available, visit our Triumph Tiger 800 XC Accessory Page
Below is just a sample of some of the great accessories for the Tiger from Touratech.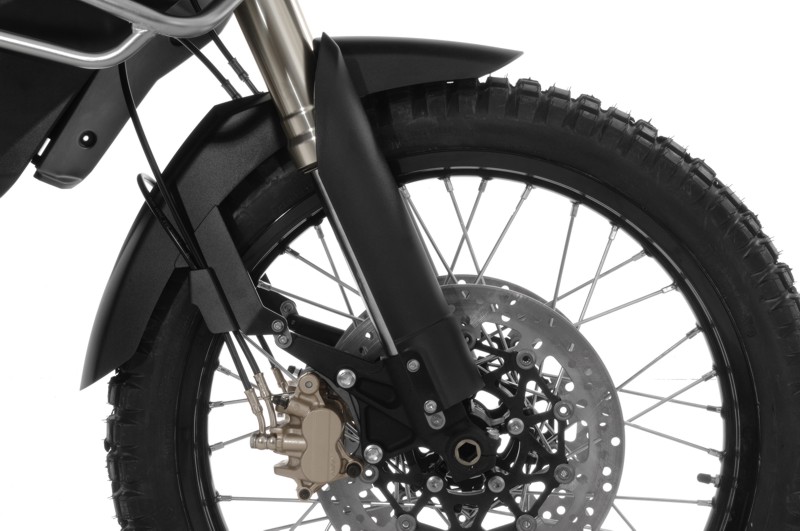 Front Fender Riser
Part # 420-5441
The front fender on the Triumph Tiger 800 XC is positioned very close to the front wheel. If you use knobby off-road tires, the gap gets even smaller and you run the risk of locking up your front tire with mud and rocks.
Touratech's riser for the original front fender on the Triumph Tiger 800 XC is very easy to install. A stainless steel adapter goes between the tire and the fender, increasing the clearance by 15 mm (0.6 inch). No modifications to the original fender are necessary.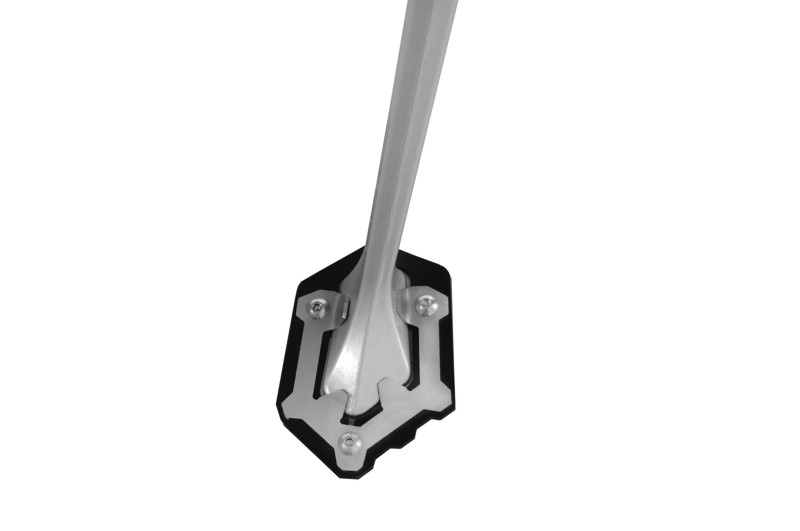 Large Sidestand Foot
Part # 420-5275
Wet meadows, soft asphalt, deep gravel – there is often no solid ground available where you park your motorcycle! The original side stand of the Triumph Tiger 800 XC easily sinks into soft surfaces, but the Touratech larger sidestand foot provides a simple and effective way to keep your bike upright in any conditions.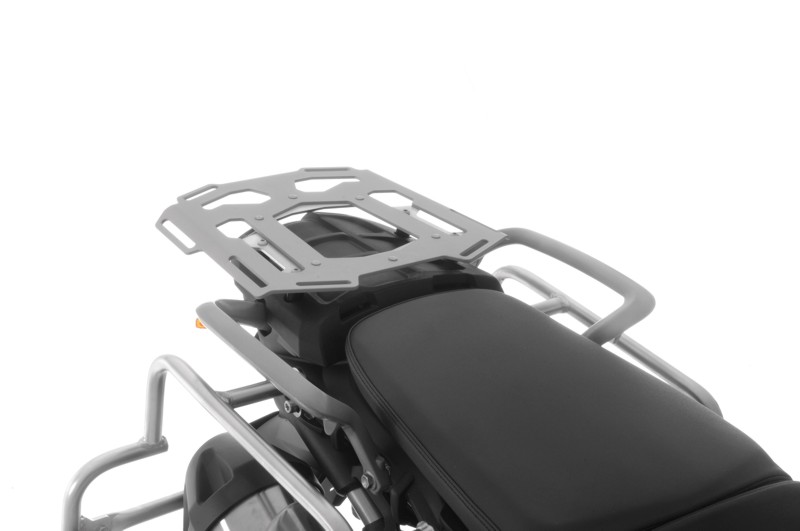 Rear Luggage Rack
Part # 420-5450
This aluminum rear luggage rack from Touratech gives you the perfect place to strap down dry bags and other luggage to your Triumph Tiger 800 XC. This strong and lightweight rack features many slots and cutouts, perfect for attaching any kind of strap.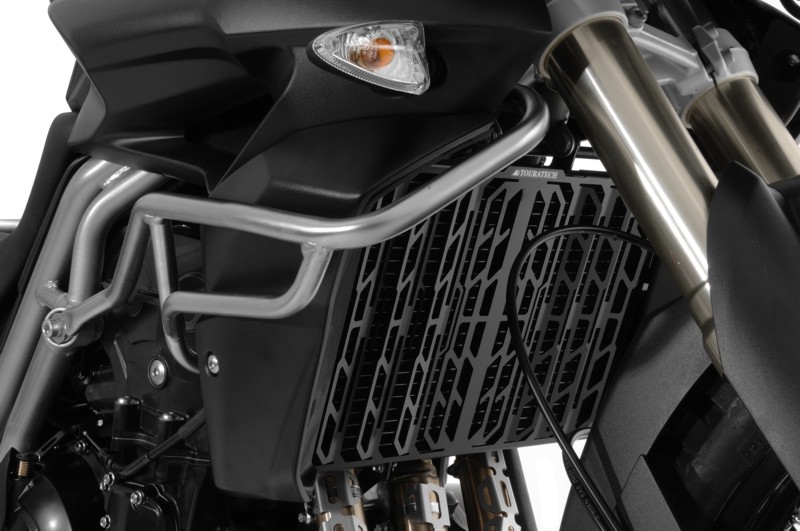 Radiator Guard, Black
Part # 420-5015
The radiator on the Triumph Tiger 800 XC's 3-cylinder engine is pretty large, making it susceptible to dirt and stone impacts while riding off-road. The original plastic radiator guard provides only limited protection on rough gravel roads, so we recommend replacing it with an Touratech's aluminum radiator guard. Touratech's radiator guard offers much improved protection against stones and debris, optimizes airflow and is made from black anodised laser-cut aluminum that unobtrusively blends in with the motorcycle's overall appearance.
Handlebar Risers, 20mm
Part # 420-5255
On long off-road stretches, the seating position on the Triumph Tiger 800 XC can be a bit tiring. These handlebar risers from Touratech make for a much more relaxed ride, both in the sitting position and when you're standing up over difficult terrain.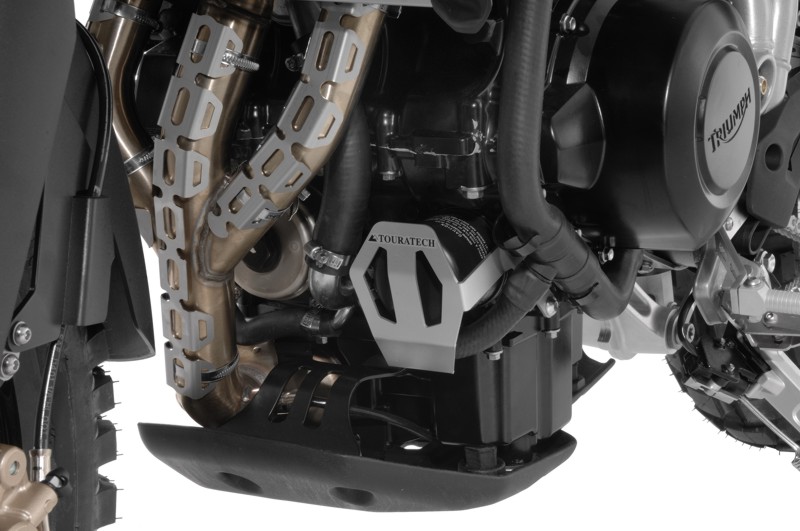 Oil Filter Guard, Anodized Silver
Part # 420-5085
On the Triumph Tiger 800, the oil filter is located just behind the front wheel, and very vulnerable to stone impacts and other debris thrown from the front wheel. Touratech's oil filter guard for the Triumph Tiger 800 protects the oil filter against stones and dirt so that it doesn't get damaged. It can be hard to find spares for this part, especially on a long trip, so effective protection for this sensitive engine component is essential.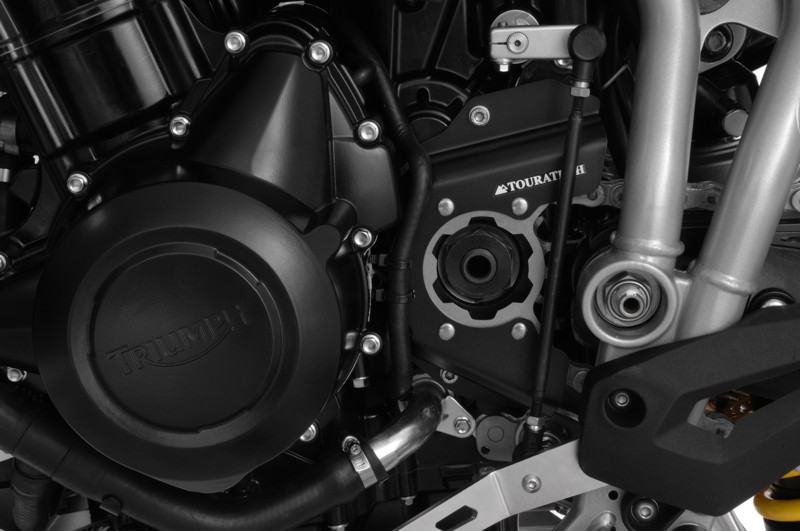 Countershaft Sprocket Guard
Part # 420-5050
Made from black anodized aluminum and stainless steel, Touratech's countershaft sprocket guard for the Triumph Tiger 800 XC replaces the plastic cover to give a clear view of the final drive. On a long trip this means you can constantly check the sprocket for wear, and it's easier to clean off chain grease and mud without having to remove the entire plastic guard every time.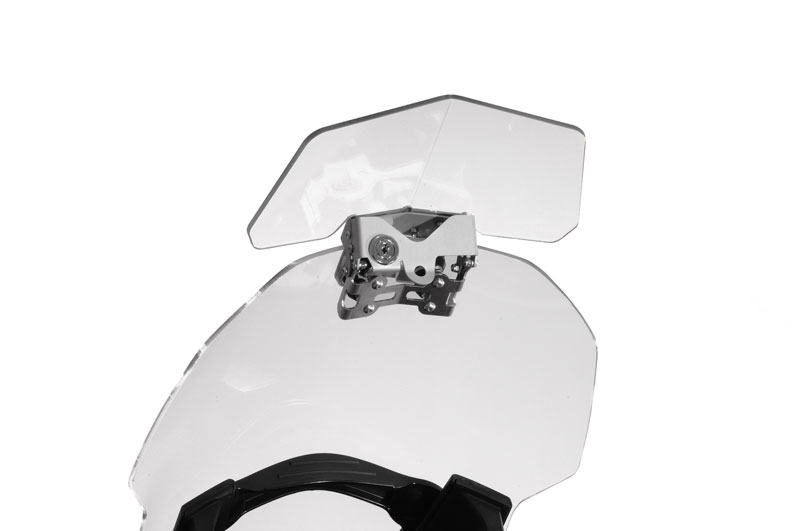 Lockable Windscreen Spoiler
Part # 046-0647
This small, discreet locking windscreen spoiler from Touratech effectively reduces airflow and buffeting when riding at high speeds, yet is easy to remove for off-road riding, or trips around town. The keyed lock prevents unwanted removing of the spoiler.