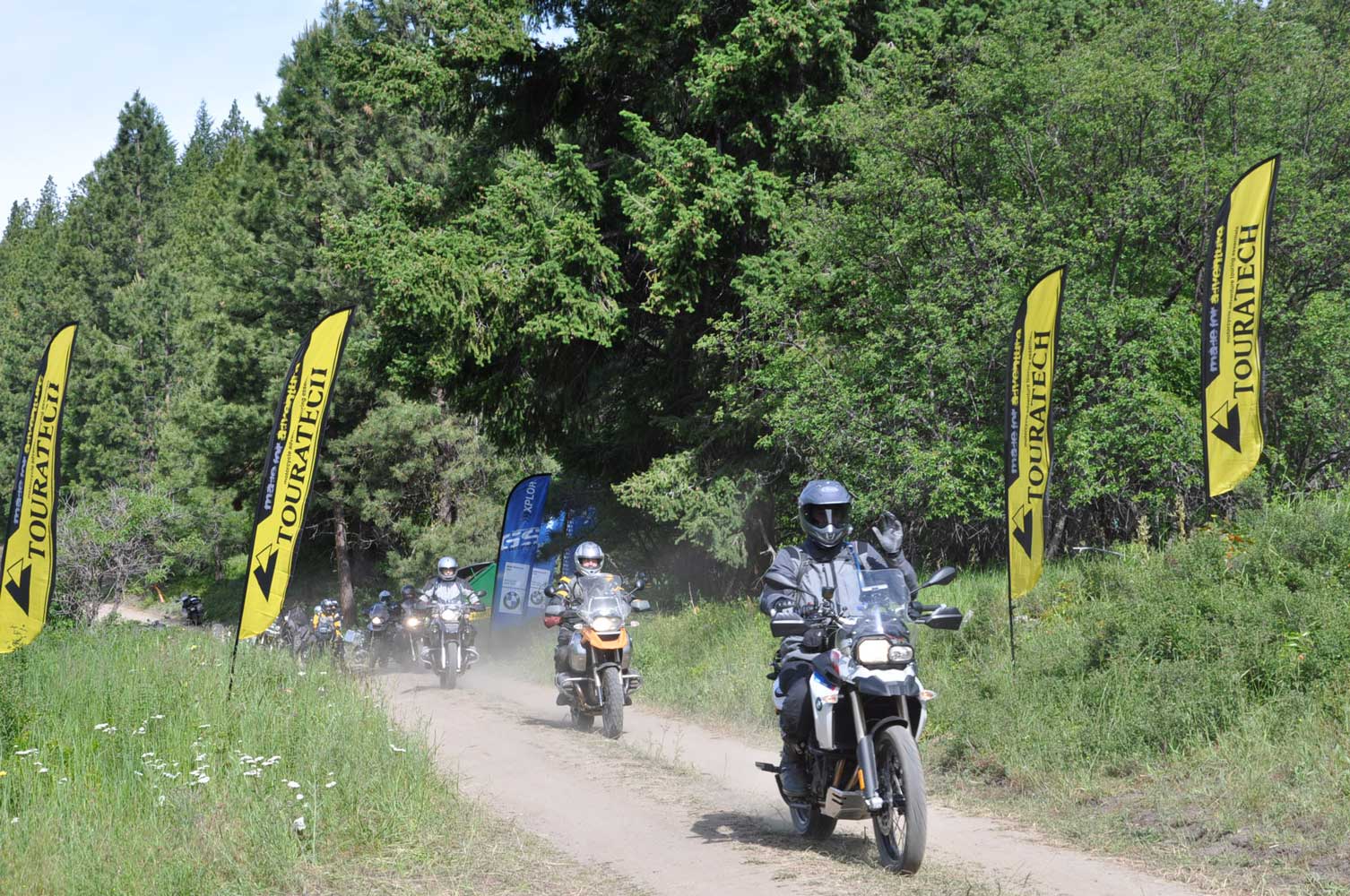 Start planning now for one of the best adventure riding events of the year. The 2011 BMW XPLOR Pacific Northwest Adventure Rally hosted by Touratech-USA and RawHyde Adventures, will be held June 24th-26th near the beautiful Bavarian themed town of Leavenworth Washington. Ask anyone who attended the 2010 event, you'll have an awesome weekend of great rides, camaraderie, gourmet food, and scenic camping. Mark the date on your calendar now, and follow the registration page link at the bottom of this article to sign-up.
Check out the PHOTO ALBUM for some pictures from the 2010 rally.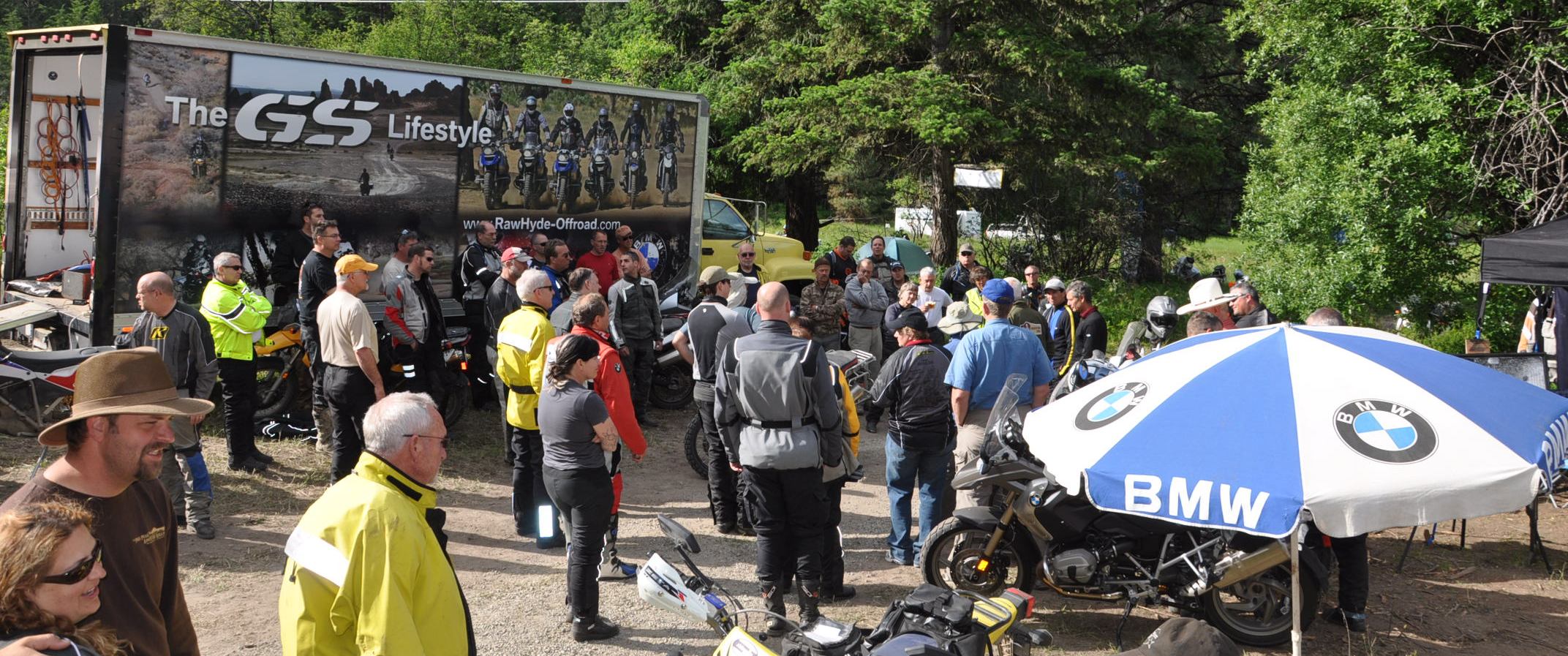 Here are a few details of the event:
Riding – Just imagine three days of back-country riding through the incredible Cascade Mountain Range of Washington, on the last weekend of June. Yep the Great North West has some of the best trails in the country. There are thousands of miles of great adventures to be had… both on the pavement and off. One ride goes to the fire lookout on top of Sugarloaf Peak, which at 5800 feet, is the highest mountain in the local area…
the view from the top is amazing. Cross over the Entiat mountains to Ardenvoir on smooth, graded roads, or go south over the remote and rocky Colockum pass. Or follow the summit road that drops down Swakane Canyon, with incredible views of the Columbia River. Near the camp, we'll have several short test loops where you can brush up on gravel road skills before heading out, with varying degrees of difficulty, from easy, to "fun". These off-road "test loops" will also be where the clinics described below will be held.
Not comfortable in the dirt yet? We will have a couple trainers from the BMW Off Road Academy on hand to offer tips on back country riding. They will be hosting three short clinics on "off-roading" big bikes. They will teach basic gravel-road skills (to novices) to help them enjoy the next 3 days of riding. Sign up for the clinics at the Registration area when you come in for the event. There is a max of 15 riders per clinic.
The Location – is Leavenworth; Washington which is known as the Bavaria of Washington State… for those of you who are BMW owners; what better way to celebrate that fact than hanging out in Bavaria for a few days… and if you don't own a BMW that's OK… anything with two wheels is welcome.
A little more to the story… The campsite and meeting place is about 11 miles north of Leavenworth, in a large green meadow on private property. The road from Leavenworth is paved 5 miles, then turns to wide graded gravel for 4 miles, and the final 3/4 mile access
road is dirt. Log trucks drive this access road but there is a longer, easier route for large motorhomes. It has fabulous views all around, the land is covered with towering pines and it's surrounded by Wenatchee National Forest. The whole encampment will run on a generator, a giant army tent will be set up as the galley and bar, and we'll have hot showers from our water trailer.
Camping – There is plenty of room for camping and motorhomes. RawHyde will be handling the kitchen, there will be portable showers, camp fires and at night we'll enjoy the starlit skies and some local micro brew around the campfires.
Food – RawHyde is known for great food – They will have their Cordon Bleu trained chefs serving up gourmet meals all weekend.
When: June 24th – 26th 2011
Where: 11mi. N of Leavenworth, WA.
Cost: $299
Click HERE for the sign-up page.
What Is Included?: 8 great meals plus drinks (Dinner on Thursday through Breakfast Sunday), a gift bag, maps and GPS tracks for rides in the area, camping included and 3 amazing days of riding from mild to wild in the beautiful Cascade Mountains.
This year we'll be having a special guest on Friday: famed rally racer Jonah Street! Since we'll be riding in the mountains on the very roads that Jonah trains on each year as he prepares for the Dakar Rally, we are honored that Jonah will be able to come out for a day to lead a ride. Knowing Jonah, the ride he chooses to lead will involve high elevation, challenging terrain and long distances, in other words "Epic."
Here is the basic schedule for the Rally:
Thursday June 23rd – Registration starts at 3:00PM, Welcome and orientation at 7, Dinner, ride briefing, and GPS Q&A session.
Friday June 24th – Breakfast, Riding clinics in the morning, Riding all day (guided and non-guided), Lunch, Dinner, and Dakar Bar in the evening. Presentations by Jonah Street and Jim Hyde. Campfire.
Saturday June 25th – Breakfast, Riding clinics in the morning, Riding all day (guided and non-guided), Lunch, Dinner, and Dakar Bar in the evening. Presentations by "Rediscovering Canada." Raffle and drawings. Campfire.
Sunday June 26th – Breakfast served. Break camp and head home.
To download a complete schedule of events, click HERE.