Everyone at Touratech is excited about the arrival of the new Ducati Multistrada 1200 in the U.S. Its dual-functionality is in its name: Multi-Strada – ready for any street. The Multistrada can be adjusted on the fly for various conditions, on and off road. A new line of Touratech parts and accessories will further increase the durability and function of this new exiting Ducati.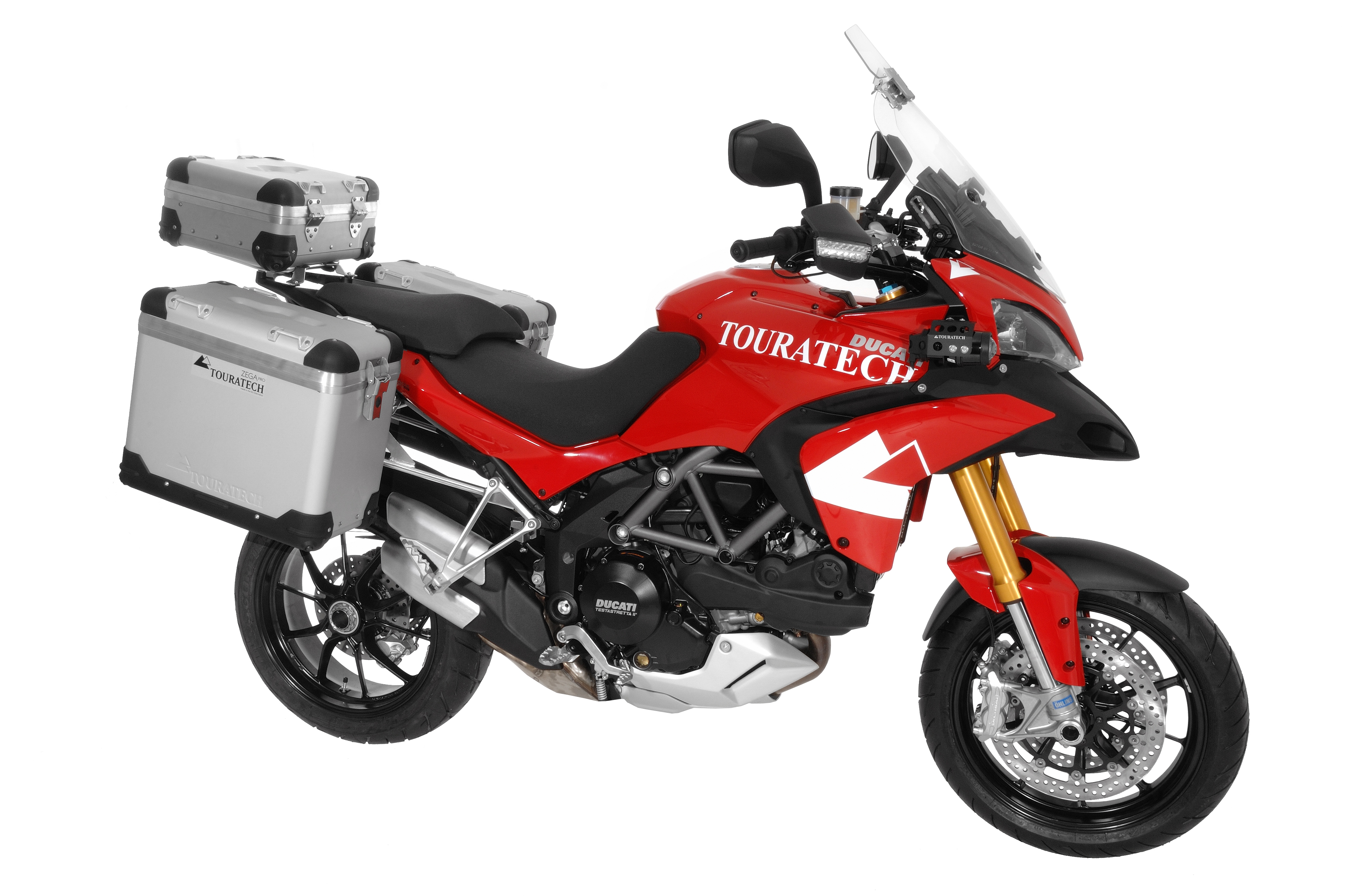 Please see our Ducati Multistrada 1200 Section for a selection of parts currently available in the U.S. for this bike and keep checking back as more parts become available every week. For a sample of Multistrada parts that will be offered, see below.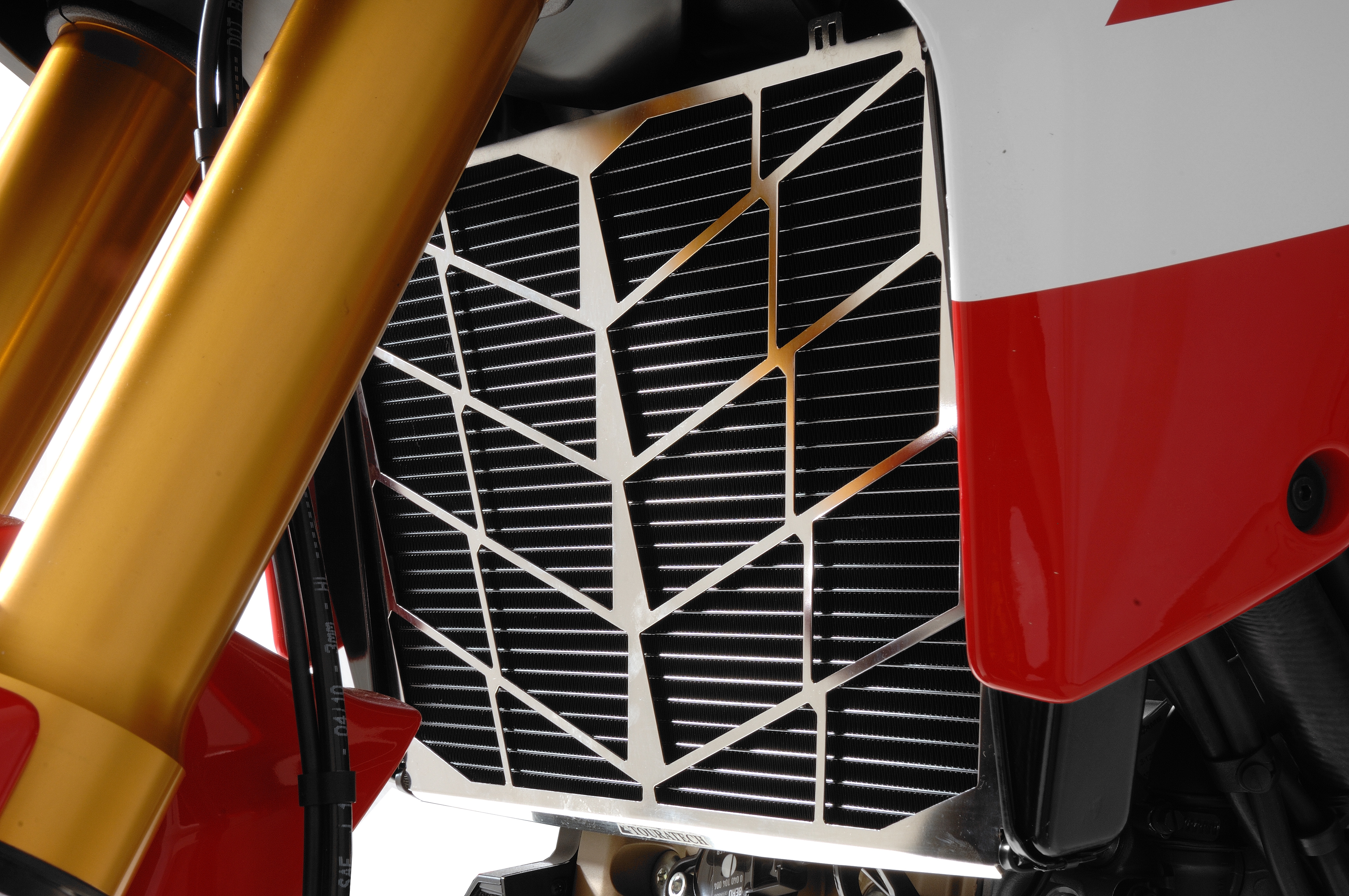 Crash Bars
Keep your Ducati Multistrada's fairing, radiator, and water pump safe with these stainless steel crash bars from Touratech. Even the most minor drops can cost you hundreds of dollars in replacement plastics on the Multistrada 1200. These crash bars are engineered to be extremely strong and protect your Ducati in the event of a fall.
The engineers at Touratech in Germany put many hours of research, design, and testing into these crash bars, ensuring that all forces from a crash are transmitted safely into strong frame points and not into any engine component. A sturdy cross-bar keeps the forces distributed equally between both sides.
Crash Bars, Part # 620-5160
Front ABS Sensor Guard
The ABS sensor is a critical part of the safety system on the Ducati Multistrada 1200 and also very vulnerable. Touratech has developed this simple protection item to keep your bike on the road during that long tour. Made of strong laser cut stainless steel, this guard will protect your ABS sensor against flying rocks and other debris you might encounter on, and off pavement.
ABS Sensor Guard, Front, Part # 620-0005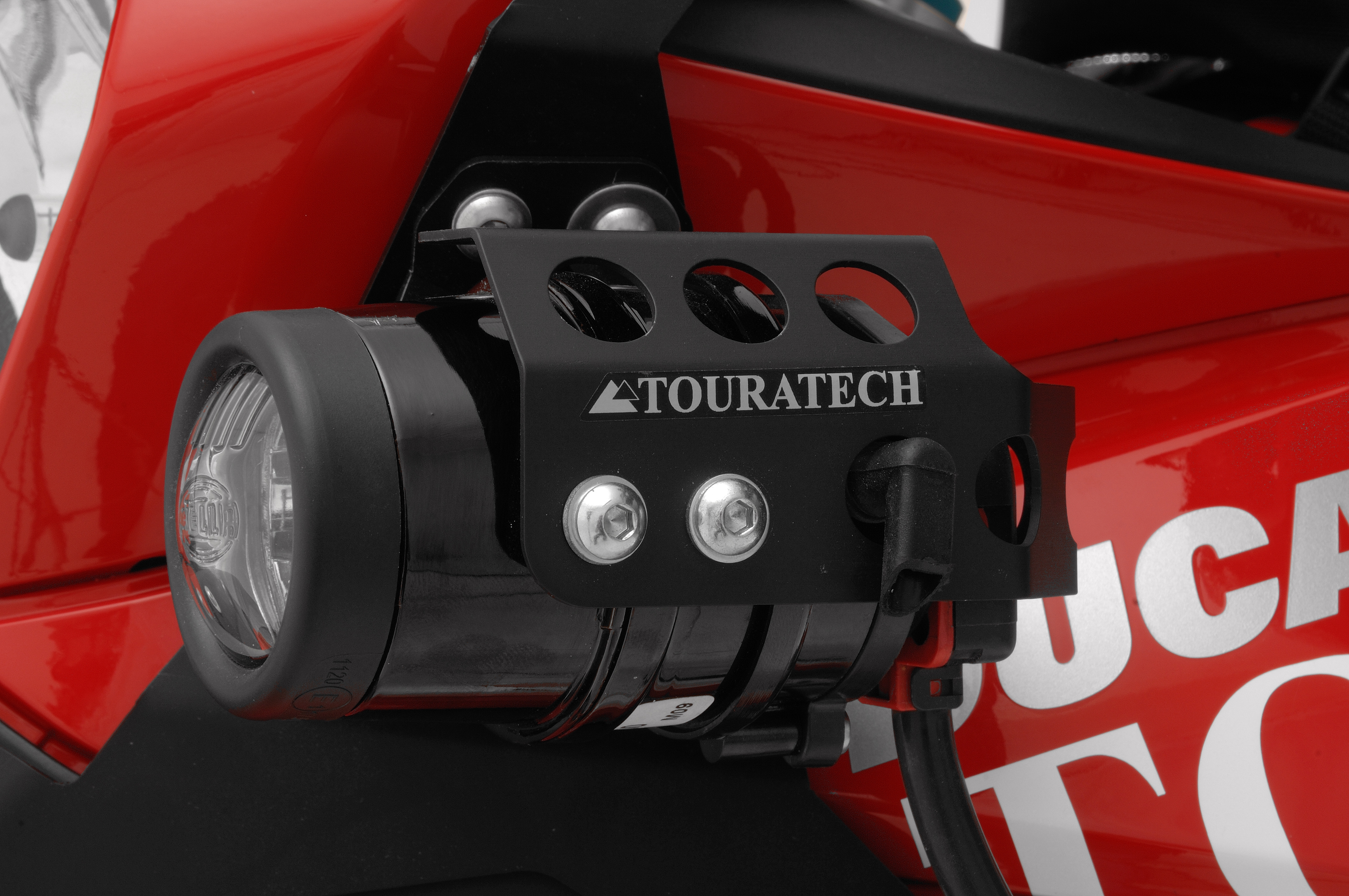 Auxiliary Lights
These auxiliary lights from Touratech offer considerable improvements in active and passive safety to the Multistrada. Thanks to the high-tech lamps from Hella, your path is much better illuminated at night and in foul-weather conditions. During the day, the intense light pattern makes you and your motorcycle much more visible to other motorists. The fog light ensures significantly better close range visibility in foggy and rainy conditions, while the Xenon (HID) light, which operates in combination with the high beam headlight, provides far brighter illumination down the road. These auxiliary headlights are available separately, but work perfectly together as a pair.
Fog Light, Part # 620-0014
Xenon (HID) Light, Part # 620-0016
Stainless Steel Radiator Guard
The Ducati Multistrada 1200 makes big horsepower and in return, requires a lot of cooling for the engine. Our radiator shield, made from electropolished stainless steel, transforms the appearance of the black radiator and offers increased protection, while minimally affecting the cooling capacity.
Stainless Steel Radiator Guard, Part # 620-0006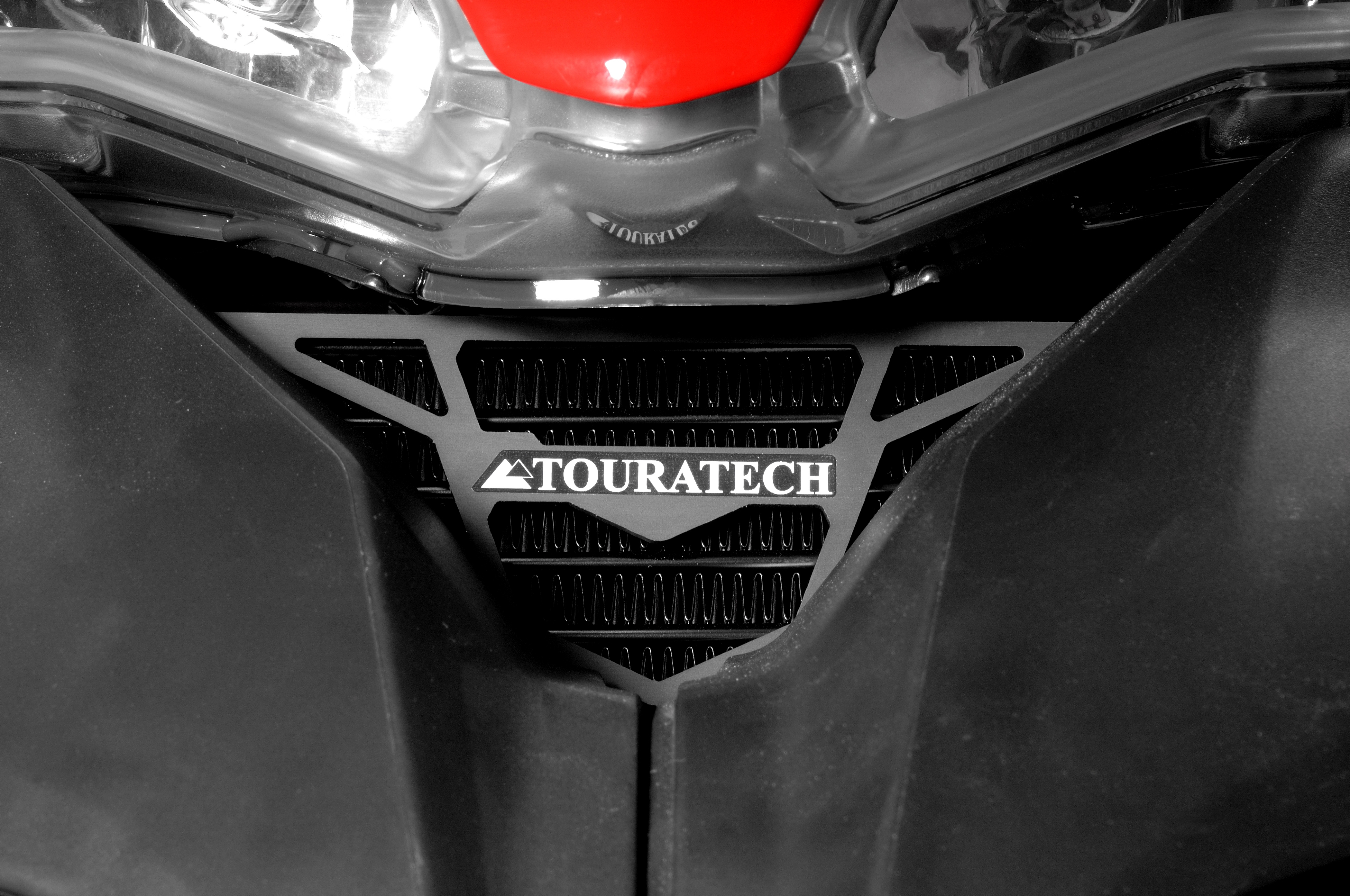 Oil Cooler Guard
Oil cooling is just as important as water cooling for an engine as powerful as the 1200 Ducati Multistrada. This guard from Touratech adds a great look to the front of the motorcycle while increasing the protection.
Oil Cooler Guard, Anodized Black, Part # 620-0008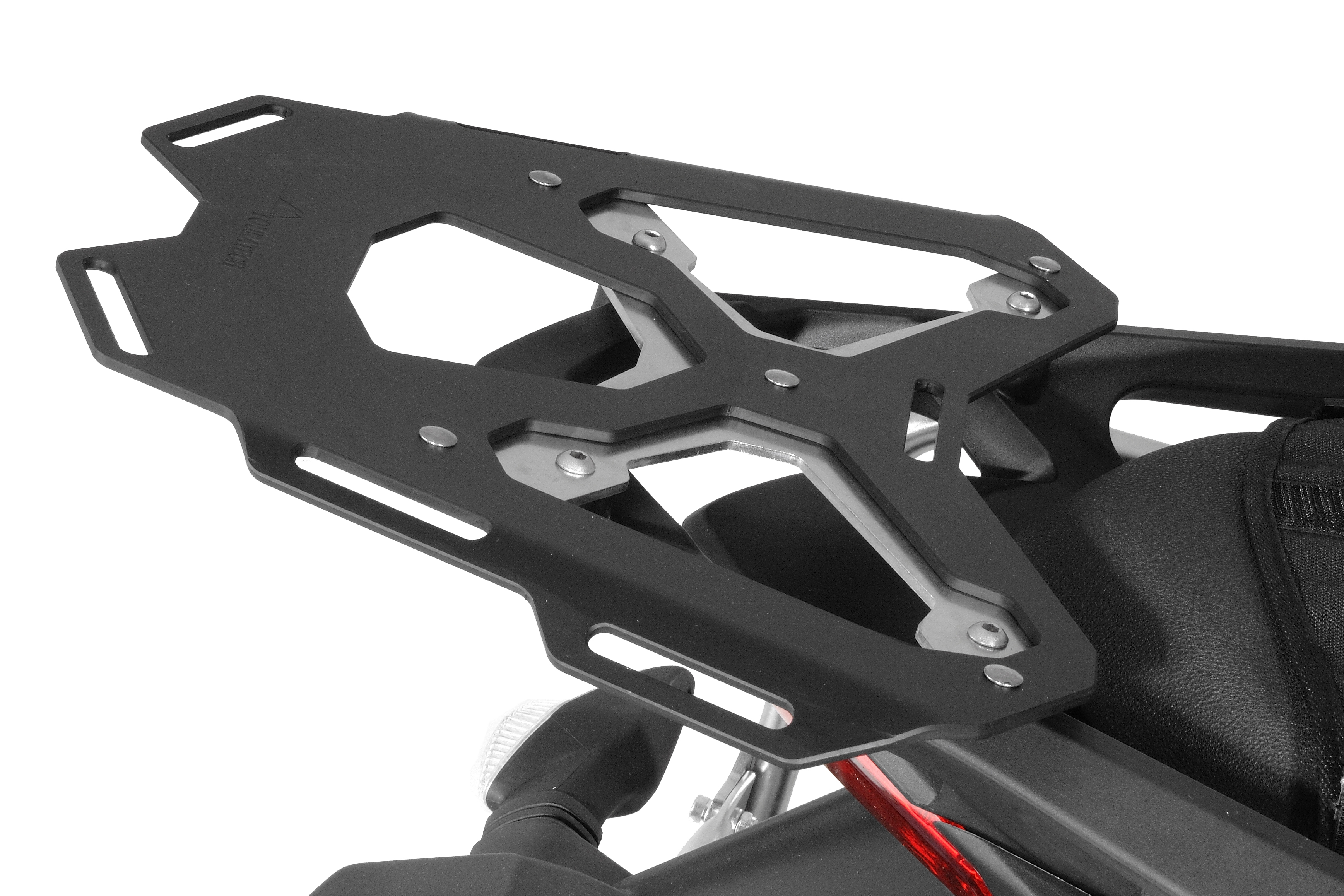 Aluminum Luggage Rack
Whether for a short break with a small luggage roll or an extended tour with a dry bag and panniers, this luggage rack from Touratech makes it easy to secure luggage on your Ducati Multistrada 1200. This sturdy luggage rack offers many different tie-down points and a lot of surface area, giving you the extra room you need to carry your luggage on your motorcycle.
Aluminum Luggage Rack, Part # 620-0003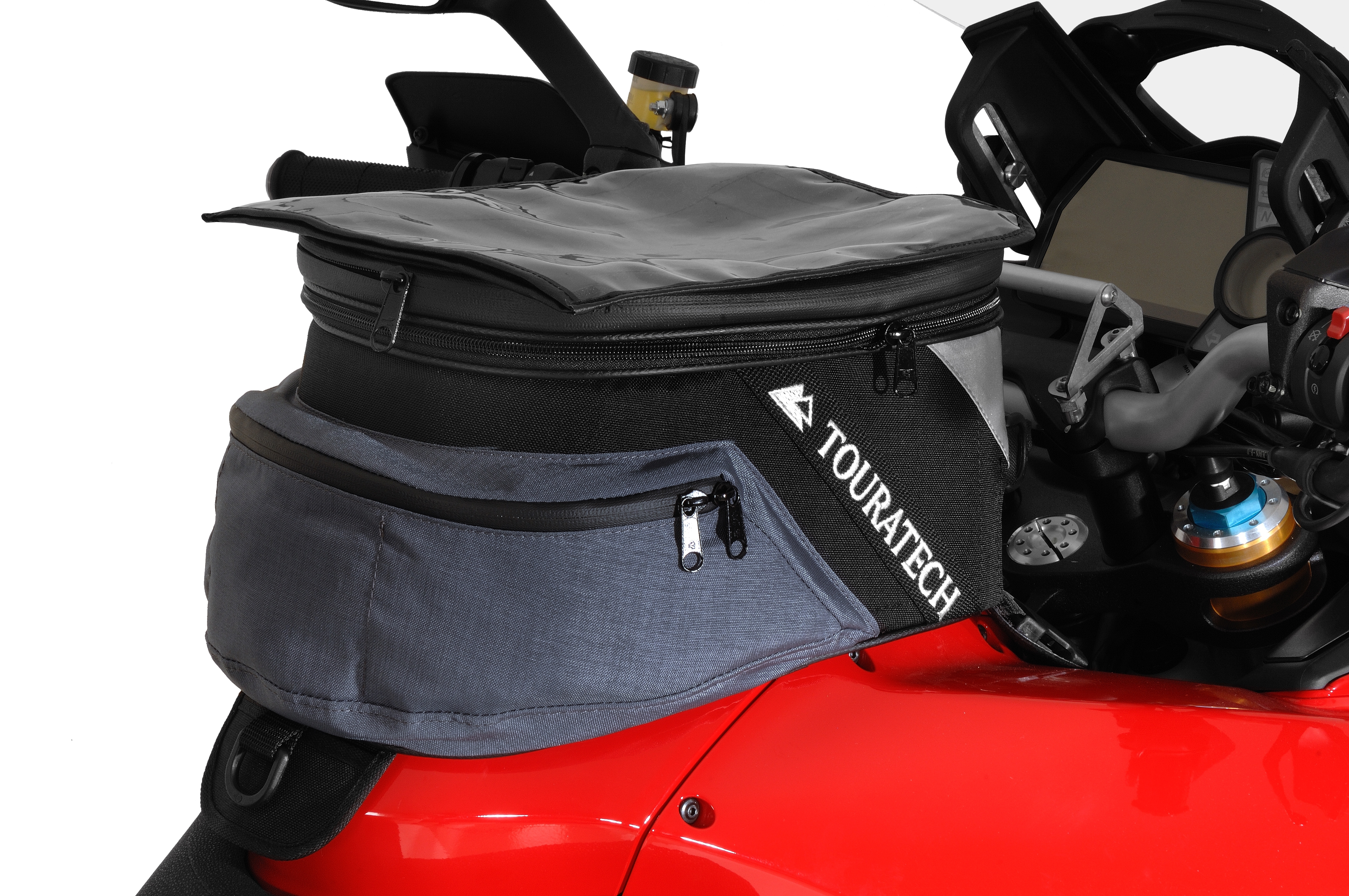 Tank Bag
The designers at Touratech have pulled out all the stops and developed this Multistrada specific tank bag which combines a whole range of features. Expandability, waterproof zippers, triple-partitioned outer pocket with two-way zipper, organizer in the lid with document pocket, a removable credit card pocket, backpack function with included shoulder straps, large map pocket, and reflective trim are just some of the great features this tank-bag offers. Made of water-resistant teflon-coated cordura, this bag will hold up for years to come on your Multistrada.
Dimensions (L x W x H): approx. 11.5 x 9.5 x 6.75/9.75 inches,
Volume: approx. 12L / 18L
Tank Bag, Part # 055-1196
Zega Pro Topcase System
With their 38 or 25 liter volumes, the Zega Pro Topcases provide a decent amount of luggage space (the 38L case will fit a full face helmet). The topcase is mounted on a sturdy stainless steel rack that can withstand the harshest off-road use. The Top case is available in bare aluminum, silver anodized, or black anodized finish. These cases also come with available "Rapid-Trap" which is a quick release lever to remove the topcase from the rack.
Topcase Rack/Luggage Rack, Part # 620-0010
Zega Pro 25L Topcase w/Rapid Trap, Part # 050-0670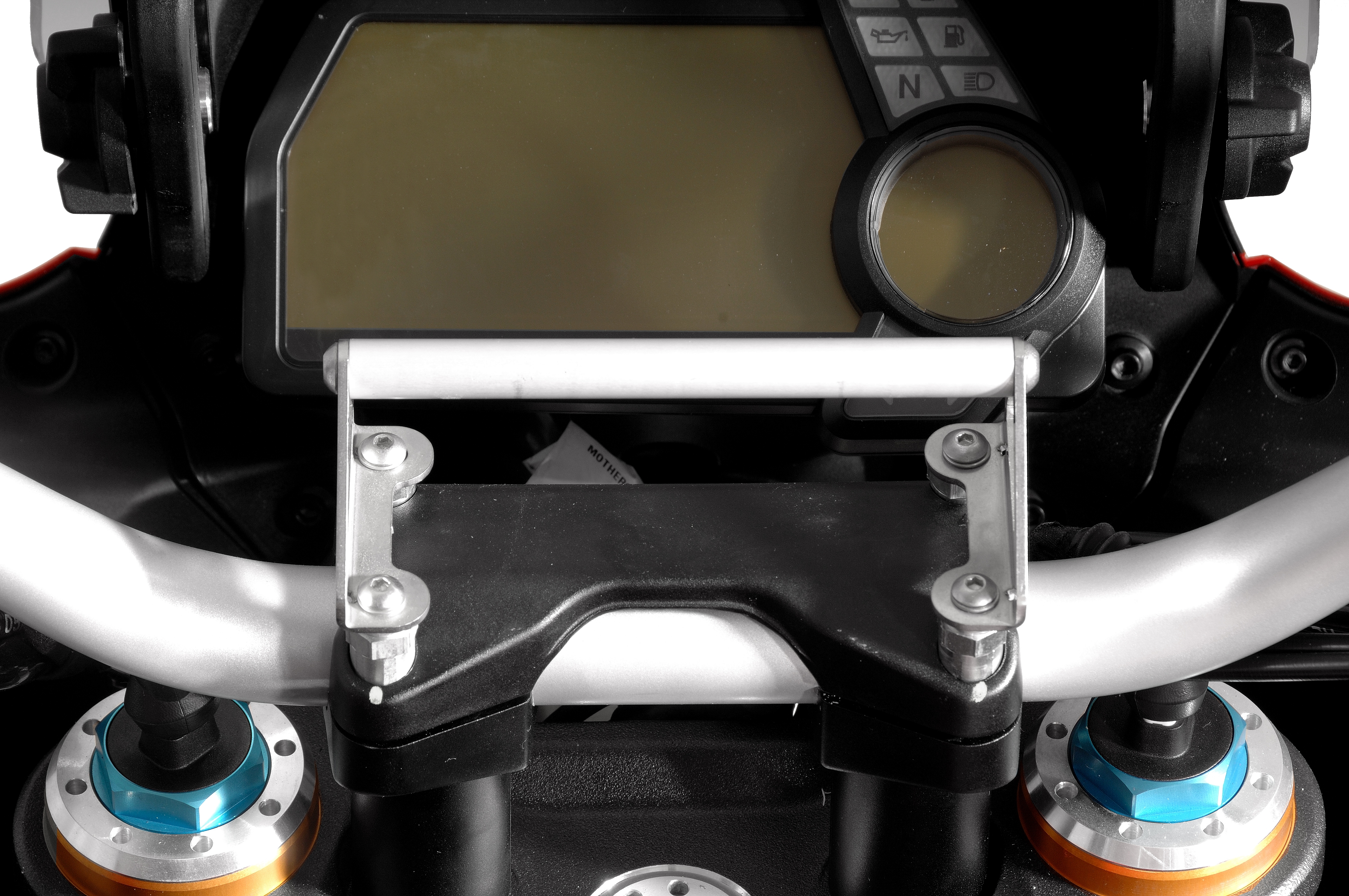 GPS Handlebar Bracket Adapter
This GPS bracket adapter from Touratech is a great place to mount your GPS or other navigation devices to the handlebar mounting clamps on your Ducati Multistrada 1200. All of the available Touratech GPS mounts will fit perfectly on its 12-mm brace. The height of this bracket adapter allows minimal impairment of the view of your gauges.
GPS Handlebar Bracket Adapter, Part # 620-0001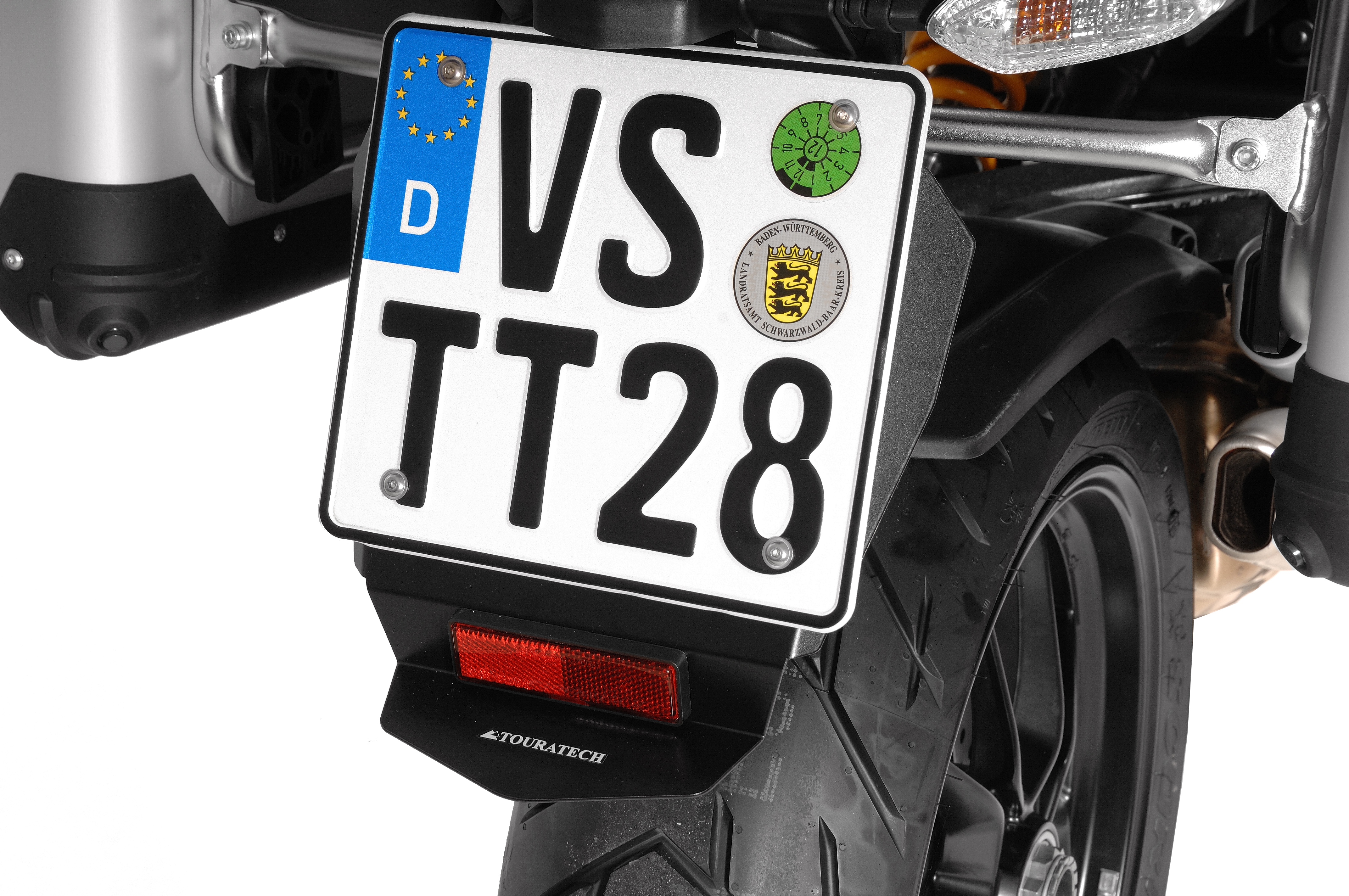 License Plate Splash Guard
Like all on-road motorbikes, the Ducati Multistrada 1200 tends to spray a large and high column of water behind it. Usually, some of this water splashes on the backs of the rider and passenger, as well as the rear of the bike. This is unpleasant and annoying. This elegant splash guard from Touratech, is easily installed and deflects the water from both the rider and the bike.
License Plate Splash Guard, Part # 620-0002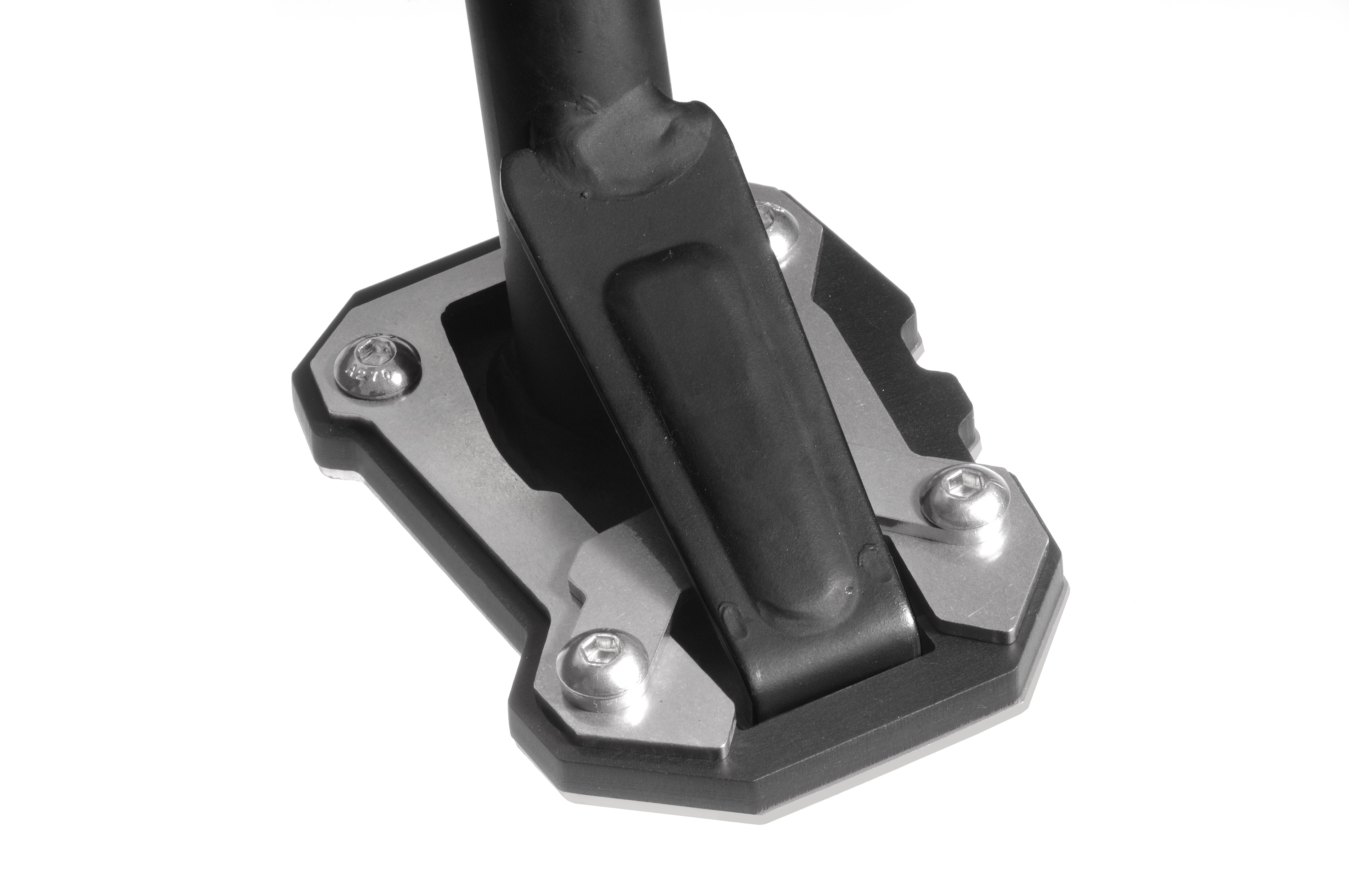 Larger Sidestand Foot
Wet meadows, soft asphalt, deep gravel – there is often no solid ground available where you park your motorcycle! The original side stand easily sinks into soft surfaces, but the Touratech larger sidestand foot provides a simple and effective way to keep your bike upright in any conditions.
Larger Sidestand Foot, Part # 620-0009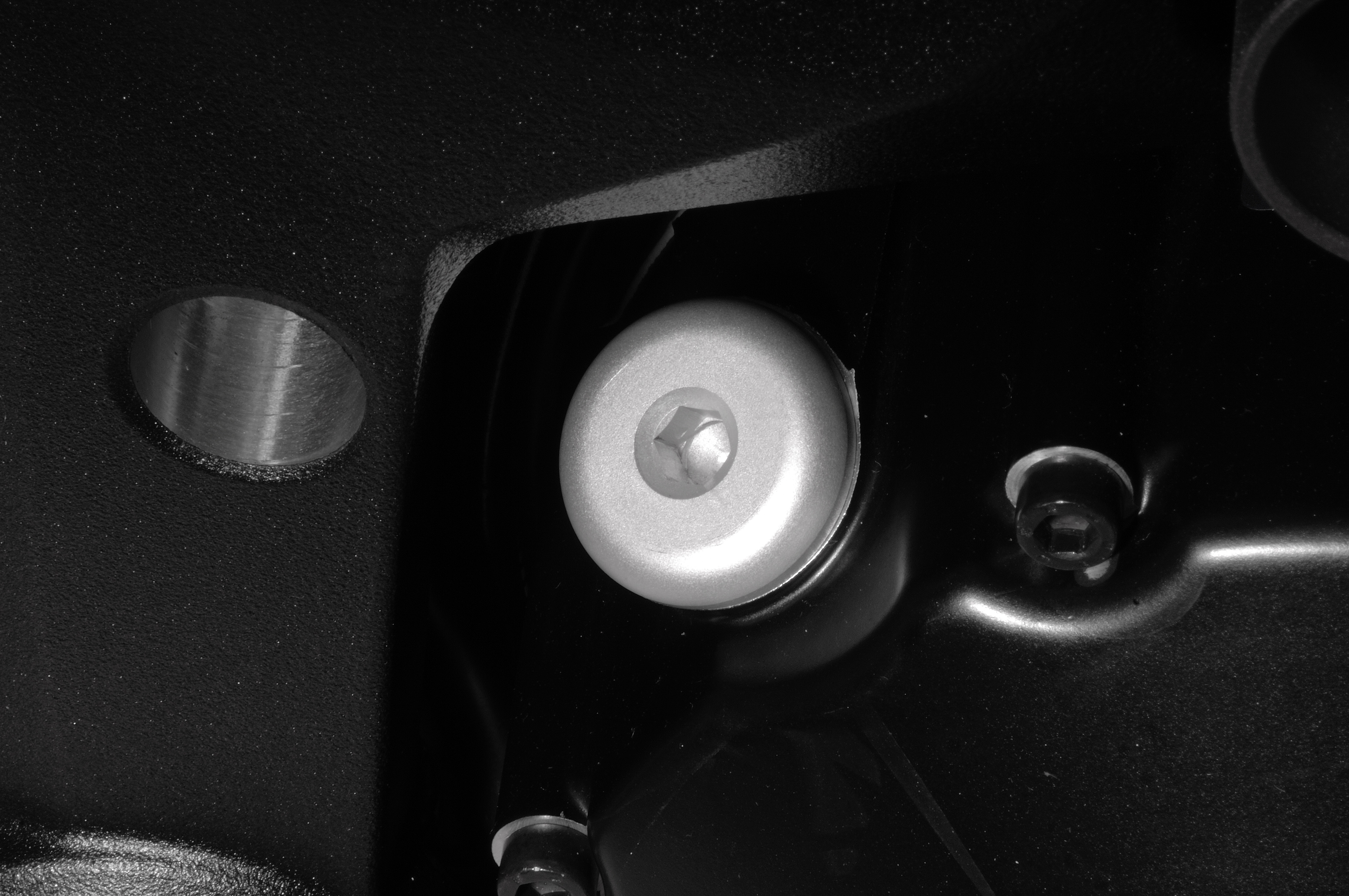 Hex Oil Filler Plug
This oil filler cap from Touratech will protect your engine from unwanted contaminants while at the same time adding a great accent to the side of the Multistrada engine. Included is a handy hex wrench to fit on your keychain! Made of anodized aluminum.
Hex Oil Filler Plug, Part # 620-0018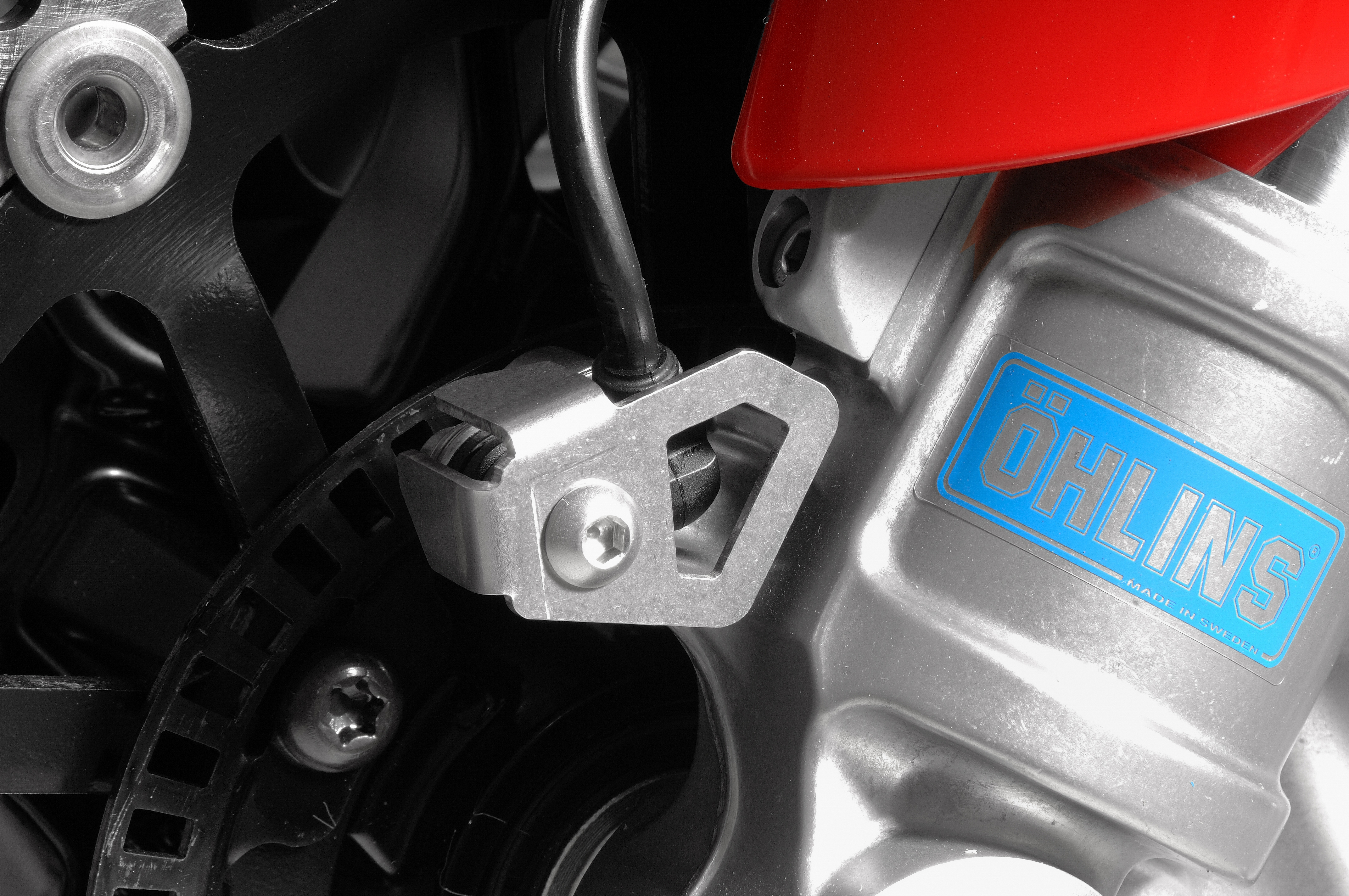 Rear Passenger Seat Bag
Time for a fast solo run? The Touratech passenger seat bag offers the best luggage solution to keep your luggage close to the motorcycle's center of gravity. This bag is easy to strap on the passenger seat of the Multistrada and offers water-resistant zippers, two-piece construction (base plate can be left on the seat and quickly secured with two zippers), elastic band at the top for securing gloves, loops for additional straps, backpack carrying function with included shoulder straps, and reflective trim.
Dimensions (L x W x H): Approx. 12 x 13 x 8.25 inches. Volume: 20 Liters.
Rear Passenger Seat Bag, Part # 055-1218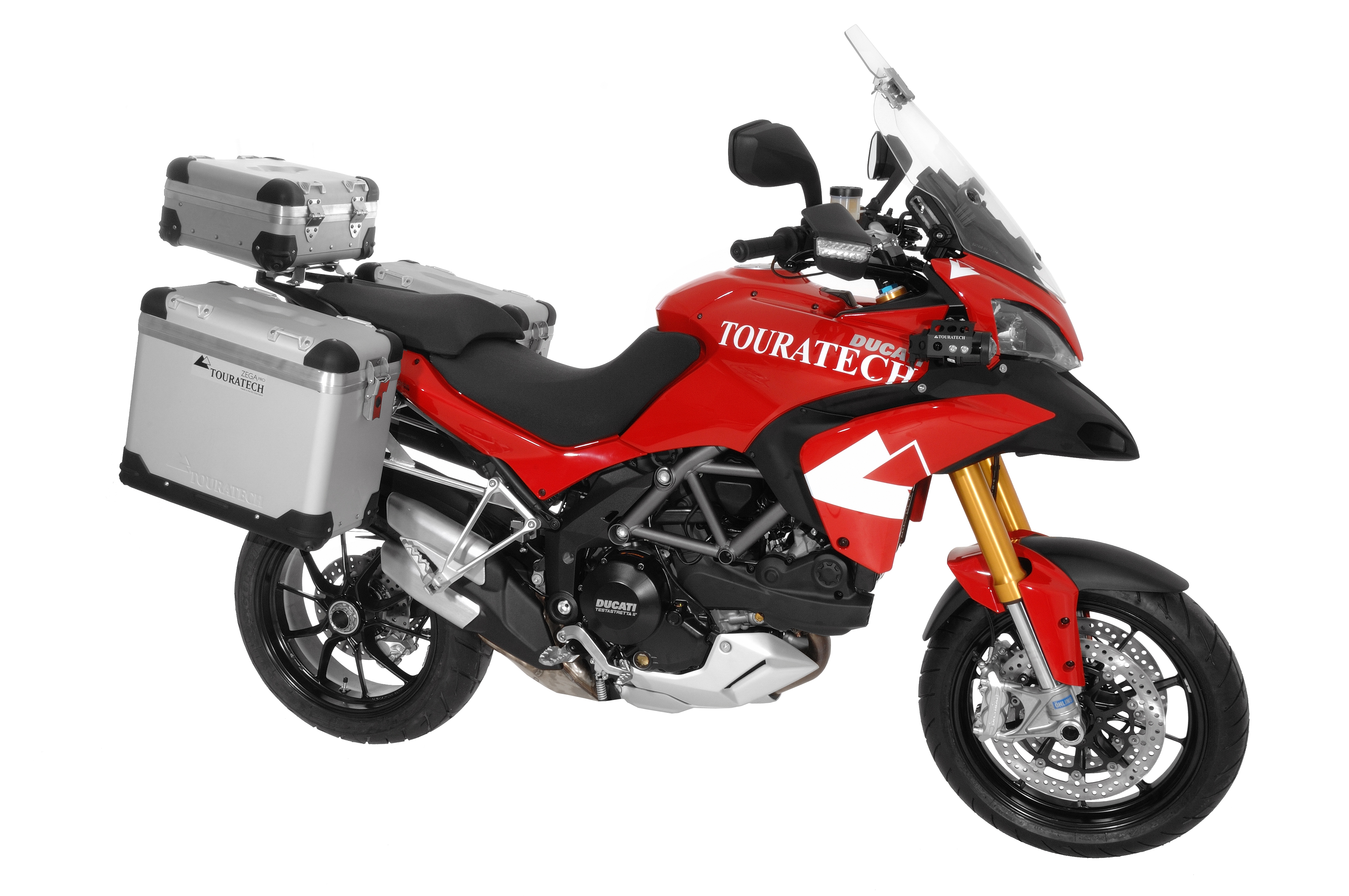 Zega Pro Pannier System
Perfectly matched to the Multistrada's geometry, the Touratech stainless steel pannier rack hugs the rear frame closely while protecting it in true Touratech fashion. A choice of ZEGA Pro cases are available with a capacity of 31, 38, or 45 liters and bare aluminum, or silver and black anodized finishes.