By Ron Lieback
With so many ADV tubeless tire ratios available, what's best for your situation? Here's a breakdown of the main factors to ease your decision.
Nothing gets more frustrating than choosing between tire choices for adventure bikes, whether you're shopping for midweights like the KTM 890 Adventure or Yamaha Ténéré 700 or the heavyweights like the BMW R 1250 GS Triumph Tiger Explorer 1200 Rally Pro.
The tubeless offerings were once minimal, typically dominated by the Continental TKC 80 that offered a 40/60 focus—40-percent on-road, 60-percent off-road—for adventure riders. Then you had other notables, such as the Shinko 705 series that offered an 80/20 focus, and the Heidenau K60 Scout, marketed as a 50/50 tire.
Fast forward to 2022, and most major tire OEMs offer tubeless adventure tires that deliver performance for any type of rider, regardless of how much they ride off road.
Tire technology evolves quickly, and after testing tires for over a decade, I argue there is not a bad tire on the market from reputable brands. Sure, some offer more performance than others, and some last much longer, but overall safety and quality are excellent due to recent tire compounds and design technology.
Although technology has advanced tremendously, one question will continue to nag forever: what tire ratio should you shoe your adventure bike with? All ratio types are available, from the middle-ranges like the 50/50, 60/40, and 40/60, to the more aggressive off-road tires like the 10/90, to the more road-focused rubber like the 90/10.
The deciding factors depend on what you crave from a performance and focus perspective. Basically, if you want excellent off-road performance, you'll sacrifice on-road performance. Want stronger on-road performance? You'll sacrifice off-road performance.
To help you decide between on-road/off-road ratios, here are the main factors to consider when shopping for ADV tires. (* ratio means on to off-road riding ratio in the remainder of the article)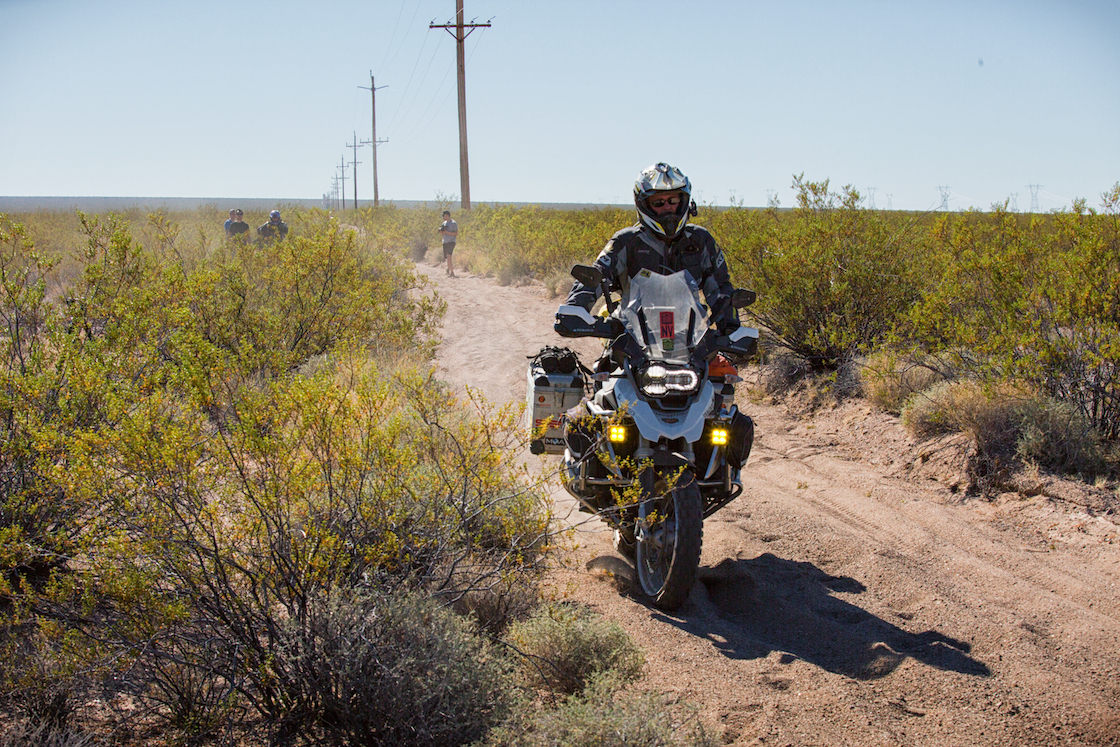 Adventure Tire Traction
Each ratio is designed for either stronger traction on the road or off the road, and it all begins with compound and design factors. The softer the compound, the better the traction in the dirt and on the road. This is typically more of a focus for road riders as soft compounds will drastically increase traction, but at the cost of lifespan. There's not much to worry about here, as OEMs offer well-rounded compounds for DOT-legal tires.
The tread design is a much different story. The deeper the treads, the better the tire will grip in the dirt. You'll want more grooves between the "blocks" of rubber on the outer portions of the tire to dig into the dirt and deeper ones to clean dirt/mud from the tread to offer more bite in the dirt. This design offers less traction on paved road surfaces because you'll want more rubber as the bike is leaned onto less and less tire.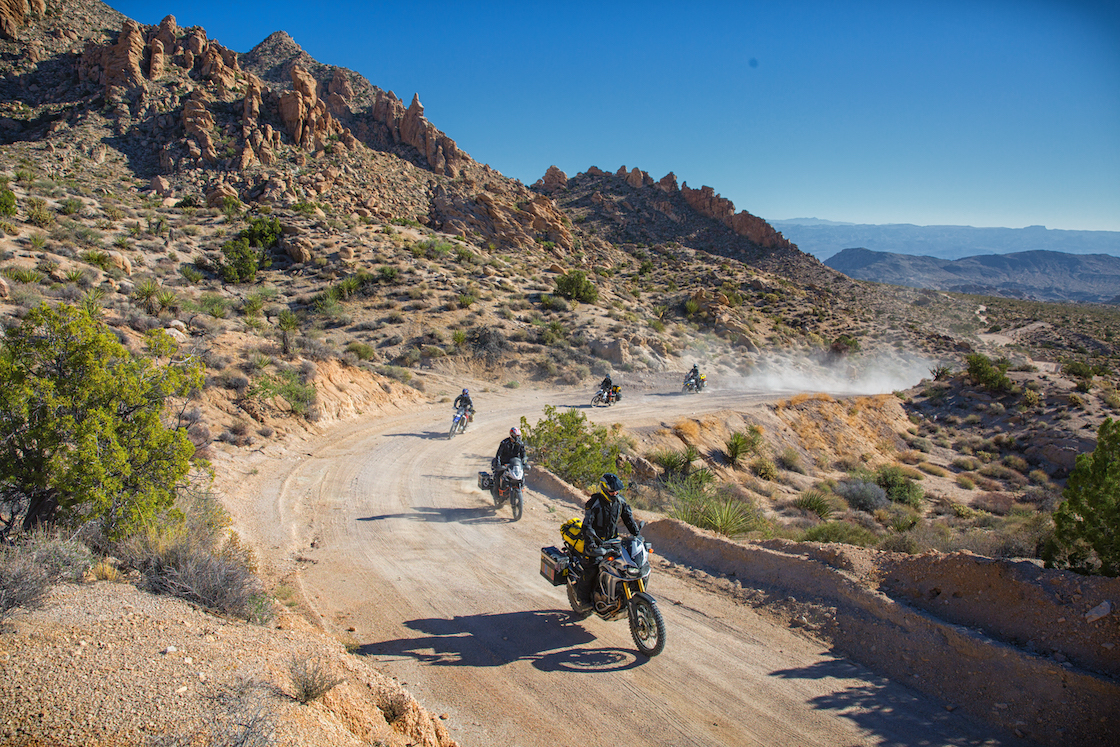 Adventure Tire Stability
The closer the motorcycle tire's design gets to a dirt focus, the less stability you'll have when cornering or braking on the asphalt. Dirt-focused tires tend to flex more and provide an unplanned feel on corners and under braking. This is typically noticed on modern tires that focus on a 60/40 ratio and onwards to more off-road focus.
The question is—can you withstand the unsettled feel of a tire when aggressively cornering on the street? Due to modern technology, traction is there, though it feels sketchy. I've rubbed knees on asphalt while testing 50/50 or close compounds like the Dunlop Trailmax Mission, Bridgestone AX41, and Pirelli Scorpion Rallye STRs. The nerves have to be conditioned for aggressively leaning a larger ADV bike with these tires on the pavement, but the traction is certainly there.
Larger knobbies also provide a bumpy feel at highway speeds, something that can also test the nerves of riders. But, again, it's all about preference.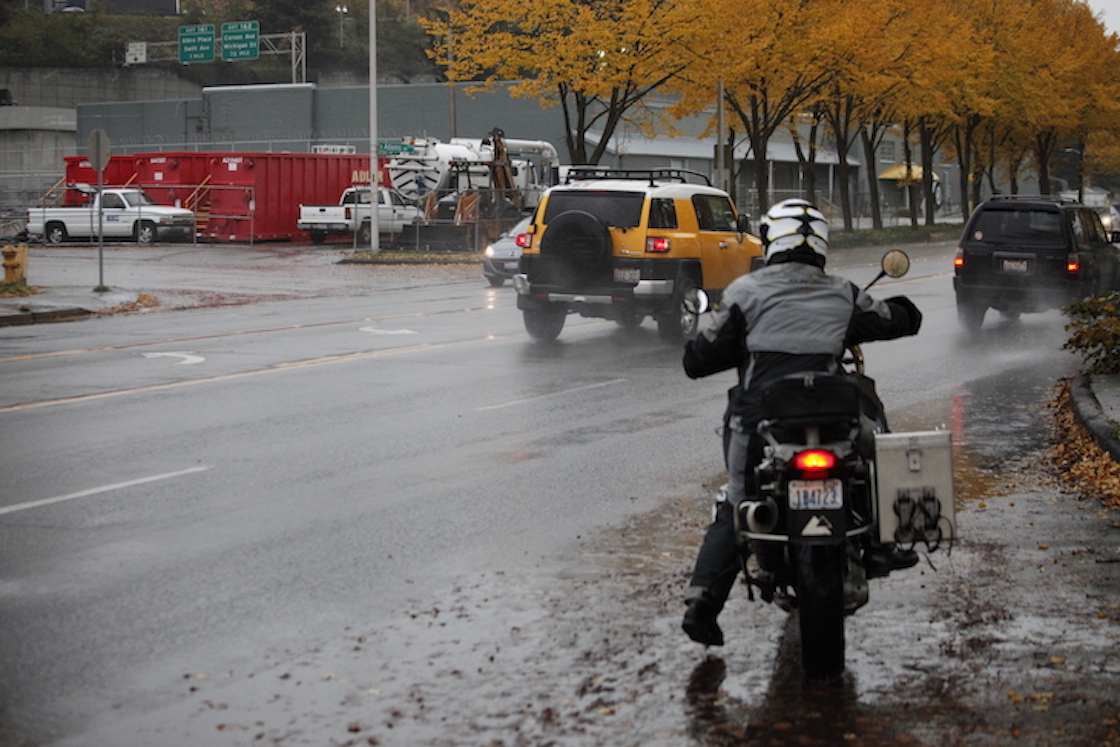 Wet Performance
When considering wet performance, the tread pattern makes the most considerable difference, And the optimal on-road wet tread is much different from the off-road tread patterns.
A tire like the TKC 80 and its big-block design can quickly channel mud and wet off-road terrain, providing better traction. But on the wet asphalt, the tires can feel squirmy on the wet. The feeling is reversed with a tire like the Dunlop Trailmax Mission, which feels super planted due to the tread design on the wet pavement, and squirmy on the dirt.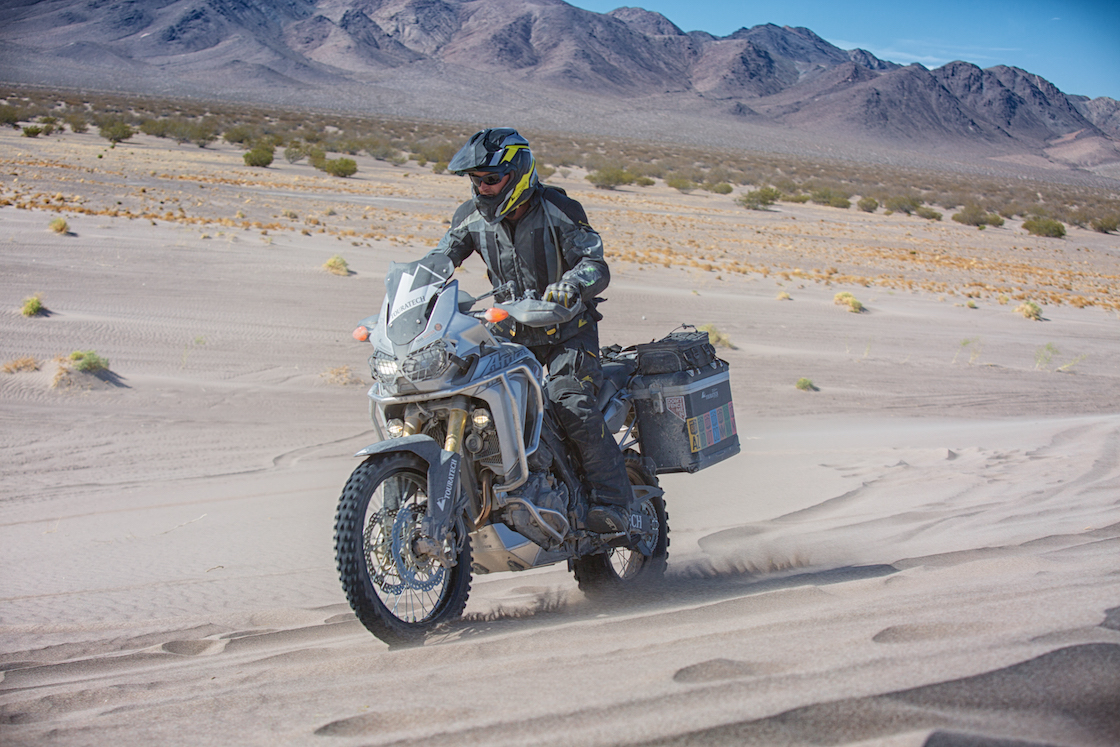 ADV Tire Longevity
Here's the quick and simple deal. The more you ride a dirt-focused tire on the road, say a 10/90 ratio, the quicker you'll burn through them. The same isn't true for riding a more street-focused tire off-road, say an 80/20, but you'll sacrifice grip.
Most tires around the 50/50 and 60/40 marks offer comparable performance to longevity ratios. For example, I've heard riders getting upwards of 8,000 miles out of a set of Dunlop Trailmax Mission tires while riding a majority of the time on road. The most I've personally got out of a set of 50/50 tires is around 3,000 miles (Pirelli Scorpion Rallye STRs), and that was with me riding the bike like a sportbike and varying pressures on road and off-road.  As for TCKs, once my all-time favorite ADV tire, I never got more than 1,500 miles out of them.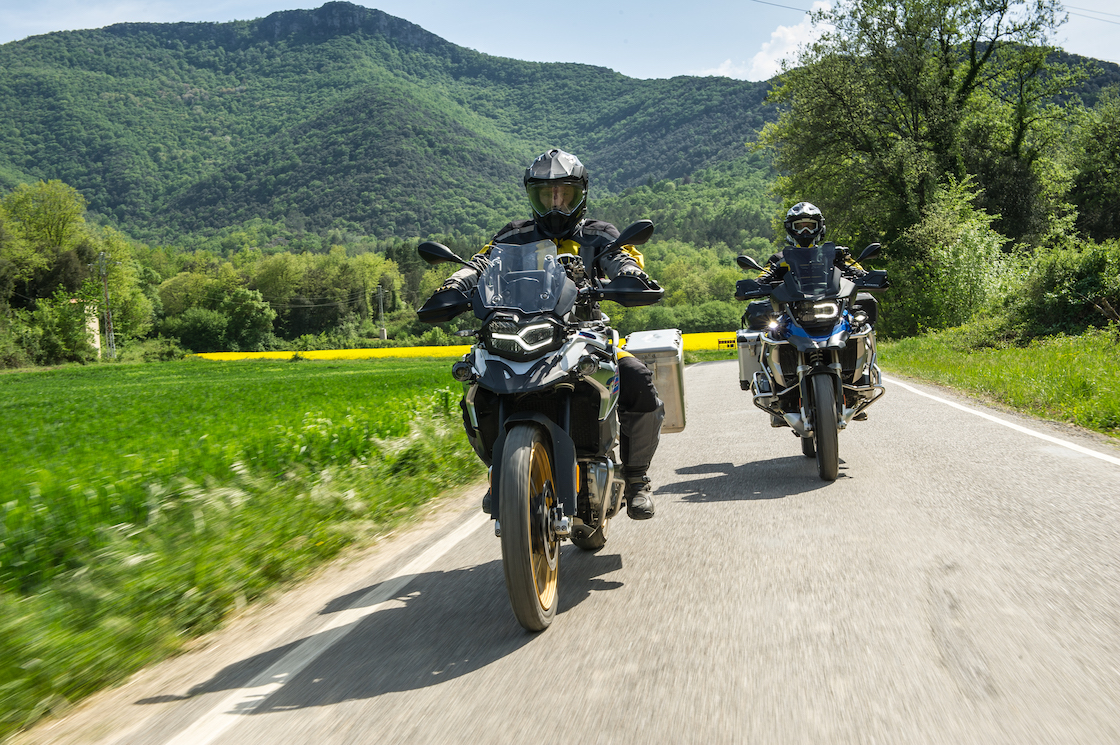 Asphalt Road Noise
Another simple insight: the more off-road focus, the more noise. For the middle-focused 50/50 or so tires, on-road noise can vary dramatically. For example, the Bridgestone AX41s are much quieter than the TKC 80s. And the Dunlop Trailmission Max tires are much quieter than the Pirelli Scorpion Rallye STRs.
Read reviews and ask about this if it's a problem. For most riders, I've encountered and myself, tire noise on the road is not an issue.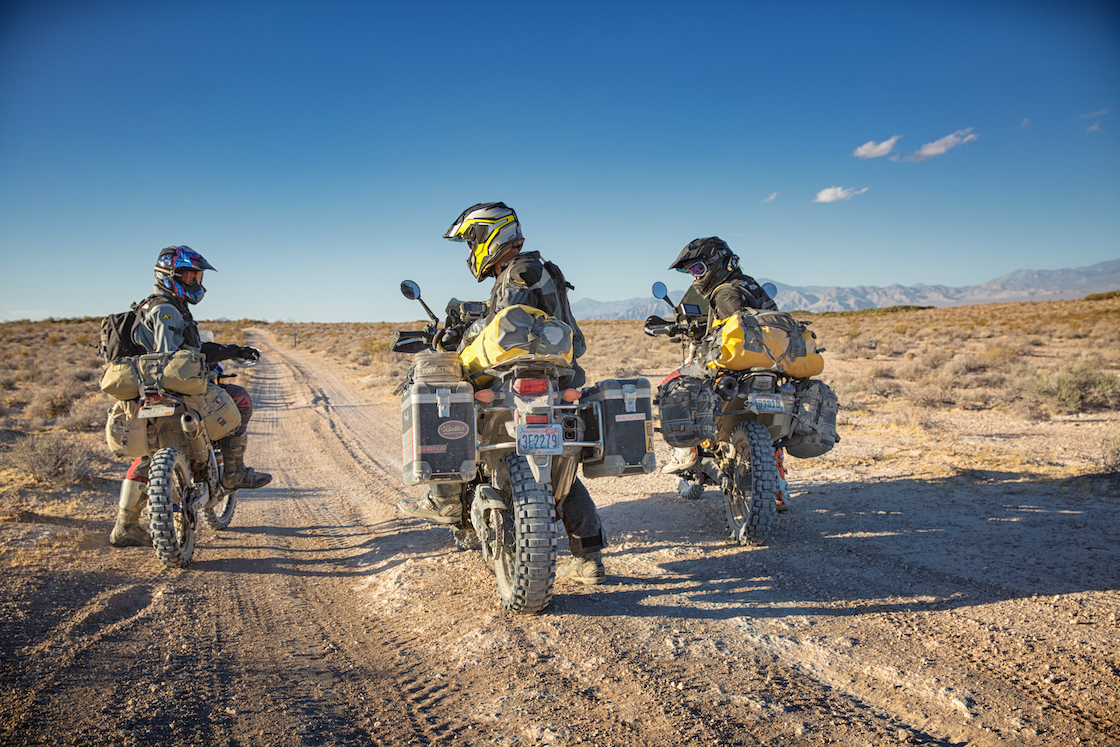 Performance to Price Ratio
I've seen prices range drastically, from Shinko 705s costing around $75 for a front and $145 for a rear, to Michelin Anakee Wilds from $140 for a front and $255 for a rear, with many in-between that.
The more road-oriented tires typically are on the upper level of the price range, but these typically get more mileage which can quickly justify the cost.
It's all about the performance you want. Unfortunately, if you are looking for that proverbial unicorn of a tire that offers mileage and strong performance off and on the road, prices are going to be higher.
A Quick Note About Adventure Tire PSI
While testing adventure tires for 10+ years on larger platforms such as my KTM 1190 Adventure R, I've always changed the pressures for each riding situation. I typically run factory-suggested PSI for the road and drop pressures down to around 28 for off-road sections.
This practice will help you achieve more mileage out of your tires, especially when slabbing it for 100+ miles in-between dirt rides. I keep a PSI gauge and MotoPump with me, and those few minutes extend my tire life and my safety. Traction is limited off-road with higher PSI, and stability is limited on-road with lower PSI.
When ADV tire shopping, the golden rule is to be honest with yourself—for most of your riding, are you going to chase gnarly off-road surfaces for most of the time, carve asphalt canyons, or spend hours on the highways? The answers will help you ultimately decide what tire ratio is best for you. And if you can't decide, trust in the technology and begin with a 50/50 tire. Newbies and experienced riders alike are always surprised at just how capable these tires are in both on- and off-road situations. And they seem to get better yearly, which will help make your future decision dilemma about what ratio to go with much easier.'