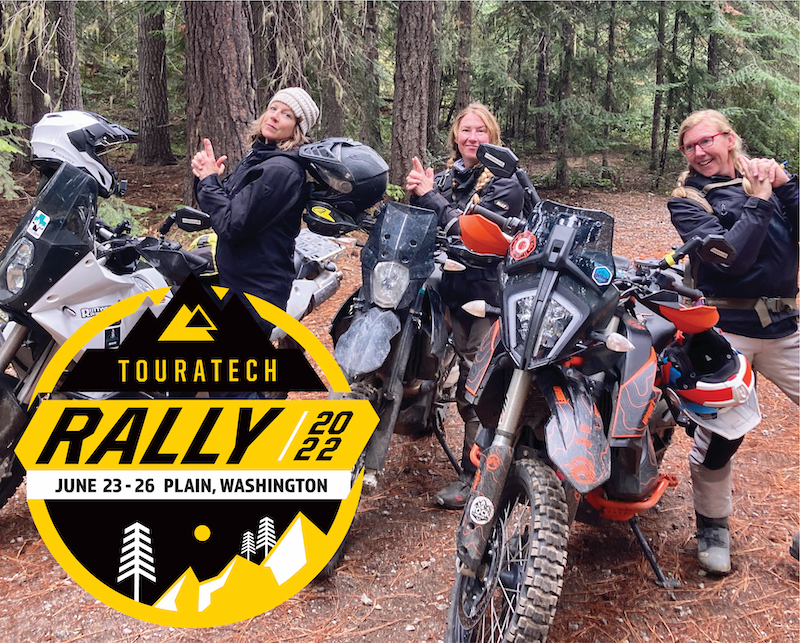 Register Now for Touratech Rally West!
June 23rd-26th, 2022 in Plain, WA.
The Touratech Rally began 12 years ago as a small customer-appreciation weekend that involved riding, camping and sharing good times around the campfire. With this simple formula, and a whole lot of fun, it's grown into the largest gathering of Adventure Motorcycle enthusiasts in the country. The 2022 Rally will begin on Thursday, June 23 at Noon and ends at 1PM on Sunday, June 26.
While the core of the event has stayed the same, each year we find new ways to pack in even more fun activities & experiences:
• Enjoy group rides where you will explore twisty mountain dirt roads with breathtaking vistas in the heart of the Cascade Mountains. We'll offer at least eight different route options on Friday and Saturday. The routes are designed to have something for everyone.
• Learn tips and tricks from adventure experts during onsite clinics and classes or take inspiration from presentations by fascinating motorcycle travelers.
• Improve your off-road skills with a rider-training course taught by world-class instructors. Four different riding schools will be offering on-site training classes for an extra fee.
• Test-ride the latest models of adventure motorcycles from factory demo trucks.
• Meet moto-venders with goods and services geared towards you and win raffle prizes from Touratech and other companies.
• Enjoy evening campfires and hang out with Touratech staff and friends on Thursday, Friday and Saturday.
• Enjoy onsite riding while honing your riding technique on the tight and twisty Black Forest Funduro Trail.
• Show off your mad bike-handling skills and take home the coveted trophy in our annual Slow Race or ADV Challenge competitions. The most fun might just be spectating the competition with friends.
• Park your bike and pitch a tent in the grassy camping area onsite, or reserve space in the RV lot, rent a nearby cabin with friends, or  book a room in Leavenworth.
• Most people ride to the event, but there is no shame in hauling out the toys on a trailer, you'll just have to park it in the RV lot. Well, perhaps there is a little shame.
• We won't feed you, but the on-site food trucks and restaurant across the street will… and their food is delicious. You can also grab cold beverages, ice, and basic provisions at the grocery or hardware store located right there.
• You can gas up your motorcycle just a stone's throw from the event. Plan to do it before 8 pm when they close so you are ready to ride the routes in the morning.