Eight years ago, I did a lot of research into finding the "perfect" riding suit.  I was looking for a suit that had a high level of protection, looked good, fit well and something that was going to keep me cool in hot weather and warm and dry when the weather gods wanted to put the smack down.  Being an Alaskan girl for much of my life, the critical component for me was a suit that wasn't too warm, especially since I like to ride off-road in the backcountry.  I came across the Touratech Companero riding suit.  I must have read and re-read about that suit a million times.  I looked up all the product features and googled what Cordura and CE 2 meant.  The price tag on the suit definitely made me pause, but after much research and debate, I decided to invest in myself and my safety and purchased the high-end riding suit.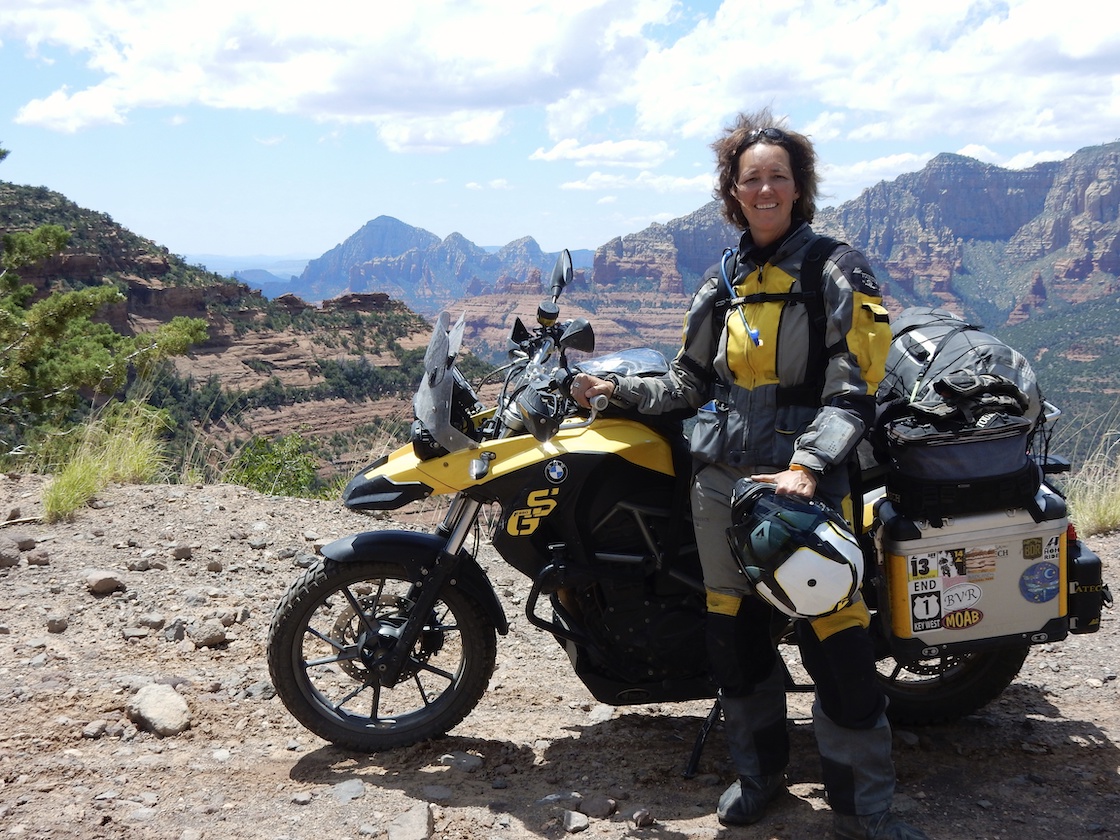 I  would say it was money well spent!  I can remember taking my first ADV Training Camp in Roy, WA, when it was a scorching 85+ degrees out, with no shade.  Reflecting back, I remember watching other riders shed their Gore-Tex suits just as fast as they could during breaks.  I, on the other hand, remained quite comfortable in the mesh summer suit with the airy comfort airflow fabric and full CE level 2 armor.  There are many other accounts of the supreme performance of the suit and one of them dates back to the punishing hot summer of 2015, where the temperatures would be well over 100 degrees.  We were riding many of the Backcountry Discovery Routes (RideBDR.com) and I would often have to ride through some gnarly sections, park my bike and walk back to ride my partner's bike over the terrain as well.  Remember, I'm from Alaska and did not do well with heat.  When they say, "Cordura Air is light-weight and delivers a high volume of air-flow through the suit to keep you comfortable on the bike," they meant it. If there is a slight breeze, you are golden.  Riding doesn't happen without the intense cold weather conditions as well.  The Companero suit is boom proof. When you are riding all day in excessive rainy conditions, you want a suit that is going to keep you dry.  The Companero does just that and again, is well worth the money spent.  It's a versatill and comfortable suit for those who are putting in the miles.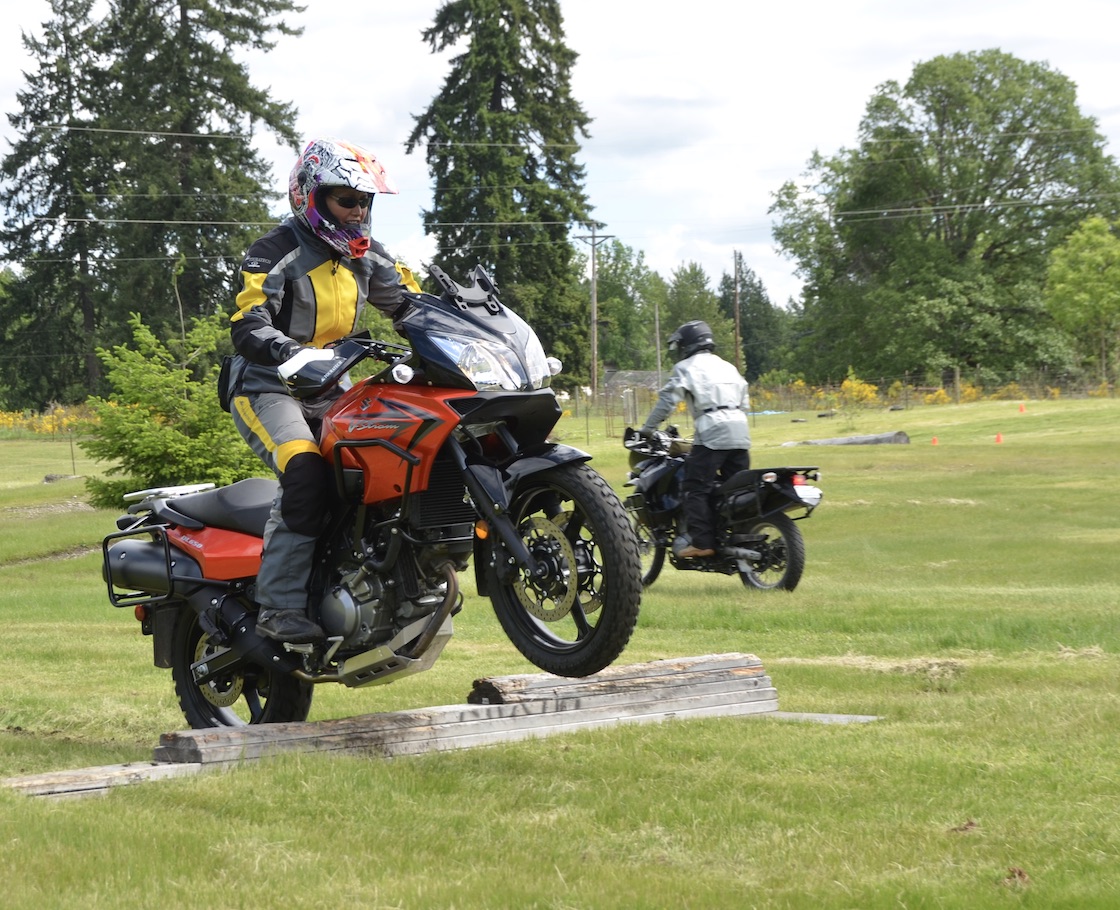 Let's talk protection… being a motorcycle safety instructor, protection is high on my list.  The Companero suit delivered!  After wearing the suit for over 3 years, with one of those years being that I wore it day in and day out for well over 31,000 miles in all kinds of conditions, I took the suit to the track.  I was allowed to wear the suit at the track because the jacket and pants zip together making it not only safer and meeting track standards, but warmer in cooler temperatures.  Thank goodness, I did!  While going into a corner at high speed, another rider made a poor judgement decision and cut to my inside corner.  Her back tire tapped my front and down I went.  The bike was nothing but sparks, while I slide several feet to a stop.  Because the suit was constructed from durable Cordura 500 base material with heavy-duty Cordura 2000 in key areas, my skin remained in-tact.  The suit looked a bit scared, but it did its job and that was to protect ME! Many riders don't realize that not all motorcycle gear will protect against the friction of a slide on pavement.
Some riding gear will actually melt into your skin under such friction. The suit didn't keep me from breaking some ribs, but not having to have skin grafts was a huge relief.  By the way, I was also wearing the Touratech Companero Carbon Adventure Helmet and it, too, did its job!  One of the questions the paramedics asked me was, "Did you hit your head?"  I answered with a, "No."  One of the paramedics looked the helmet over and found a rather large area that had spidered out on impact.  The helmet displaced the energy of the impact and saved my noggin.  It did such a good job that I didn't even know I hit my head.  I had zero effects from that impact, no headache, no neck pain, nothing.  Again, money well spent!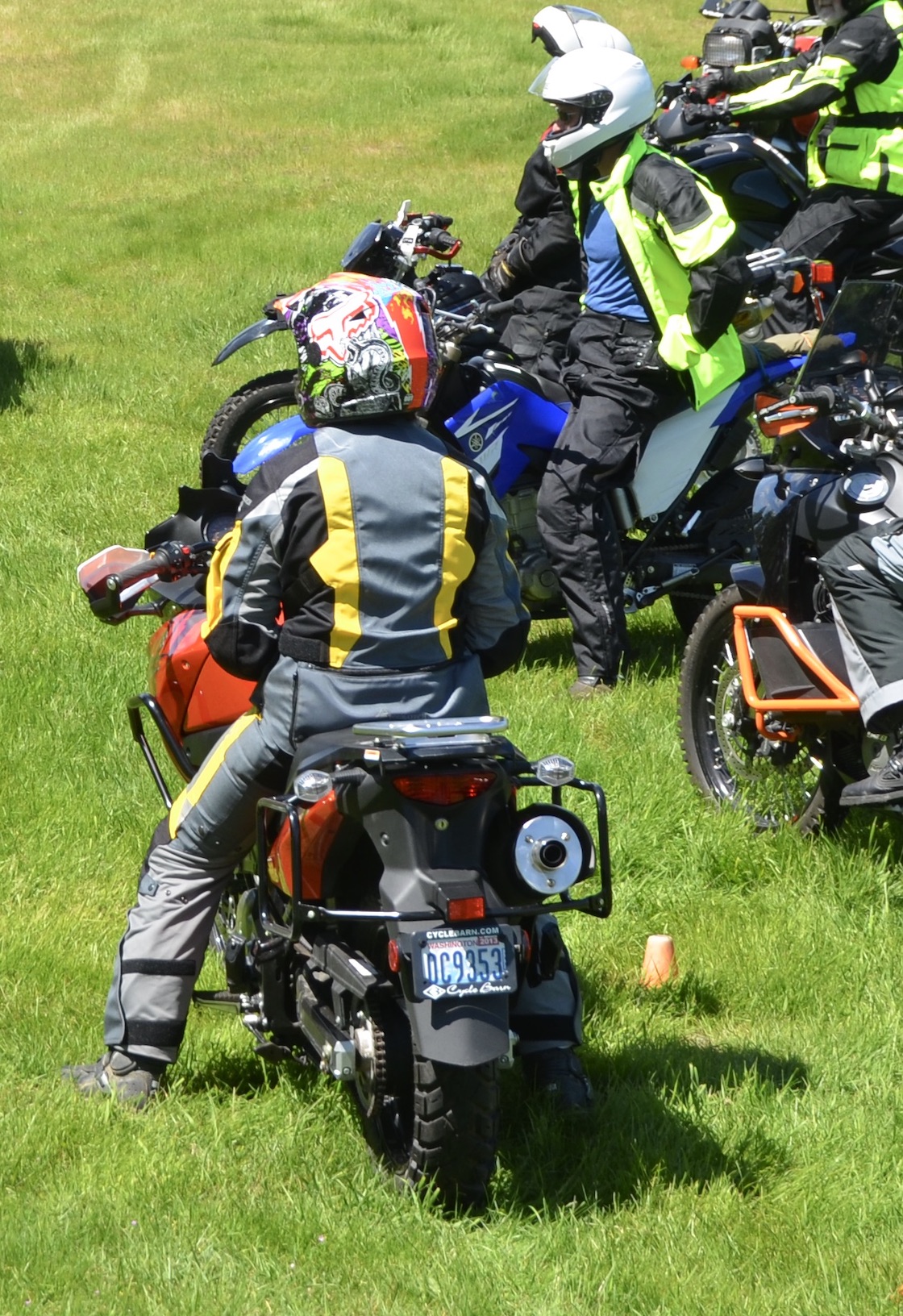 Features that I like about the Companero suit is that it is designed with a layering type of system, with a Gore-Tex Pro Shell that was designed to go on the outside where it belongs. While touring thousands of miles, I'd keep an eye on the clouds and assess whether it was going to rain or not.  "Rains are coming!"  I'd pull over, take out the outer shells and slip them over the mesh summer suit.  The waterproof Gore-Tex over-pant is easy to put on even while wearing motorcycle boots because of a heavy-duty two-way zipper that opens all the way up to your hip. Boom!  Done!  Ready to ride again.
Oh, but wait, I have to wait for my riding partner to take off their jacket, zip in the rain layer, zip in the warm layer and then put the jacket back on.  But wait, there's more waiting to be had, as they would then have to repeat the process with their pants.  In that time, I would have made a few calls, had a snack and taken a quick cat nap.  Not really, but it was crazy to watch the process.  I loved that part about the suit!  I loved the layering; it was so quick and easy.  However, there are always pros and cons to everything.  The con about the outer Gore-Tex shells is they take up a bit of very valuable space.  When you're living on the
road for over a year, space is extremely tight.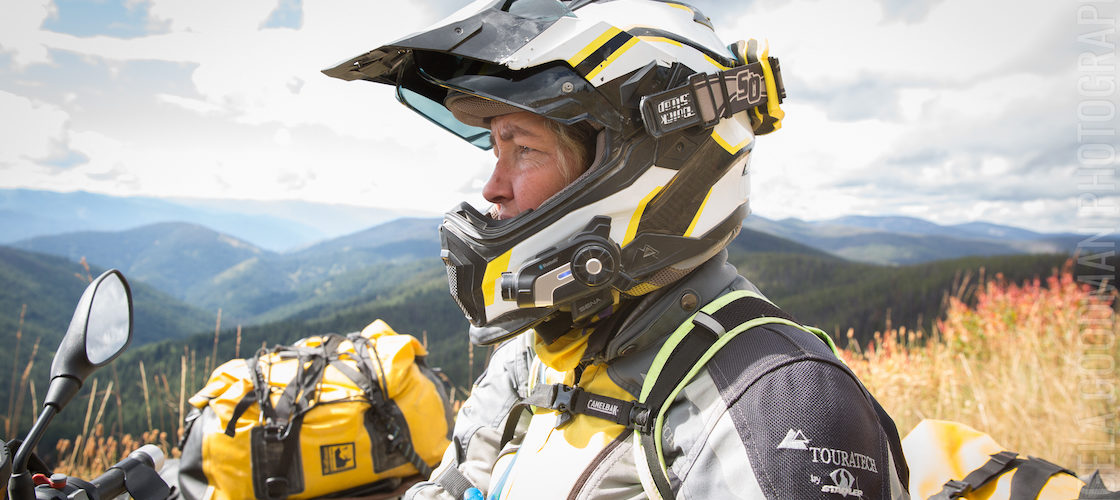 Another feature I liked on the pants were the good-sized zippered pockets located just below the waistband and the over-sized cargo pocket on the Gore-Tex outer shell, giving me easy access to my wallet, keys or cell phone while seated on the bike.  Both the mesh jacket and outer Gore-Tex shell had nice box shaped pockets as well.  The jackets also have a generous pocket on the inside where I keep an extra key at all times.  Another feather that was important to me was being visible.  The Companero suit is built with reflective panels and woven reflective thread for increased visibility in low light on both the mesh and Gore-Tex outer shells for both the jacket and the pants.
Word on the street, Touratech has a new and improved Companero Suit, the "Companero Rambler."  Because Touratech takes the feedback from motorcycle travelers from around the world and have teamed up with Rev'It for this new and improved version, this should be the suit of all suits.  I look forward to putting the Companero Rambler to the test with thousands of miles and lots of backcountry travel!