Triumph has given riders what they wanted with increased displacement while shaving significant weight from the new Triumph Tiger 900. Fans of the smooth in-line triple power-plant can now choose between a range of sub models that are suited to urban and street touring in the GT specifications, or more off-pavement adventures in the Rally versions. The adventure experts at Touratech-USA are excited about the new models.
"My first adventure bike was a 2003 Triumph Tiger. I had it outfitted with a range of Touratech accessories that both protected the bike for my various off-road adventures and provided luggage and comfort for touring two-up with my wife. I am excited to see Touratech continue its long tradition of producing best-in-class upgrades for the latest versions of Triumph Tiger adventure models."       –  Iain Glynn, Chief Riding Officer, Touratech-USA
Touratech now has a complete line of accessories for the Tiger 900. These upgrades are designed to take the Tiger anywhere it wants to go with protection, ergonomic upgrades, dry storage and secure luggage solutions. Below are a few highlights from the Touratech product range for the new Triumph.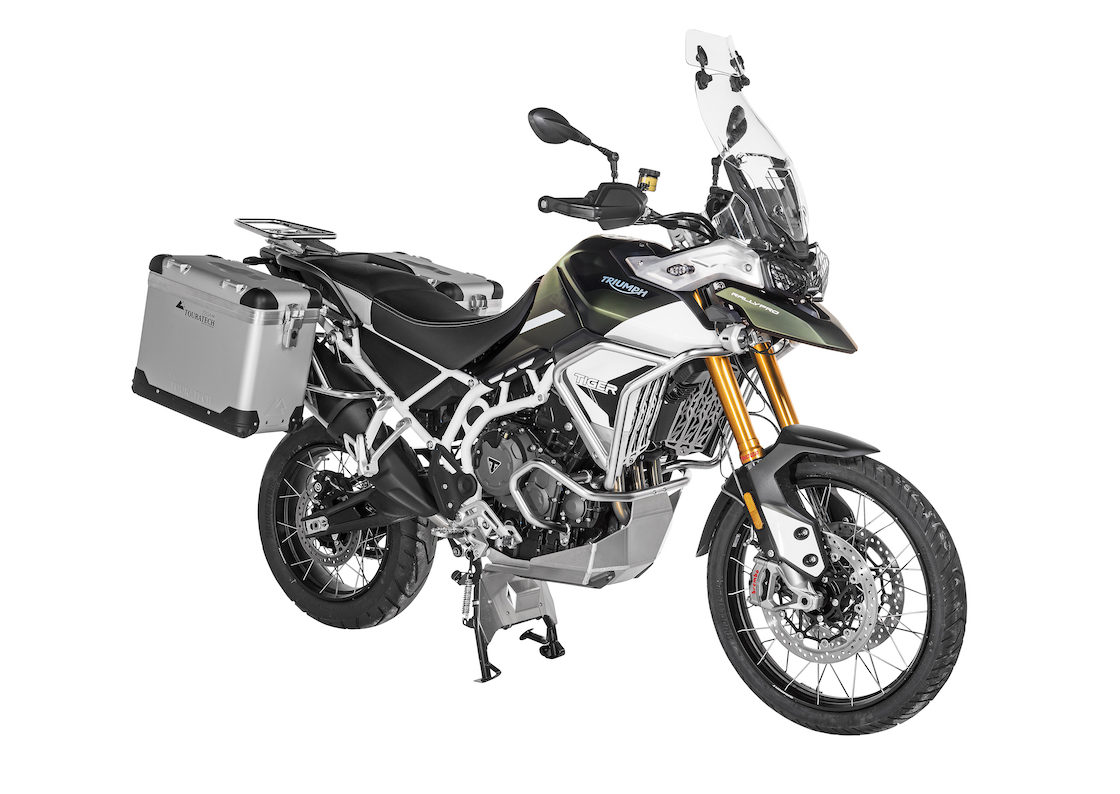 Touratech offers three different pannier systems for the Tiger. The world-leader Zega Pro is waterproof, lightweight and has been proven reliable on bikes across the globe for over 10 years. The racks include all the mounting hardware and the boxes are available in three different finishes. For the budget-minded who want waterproof luggage without all the bells and whistles, the Zega Mundo is a great choice. In the premium category, the Zega Evo offers quick-release convenience and finger-friendly latches, an ergonomic carry handle, and integrated pins for a range of snap-on accessories to extend your storage. All of these pannier systems provide riders with waterproof storage that can be secured against tampering or theft with keyed locks. Touratech panniers provide security and peace of mind and the racks also accommodate soft luggage as well.
Extreme Waterproof Saddle Bags
An ideal solution for riders looking for rugged and waterproof soft luggage solution that is built to go the distance on their Tiger 900. Extreme Waterproof Saddle Bags are constructed using a 3-layer laminate for trail-toughness in harsh environments. The outer layer of rubberized polymer provides abrasion resistance and is backed with a 1000 denier nylon webbing structure for resistance to tearing. The interior is wrapped in a waterproof layer of bright-yellow vinyl for visibility and easy cleaning after the trip. A simple but robust mounting system ensures a good fit on the Tiger 900 or just about any other bike.
Retail   $399.95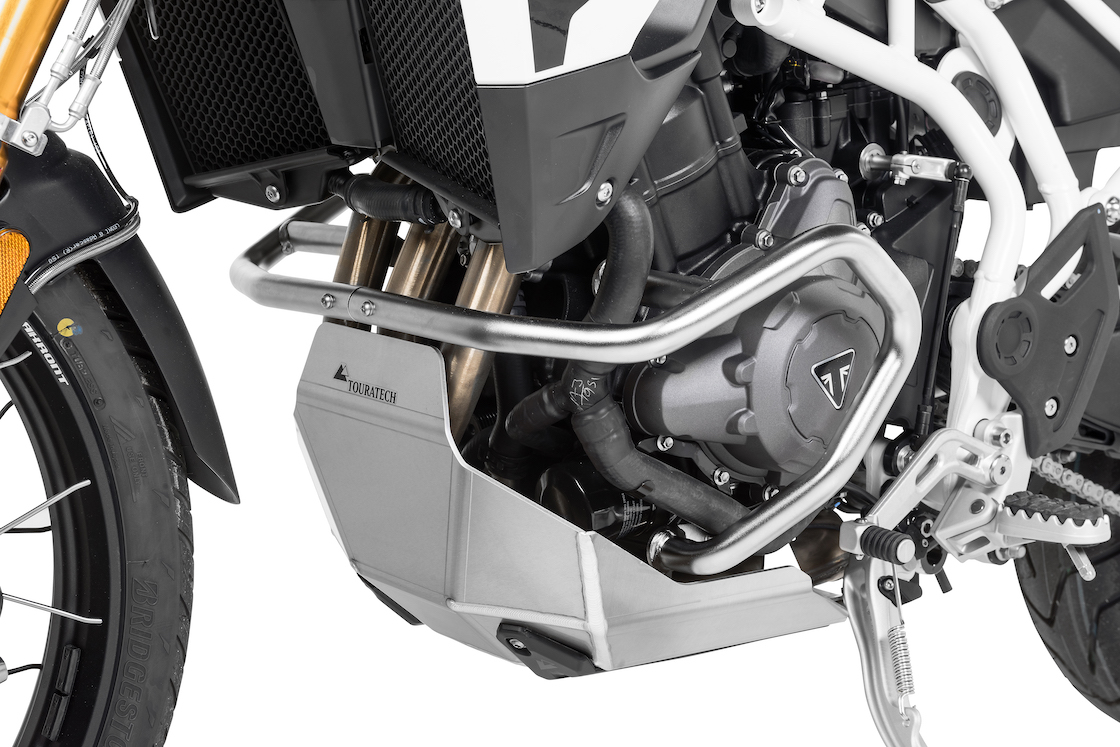 Exploring off pavement can put the Tiger 900 engine at risk from rocks or other flying debris. Touratech's Expedition Skid Plate offers unprecedented protection for the Tiger's engine. The heavy-gauge stainless steel mounting plate absorbs impact while supporting the oversized 4mm contoured skid plate which has integrated polyamide-nylon rails that absorb impact, protect bolt heads and provide a sliding surface for overcoming obstacles.
Retail   $349.95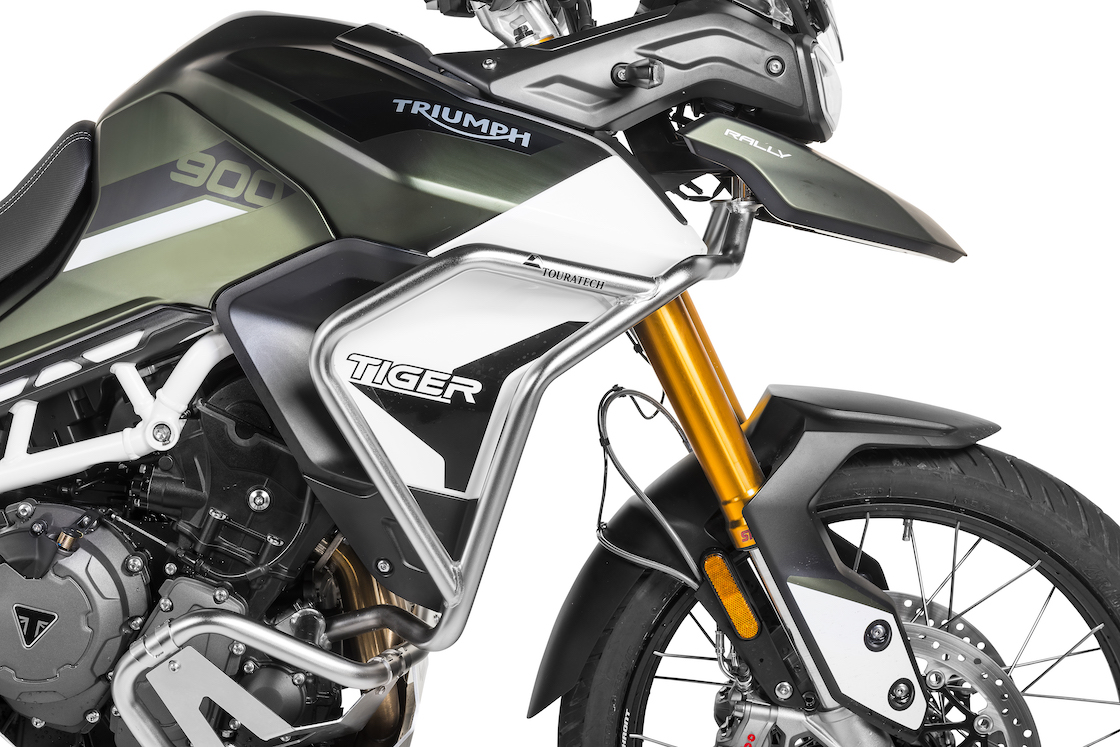 Designed to protect the engine, the sturdy lower crash bars are precision crafted from 1" diameter stainless steel tubing and engineered to keep the engine cases safe from hazards. Touratech has also created an upper crash bar to protect the body work and fairing which also serve to protect the radiators from side impacts. Built to exacting standards in-house at Touratech, the crash bars are high-quality protection that accentuate the look of the bike while also providing a location to mount accessory lights.  Both are available in electro-polished stainless steel.
Engine Crash Bars Retail $299       
Upper Crash Bars Retail $329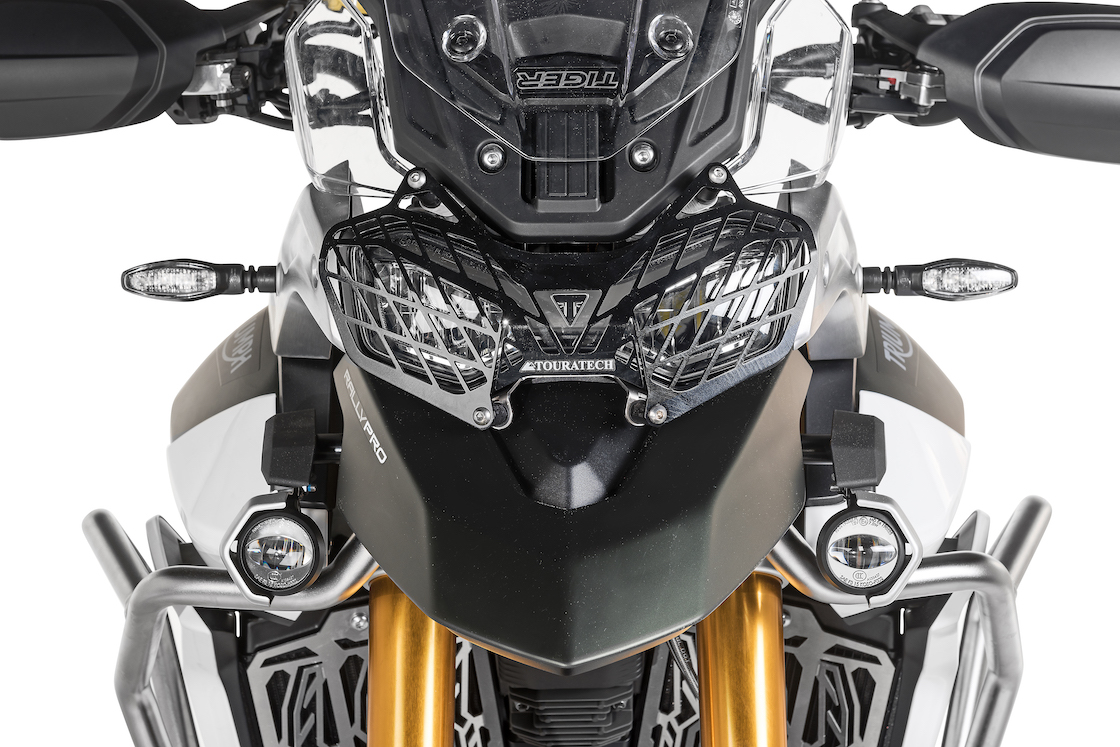 The Tiger has a distinctive headlight design that resonates with many people. A broken light is expensive to replace, so the Touratech headlight guard is a great insurance policy to protect the lens, while also accenting the unique look of this Tiger's eyes. Riders can quickly remove the black anodized aluminum guard to wipe the dust of the lens and snap it back into place without even taking off their riding gloves.
Retail $139
The Tiger will encourage riders to take the road less traveled where brush or overhanging branches can grab OEM mirrors. The Touratech folding mirrors can be rotated inward on-the-fly to eliminate this problem. Once back to the highway, riders can quickly fold them back out and the mirrors will still be adjusted properly. They also hold position at highway speeds making them the perfect mirror for adventure riding. You'll need the M10 x 1.25 version.
Retail $99.90 (set of 2)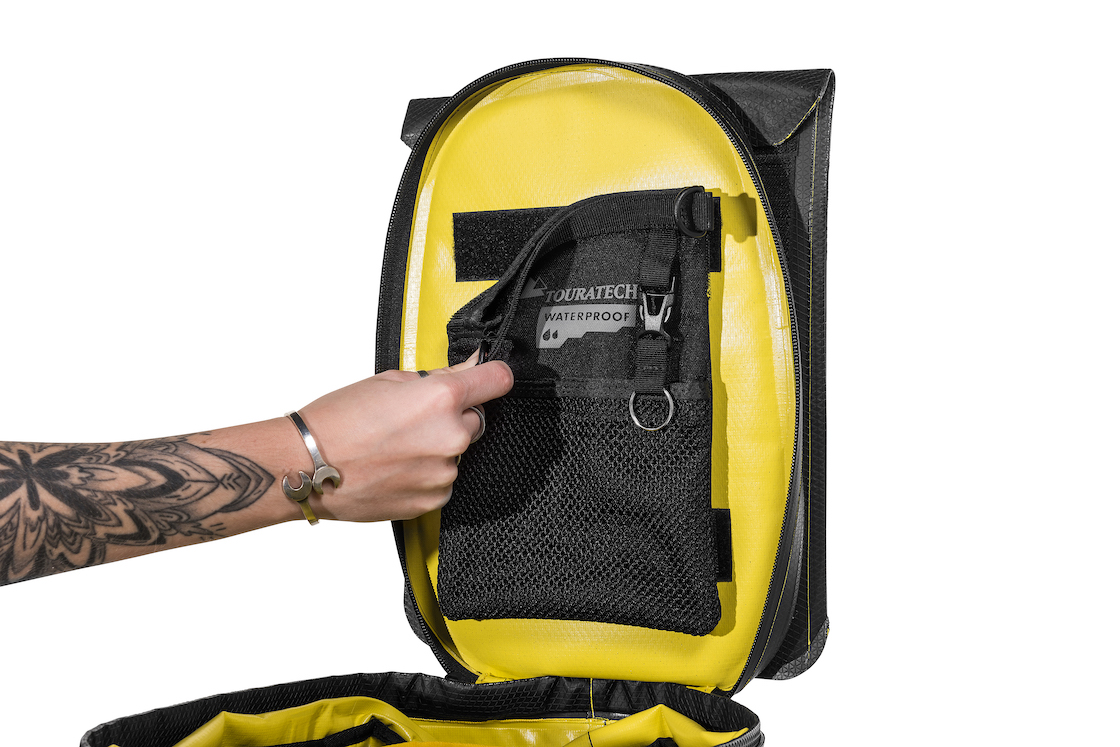 It's hard to beat the convenience of a tank bag for quick access to your essential items like phone chargers, sunglasses, multi-tool, or headlamp. The Extreme Waterproof was designed to be the toughest tank bag ever made. With extra-long velcro straps, this bag is easy to mount to the Triumph Tiger.
Retail $329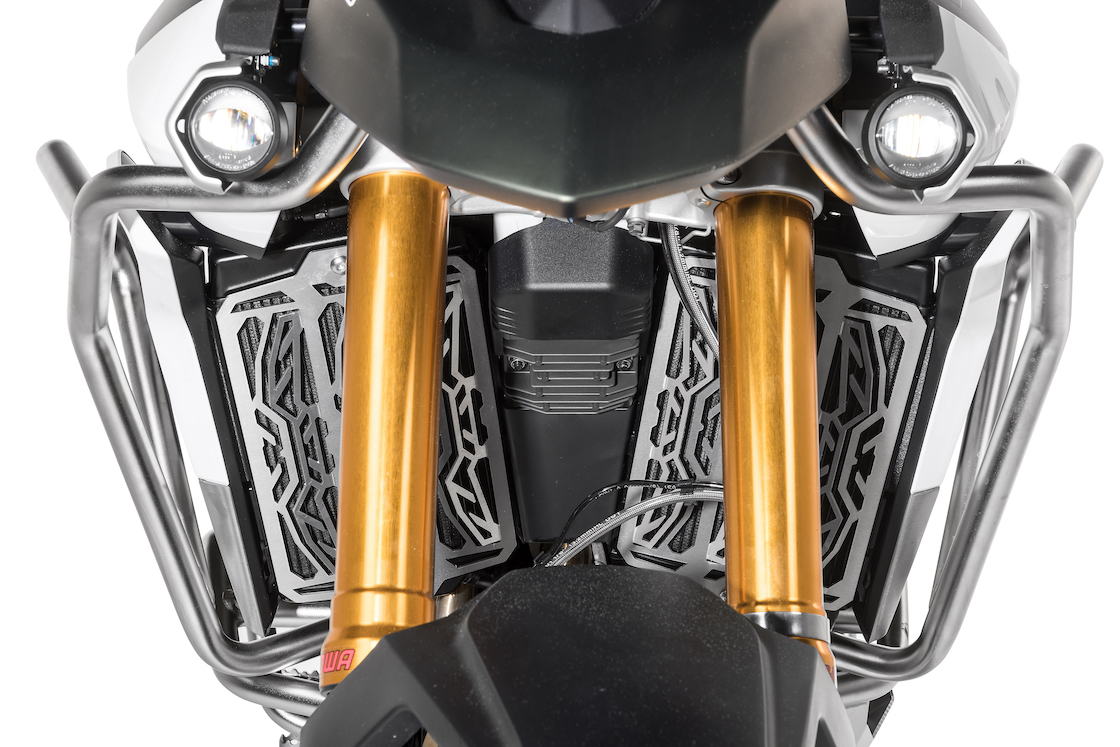 A rock thrown up into the Triumph's radiator from another vehicle or motorcycle can be a trip-ending event. The Touratech aluminum radiator guards for the Triumph Tiger 900 will protect the vulnerable radiators from impacts that can damage one of the most vital components of the Tiger's engine. These laser-cut aluminum guards feature louvered fins with air-flow ports that have been engineered to deliver the maximum volume of air to the cooling system on the Tiger 900.
Retail $139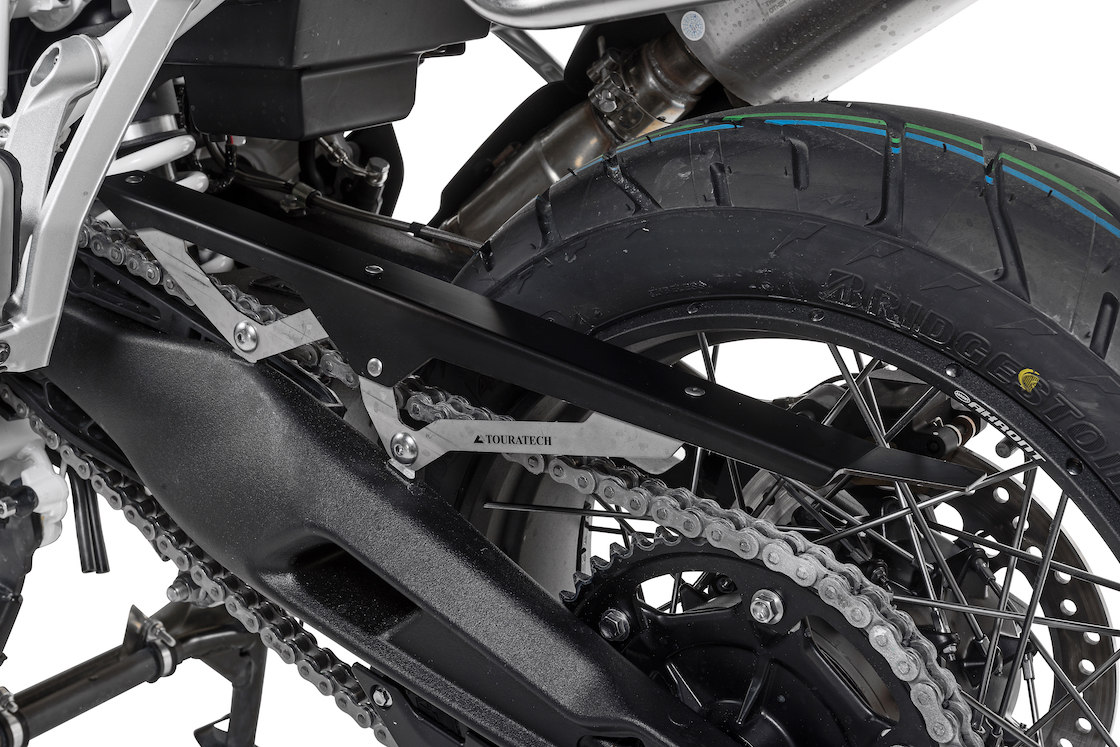 This beautifully laser-cut, anodized aluminum and stainless-steel chain guard from Touratech looks great on the Tiger 900 and will provide protection from chain breaks and other chain malfunctions.
Retail $119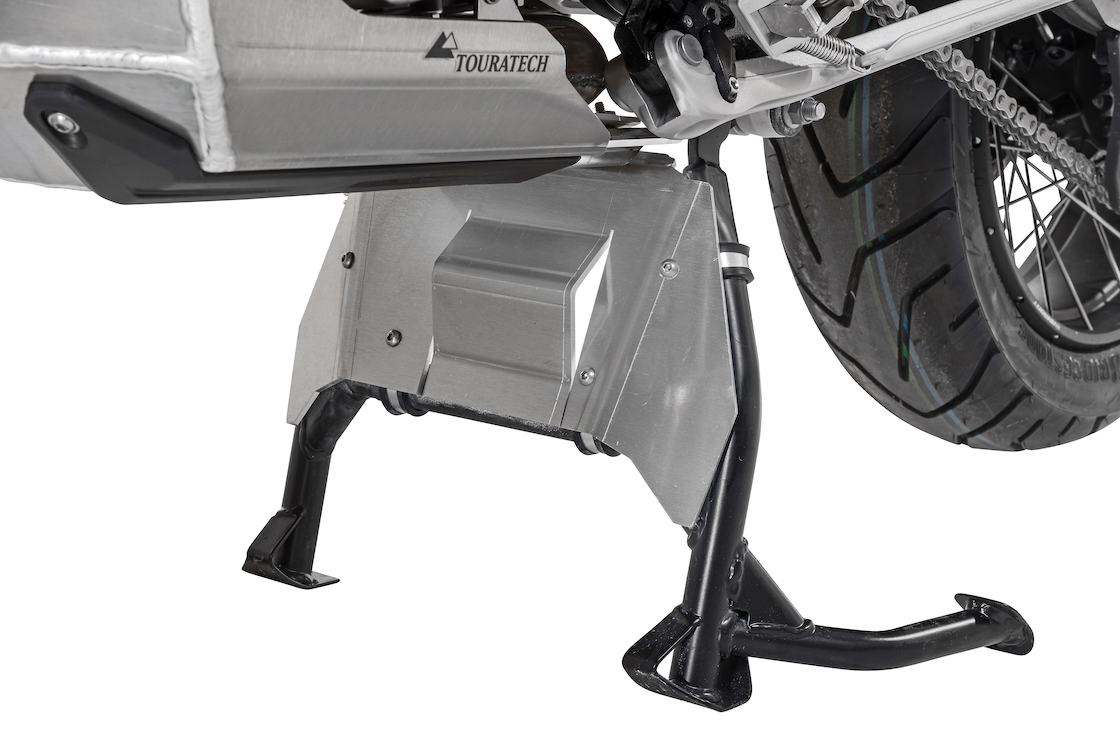 Close the gap between the Expedition skid plate and the rear wheel and give a smooth sliding surface for the entire underside of your Tiger 900 with this skid plate extension from Touratech. Made of 4mm thick aluminum, this skid plate is designed to complement the protection and looks of the Touratech Expedition skid plate. It simply attaches to the Triumph Tiger 900's center stand and when folded up, creates a continuous aluminum skid plate from the front wheel to the rear.
Retail $69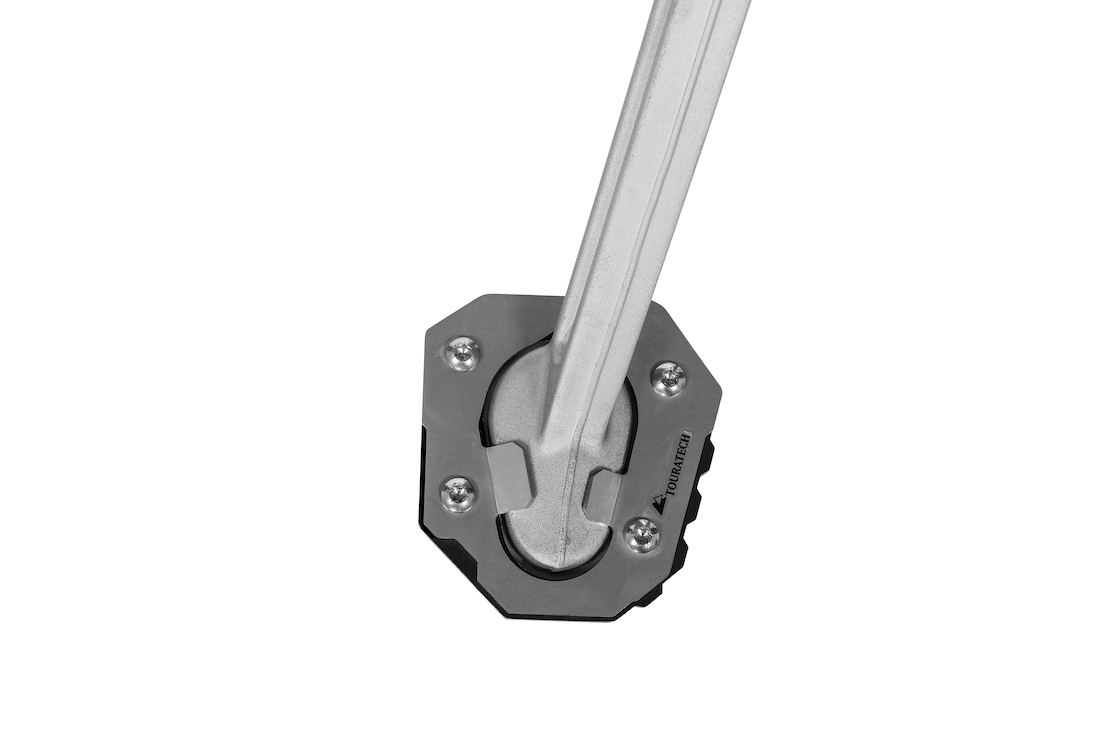 A sidestand foot is sometimes the only thing stopping a motorcycle from falling when parking on gravel, mud or the soft forest floor. The Touratech large sidestand foot has much more surface area than the factory sidestand and can be relied upon to provide stability to your bike in challenging situations.
Retail $69
This GPS bracket bar from Touratech gives riders a solid attachment point for any one of our locking GPS mounts. Gone are the days of trying to read shaky GPS screens or dealing with broken plastic pieces. This GPS mount adapter provides a sturdy 12mm (1/2 inch) diameter mounting bar that is intended for mounting any of our locking GPS mounts. It can also be used for roadbook holders or any other device that uses a 1/2″ clamp.
Retail $74
Works Footpegs
These "Works" foot pegs are designed specifically for the needs of long-distance touring and off-road riding on a Tiger 900. The serrated claw design of the peg has plenty of grip for off-road riding, but the teeth are rounded on top so they won't tear up touring boots. The 52mm (2 inch) wide peg offers tons of stability when standing on up on the pegs, and support when sitting down on the street.
Retail $189