Touratech-USA's CEO, Paul Guillien, shares his thoughts about the Yamaha Tenere 700 after living off of the bike for a week riding the Washington BDR. As a co-founder of the BDR organization, he thinks the best way to test out a new model of adventure motorcycle is to spend a week riding it out in the middle of nowhere.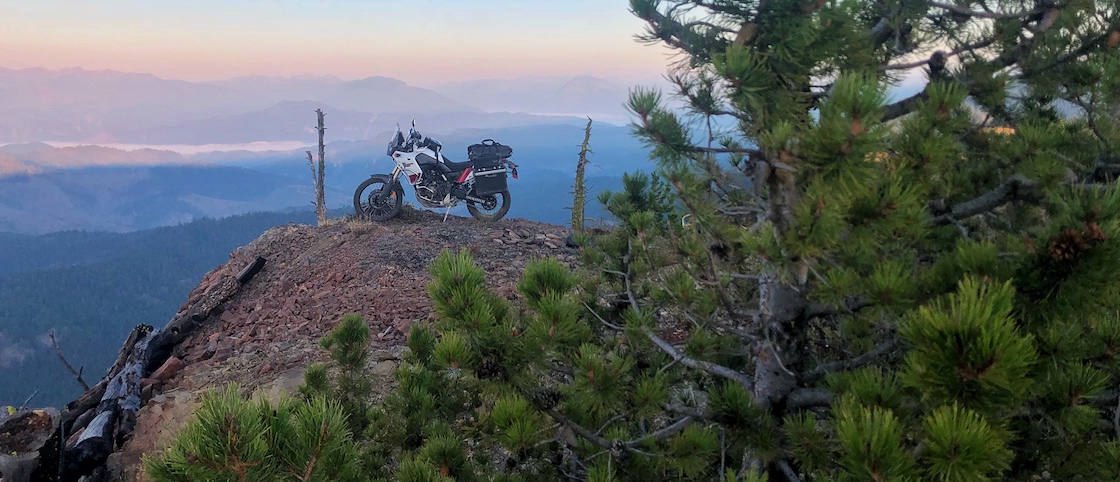 Overview
The Yamaha Tenere 700 is opening up the adventure motorcycle dream to a broader market with its low barrier to entry at around $11,000. The affordability of this bike is even tempting some riders to add this middle-weight bike to their moto-fleet because it's smaller, simple and easier to manage off-road than their full-sized BMW R1250GS or KTM 1290 Adventure R. It's refreshing to throw a leg over a bike that doesn't require you to navigate a menu to figure out the electronic settings. It's more of an old-school dirt bike with the exception of one button to engage the off-road ABS. The bike and motor feel surprisingly refined and smooth for a bike at the value-end of the cost spectrum. The 21" front wheel and 18" rear are perfect for riding dirt and a wide range of full knobby tires are available to help riders conquer a wide range of terrain. For anyone looking to get into ADV riding or just wanting a mid-sized bike, it will be hard for them not to consider the Tenere 700.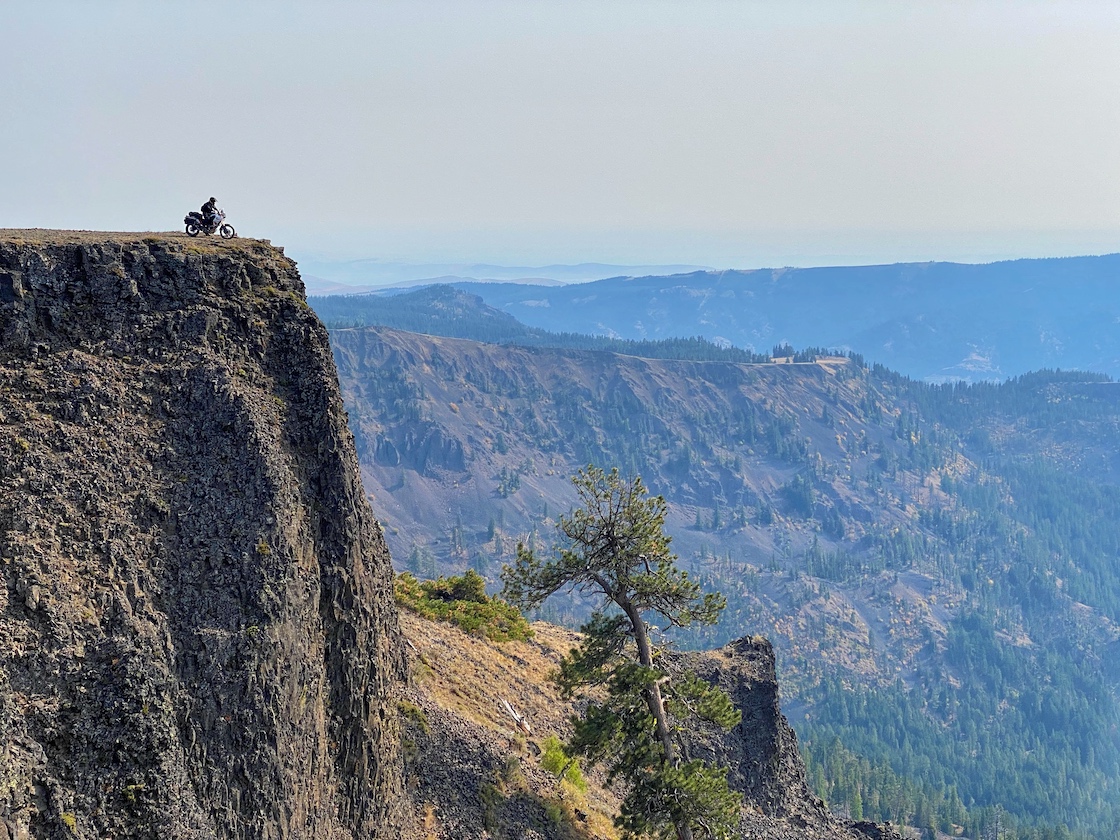 Rally Styling
Yamaha nailed one thing for sure on the Tenere 700 and that is the rally-inspired body work. From the moment I laid eyes on the T7 concept bike at a trade fair in Germany a half-decade ago, I loved the look of this bike. The production version that finally made it to the US still has that rally look and very good wind protection from the tall navigation-tower-shaped windscreen. I have friends who've dumped a small fortune into their Husqvarna 701s to get this look and wind protection that comes stock on the Tenere 700. My only upgrade to the cockpit so far is the Locking GSP Mountand GPS Mount Bracket that I installed onto the triple clamp. On the front side of the fairing I've installed the Removable Headlight Guard.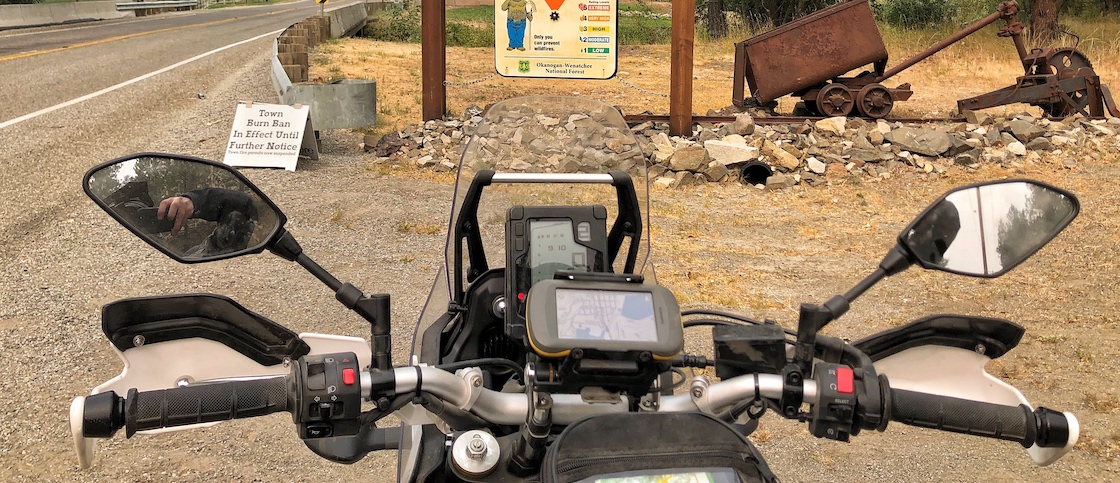 I also chose to protect this body work with Touratech Upper Crashbars which wrap around the front of the bike for maximum protection and enhance the styling. Another benefit is that it provides a good place to mount accessory lights or Crash Bar Bags.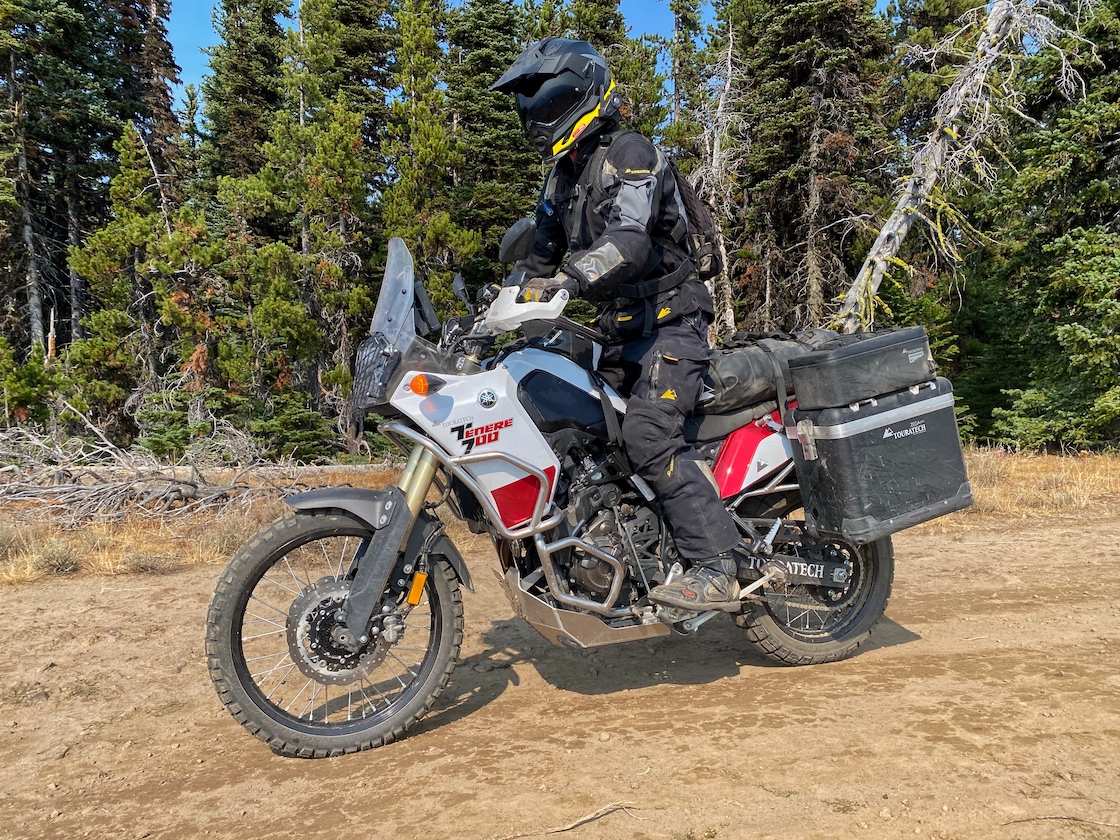 Third Gear of the Gods
On many an ADV bike over the years, I had to change the stock sprockets to get the right gearing for off-road riding. This isn't necessary on the Tenere 700. In fact, I felt like the gearing could not be more perfect. I fell in love with the Tenere's 3rd gear on most of the forest service roads and two-track along the WABDR. It has the perfect range of speeds for this type of riding. At times when the trail got tight, steep, or more technical, 2nd gear was perfect for tractoring up and through the challenging terrain. It's a simple thing, but some bikes require a lot of shifting on your typical BDR-style tracks and the Yamaha didn't. It just felt perfectly geared like it was made for exactly this type of terrain. I installed an Aluminum Chainguard to protect the drivetrain from rocks, sticks and debris on the trail.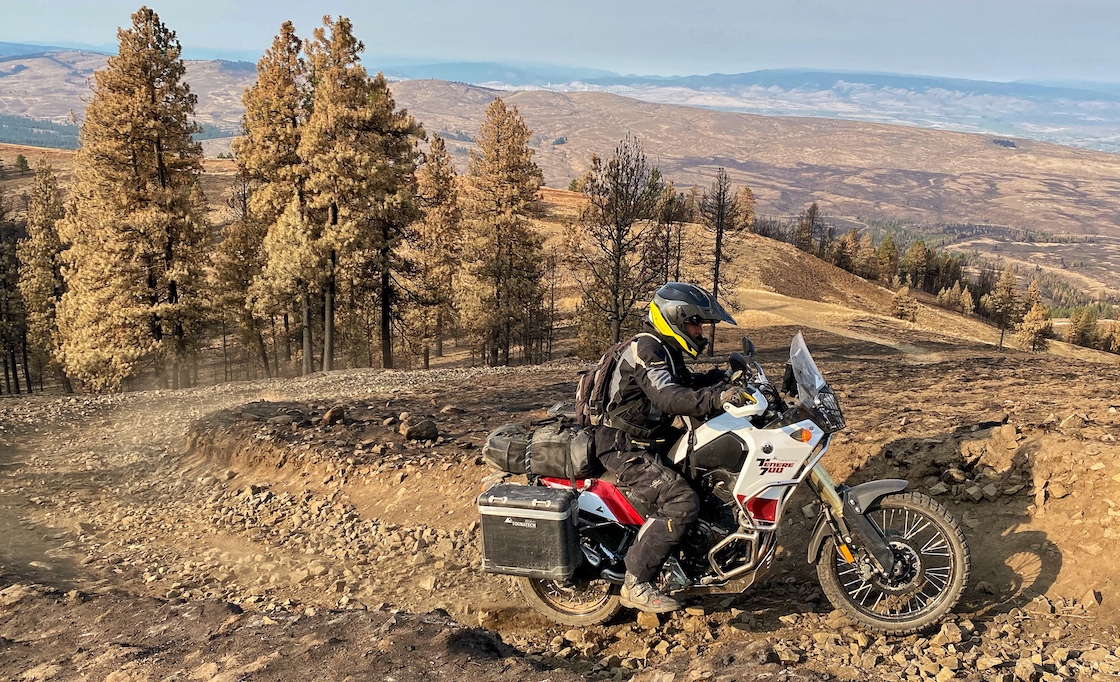 B-minus Brakes
My initial reaction was that the Brembo brakes could be better in terms of shear stopping power. The 4-piston caliper dual 282mm disc front brakes are adequate and I was able to modulate with just one finger which is great. They just didn't give me that 'wow those are good' feeling that I have sensed during my first ride on some of the recent twin-cylinder ADV bikes. The rear brake reservoir is somewhat exposed so I protected it with a Brake Reservoir Guard. Yamaha did score points with me on the off-road ABS system.
Off-Road ABS
One of the best inventions of the last decade is off-road ABS. I remember the early days of ABS where we had to constantly remember to disable it and when we forgot to turn it off, there was an oh-shit moment coming into that first corner, feeling the overactive ABS rejecting your instructions to lock up that rear tire and the front brake just wouldn't bite. I don't miss those terrifying moments. The off-road ABS on the Tenere 700 is fantastic. It allows you to completely skid the rear wheel to help turn in those corners and for braking assistance in loose gravel. The beauty of this mode is that the rider can grab the front brake hard without completely locking up the wheel. This reduces crashing risk and makes the bike safer to ride, especially for people with beginner or average off-road skills. I protected this critical system by installing an ABS Sensor Guard.
698cc Parallel Twin Powerplant
While it's not the most powerful twin in the segment, it has plenty to get the job done on pavement, even at highway speed, and it's very good on the dirt. Riding this bike some 1,500 miles with about half of those miles being off-road, I came to really like the character of this motor. My first impression centered on how smooth it was and that it pulled better than I expected on the highway. I came to enjoy the sounds it made while riding on the twisty high-mountain two-track.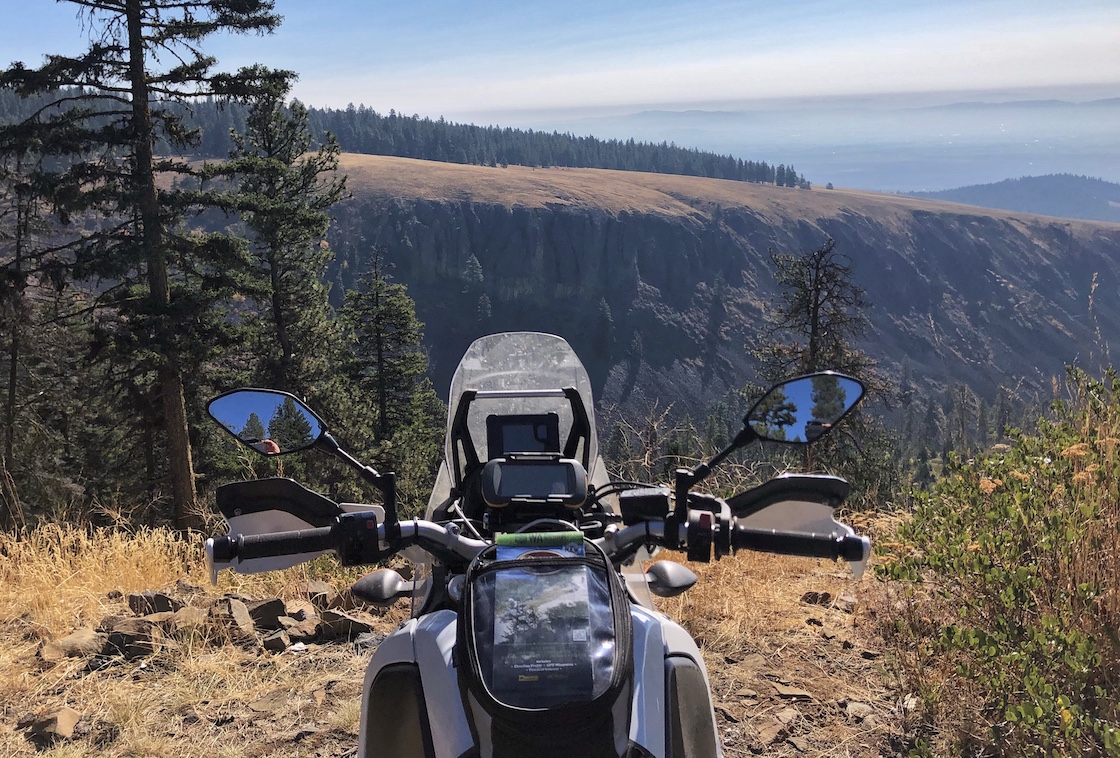 Lofting the front wheel sometimes takes a down-shift as compared to the more powerful twins in the class, but it makes up for this in excellent fuel economy and very manageable traction. This bike has no electronic traction control whatsoever. This was done partially to keep the bike affordable, but also because the bike simply doesn't need it. I rode aggressively with a full load of camping gear and never felt I was breaking the rear wheel loose excessively. For the first 1,500 miles I've averaged 48.8 MPG. It is a very enjoyable motor for slabbing it to and from your favorite BDR and is a joy to ride once you are on dirt. If you like this motor as much as I do, you'll want to protect it with a Skid Plate, and Crash Bars.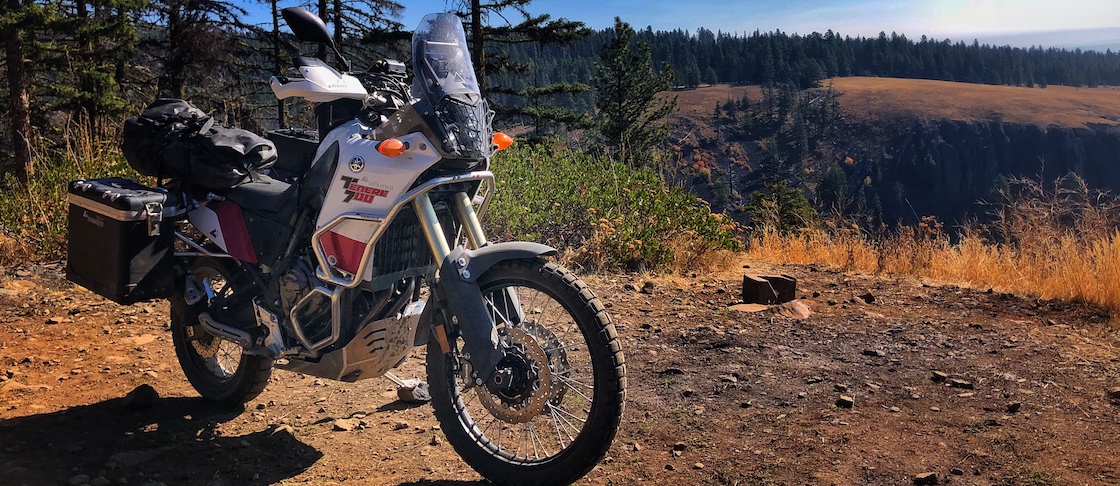 This bike also has a water pump that is exposed so I added a Guard to protect it. There is a lot to love about this motor, but if you are looking for exciting power the T7 might not do it for you.
Toss the Tires
If you are commuting to the office with the occasional fire road on a dry sunny day you might find the stock tires acceptable. I was riding classic BDR roads with loose desert terrain and some slick mud on the higher mountain trails. This rear tire is not adequate for clawing a fully-loaded bike up a steep loose section of rocky or sandy trail. When it comes to mud, the bike control quickly gets sloppy. In most of the conditions I encountered, the tires were just fine. In a few places I was ready to toss them in the dumpster and spoon on a set of Scorpion Rally or TKC 80's.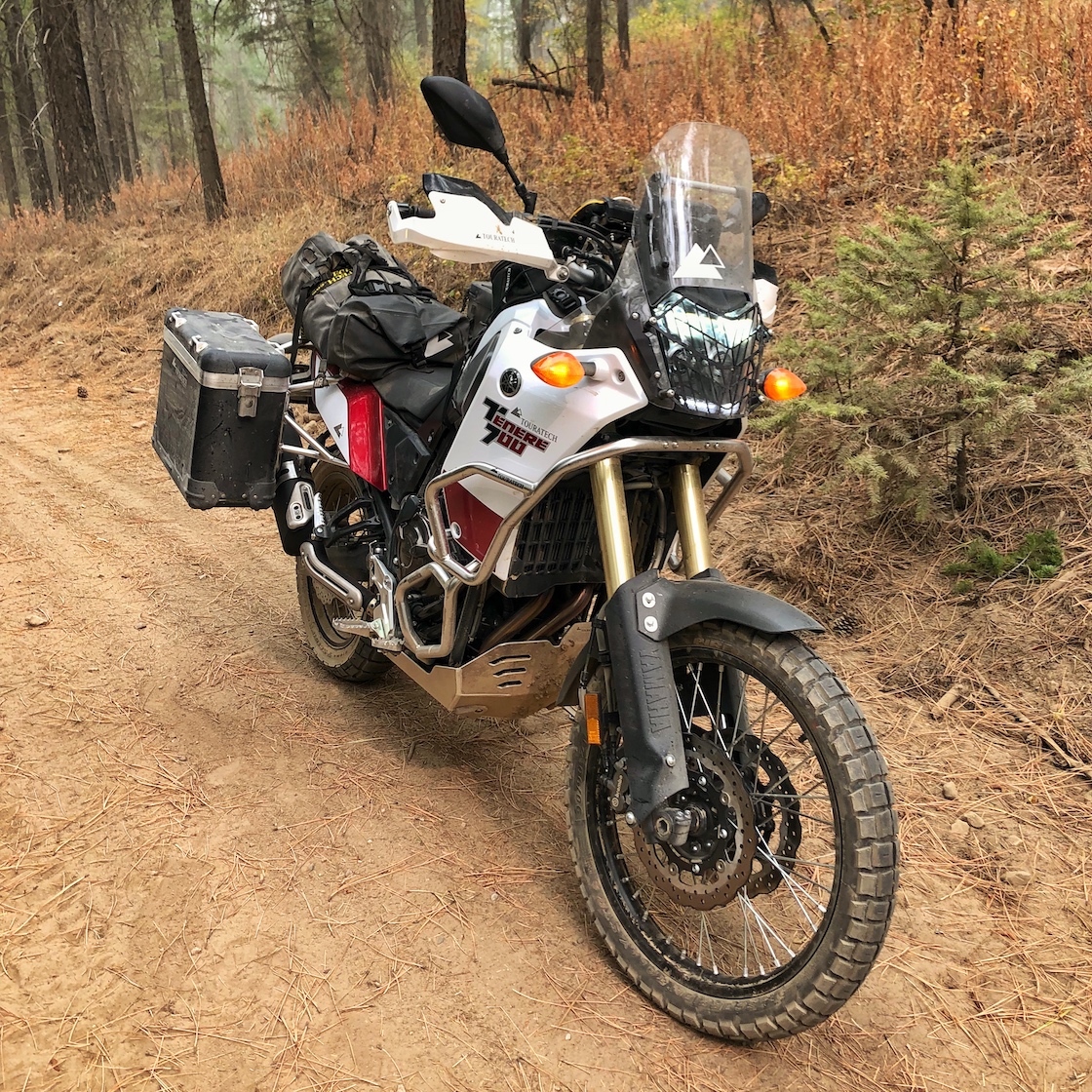 Cigarette Plug for Cell Phones
On my first day on the trail, I went to help my riding buddy air up her tires and found a limitation on the accessory power plug. My Stop n' Go Air Compressor started for a split second then stopped. Troubleshooting revealed I had blown the fuse for the cigarette socket. This power plug is fused for only 2amps which is enough for a cell phone charger and that's about it. This was a bit disappointing to see on an adventure bike, but Yamaha scored points by having a spare 2amp fuse on-board making it an easy fix.
Battery Access
The passenger seat comes off easily with the ignition key inserted into the lock bezel located just above the foot pegs on the clutch side of the bike. This gives you access to the modest OEM tool kit which surprisingly doesn't include the 4mm hex key required to remove the main rider's seat to gain access to the battery.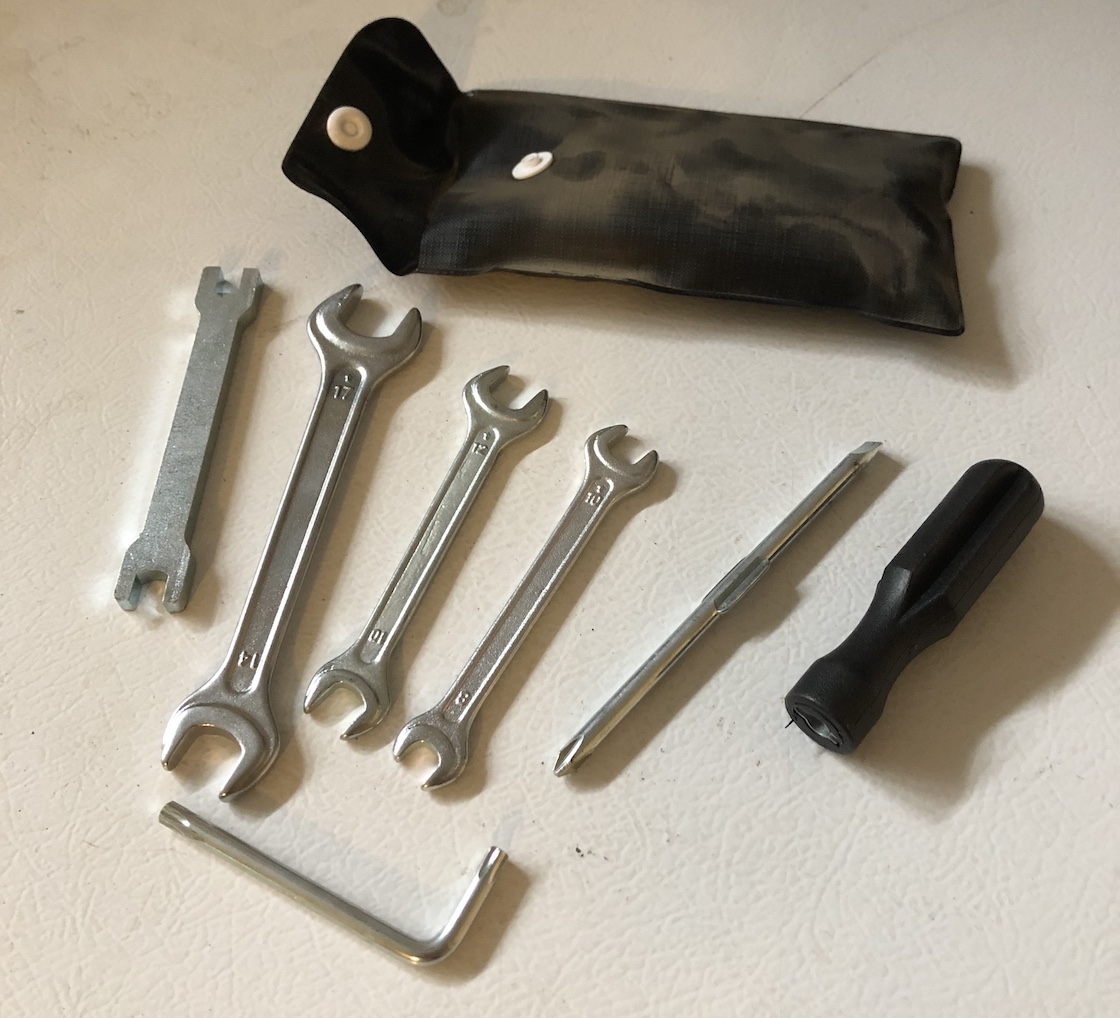 So, you will be relying on your friends or will need to carry a 4mm hex key with you. Fortunately, I had my CruzTOOLS RoadTech M3 tool kit for Japanese metric motorcycles with me which contains the 4mm hex. I also had a CruzTOOLS Outback'r 14 multi-tool in my Universal Enduro Tank Bag which also has a 4mm hex so I was able to gain access to both the fuses and the battery.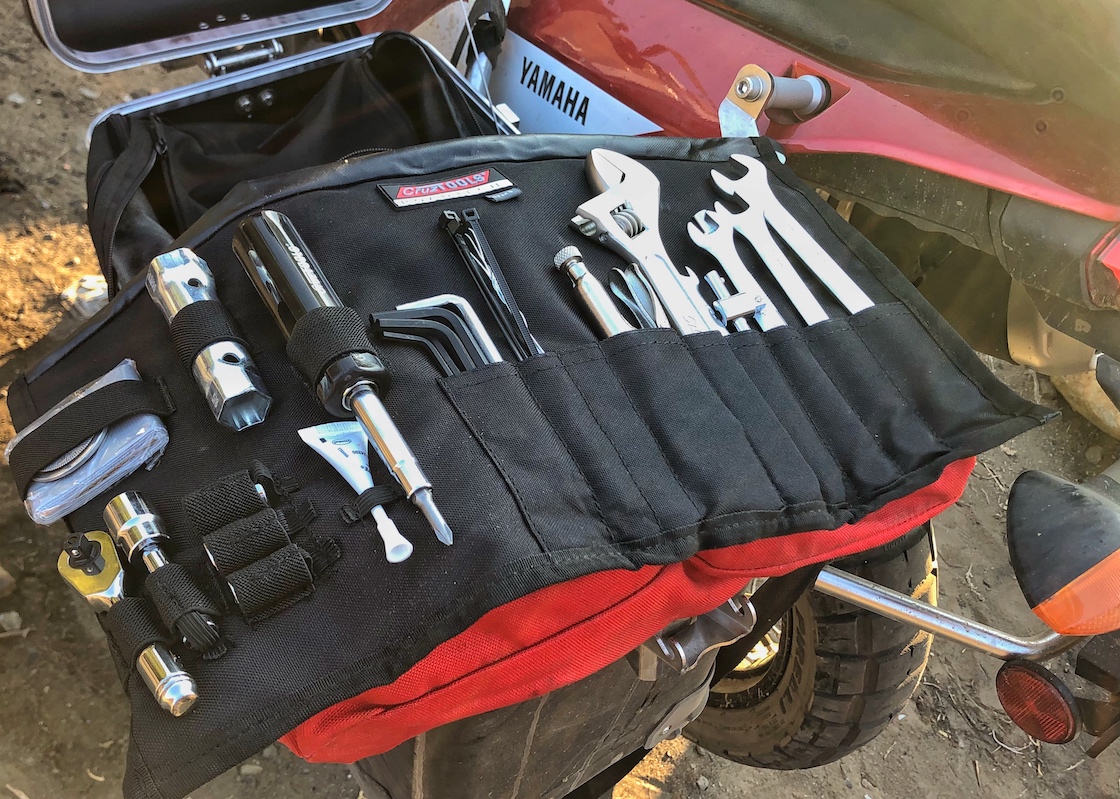 Seat for Standing
I've never met a stock seat that I liked and the Tenere 700 is no different. On the tarmac my back-side got uncomfortable after about an hour. Fortunately, my ride involved a lot of dirt and this seat is easy to move around on and encourages riders to stand up. I'll be upgrading the seat before my next ride.
Suspension
As with any new motorcycle, the suspension is set up for a rider who weighs 170lbs with riding gear and carrying 15lbs of gear. Most of us are far beyond that. First impressions of riding this bike around town is that the suspension is not bad. Without a load it feels pretty good. Once loaded up with camping gear, tools, food and water for a week-long trip in the mountains, it became clear the bike wasn't going to work for me with the stock suspension.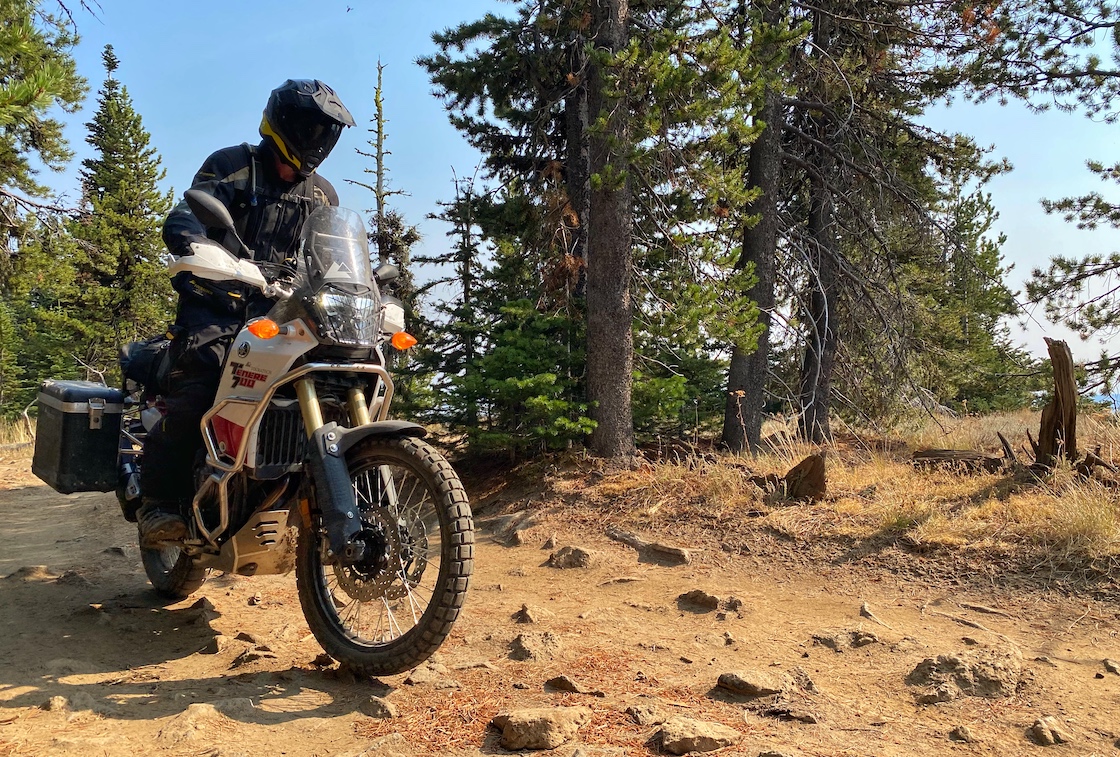 I installed the Touratech Suspension Extreme Rear Shock and Progressive Fork Springs in the front forks. This dramatically improved the handling and kept the bike level when loaded up with gear. After riding it a bit, I increased both the high-speed and low-speed damping until I felt it was providing maximum control with the heavy load I had for a week-long adventure. I always bring a few nice extras like a camp chair, hammock and like to roll into camp with plenty of water, a bottle of wine and a great selection of appetizers. I am definitely not one to pack light, and I like to ride hard and enjoy launching an occasional water-bar, so upgraded suspension is a requirement for me.
How does it carry the load?
There is a lot of talk about smaller is better. A lighter bike is easier to pick up for sure. A lighter bike does handle better in technical terrain, but only if you pack very light. If not, the front wheel can become too light which creates tracking and control problems and you can feel the weight on the back pulling the bike around.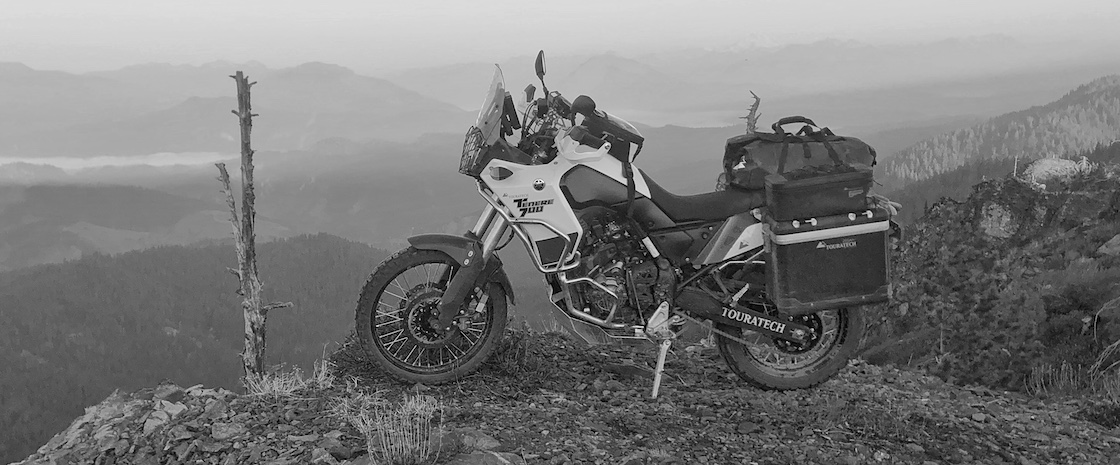 In my experience, a larger adventure bike carries the load better. A balanced bike is always easier for me to maneuver than a lighter bike with too much junk in the trunk. So, determining how the T700 would handle a full load of camping gear was the real test for me. I was happy to discover that it handled the weight better than some of the 650 thumpers I have ridden. I am a heavy packer, so I reached the limit of weight this bike wanted to carry. When riding the bike with full fuel, water and lots of groceries on board I could really feel it. The larger bikes like the BMW F850, KTM 1090, or Africa Twin can generally handle that type of load better. For me this bike is good, I just need to keep the load reasonable.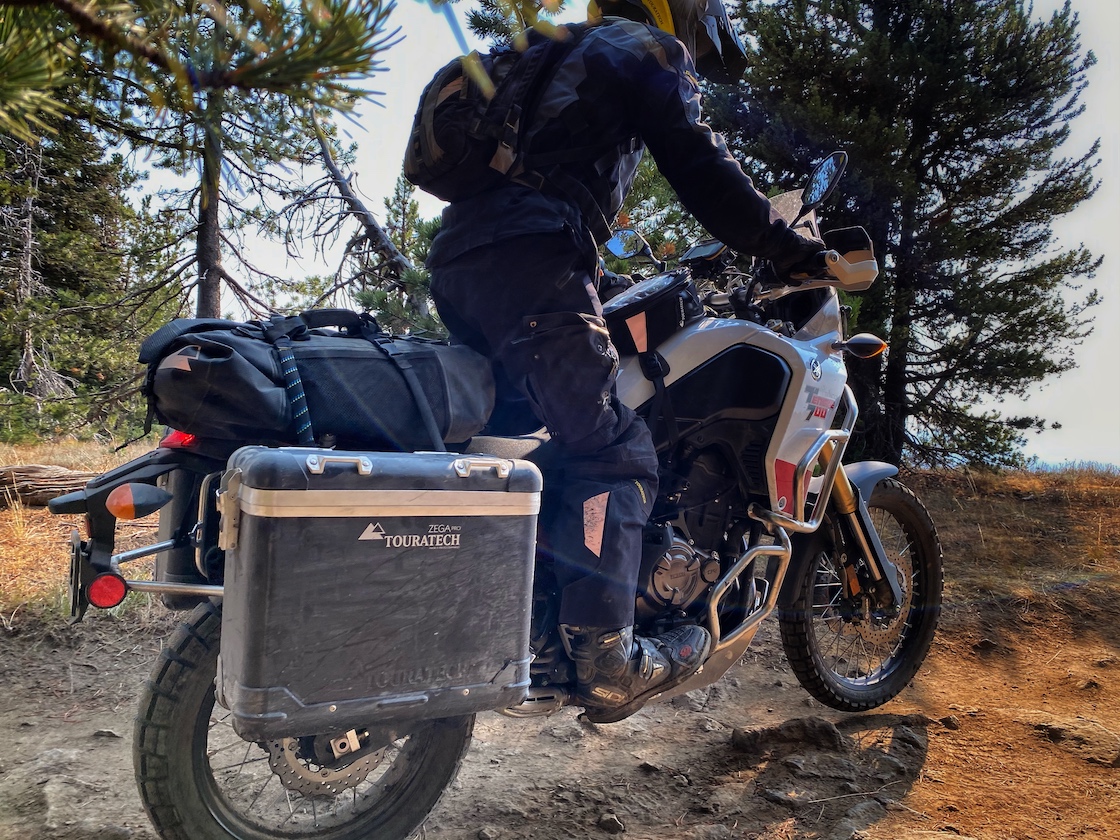 For luggage I installed a Zega Pro Pannier System with 31/38 liter anodized boxes which was great for secure and dry storage. It's nice to be able to take the boxes off at camp for sitting or cooking. The Pannier Lid Dry Bag further extended my storage and also doubled as a camp cooler as it fits a full bag of ice. My tent, hammock, chair, pad, pillow, and sleeping bag fit in a 50 Liter Waterproof Extreme dry bag strapped between the panniers on the seat/fender. This set-up gave me enough space and organization to carry what I needed while keeping the load balanced.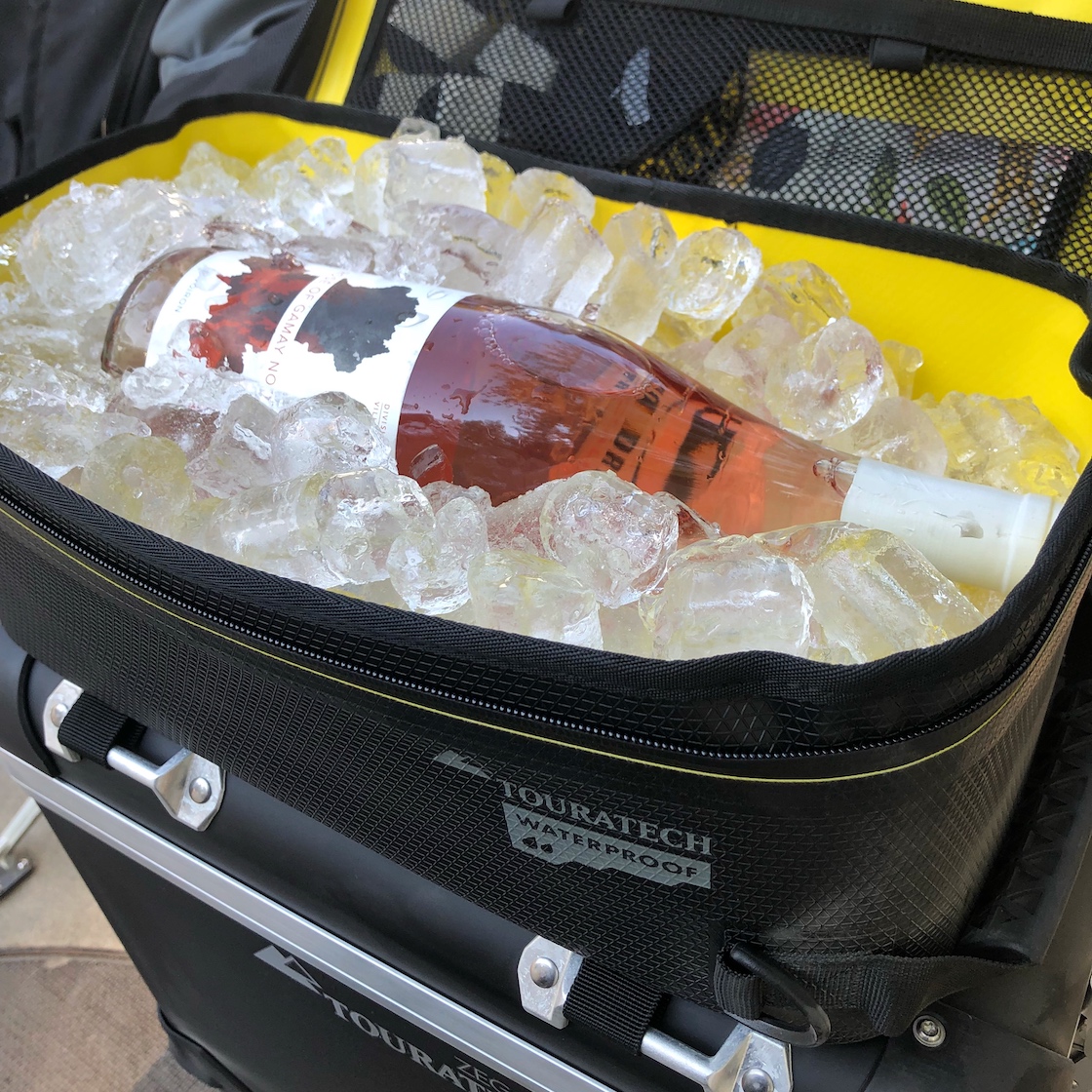 Bottom Line
Just like people, bikes each have their own personality. You meet some you like more than others. I have a feeling that a lot of people will like the Tenere 700. Even though it's not the lightest or the most powerful in its class there is something special about this bike. It might just be that there is little to dislike about it. This machine has few characteristics that would rub a rider the wrong way, and it has plenty of attributes that people will enjoy. The bottom line is that the Tenere 700 is a pretty darn good choice for riding a Backcountry Discovery Route and it's at a price that many people can afford. You also have to admit that this is a great looking bike. The rally styling speaks to me and the extra wind protection is nice for long days in the saddle. It's great to see Yamaha back in the adventure segment with such a strong contender.

Touratech has been making parts for Yamaha Tenere models since the 1990's. For 30 years, adventure riders exploring the most remote locations on Earth have relied on Touratech.
Check out our complete line of products for the Yamaha Tenere 700 on our website.