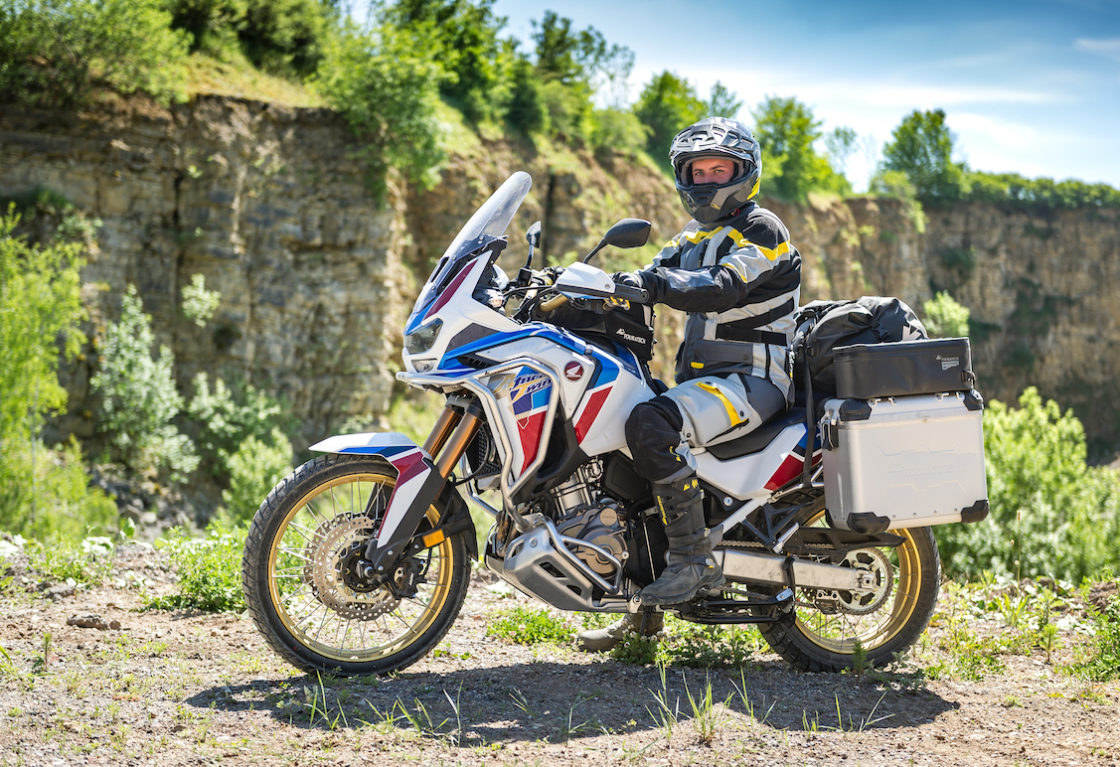 When Honda re-introduced the famous Africa Twin in 2015 the Adventure Touring world took notice and it quickly became one of the stalwarts of the genre. The 2020 Honda Africa Twin CRF1100L is lighter, more powerful and has more features.
Touratech has a full line of upgrades in-stock and ready for even bigger adventures. This product range for the CRF1100L will improve ergonomics, protect the motorcycle, and carry gear for a weekend tour, backcountry adventure, or the trip of a lifetime. Below are highlights: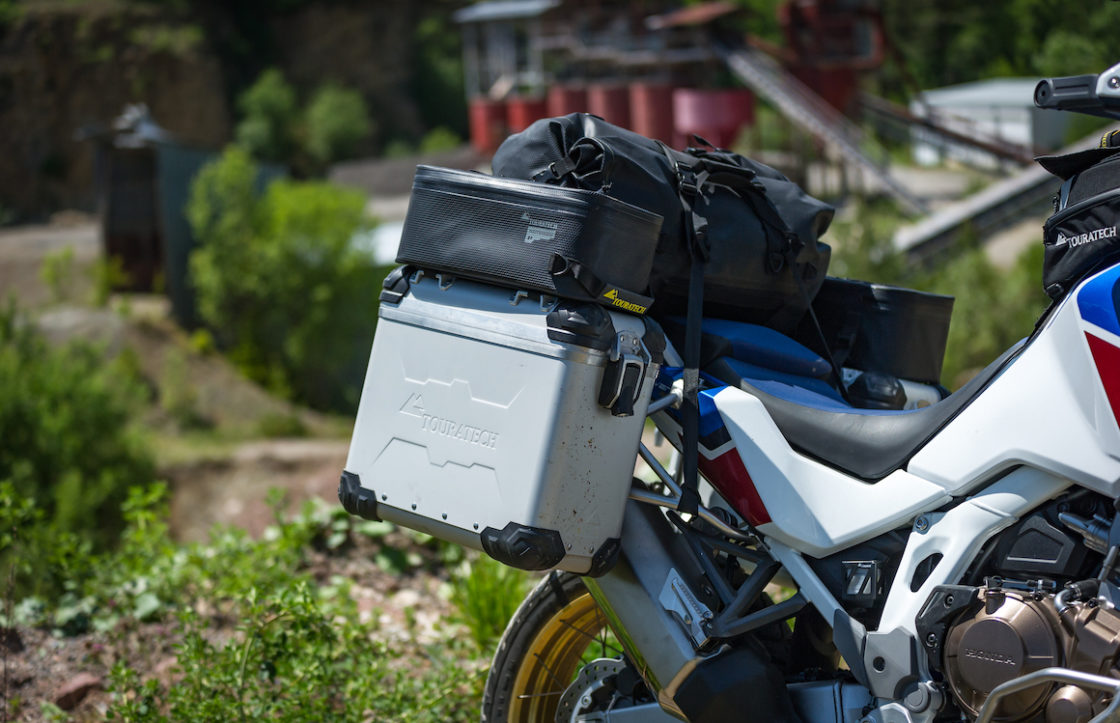 The CRF1100L is a great choice for everyday riding, getting muddy or traveling the world. The first thing riders will need to add is secure storage, whether it be for commuting to the office or exploring forest roads. Quick-Release Zega EVO panniers provide water-proof storage with the security of keyed locks and protection that only hard luggage can provide. The solid aluminum construction offers a range of bolt on accessories to extend the capacity and utility of the boxes. Retail $1799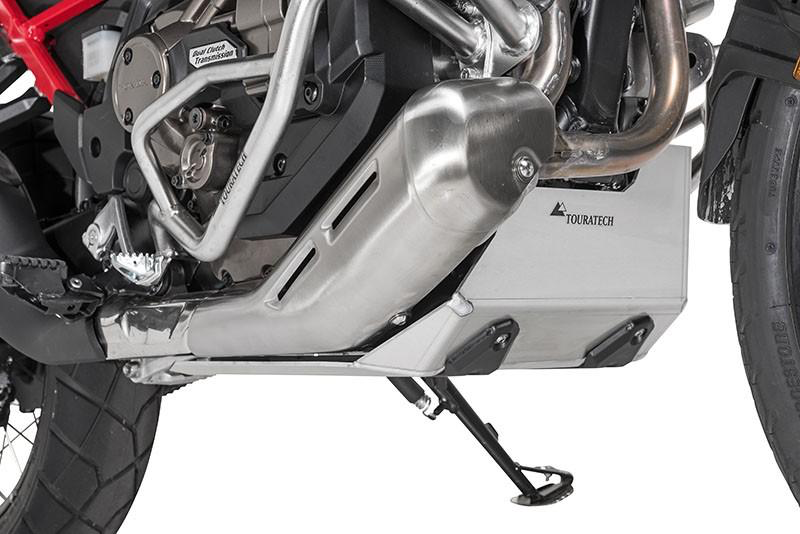 A 21" front wheel and good ground clearance, the CRF1100L likes to wander off the beaten path. Riders are likely to find something on the ground that will make dangerous contact with the underside of your CRF1100L. The Expedition Skid Plate which offers three levels of protection in one skid plate. The stainless-steel base plate distributes the load, while the heavy-duty 4mm aluminum shell provides robust protection. This is capped off by reinforced nylon sliders that absorb impact and provide a sliding surface to glide the Africa Twin over any obstacle in its path. Retail $359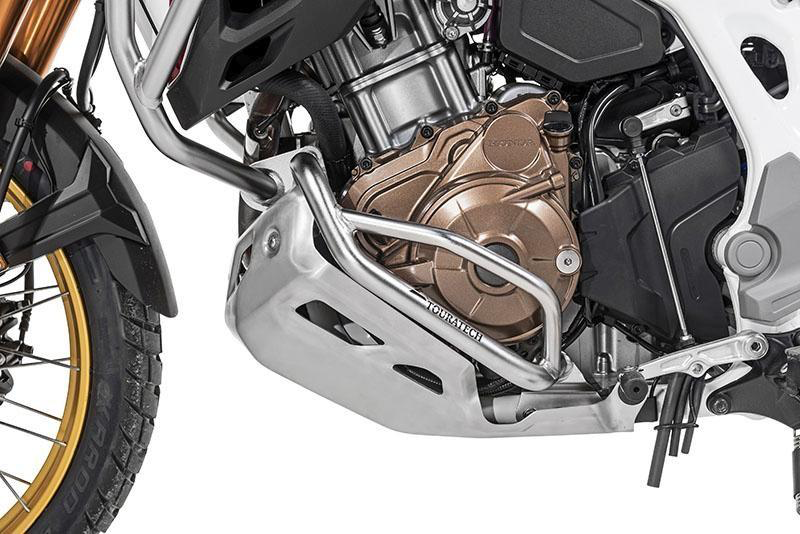 Engine repair is expensive, time-consuming, and can be frustrating in the middle of a trip. Made of heavy-duty 1-inch diameter stainless steel, and engineered for maximum protection, these bars will ensure the motorcycle stays on the road for years to come. Available in Standard and DCT. Retail $349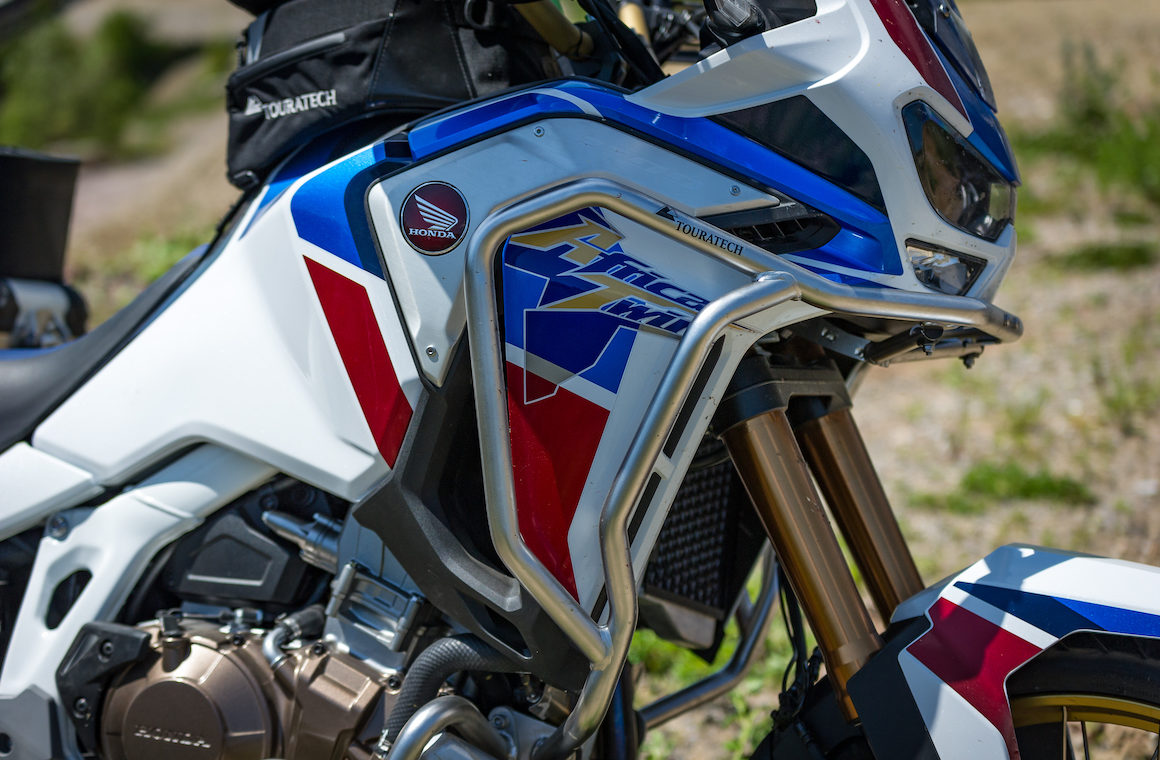 Touratech's Upper Crash Bars for the Honda Africa Twin CRF1100L provides the best fairing protection to keep the bike going in the harshest terrain. These robust upper crash bars will protect the fairings, fuel tank, radiator, and other critical parts from damage in even the hardest drops off-road. Available in electro-polished stainless steel these bars look great and can be mounted with without Touratech Engine Crash Bars. Retail $389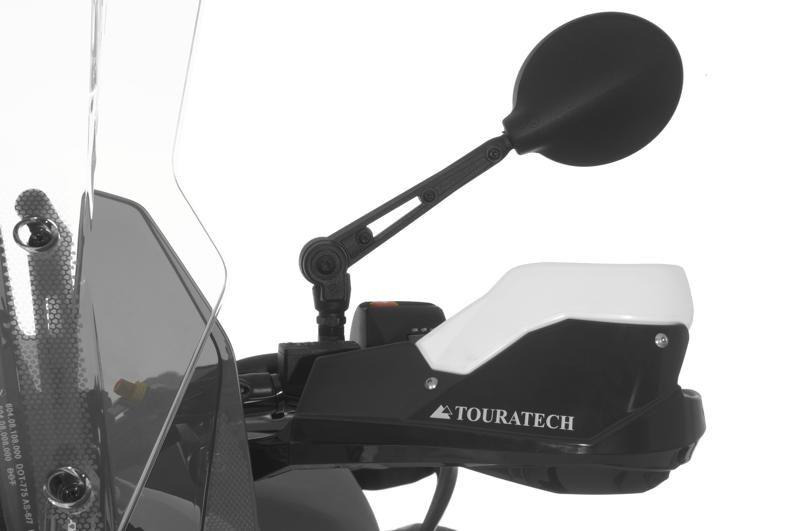 The CRF110L is at home wandering off pavement onto dirt roads and brushy trails. When the road gets fun, it often has branches or foliage that grab the OEM mirrors. Touratech mirrors can be folded in on the fly to eliminate the problem. Once on highway again, the rider can quickly fold them back out and they are still adjusted properly. The folding mirrors also hold position at highway speeds all day long. Retail $99 (set of 2)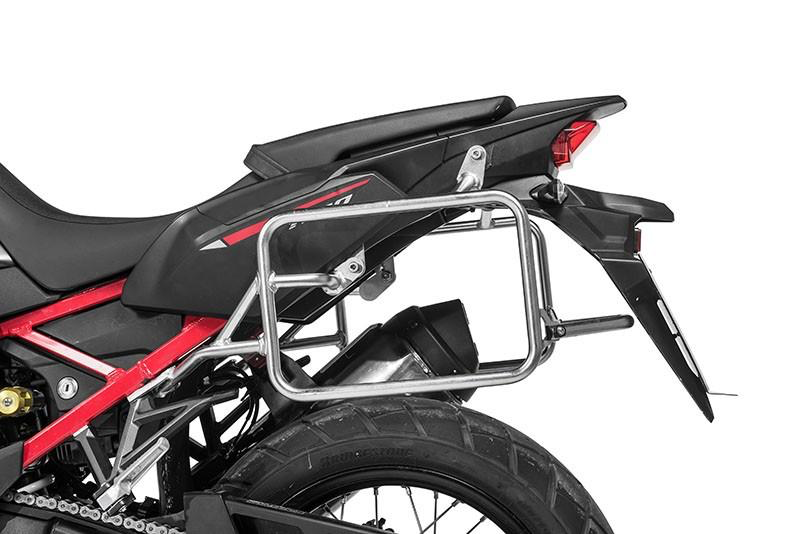 This pannier rack attaches at existing frame points on the bike and does not require any drilling or cutting to install. Touratech's tough, cross-braced rack system acts like an additional subframe, strengthening the rear of the bike, and in some cases acts like a rear crash bar. This heavy-duty rack is made of 18mm stainless steel tubing and makes a great support system for soft luggage. Retail $399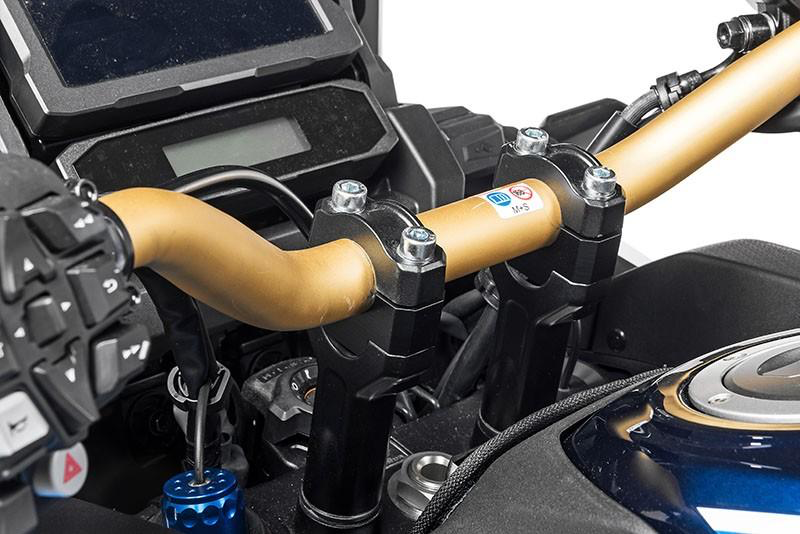 Most adventure motorcycle riders find that increasing bar height makes a noticeable improvement to their comfort. Raising the bar height results in a more upright position which can relieve neck and back strain. Touratech Bar Risers also enable a more comfortable and controlled standing position, which is ideal for off-road riding or just stretching the body on a long ride. Retail $89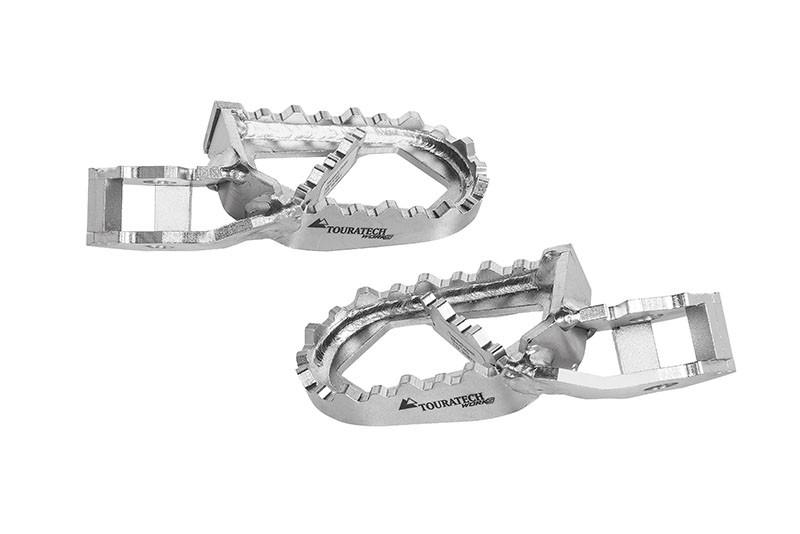 These "Works" footpegs were designed specifically for the needs of long-distance touring and off-road riding on the CRF1100L. The serrated claw design of the peg has plenty of grip for off-road riding, but the teeth are rounded on top so they won't tear up boots. The open design of the pegs allows clay, mud, and rocks to fall through, holding traction no matter what the weather or terrain. Retail $179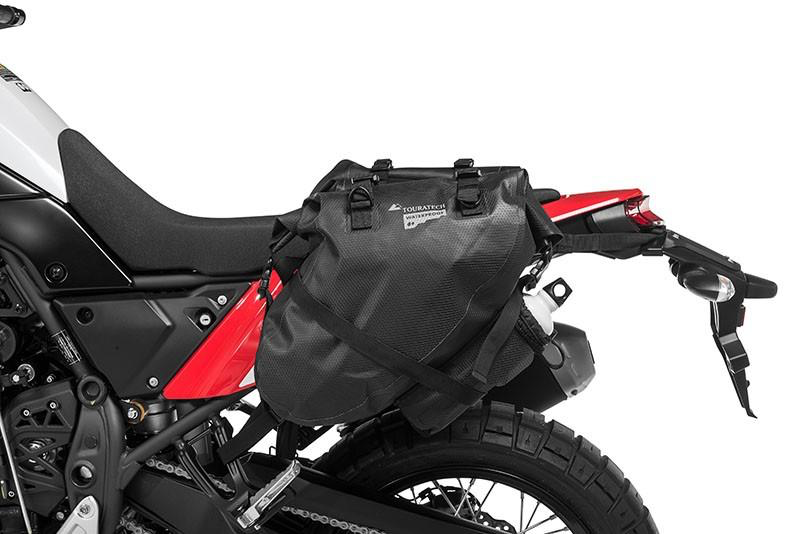 Extreme Waterproof Saddle Bags
Touratech Extreme Waterproof Saddle Bags are perfect for medium-sized adventure motorcycles like the CRF1100L. These bags are lightweight and optimized to have a low center of gravity. The versatile mounting straps let you put these on almost any adventure motorcycle. Packed with great features, and built from the best materials available. Retail $399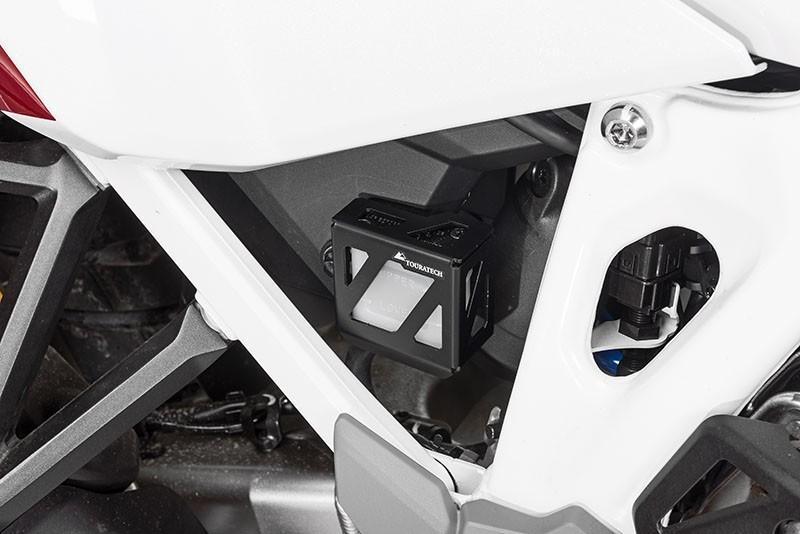 Rear Brake Fluid Reservoir Guard
The rear brake fluid reservoir is quite exposed on the Africa Twin, protect it with this guard. Brake fluid is the lifeblood of a motorcycle's braking system. Without it, nothing happens when the rider pushes on the brake lever coming into that hard, right-hand corner. Being so exposed on the CRF1100L, it is far too easy to tamper with or damage while riding. Retail $44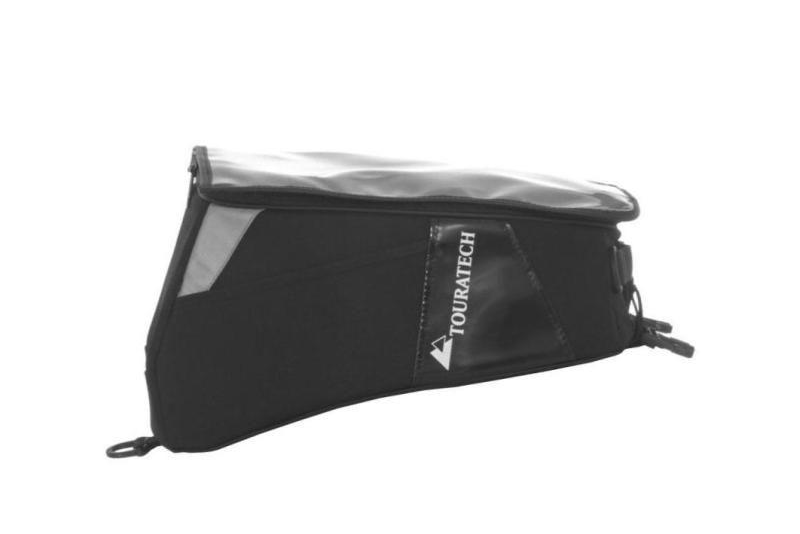 For those who don't like the bulk of a full-sized tank bag sitting on their CRF1100L's fuel tank, but still want to have the convenient storage for small items and a map holder, the Low Profile Tank Bag is the perfect piece of luggage for any kind of riding and is shaped specifically for the CRF1000L with a mounting kit designed specifically for the bike. Retail $159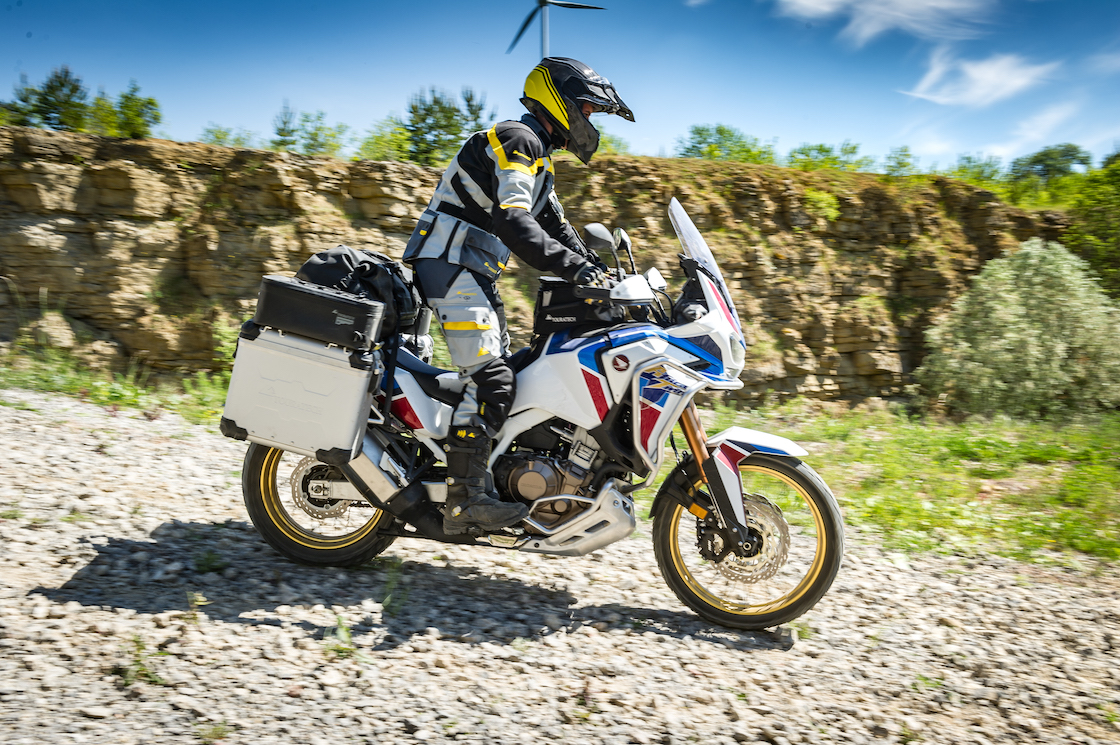 A night-and-day difference over stock Honda shocks and springs, Touratech Suspension takes a CRF1100L to a whole new level of off-road capability. By adding better damping along with PDS anti-bottoming technology for those harder hits on the trail. Touratech shocks come with a custom spring rate and are purpose-built for adventure touring motorcycles. From replacement shocks to fork cartridge systems and simple spring replacements Touratech Suspension is a major upgrade.