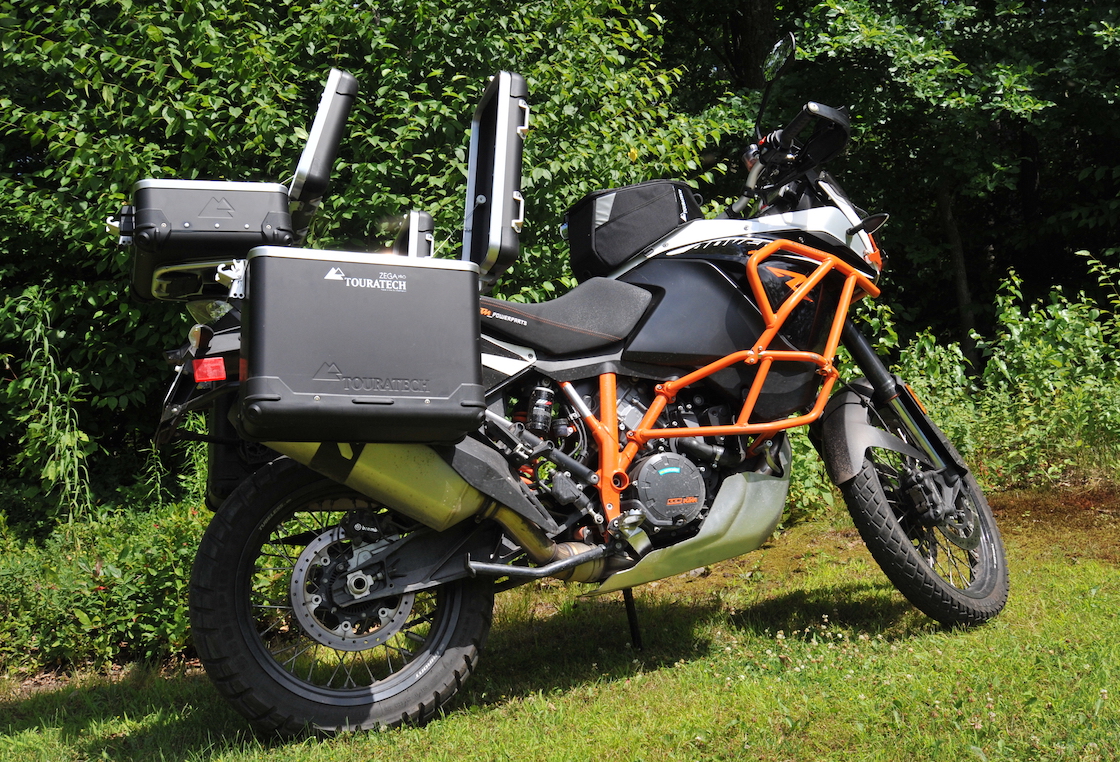 Story and Photos by Ron Lieback
Tired of beating on my boring – but stupidly dependable –  V-Strom that had nearly 80K on its clock, this past spring I bought a KTM 1190 Adventure R.
This is the ultimate adventure tourer for those who crave serious performance both on- and off-road. I fell for the Adventure R when it was first released in 2014, but put off the purchase for a year, which turned into another year, and another…you get it. But 2018 was finally the year. I initially set out to buy the 1090 Adventure R, but this came in at the same time, and I got the bike with less than 5K and a two-year, unlimited warranty. And except for a heated seat, the rest was completely stock. This prompted some immediate shopping for luggage – an absolute necessity for adventure touring. I didn't have to do a lick of research. I knew the Touratech Zega Pro panniers were trusted by thousands of riders across the globe, and I needed no further proof.
Plus I had used Touratech Zega Pro aluminum bags on my V-Strom for seven years, and never had one problem. I dented them a few times, but they always pounded out and kept that airtight seal that locked out water, moisture and dust.
 This time I was going for the Zega Pro triple setup, though: two panniers and the topcase. Unfortunately due to KTM's right-side exhaust, you have to use two different-sized panniers. For the 1190, you have two different options: 31/38 liters, or 38/45 liters; both bags are  17" long x 15.5" high (31 liter is 8" wide; 38 liter 9.75" wide).
 I like to travel light, so I went with the 31/38 setup. I also went with the smaller 25L touring top case, which I can say securely holds 12 bottles of wine with additional space for a hat.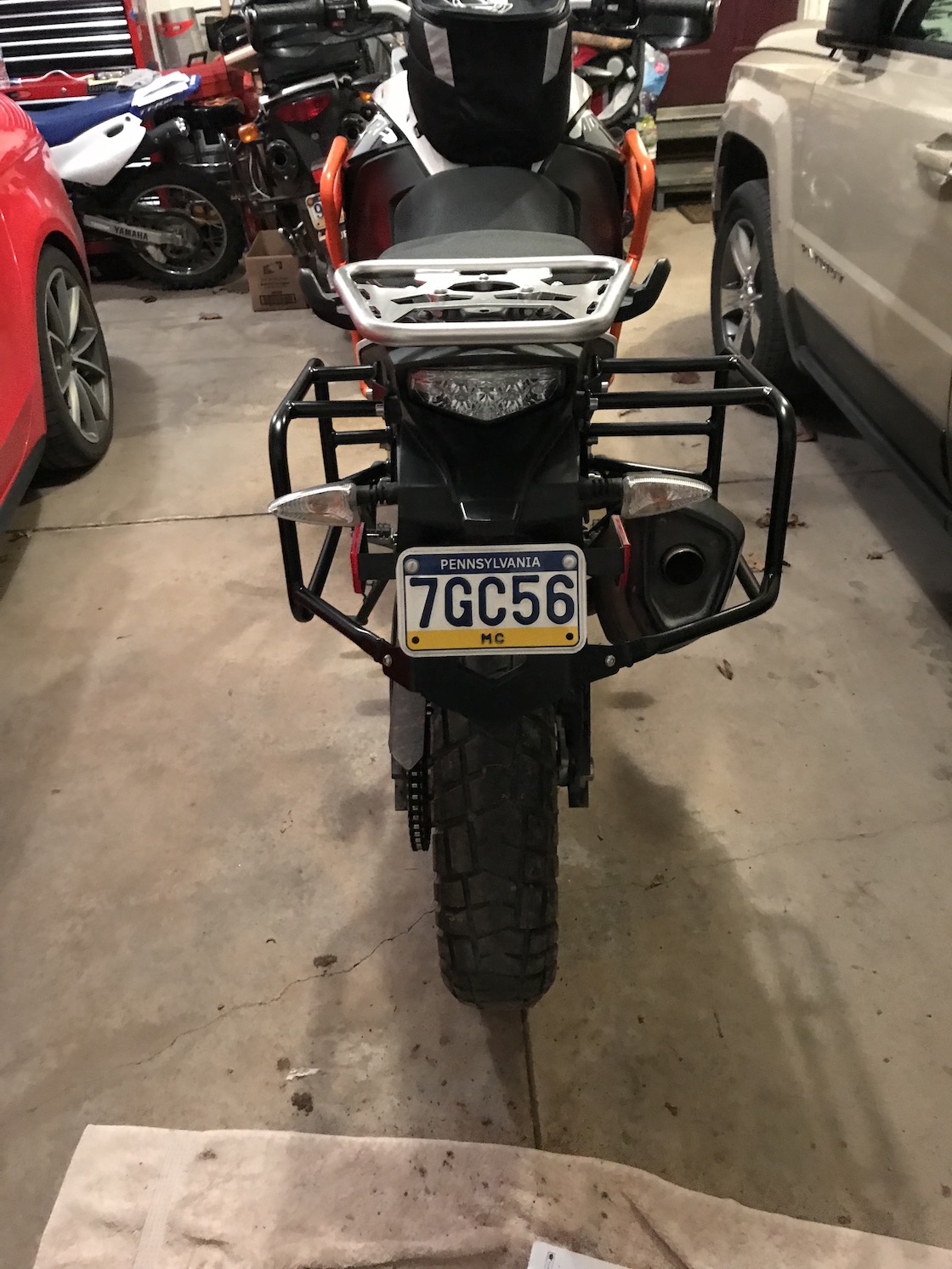 Before I discuss the bags themselves, let's talk about the the tubular stainless-steel pannier racks that mount to KTM's existing frame points. First, they require zero cutting or drilling, which makes installation simple. The job itself took three beers.
The right pannier rack holds the smaller bag, which does dual-duty of protecting the KTM's exhaust pipe. Both pannier racks connect to each other via a stainless-steel plate that attaches to a stock license-plate cover. This setup provides added chassis strength, and additional crash protection.
And the crash protection is as necessary as luggage space for the true adventure tourer. I dropped the 1190 R multiple times on each side, and never had an issue with breaking or bending anything. When bagless they also are great apparel hangers when you're at camp and need to dry some gear out.
As for the top case rack, it replaces the stock KTM piece, and is not much bigger.
Though all the racks are made of 2mm stainless steel, they don't add much weight – maybe two pounds at most. As for the bags, each side pannier weighs just over nine pounds, and the top case around seven.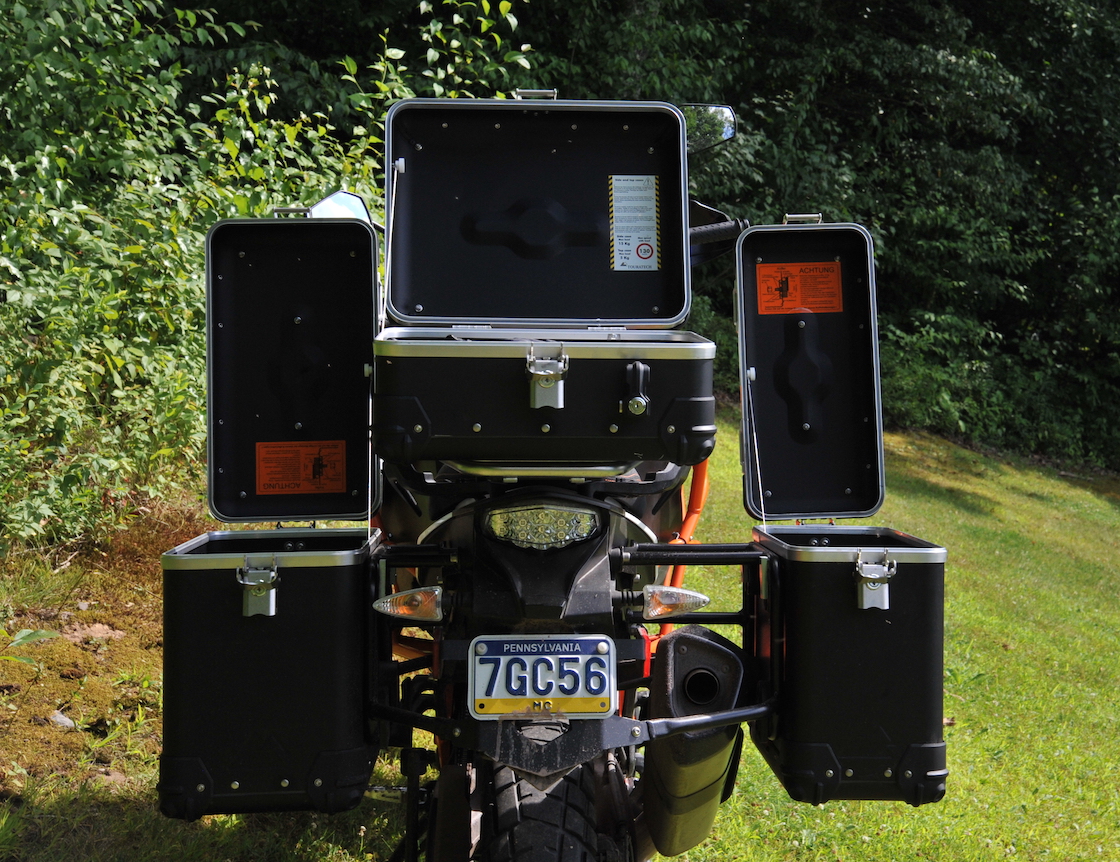 I can say there is a bit of awkwardness when you first ride the bike with empty panniers. The bike feels a bit off balanced due to the right side sticking out so much. The simple solution is to always make sure the left bag has a bit more weight in it; you can only balance it out by experimenting with what's on each side. The top case mounts in the optimal location, and doesn't affect handling.
Speaking of awkwardness, the bike looks extremely weird from behind. I've ridden with a few KTM 1190 and 1090s set up with unique two-sized bags, and it takes some time to get used to.
But these are about function over form. Nowadays it's impossible to say "adventure bike" without envisioning two metal panniers – or as I heard many people call them "ammo" cases.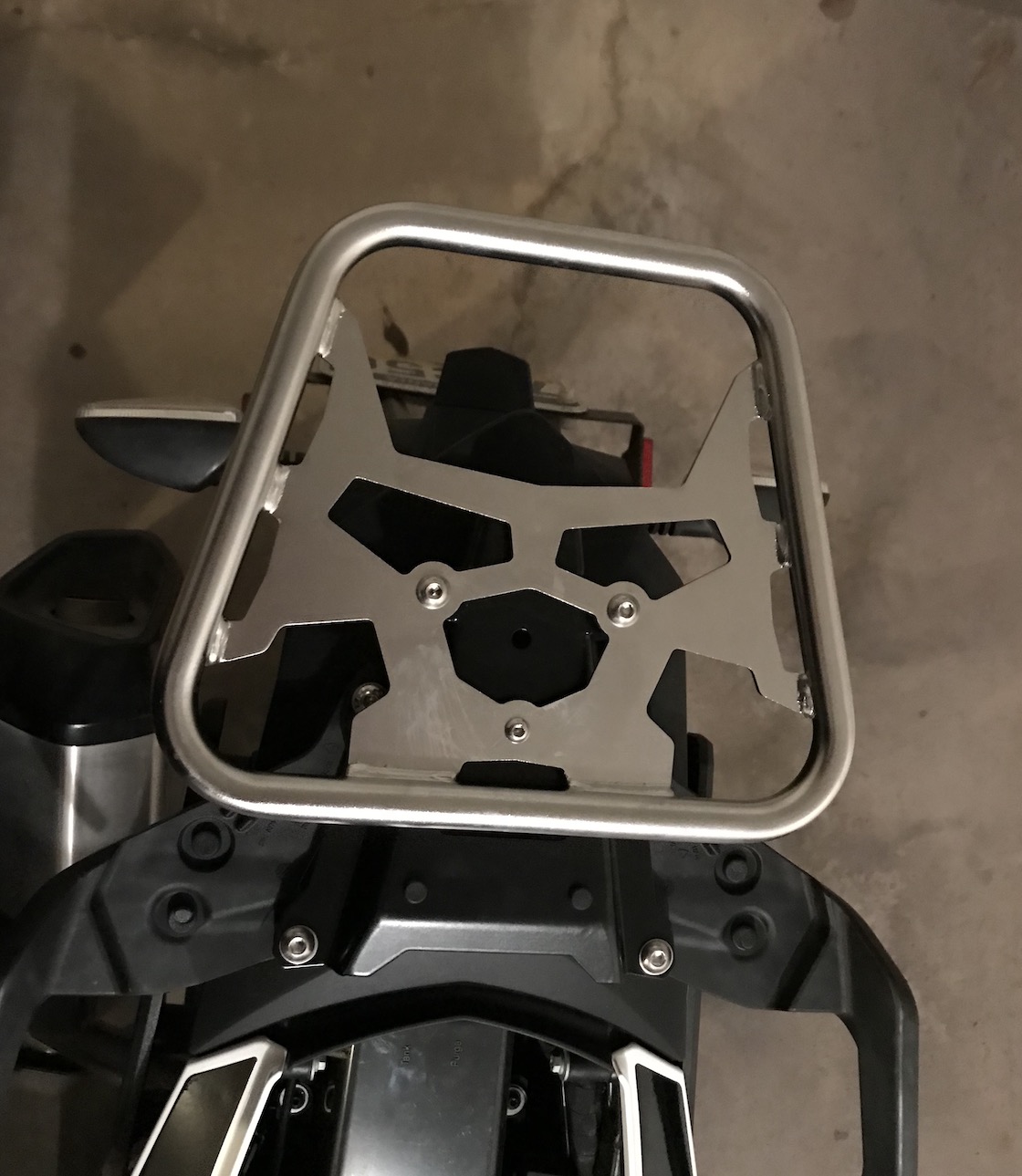 The true functionality begins with the Zega Pros being 100-percent waterproof and dustproof – a quality that derives from a deep groove lined with a silicone seal around the perimeter of each lid.  We had an extremely wet summer and fall here in the Northeast, and half of my riding time aboard the 1190 was in the wet stuff. I traveled with expensive laptops and camera equipment in the bags through hours of downpours, and never had one issue with the bags leaking.
Be warned, though; because the lids are on top and must be opened for removal, it's a good idea to grab some Touratech waterproof inserts or keep your expensive electronics or clothes in an internal waterproof bag. The process of removal only takes a few turns of the two aluminum dials that attach the bags to the pannier frame via a latch, but when it's pouring the bags can quickly take in some water. It's better to safeguard your electronics, clothes or whatever must stay dry by placing them into an inner waterproof bag.
Also, if you get much moisture in them and latch them shut, the airtight seal will keep all that moisture inside – something you definitely don't want around your electronics. In regards to the latches, they are spring loaded and simple to use. You can open one side at a time, or both sides to take the lid completely off. Just don't forget to unscrew the tiny cable that safeguards the lid from being lost.  Touratech also offers inexpensive locks for each latch – something I need for a simple piece of mind when traveling.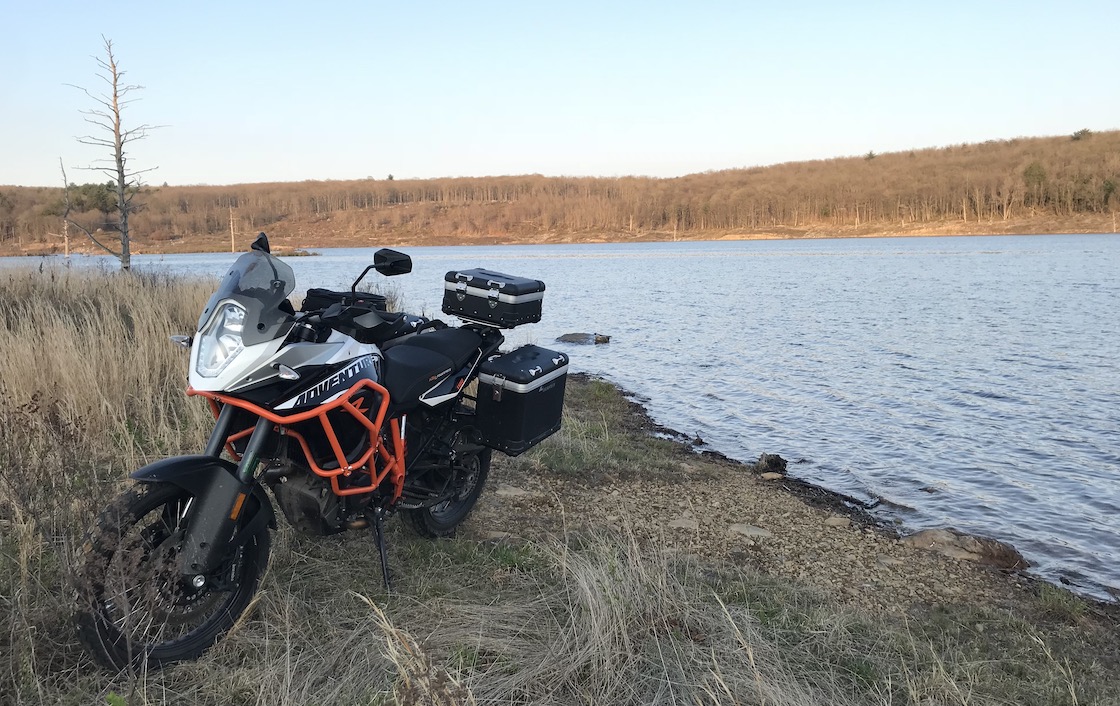 When detached the lid has multiple uses; I've used it to hold tools while fixing a flat, un-wedging my front wheel from a cluster of trees, and even as a traction device when my KTM got stuck in some sandy mud. There is also an indentation in the lid that is perfect for holding a 12-ounce beverage.
 The panniers themselves are also very useful outside their intended purpose, and quickly become seats and tables when camping. I've filled a bag with ice and used it as a cooler (the 38 liter one, of course); used both to ease firewood collection; and used one for keeping smelly food scraps hidden from the wildlife while sleeping. The top case can be used for similar purposes, but I reserve that one for safeguarding my electronics and wines when traveling (yes – never camp without vino!).
Don't worry about harming them – I've whacked multiple trees and dropped the bike on them a few times. The Touratech Zega Pro panniers are built from one giant piece of 1.5mm aluminum that is welded together and reinforced with stainless-steel rivets. The lids and side bags are durable, as is the top case, but flexible enough that when you do dent them, you can easily pound them out to the original shape. After a year or so you will become the master of this process, using the nearest rock to pound them back into form.
To further provide protection, the Zega Pro cases arrive with replaceable plastic protection on all corners, which are the most vulnerable portions. Also, you can custom order colors to match your bike.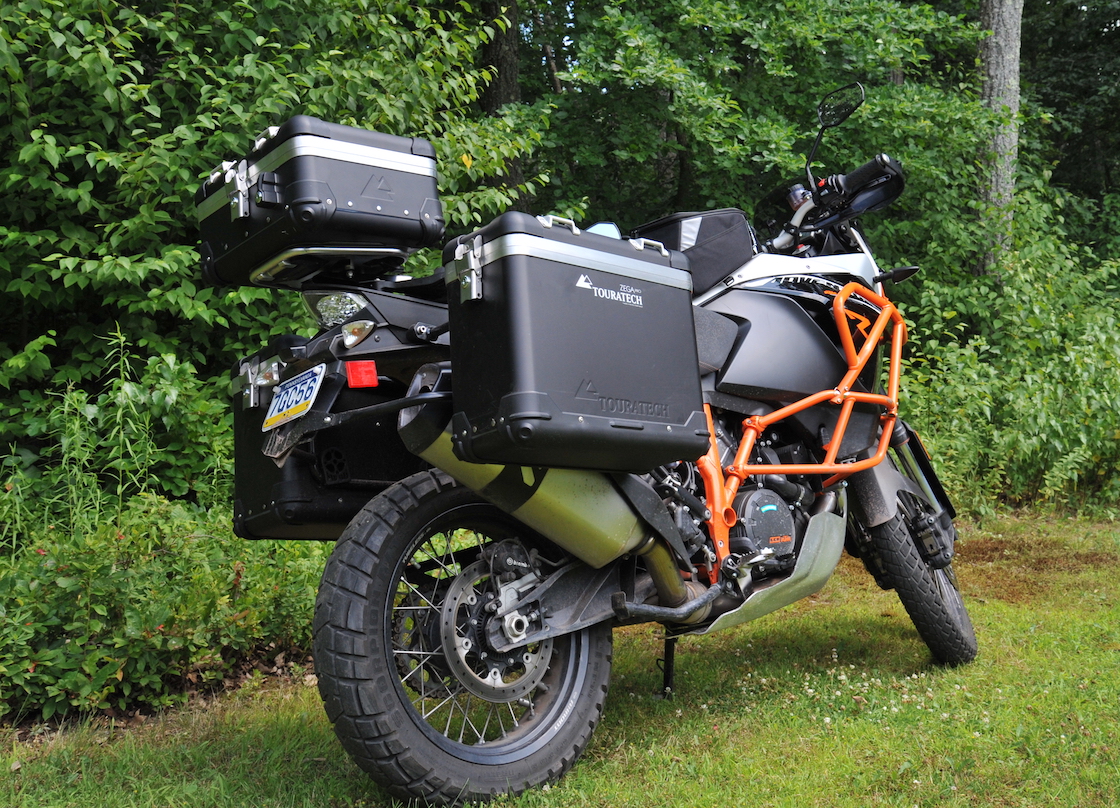 The first Zega panniers that arrived on the market in 1992, and thousands of adventure tourers since have used them to ride every corner of the globe. I'm one of those riders, and my Zega Pros have already taken more abuse in a few months than most do in a decade. I plan to continue this abuse for a lifetime, which I know the bags can handle.