By Paul Guillien       Photos by Bill Wiegand
Since becoming motorcyclist, I have dreamed of riding the legendary mountains of Europe. The dream became a reality for me and BMW Owners News Editor, Bill Wiegand, as we rode from Alicanté, Spain to the Touratech Travel Event in the Black Forest region of Germany.
We enjoy a cappuccino and a tour of Touratech Spain with Alessandra Brita then find ourselves on high-speed curves winding through steep, terraced hills as a warm sea breeze reminds us to look up and enjoy the turquoise Mediterranean glimmering in the distance. Eventually, hunger pains distract us from the meandering curves on the coast and we find ourselves dining outside at a seaside restaurant where I am unable to convince Bill to sample the local squid.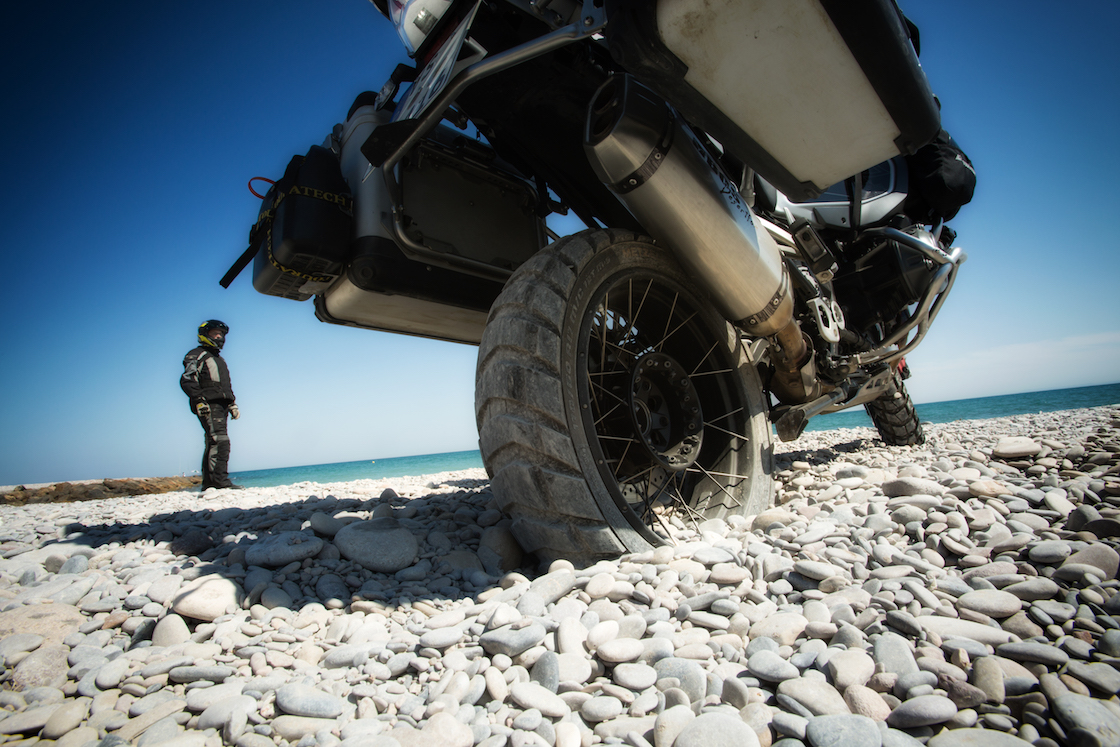 Buzzed in Barcelona
As we descend into the center of Barcelona, the sight of scooters becomes overwhelming. With every green light, the buzz of small displacement engines at full throttle fills our helmets. Like the starting grid at a Moto GP race, everyone is on-the-gas, weaving in and out, fighting to get ahead of the next bike.
Local ADV guru, Vicenté Jiminez, joins us for dinner and we thank him for helping to prepare the GPS tracks that are leading us on his favorite roads from Spain to Germany. Vicenté also happens to manage the Touratech Bercelona store which we visit before heading off to bed in a local hotel.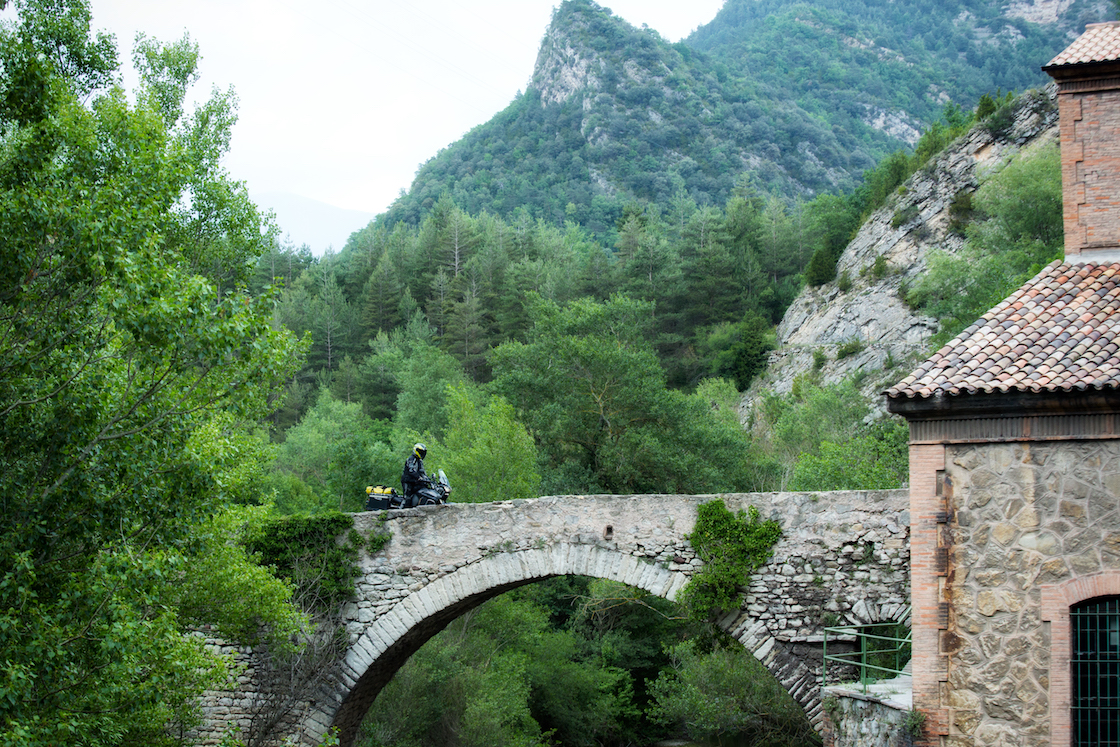 Lost in the Pyrenees
We wander around old stone buildings in tiny mountain towns, ride stone archway bridges and enjoy narrow mountain roads. On the GPS, I see a dead-end road that goes 6km up the side of a mountain and we take it. High atop a mountain, we find an old town that appears to be clinging to the side of a steep hill.
After a quick snack, we give in to our desire to see where a certain high-mountain dirt road leads. We are soon off the GPS maps and unsure if we're headed in the right direction. The dirt road is rugged, very fun and gives us a great chance to test the Touratech Suspension. A thunderstorm rolls in and we descend the mountain in a downpour with standing water 1" deep on the road and sheer cliffs at every corner. A hotel in Andorra provides shelter and we call it a day.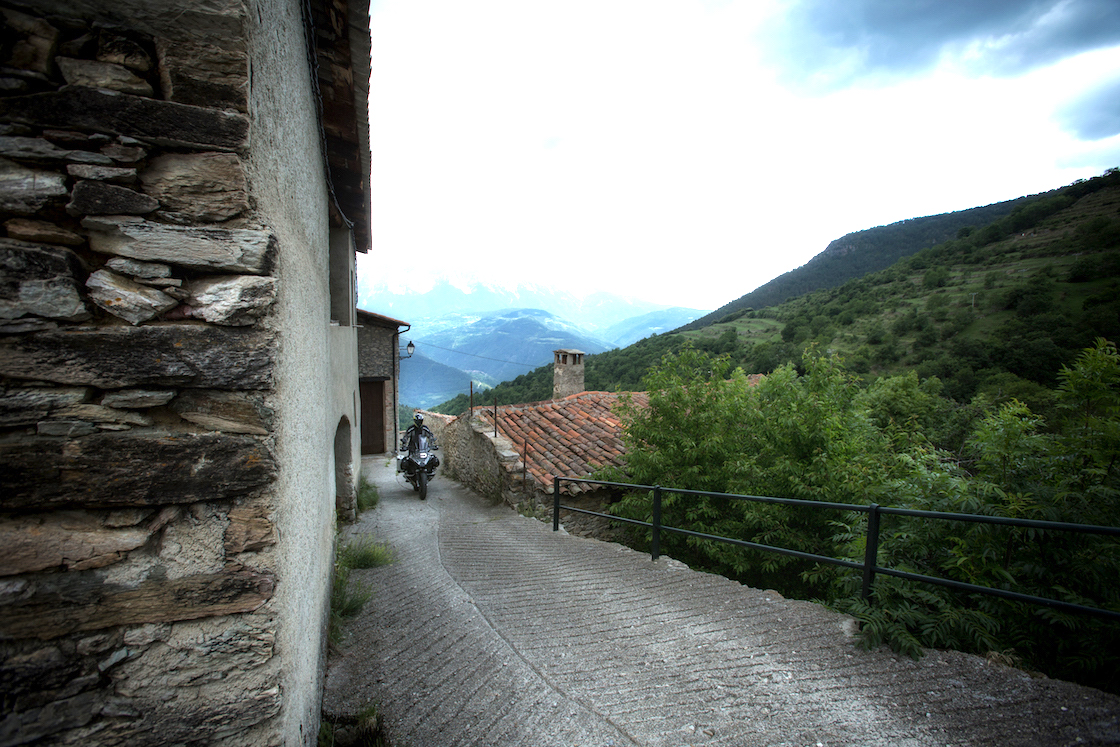 French Connection
Twisting mountain roads lead us out of the Pyrenees and we stop a to explore a walled city. Reaching the ancient city of Orange, we stop to visit my good friend Yvon Bodelet of Touratech France. We are enamored with the Roman ruins, town square and farmers market. We sample the French lifestyle with Yvon and his family who treat us to a gourmet dinner on the patio.
Yvon gives us a map of the French Alps and highlights some of his favorite roads. We head out on the bikes and discover these roads are as twisty and majestic as anything one could imagine. As we head deeper into the Alps, the roads gain elevation and alpine vistas become more amazing. We pass though Gap, Albertville and finally ascend Col du Petite Saint Bernard.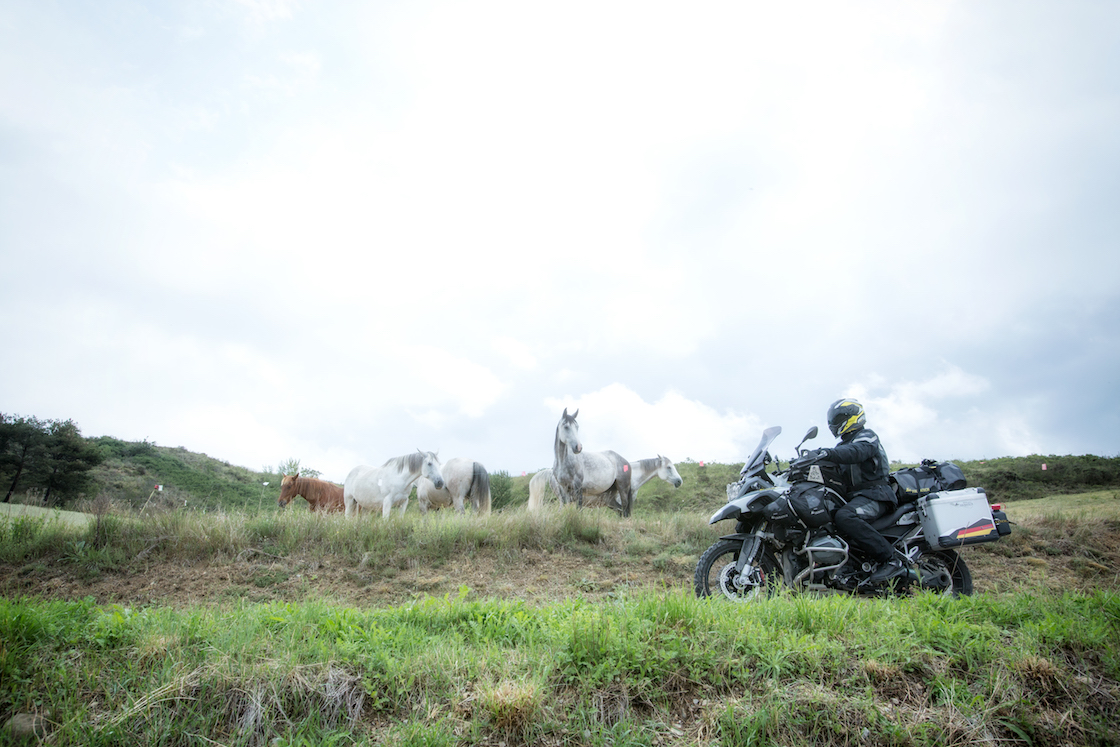 Accidentally in Italy
The road becomes steep, narrow and the height and exposure starts to make Bill feel uneasy. We're both exhausted and decide to stop at a lookout to take in the views. We park the bikes, layback in chairs and are both snoring in our helmets within minutes. I wake up first and study the map. When Bill awakens, I say "Guess what Bill? We're in Italy." We find an 11km tunnel which transports us back to France and we emerge beneath Bossons Glacier in Chaminoix / Mt. Blanc.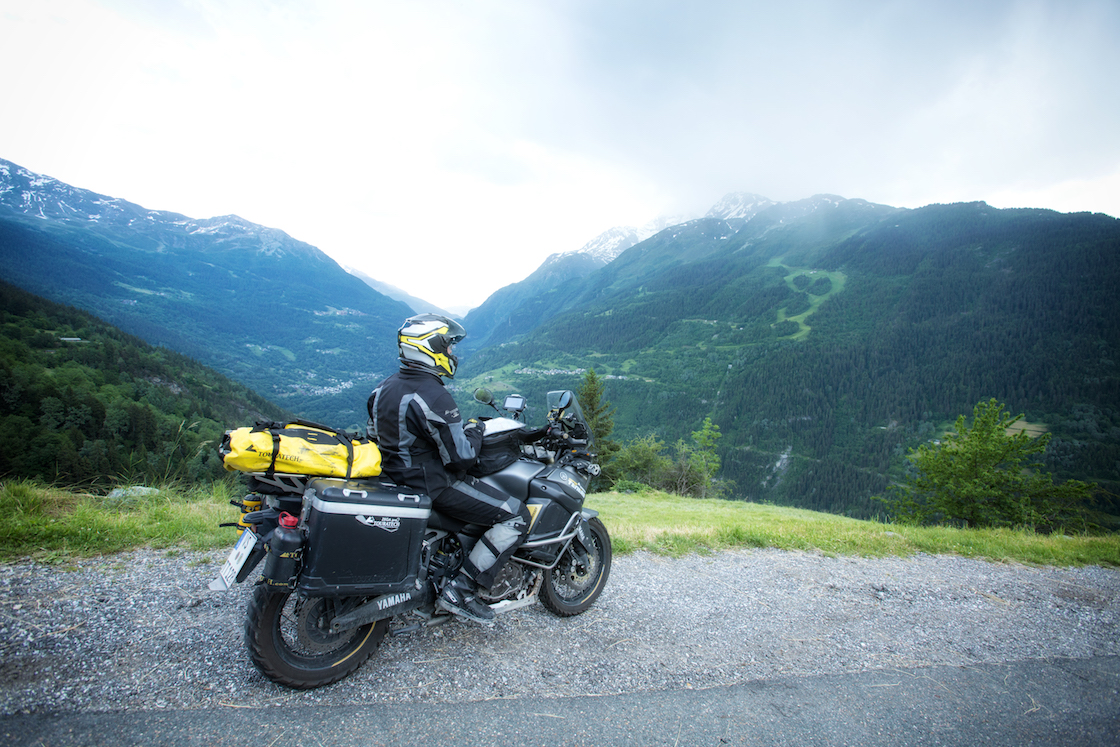 Storybook Switzerland
Impossibly, Switzerland seems even more perfect than the French Alps. It's so iconic and gorgeous that you wonder how it can be real. The magic of Switzerland is tempered only by the excessive government regulation. A 40 Euro motorcycle pass is required, the speed limits are low and the penalties for small infractions are outrageously expensive. Also worth noting-they use Swiss Francs and won't take those two-Euro coins in your pocket. Despite the challenges, it's worth it to ride Switzerland.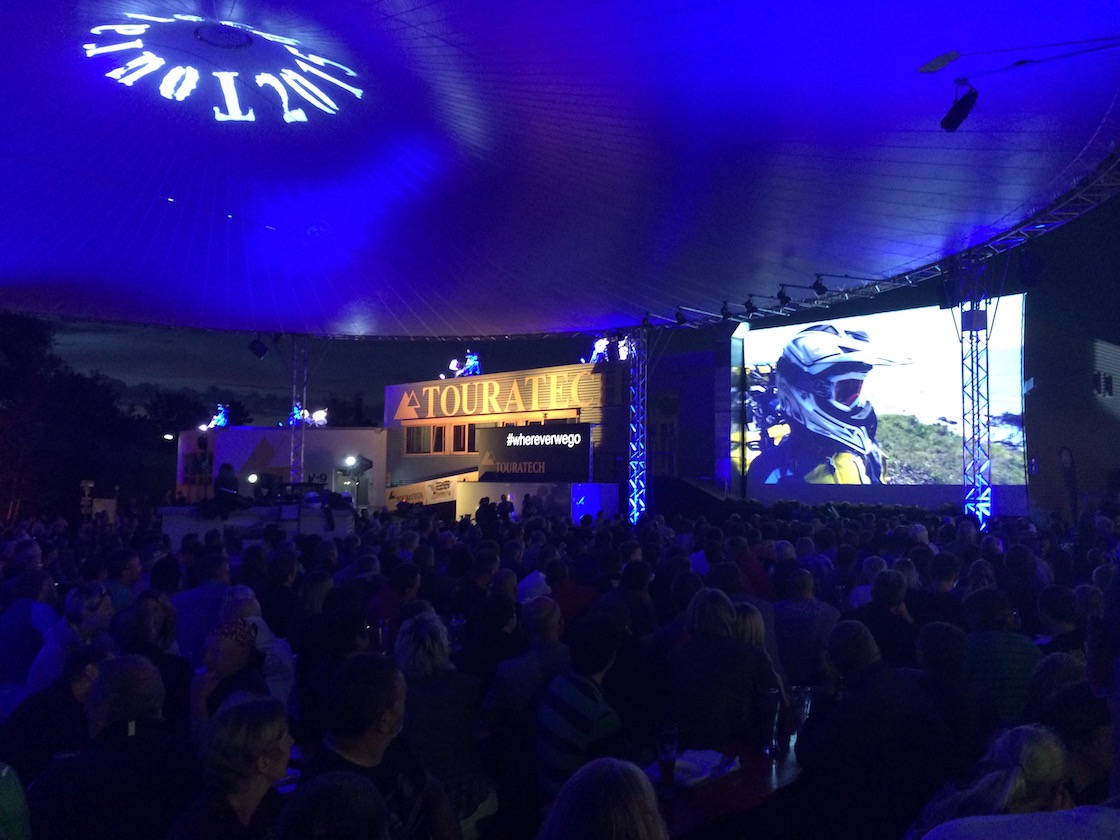 Black Forest Bash
You notice a difference when you cross into Germany because the cars and motorcycles are going twice as fast as in Switzerland. After a high-speed entrance to the Black Forest we roll into the Travel Event at 6pm on Friday.
Festivities at the largest gathering of adventure motorcycles on the planet are in full swing as we savor the feast of steak, potatoes, and beer while enjoying the scene of 5,000 travelers who have made the trek to Touratech headquarters by motorcycle.
Details:
Fly into Alicanté
Rented bikes at Moto Levente (Touratech Spain)
Countries: Spain, Andorra, France, Italy, Switzerland, Germany.
Distance: 1300 miles (2100km)