Morgan Goldbloom is a Touratech Customer Service Representative and motorcycle enthusiast. In September he represented Touratech at the KTM Adventure Rally and put some miles on the new Extreme Rear Shock for the KTM 1190 Adventure. Here is his report.

Occasionally fate smiles upon you and presents an opportunity that you simply cannot pass up. For me, that opportunity came when I was invited to evaluate the new Touratech Extreme Rear Shock on our resident KTM 1190 Adventure R. Not only that, but the testing grounds were none other than the 2015 KTM Adventure Rally in Crested Butte, Colorado. Yeah go ahead, twist my arm.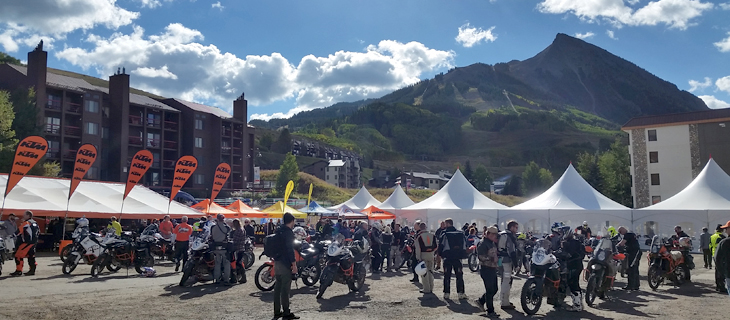 After touching down in Denver, it hit me. I had only spent about 30 minutes on the 1190 prior to this trip, all of which was on pavement. That initial, lunch-break impression consisted of an ear-to-ear grin, incomprehensible grunts, and a healthy dollop of fear… Let's just say that grabbing a handful of 148 horsepower, with the wussy traction control and ABS turned off, is eye opening! The drive to Crested Butte gave me plenty of time to envision chucking that shiny orange rocket ship off a beautiful, high alpine cliff. What did I just get myself into?
"I almost felt sorry for that poor KTM, as I intentionally steered it into every big rock and rut I was brave enough to hit."
It turns out that my fears were completely unfounded. Riding the 1190 on the street is good, it's really good. But when the going gets dirty, the KTM 1190 Adventure R gets downright incredible. Frankly, I'm shocked by how well it handles off-road. I believe the reason for this is twofold: KTM's genius electronics package and Touratech's Extreme Rear Shock.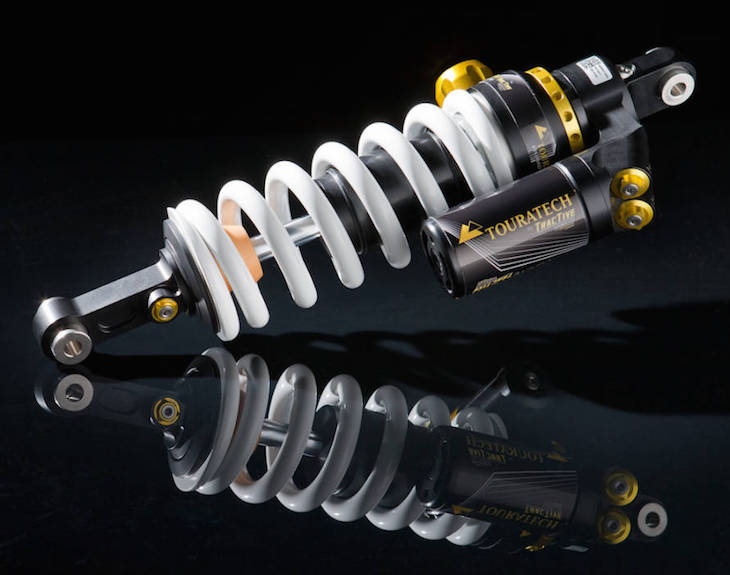 Try as I may, I'm the first to admit that my off-road riding skills are a bit amateur. The term "ham-fisted" comes to mind. Regardless of that, there's a big, stupid, hairy-chested, cave man in me that insists on turning off traction control, ABS, or any other "rider aids" I can get my paws on. I can't let the machines win, can I? I couldn't have been more wrong. The electronics on the 1190 will flat out fool you into believing that you're a better rider than you actually are. Just toss the bike into a corner on a gravel road, twist the throttle as far as you dare, and watch the magic unfold. No worries – your big orange unicorn will sort it all out for you. Perfectly executed wheelies and power slides will become your new norm. Don't let your ego swell too much though. The blinking light on the dash means you're doing it wrong, no matter how right it feels.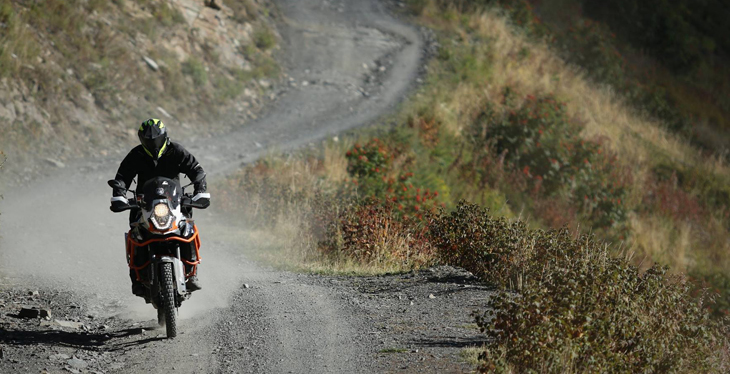 Speaking of feeling, the big bore Austrian floats over rough and rocky terrain, all the while providing great feedback, without being harsh. The KTM 1190 Adventure R is a bike that I could comfortably ride all day long, on or off road. I found it surprisingly confidence inspiring, even if I couldn't really reach the ground. I almost felt sorry for that poor KTM, as I intentionally steered it into every big rock and rut I was brave enough to hit. The Touratech Extreme Rear Shock is truly second to none. The shock soaked up those big bumps without even blinking an eye. Sure, it tells you that you just did something stupid and dangerous, but in a calm, nonchalant manner.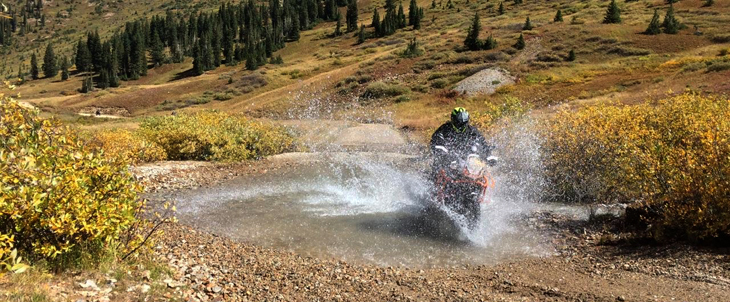 The suspension wasn't all roses though. I felt that the front forks were a bit too soft and spongy. They weren't bad necessarily; it was just all too easy to blow through the fork travel on the bigger hits. On the other hand, with the rear shock so well sorted, the minor faults of the OEM front end became much more apparent. Still, you can't help but ooze confidence while riding this machine.
In the end, I had a blast at the 2015 KTM Adventure Rally. Riding in Colorado is absolutely breathtaking. Blasting through tunnels of turning aspens on a high mountain pass, aboard one of the best adventure bikes available, is not a bad way to spend a weekend. And while it's not cheap, a well equipped KTM 1190 Adventure R is definitely worth the money. I know I'm saving up for mine.