Sunday is race day. For me racing that means Saturday night is mellow, a beer, then lots of water and an early bedtime. I was up early with the sun illuminating the Hilleberg Staika tent I was sleeping in, and to the call over the PA of "Wakey wakey, hands off snakey!" while enjoying my typical, healthy, pre-race breakfast of a Redbull and a Cliffbar in the early morning chill I saw how the day would be, perfect temperature, sunny, and very dry.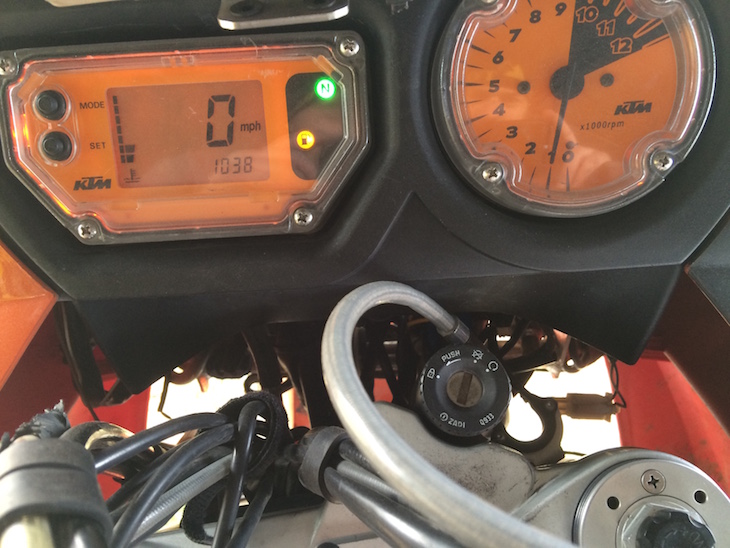 Even before the mass of bikes disturbed the earth there was wind driven dust. After a few years of racing what is the largest mass start race in America, the starting line still holds a tension, though it seemed slightly less intimidating this year. The excitement was overpowering the nervousness.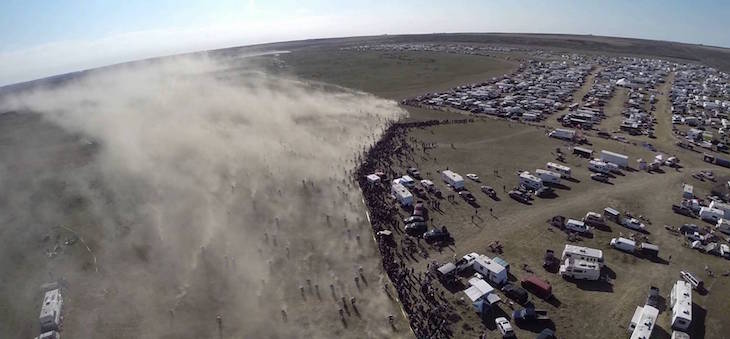 I was looking the right way when the cannon boomed and made my awkward run in Sidi Crossfire boots and full race gear to my waiting KTM. The hot-wiring I had done saved me seconds off of a key turn so I had an amazing start, and soon I was tucked in behind a 450cc that got an even better start. There was a moment that I remember looking left and right and not seeing anyone else, it really was a good start. At the bottleneck of the first turn the dust killed the visibility to a matter of feet, it was intense. I will always consider myself a New Hampshire boy at heart, growing up, I drove in white out conditions and snowboarded in them as well. The desert is terrain that you can't quite make out: the deafening noise of hundreds of motorcycles filling ears, and a mouth filled with chalky dust. This was something else, something unexplainable to the uninitiated.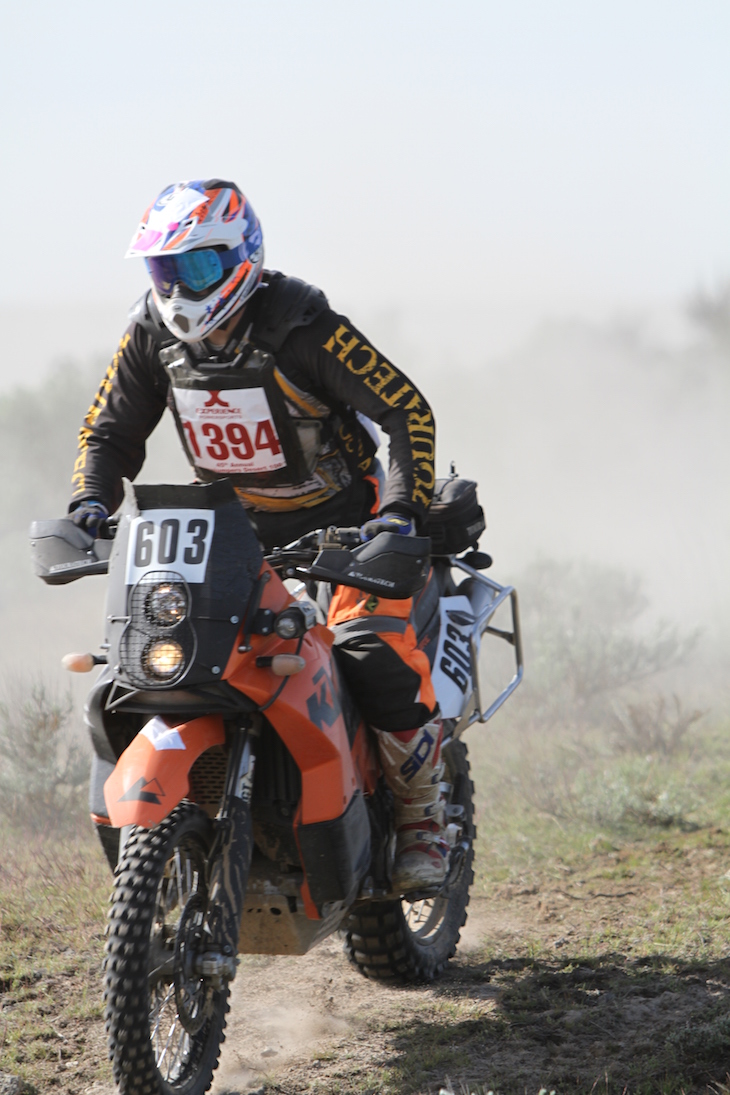 My good start was soon lost after the first turn, I saw a few guys in my class passed me, and I was not able to grab on to their tails. I was not ready to commit so few miles into the race, I probably had some residual fear sneak in after my crash at the Touratech Rally last year as well. After a few miles the dust died down, as the pack was spreading out, the wind was in my favor, and I found my rhythm. The miles seemed easier this year, the course didn't feel as tough. I can guarantee it was not easy, but last year seemed tougher in my memory.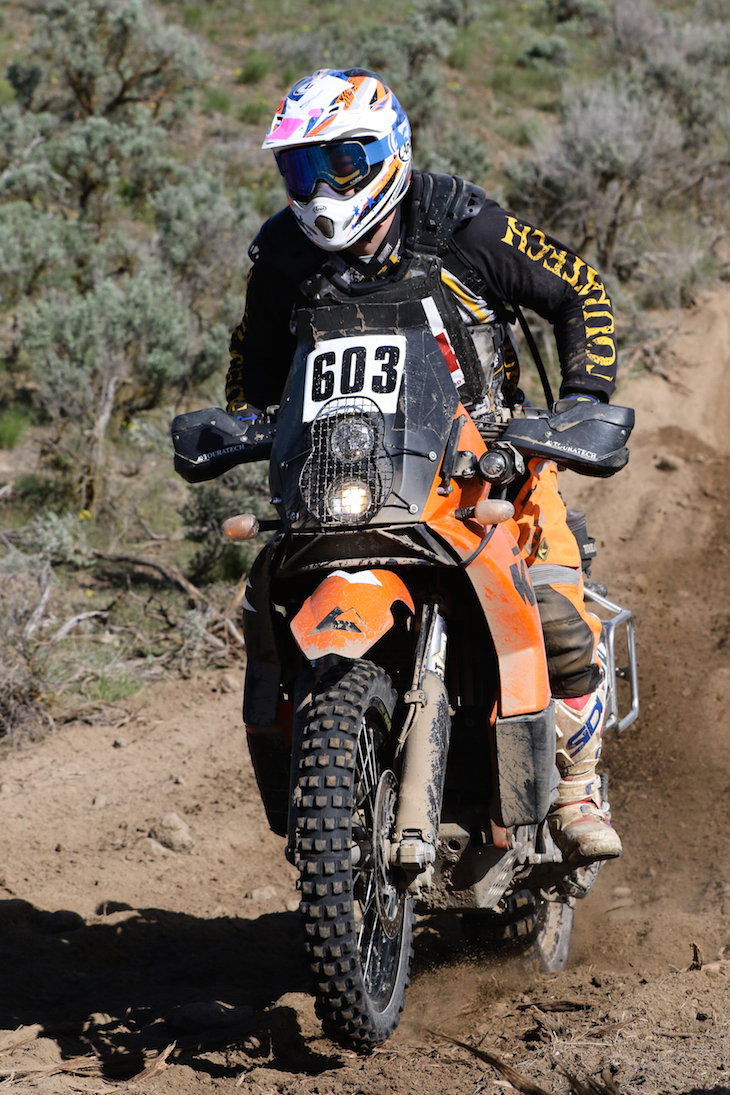 My hands were a problem this year. Racing a motorcycle through the seat of your pants because your hands are cold and numb is never fun, I have already ordered a new handle bar to replace my bent one to try to fix this. During the race it also meant I would stop occasionally to try to get some feeling back into my hands without losing too much time. Once again the brute power of the 950cc v-twin KTM LC8 engine tucked into my Adventure was incredible, knowing it is rated at 100bhp is one thing, but chugging past stuck or crashed proper dirt bikes on hills has not stopped being weird. The weight should counteract the power, but in practice that is not the case.
There was a moment when I almost ran over a kid, that was a touch scary. I was moving pretty good through some whoops, and heard a 85cc two-stroke closing fast, then saw him on the line next to mine, then he swapped out and crashed onto my line. Somehow I stopped in time, jumped off my bike to make sure he was ok. His bell was wrung and he said he was not ok. Luckily a few seconds later he picked up his bike and his dad stopped behind me. I left the young lad, got back on the big KTM and tore back off into the desert.
The second checkpoint was on an old abandoned road. Being on a big adventure bike, there is always a little fanfare when you hit a checkpoint. I pulled a big, sloppy wheelie leaving. The noise and action felt good, but it was also a personal reminder that I was not pushing hard enough. There was many more miles of desert, hills, whoops, a water crossing, and periodic pausing to get feeling back in the hands. Maybe it was my better start, or not messing up a few miles in, like last year, or just the course and my pace but it felt less like racing, less people getting run down, easier to slip onto trail riding.
Throughout the race, I was waiting for the bottleneck, the crazy-tough section. I kept telling myself not to think this year was easy, there was
going to be something nasty, and I found it. Late in the lap there was a sick hill, covered in wet silt. Many of you have watched 'Dust to Glory' and have heard about silt. If you have not run into it, wet silt is worse. I made my run and got stuck in a deep rut part of the way up. I had to use my hands to dig my KTM out. I was sunk to the skid plate. After freeing the beast from the mire, just short of the top of the hill I threw the chain.
My first thought was "I killed another clutch" then looked down and saw the chain spinning, just not the wheel. I started the chain on the low side of the rear sprocket and blipped the gas to seat it. I soon found myself on the top of the hill. Not that many miles later I was passing the pits, trying to go as fast as I can past the spectators into the finisher shoot, letting the LC8 howl it's siren song. I was stoked to finish before the three hour limit when the course closes, this was my fastest lap of a Desert 100 race course to date.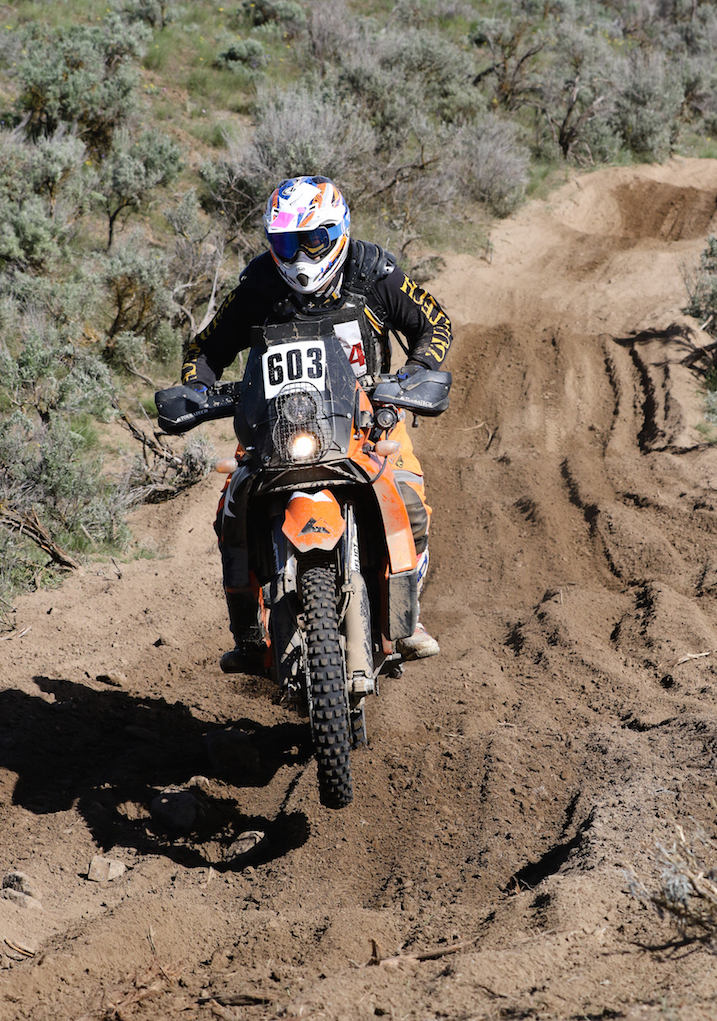 At the end of the day I was eighth of 11 finishers in the Adventure class. Over 20 riders started in the class I have been told. Not quite the second place I got last year, but the fast guys showed up this year and didn't break their bikes. I am honestly not in the same league as the top four guys. They were over half an hour faster over the 44 miles the course ended up being (there was a marking error leading all but 8 riders the wrong way). Personally I was happy I closed the gap from last year to Cory Hanson (owner of Camel Tanks) who beat me last year by 20 minutes, to 10 minutes this year. I should have pushed harder, I am sure I could have run with both him and Casey Hilliard (the first guy to finish on a 1200cc motorcycle), who were seconds apart.
That is racing, I didn't show up ready to push and ended up where I deserved. No racer excuses, I will carry the fruit of my lack of aggression until next year, then the game will start fresh again. As always it was an awesome weekend that I will look forward to next year. The riding season is now properly started, get out there and have fun, godspeed, good luck, and have fun.
To read more of Archambault's Angle CLICK HERE.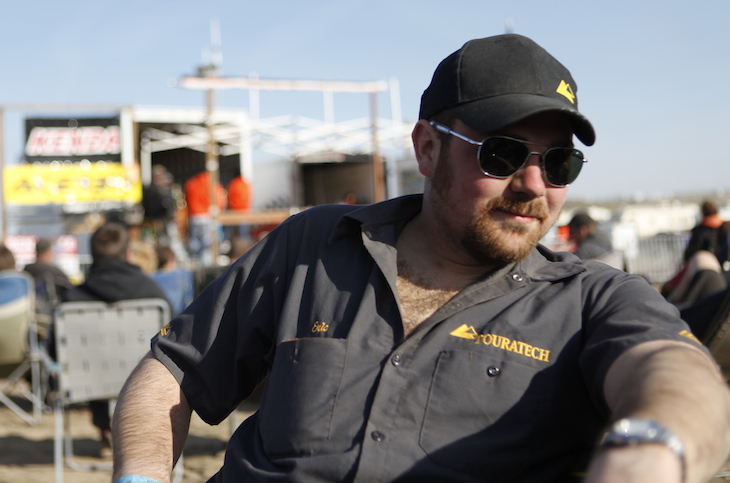 About the author: Eric is an incurable motorcycle nut. He's owned and wrenched on everything from vintage scooters and vintage motocross bikes to modern machines, and now spends much of his time riding and talking about adventure motorcycles. If you have called the Touratech store in Seattle or called the offices, chances are you've talked to Eric. Eric came in second place in the adventure class at the Stumpjumper Desert 100 Race in 2014, and recently finished the 2015 race in eighth place in the same class. He is a key part of the Touratech race team, and when he's not racing a local hare-scramble or vintage motocross race, or working on motorcycles in his garage, he can be found roaming the Cascade mountains on his KTM 950 Adventure looking for new routes for the annual Touratech Rally.