So, this is your first adventure rally?
Maybe you just purchased your first adventure bike last summer and after dipping your toe into the adventure touring pool your're ready to go for a real swim. Maybe you've been riding an R1200GS for years but have never ridden with a group larger then you and a couple of buddies or maybe you've just never done any moto camping before and you want to see what it's like.
Whatever your reasons are, this summer you are going to be hitting one or more ADV rallies around the USA (hopefully the Touratech Rally or Touratech Rally East) and since it's your first time you'd like to know what to expect and how to prepare yourself and your bike.
• Are you moto-camping or staying in a hotel near the rally?
If you're camping, make sure you have a really good tent. Weather changes fast and nothing can spoil a trip more then being wet and having no escape from it. Waterproof tents cost a little more, but they're worth it. It's also important that your tent doesn't take up much space when you're packing your gear. There are a lot of great options available to adventure motorcycle travellers.
• Bring lots of socks.
There are some great brands of riding socks out there. Bring them. They're padded in the right places to help you maintain comfort on those long and challenging rides. They also wick away moisture from your feet and help prevent blistering and other discomforts. Klim has some terrific footwear for riders!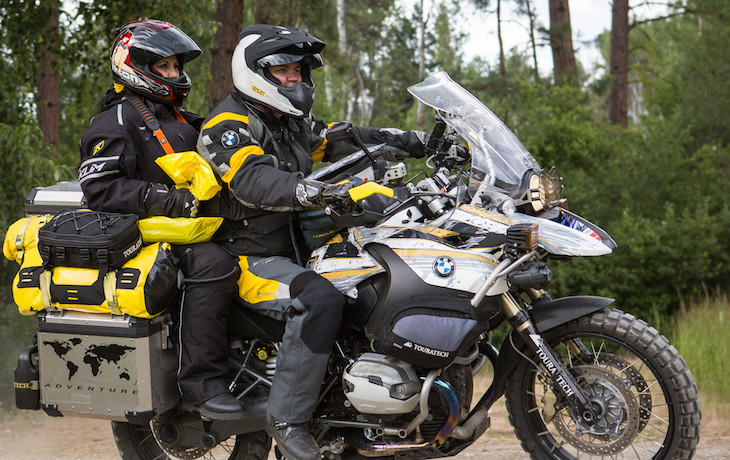 • Armor-up.
Even if you're going to be riding in extreme heat, you need to protect yourself. Some rally rides can take you through brush, branches, vicious snakes, two-toed sloth and other hazards. A Well-made, sturdy, riding jacket, gloves, pants, helmet and boots will keep your skin and skull intact. Most jackets and pants are vented and you can always cool off when you stop, so don't skimp on the armor.
• Sunscreen
Do not forget sunscreen. Ever.
• Hydration
Usually there is plenty of water available at the rally venue, but you definitely want to have hydration with you on your rides and there are some great hydration systems available for riders. Also, if you partake in any alcoholic beverages (after the days riding is done) drink plenty of water. In fact, drink more water then you think you need to. You have to be sharp when you're riding, for your safety and the safety of others.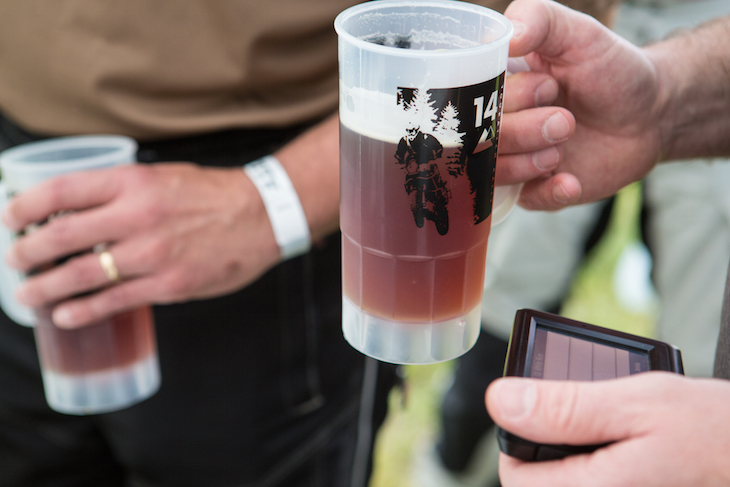 • Remember, it's summer.
When you're not riding, you want to be comfortable and relaxed so make sure you bring weather appropriate clothes for the socializing opportunities that take place at ADV rallies. Whether you're in your tent, by the fire, taking a class, having a cold one or enjoying the air conditioning in your room, relaxing between rides is important, it keeps you at your best on the trail.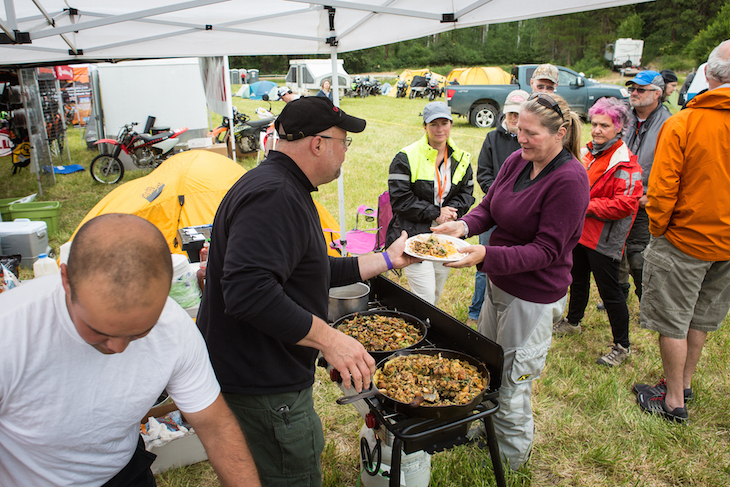 • What are you going to eat?
Many rallies have food available for purchase, some include dinner or breakfast or both in the cost of attending. There are rallies where you're responsible for your own meals and you'll need to plan appropriately. Some riders will get to the venue, set-up camp and then ride to the nearest store and load their panniers with foodstuffs. It's good to keep in mind that if you're going on any extended distance rides, you'll want protein for energy: nuts, trail mix, bars, fruit, etc.
Okay, now you're ready for a few days of riding, socializing and hanging out in the warm summer sun, but you're motorcycle needs some attention
• Your ride
Adventure bikes come in many shapes and sizes and chances are, if you're reading this you already own one. But if you don't, remember that a motorcycle is a personal thing and just because your buddy rides something doesn't mean that's the bike for you. Some bikes are built with better road performance in mind, while others are geared towards off-road performance. Some bikes do everything pretty good, but nothing great and others don't. Ride your ride and you'll be happy with your choice.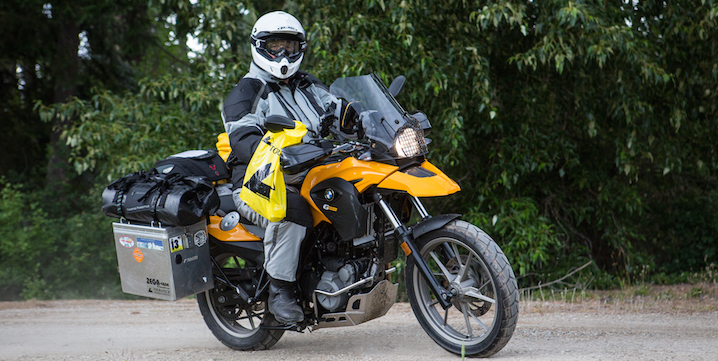 • Tires are the ticket
If you're at an adventure rally, the performance you need is not going to be found in those Bridgstones. You really want to put some dual-sport rubber on your bike. Continental Tires TKC-70's or TKC 80's are favorites of the staffers at Touratech-USA. They give you great road traction and are terrific on gravel roads and more challenging off-road terrain.
You also want to make sure you have a tire repair kit…Just in case.
• Armor up part 2
Dual-sport bikes are made to withstand the rigors of the backcountry, but sturdy engineering doesn't necessarily mean the motorcycle is ready for the obstacles that you may encounter while on an adventure ride. A skid plate and crash bars can instantly make your bike much more prepared for the road less traveled.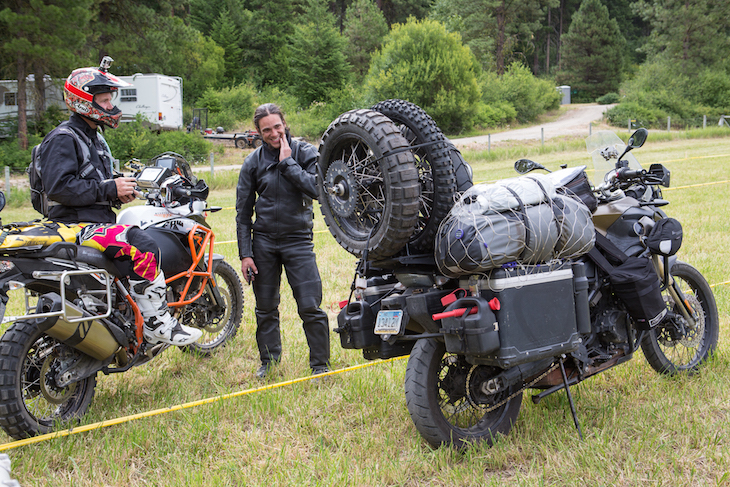 • Pack it up
If you're riding to an adventure rally obviously you need to get your gear there. Camping equipment, tools, clothes, food, frisbie and anything else you need have to make the trip. How do they get there? Panniers: The motorcycle version of the cargo bay. There are a lot of motorcycle luggage choices out there, but Touratech's Zega Pro and Zega Mundo pannier systems are the standard. Durable, waterproof and dust proof these boxes are used by world travellers and weekend warriors across the globe.
Dry bags are another staple of the adventure rider. Most roll open and closed and buckle to lock shut. They come in different sizes and are easy to strap to the bike of the bike. Touratech has its own tough line of Adventure Dry Bags.
• Watch your digits
Catching a rock or tree limb across the fingers, knuckles or hand can make a good ride a painful experience pretty quickly. Hopefully you're wearing some appropriate gloves while riding, but for added hand protection, hand guards with spoilers will do the job of keeping you ready for playing your guitar while shielding your levers in case you drop the bike.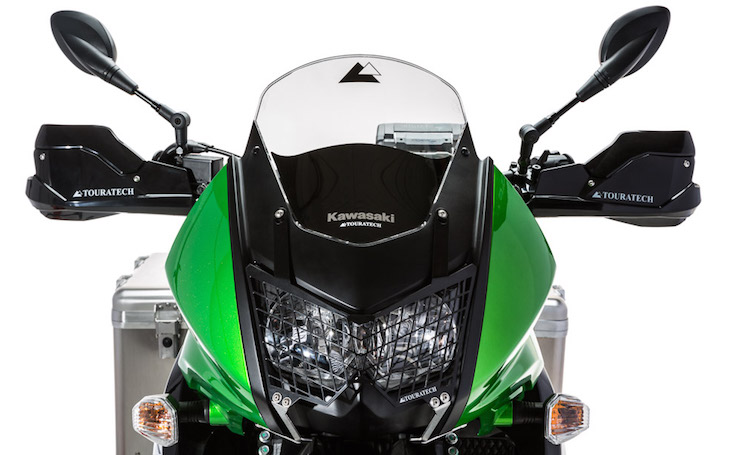 • Light it up
When you're off road and riding with a group on occasion rocks get kicked up. Even the smallest pebble shot from beneath the spinning tire of a motorcycle can take out a headlight and nobody wants that to happen. Most headlight guards are easy to install and they'll definitely save you time and money, if not at your first rally, sometime down the road. Literally.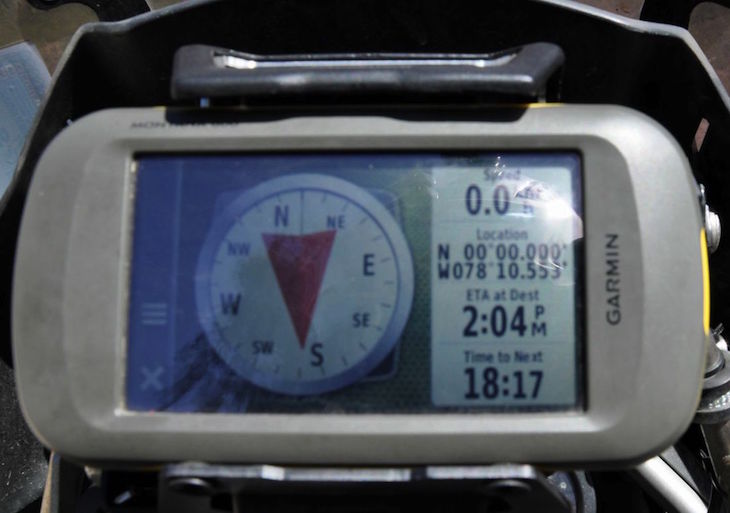 • Hey, where am I?
Many adventure rallies provide GPS tracks. These are riding routes that do not (most of the time) use roads. You have to follow the route shown on the GPS screen correctly to get where you're trying to go. It is not as easy as it sounds! Your motorcycle should have a good GPS unit and a mount for it. The Garmin Montana and Zumo 590LM are favorites!
General Tips:
Show up ready to ride
Ask questions
Challenge yourself
Ride the rides you feel comfortable with
Don't worry about "keeping up" with your friends
Take in the speakers and classes
Ride safely
Expect to have a great time!