This is the seventh post in a series that will follow Matt and Brayde Willson's motorcycle journey from Seattle to Tierra del Fuego over 120 days.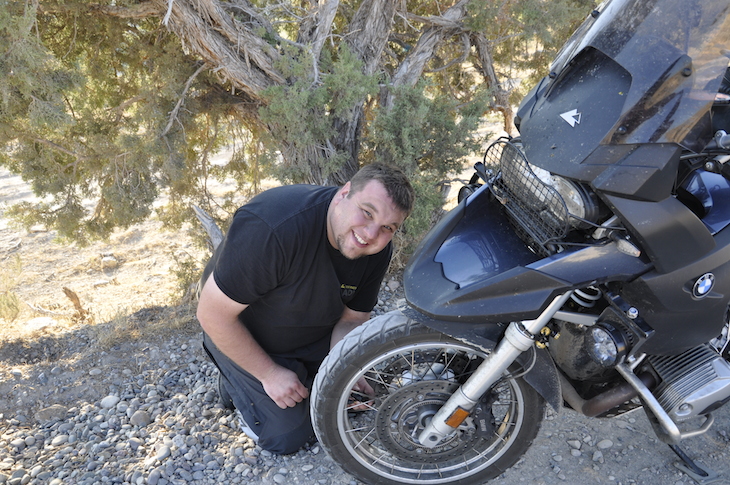 The boy scout in me really enjoyed this part of the trip prep and planning process: Building a tool kit that would get both our bikes through four months on the road in South America.
We already have a great set of tools we've carried on our other trips, but I realized that riding this many miles, we have to consider that we will be performing regular bike maintenance along the way, not just roadside repairs. My normal Cruz Tools roll, with a few additions isn't going to cut it. Our trip will include oil and filter changes, valve adjustments, and other tasks. I'm going to need more tools. Better tools.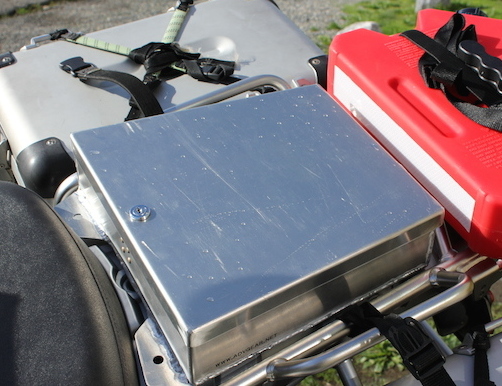 Photo courtesy of Craftsman Tools.
First thing I did was dump out all the contents of my usual tool roll onto the workbench and start picking out the tools I like using, noting any tools that were missing or could be better. After doing an oil change, tire change, and a bunch of other pre-trip services, I set aside the tools I used and had a pretty comprehensive list. It was time to get out the credit card, hit up the Craftsman website, and shop some local hardware stores. You can see my–almost–final tool and spares list below.
Before anyone makes any comments: Yes, my tool kit is overkill for most trips. I realize that, but I didn't want to have to do a valve adjustment in a hotel lobby in Cusco with a Leatherman and a set of spanners. Having tools that are nice and easy to use will keep me from putting off the necessary maintenance and repair that will get our bikes through the whole trip.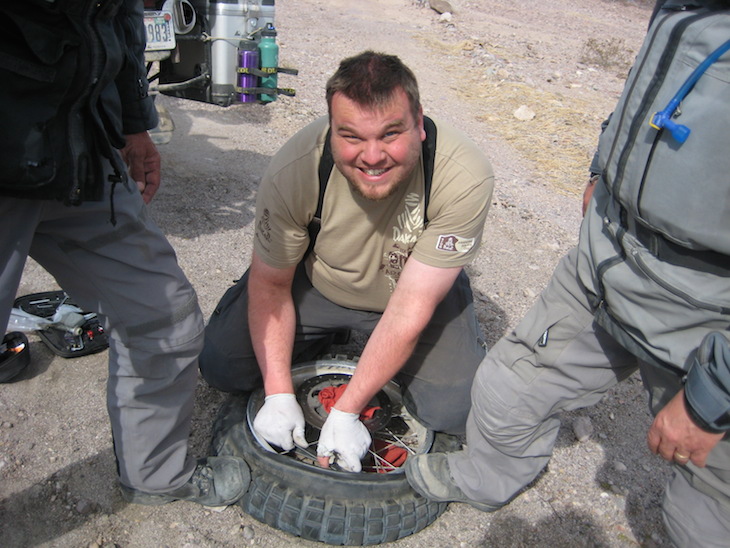 Next, I wanted to dedicate a space on my bike for tools, and only tools. Normally this is a pouch or roll at the bottom of one of my panniers, but in this case, I wanted to do something special. My friend Dave from ADV Gear offered to weld me up a one-off, aluminum tool box that clipped in place of my passenger seat. He made it the same height as my fuel cell so that I can still strap a dry bag on top of it and keep a low profile. It turned out perfect, and he even installed a lock that matches my Touratech panniers.
"I didn't want to have to do a valve adjustment in a hotel lobby in Cusco with a Leatherman and a set of spanners."
Unfortunately, none of my tool rolls or bags would fit in the box, and I didn't want my tools to rattle around loose inside the box. This would cause noise, damage, and disorder. I wanted my tools organized so that I could always know where the 10mm wrench or T30 torx bit was. Brayde's mom happens to be very good at sewing and has made some really nice bags for Brayde in the past. For my birthday, she offered to make me a custom tool bag with loops and pockets for all my tools that would fit exactly in my new tool box. Awesome!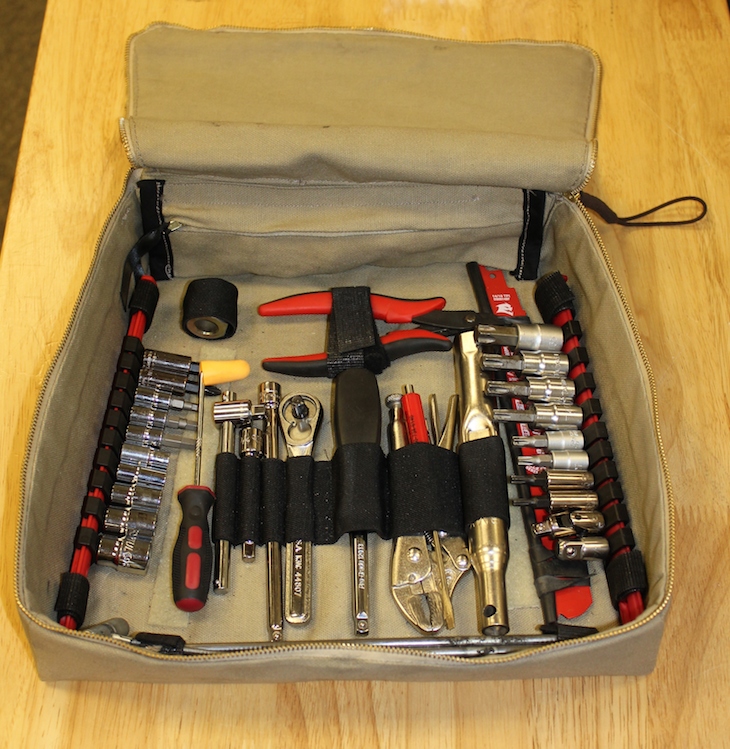 After a fun weekend of canvas material shopping and lots of measurements, what she came up with was far beyond my expectations. Now I have something I've always wanted on my motorcycle: my own custom tool bag, for my custom tool box, for my custom tool kit. I've been using it to perform daily work in the garage and finding a few things here and there to add and subtract. All-in-all, I'm pretty confident I'll have just about everything I'll need for this trip.
Some photos of the finished product: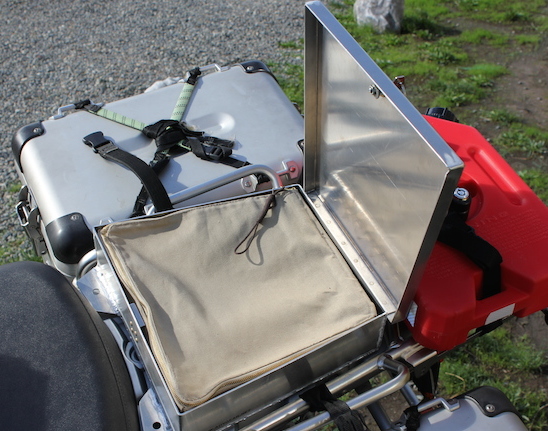 Above: Custom toolbox closed (left) and open with custom tool bag inside (right).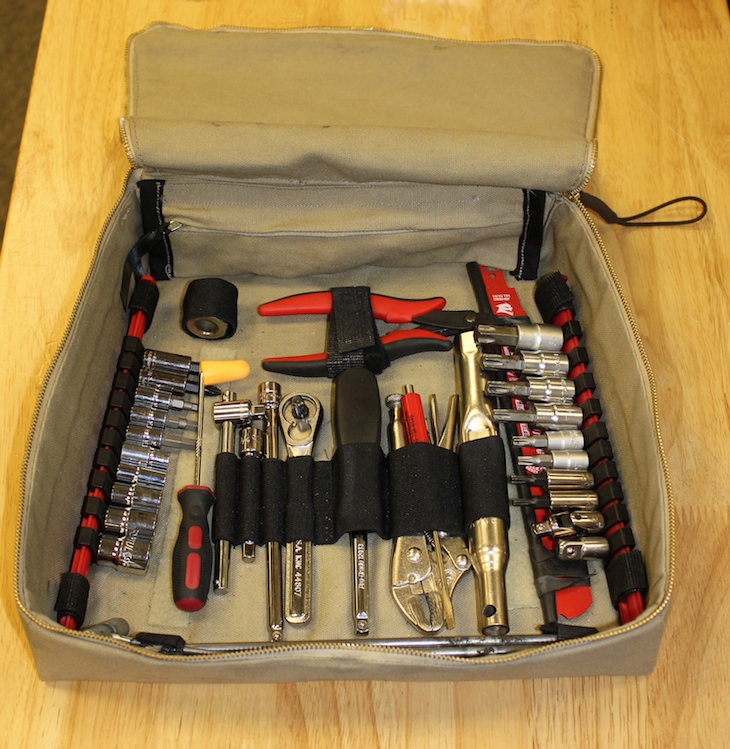 Above: Bag open with top layer for wrenches (left). Top layer (center). Bottom of tool bag (right).
Tool List:
Combination Wrenches: 7, 8, 10, 11, 12, 13, 17/24mm
Allen Keys: 2.5, 3, 4, 5, 6, 8mm
Torx Keys: T20,25,27,30,45,50
1/4″ Drive Hex bits: 4,5,6mm
1/4″ Drive Torx bits: T20,25,27,30,40,45,50,55, E8
1/4″ Drive Sockets: 8,10,12,13mm
1/4″ Drive Screwdriver bits
1/4″ Drive Ratchet
1/4″ Drive Slide Bar
1/4″ Screwdriver Handle
1/4″ UV Joint
1/4″ Extensions: 3″, 6″
8″ Adjustable Wrench
Tire Levers
Small File
Hacksaw Blade
Small Punch
Small flat blade screwdriver w/ magnet
Small Pick
Side Cutters
Small vise grips
Small ruler
Metric Taps: M6, M8
Screw Extractor
Feeler Gauges for R1200GS valves
Spark Plug Socket
CO2 inflator
Bic Lighter
Leatherman Multi-tool
All the tools in the world won't do you much good if you don't have the spare parts and materials to work with. Here is a list of some of the spares that we'll be carrying with us during our trip.
Some Spare Parts, etc.
Inner Tubes
Zip Ties
Fuses
WD-40
Liquid Gasket
Jumper wire
R1200GS Alternator belt
Common metric nuts & bolts
Duct Tape
Electrical tape
Oil Filters
Chain lube
Drive chain clip-style masterlinks & short section of chain
Safety Wire
Tent pole repair sleeve
Silicone sealant
Skid Plate rubber mounts
Pannier mount spare parts
F650GS water pump seals, impeller
R1200GS fuel pump circuit board bypass cable
About the authors: Matt Willson is the product line manager at Touratech-USA. He's been with the company for 5 years and has been riding motorcycles longer then he can remember. Matt's wife, Brayde spent her life around motorcycles and the two have been riding together as long as they've been together. Brayde rides a 2007 BMW F650GS and Matt rides a 2006 BMW R1200GS