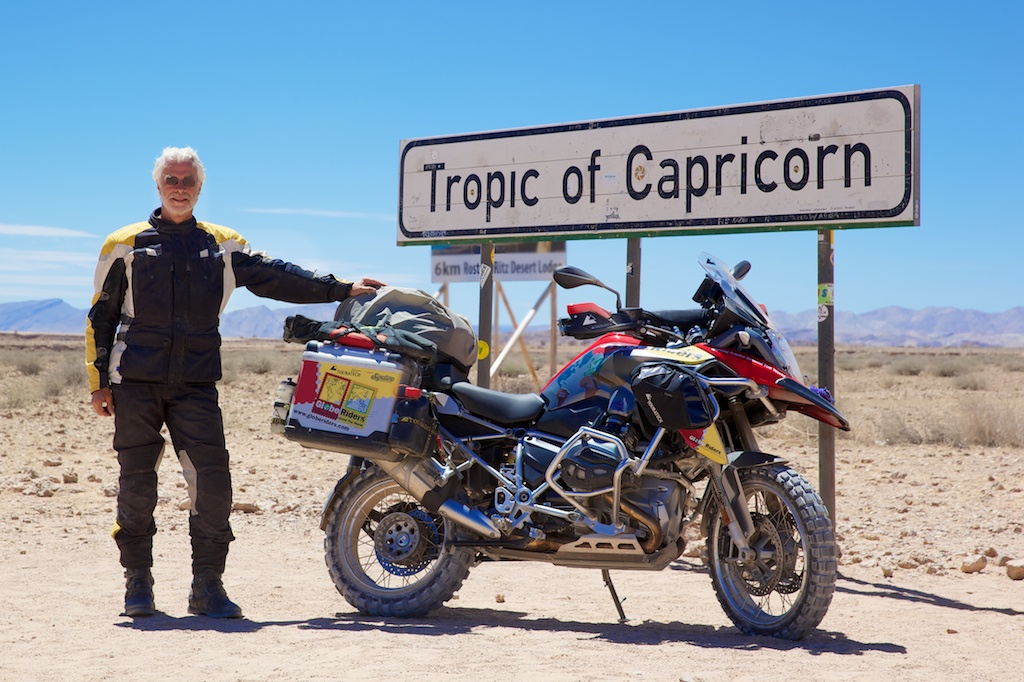 Greetings from the back roads of Namibia, Africa!
I almost felt guilty when I talked to my wife over Skype the other day, telling her about the heat and the wonderful experiences we were having on this GlobeRiders Africa Adventure 2013. Her report on the Seattle weather was as expected on a late November day, rain and cold, same as the week before.
We have had an exceptionally good journey here in Africa so far. The group is great and the bikes have behaved very well. We have had cultural and nature experiences that have been outstanding, with the Okavango Delta in Botswana as a highlight of the journey. You can read more about this on the GlobeRiders journal web page by clicking here.
What I really wanted to write about here is my newfound love, the water-cooled BMW R1200GS. It is a wonderful bike that just gets better as I get to know her. She is by no means the ideal Adventure motorcycle, that bike is due next year and I already have my name on one. I am talking about the Adventure version of the BMW R1200GS, due to arrive in the US in early 2014.
But with two Africa adventures back to back I needed to ship a bike to Cape Town, South Africa, in July 2013. I could have sent my oil-cooled BMW R1200GS-A, but with the opportunity to ride and learn about the new liquid cooled GS, I could not pass on such a chance. The plan is to make another Instructional DVD about this bike, but before sharing our experiences with you, the experiences have to be, well, experienced.
Outfitted with the newly designed Touratech extra long Expedition Skid Plate to protect the belly of the bike I felt confident that the bike would take a beating and suffer no damage. The test came a couple of days ago when I took a select few riders from the group on the rather technical ride through Rhino Road here in Namibia. The only damage I had on my bike was a dent in my header pipe from one of the many rocks that challenged our riding capabilities.
To be able to go the long distances between gasoline stops, I have outfitted the bike with 2 x 3 liters of ancillary tanks mounted on front of the Zega Pro panniers and one 2 liter gasoline can plus two water bottles on the back of the panniers. With this I have been able to travel distances close to what my traveling companions on their big GSA bikes can do on one tank of gasoline. Yes, I have discovered that the new water-cooled bike does use less gasoline, as claimed by BMW, when compared to the oil cooled GS.
I mentioned the Zega Pro panniers and I would like to add that I use the smallest version and the reasoning is that I force myself to bring less stuff by restricting storage room. I already carry way too much camera gear so I need all the help I can get to limit further weight gain.
As a 6'2" tall fellow with an inseam of about 32" I feel that the bike is too low to the ground for me. On my GSA I have the tall Touratech seat and the bike feels perfect, not so on the liquid cooled GS. This might be very good news to many people that need all the help they can get reaching the ground, and for that reason will find the GS a great alternative to the forthcoming GS Adventure.
Earlier on the journey in Lesotho I was riding pretty fast on a rocky road when I put a dent in my front rim resulting in a flat tire. My TKC80 tire had a chunk of rubber removed where it is supposed to seal up against the rim and for that reason I needed to put in an inner tube to be able to continue the journey.
The bent rim itself is not a problem per something that I discovered when I put on a fresh TKC80 tire and there has been no leakage. However one spoke is loose and I do not feel like tightening it as it looks like the rim has developed a crack where the spoke is mounted. I need to have this evaluated by BMW before I head out on next year's journey that starts in Cape Town, South Africa and ends in Paris, France, four months later.
In other words, I see this first 37 day journey through southern Africa to have been a brake in test riding, in preparations for the big Cape to Paris Ride come January 2014.
Yes I wished that I had a water-cooled GS Adventure for these journeys, but the pure GS model has been a great teaser of what is to come. As mentioned previously, the GS might just be the key for those of you that are struggling with seat heights. As I have done on this journey, you can always attach extra gasoline cans if that is needed on your journeys.
Thanks so much to Touratech-USA for all of your support and for developing all the great protective hardware for the new water-cooled GS. Fortunately I have not yet had the pleasure of testing the crash bars and I hope I never need to either. Having protection around the radiator has been another comforting upgrade.
Time to prepare for another long ride on some excellent gravel and sand roads here in Namibia, riding to the Fish River Canyon tomorrow.
Ride Far – Ride Safe!
Greetings from Sossusvlei, Namibia.
Helge Pedersen, Founder, GlobeRiders Motorcycle Adventures