The team at Touratech-USA is loving the new water-cooled R1200GS and has spent much of the summer riding the new water-boxer, and helping people outfit their bikes for adventure. After an assortment of adventures, the company has put together this list of essential upgrades to help people prioritize the accessories they might be considering.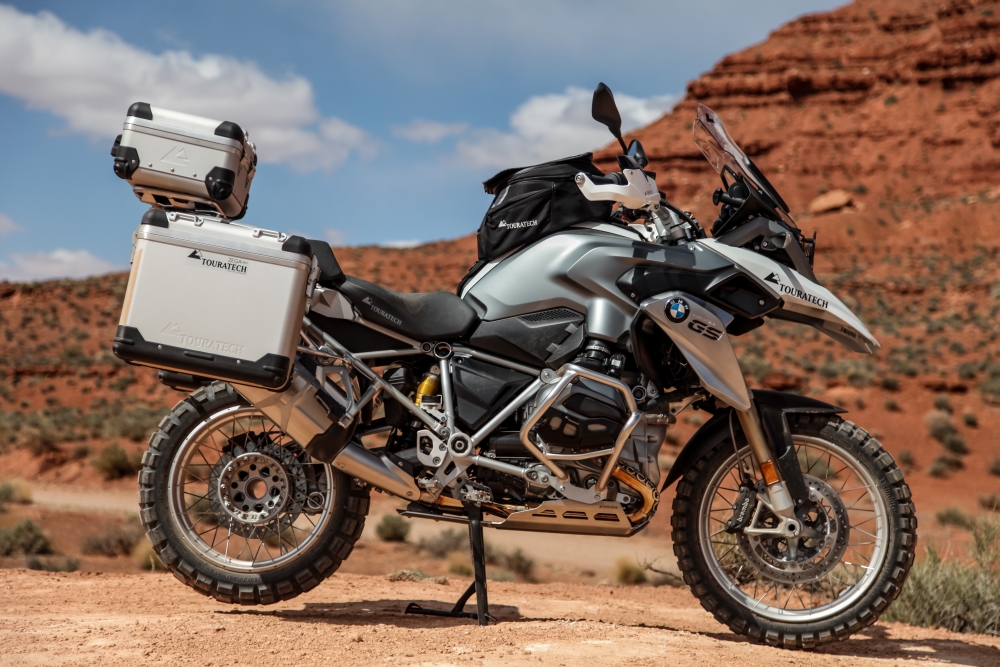 Zega Pro Pannier System: $1,342 – $1,538
The Touratech Zega Pro pannier system is the ultimate luggage solution for your BMW R1200GS. Zega Pro panniers have provided secure and dry storage for adventure riders the world over. The aluminum body and removable lid feature rugged corner protection, as well as low-profile loops that provide a flat surface to secure additional dry bags. Crafted with 1.5mm aluminum and stainless steel rivet construction, Touratech's Zega Pro panniers are available in 31, 38 and 45 liter sizes and three different finishes: bare aluminum, anodized silver and anodized black.
Expandable Touring Tankbag: $386
Don't settle for a universal fit tank bag on your BMW R1200GS that will slide around, distracting you from your riding. The unique shape of the GS's fuel tank requires a bag that fits properly. The Touratech Expandable Touring Tankbag is shaped specifically for the water-cooled BMW R1200GS with a mounting kit designed specifically for the bike.
Touratech 15mm Bar Risers: $74
Customize the fit of your BMW R1200GS with a set of Touratech bar risers. There is no substitute for a bike that fits you. When its more comfortable, it makes long trips more enjoyable.
Touratech bar risers for the R1200GS increase bar height 15mm (.6″). The lower height ensures you do not have to modify, replace, or re-route your existing brake lines or other controls like with taller risers.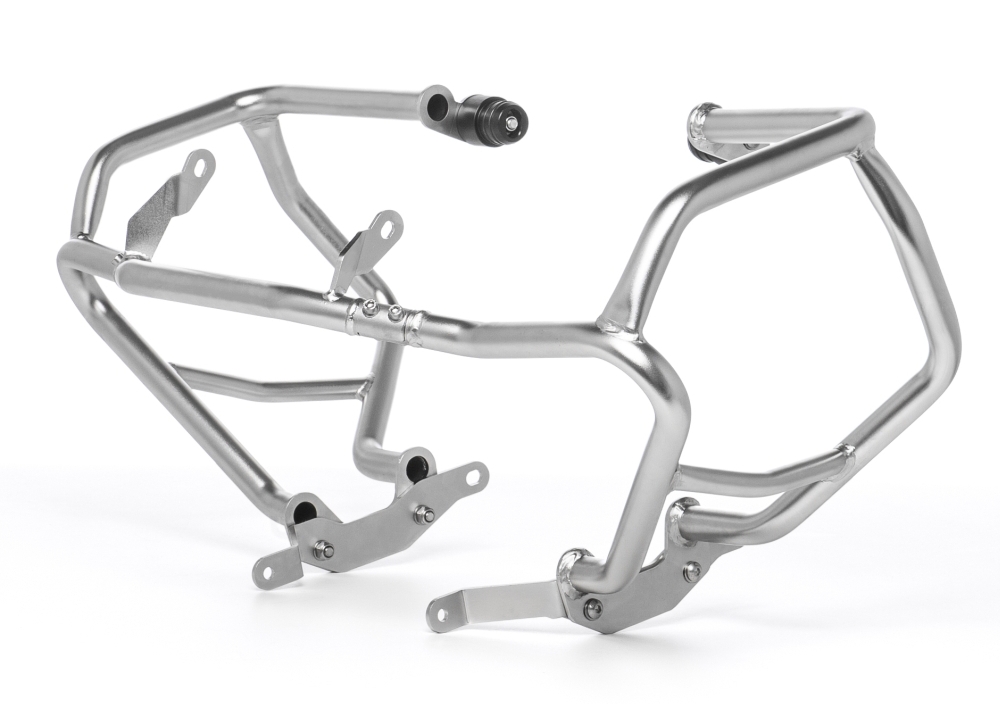 Touratech Crash Bars: $397 – $419
A parking lot tip over, gravel road drop, or even a low-side on the pavement with the R1200GS boxer engine can seriously jeopardize your trip. The valve cover and cylinder collide with the ground when the GS tips over, so crash bars are a critical piece of protection. Touratech Crash Bars protect your engine with a stainless steel cage structure that wraps around the valve cover and cylinder of the liquid cooled R1200GS for complete coverage. Made of 1-inch diameter stainless steel tubing, these crash bars are engineered to take a beating and never let you down. In addition to offering the ultimate in protection, the stainless steel tubing follows the natural lines of the GS, accenting the distinctive look of this stylish machine.
Zega Pro Topcase System: $735 – $770
The Zega Pro Topcase is a great option for quick and secure storage for commuting or touring on your liquid cooled BMW R1200GS. With its Rapid-Trap quick release system, you'll be on the road in seconds, and have plenty of capacity for your luggage. The aluminum cases can be equipped with an optional key lock for maximum security. Available in raw aluminum, anodized black or anodized silver finishes and in both 25 and 38 liter sizes.
Quick-Release Stainless Steel Headlight Guard: $131
Don't let the lights go out on your adventure! Touratech has developed a stainless steel guard with quick-release mount that allows you to easily keep the headlight on your BMW R1200GS clean and free from damage.
Adjustable Folding Rear Brake Lever: $130
There's nothing worse than stepping for the rear brake and having it in the wrong place. Many riders find the brake pedal too low and hard to reach while standing. This folding rear brake lever from Touratech lets you adjust the height and forward position of the brake pedal on your BMW R1200GS, while adding the extra protection of a folding tip.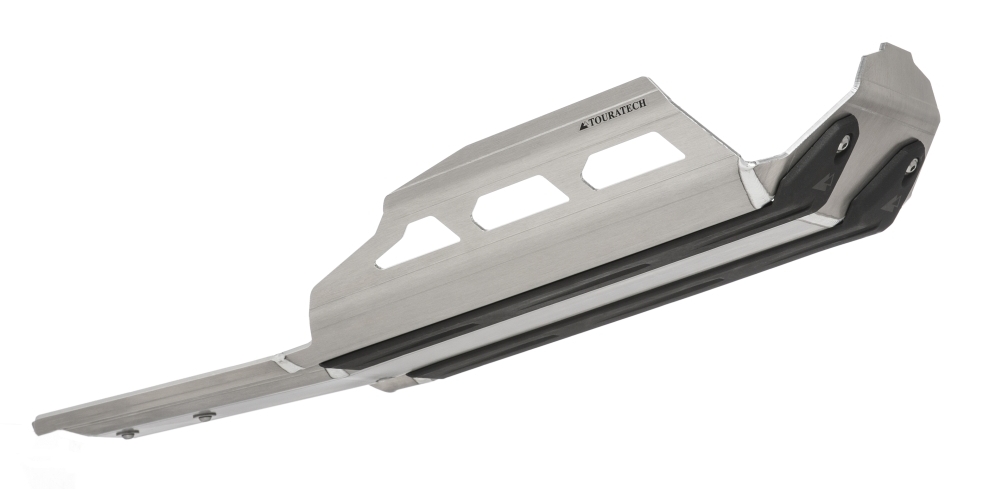 Expedition Skid Plates: $375 – $450
Finally, an R1200GS skid plate built to withstand the rigors of a serious adventure. Touratech's Expedition Skid Plate offers an ultra strong stainless steel sub-mount, 4mm thick aluminum construction with corrugated channels for extra strength, replaceable polyamide nylon sliders, low profile design, and completely uninterrupted coverage from the front of the engine to the rear wheel. The heavy gauge stainless steel mounting plate absorbs impact while supporting the oversized 4mm contoured skid plate which has integrated polyamid nylon rails that absorb impact, protect bolt heads and provide a sliding surface for overcoming obstacles. Touratech's Expedition Skid Plate is available in two sizes:
Touratech Large Sidestand Foot: $41
Touratech's Large Sidestand Foot stabilizes your BMW R1200GS when parked in grass, gravel, mud or forest soil. The increased surface area of the Touratech Sidestand Foot dramatically improves the stability of the R1200GS, making your off-the-beaten-path parking much easier.
Touratech Works Footpegs: $196
These "Works" foot pegs were designed specifically for the needs of long distance touring and off-road riding on your BMW GS. The serrated claw design of the peg has plenty of grip for off-road riding, but the teeth are rounded on top so they won't tear up your nice touring boots. The 52mm (2 inch) wide peg offers tons of stability when standing on up on the pegs, and support when sitting down on the street. The open design of the pegs allow clay, mud, and rocks to fall through, keeping your traction no matter what the weather or terrain. You'll never need to worry about slipping off your BMW's pegs when they're wet or muddy.
Click HERE to see Touratech's complete line of accessories for the 2013 R1200GS.