Having ridden nearly every adventure bike on the market, both on and off-road, Guillien is able to provide a unique perspective on BMW's updated F800GS. "I've spent the bulk of my time adventure riding on this motorcycle," said Guillien, "I've logged about 10,000 miles, half of which were off-road on a 2009 F800GS and I am really excited to test the new 2013 F800GS."
"The F800GS was the first mid-weight adventure motorcycle," says Guillien. "Prior to its arrival, your only options were 650 singles and 1200cc twin cylinder bikes, but this was the first parallel twin 800cc motorcycle on the market and really created a new category." The benefit of a mid-weight motorcycle, Guillien says, "is that you still have really good power but the bike is a lot easier to manage, it's easier to turn around and it's a lot easier to get off of the sidestand, which makes it a really good fit for a lot of people."
For 2013, BMW Motorrad added a handful of new features to the F800GS, one of them is their ESA suspension system. "They've added damping in the rear shock," said Guillien, "there's nothing in place in the front fork, but the rear has three different settings for damping – there's a normal mode, a comfort mode and a sport mode, which you use for off-road or aggressive riding."
One of the other new features on the 2013 F800GS is a traction control system. "There's a switch that allows you to turn the traction control on and off. When you leave it on it basically cuts the ignition whenever the rear tire is spinning, which keeps the tire from rotating when you don't want it to and helps to keep the back of the motorcycle behind you," said Guillien.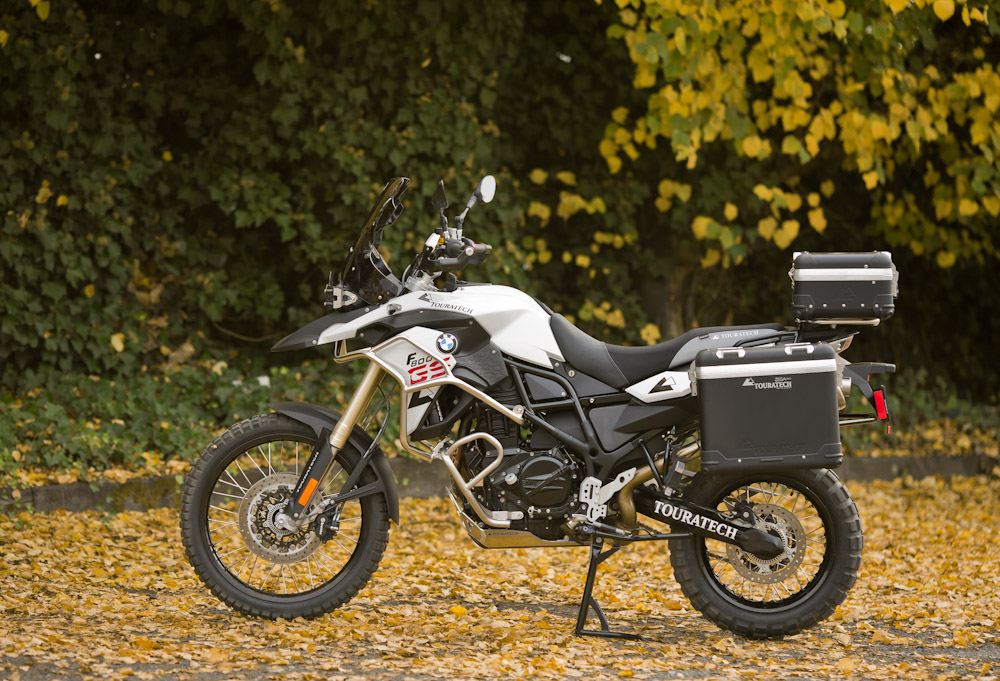 Because the F800GS has long -travel suspension, one of the features Guillien feels makes the F800GS such a great bike off-road, some people, however, feel that it's a little too tall. So for 2013 BMW is offering a lowered version of the F800GS, which, according to Guillien "is great because it allows more people to have both feet on the ground and be comfortable." However, if you have an F800GS that is older than 2013, Touratech offers a lowering kit which decreases the seat height of the older model bikes.
"One of my favorite features of the F800GS is the transmission," said Guillien. "It's got a really quick shifting, dirt bike feel to the six-speed gearbox, and I was relieved when I rode the 2013 model and found that they hadn't changed that."
Another feature found on the F800GS that Guillien feels is essential for off-road riding and adventure touring is the 21" front wheel. "For me it's a lot more fun to ride off-road," Guillien said, "because you can go a little faster, you can go on more interesting off-road terrain, you can actually ride on Jeep trails and things with water crossings and washouts and you can just really have a lot more fun on a bike with a bigger front wheel and taller suspension."
When asked what his overall impression of the updated F800GS, Guillien replied; "I really like the 2013 bike, it retained all of the things I liked about the older model, but they improved the suspension which was my biggest complaint, so I think that BMW did a good job addressing its weaknesses; they've fixed it, they've made it a better motorcycle and it continues to be my favorite bike."
Click HERE for a look at all of the Touratech accessories available for the F800GS.