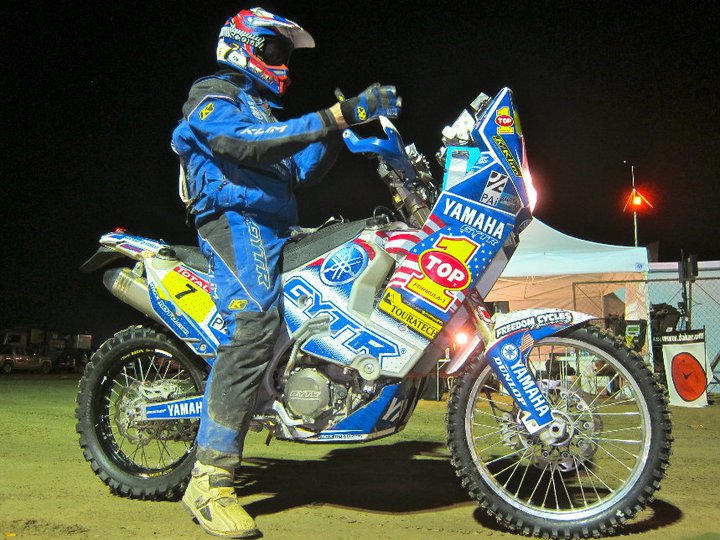 By: Paul Carruthers
American Jonah Street ended his run of bad luck in this year's Dakar Rally in style, the Yamaha rider from Washington scoring the second stage victory of his career today in stage nine to make up for two days of hard luck in stages seven and eight.
Street mastered today's stage, which saw the motorcycles leave in groups rather than one at a time, and he ended up beating Dutchman Frans Verhoeven by three minutes and 38 seconds. Sherco's David Casteu was another few seconds behind in third as non-KTM riders dominated the stage.
"I had to start in the third wave, which was good and bad; good that everyone up front new their position and were taking it easy and I got to charge through," Street said. "The second wave caught everybody in the second to last sand dunes. Then in the last dunes, I think when there were only three bikes in front of me I went over the handlebars hard, straight into the sand, totally unannounced, but I was okay. I got back up and followed them in, because I figured that I started two waves behind them so I was doing alright. Today we didn't have any bike problems, everything went really smooth, so I'm happy. It's awesome. You know what? We've been capable of it all rally, it just hasn't fallen into our plate. It's awesome, totally awesome. It's what we come here to do, to do the best we can and first is the best you can do, so to win a stage pretty special."
Although the standings were turned upside down in today's ninth stage, things didn't change much in the overall standings. Despite the fact that he finished ninth in today's stage, over seven minutes behind Street, Marc Coma only lost a minute and five seconds to his rival, Cyril Despres, in the overall standings. Despres ended up seventh and was the top KTM rider in a rally the Austrian brand has dominated.
Despres is now eight minutes and 14 seconds behind Coma in the overall standings with Francisco Lopez Contrado, 10th today, holding on to third overall.
"With the grouped start and the fog, the start of the stage and the navigation was very difficult," Coma said. "In the first group, we got lost, turning right when we shouldn't have. When we got back on track the second wave caught up with us. It was a bit of a mess. After that, a group of around 20 quick riders formed and we managed to ride the rest of the stage normally. But in the end, it was a difficult day."
Despres also had navigation issues, following early leader Helder Rodrigues and getting off course. Rodrigues' fared even worse as he ultimately ran out of gas.
"After the start, we didn't stay grouped for a long time because at the 17 km point Helder Rodrigues took a wrong direction and we all followed him," Despres said. "So, we turned round and ran straight into the second wave of starters. We were all riding in each other's dust. It was a bit of a strange stage really. For the general standings, I assumed my responsibilities, because I'm fed up of playing cat and mouse for the last few years. We'll see what this strategy produces. Now I'll have to wait for the stage in Fiambala."
American Quinn Cody ended up 22nd in today's stage, but he is still in the top 10 in the overall standings in eighth. Street, meanwhile, improved his placing in the overall standings to 14th.