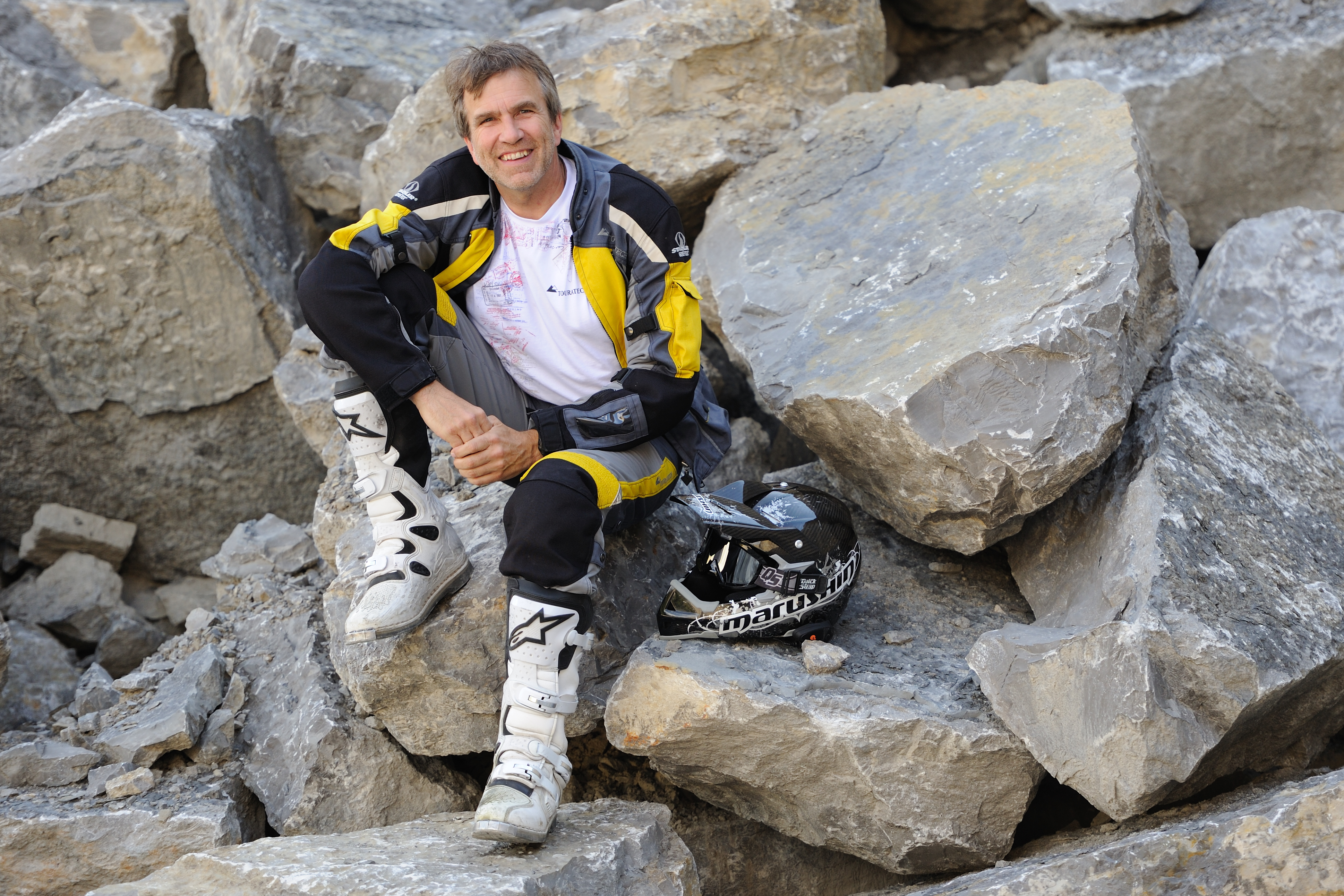 Touratech's Companero suit marks a new chapter in the evolution of textile motorcycle riding gear. The innovative Companero suit combines the benefits of a sporty summer suit with the comfort of a weatherproof membrane all-in-one.
The Summer Suit
The centerpiece of the Touratech Companero is an airy summer suit. Cordura AFT is used on the front and back of the jacket and the legs of the pants to ensure air flow over a wide area. This comfortable synthetic fiber is state-of-the-art in terms of its tear and wear-resistance properties. But still the most vulnerable areas are reinforced with a layer of Cordura 2000 the 2000 indicates a particularly tough yarn thickness. Fully equipped with CE-approved protectors, the Touratech Companero sets the standard. The large reflective panels are a passive safety feature, ensuring good visibility.
If required, the jacket and pants zip together into an all-in-one.
There are two large outer pockets on the front to hold all the things you need to access quickly on the road. There's space for your mobile phone on the upper arm. Valuables can be safely tucked away in the spacious inner pockets. A detachable back pocket provides room for the inner jacket.
The Second Layer
The second layer of the Touratech Companero can be used in colder weather or in the rain. Perfectly tailored to match the cut of the summer suit, you simply pull it on over the top. It' a smart move to empty out your pockets first and place your essential items in the pockets of this overgarment. They are spacious, easily accessible and of course waterproof! Touratech has chosen the Pro Shell three-layer laminate made by W. L. Gore. In this textile composite material, the inner lining, the climate membrane and the tough outer layer are bonded into one fabric. This means the laminate is not too bulky, doesn't bulge, and always fits nice and snugly. Of course the most important properties of the oversuit are that it is wind and waterproof. And since Pro Shell is an active material, the suit is fully breathable.
What's clever with the Touratech Companero is that the windproof, waterproof membrane forms the outer layer of the clothing system. The airy summer suit keeps an air cushion inside that acts as a thermal lining. An additional insulating layer such as fleece underwear is only needed in extremely cold weather. In wintry conditions the additional storm collar will also be greatly appreciated. As you'd expect, the jacket and trousers of the membrane suit can also be zipped together.
If you wear the laminate suit in uncertain weather conditions in spring or fall, ventilation panels under the arms and securely closeable ventilation zips provide cooling if required.
Review Video from Simon & Lisa Thomas (2RidetheWorld)
Touratech Companero details:
The Second Layer
Material: GORE-TEX Pro Shell 3-layer (CORDURA)
Mesh lining
Pockets: 2 waterproof outer pockets, 1 waterproof vertical zip pocket, 1 waterproof inner pocket
CE-approved protectors on:
Shoulders (EN 1621-1 / S, type B)1
Elbows (EN 1621-1 / E, type B)1
Back (EN 1621-2 / B, level 2) 1
The Summer Suit
Material: CORDURA 500, CORDURA AFT, CORDURA 2000, mesh lining
Pockets: 2 outer pockets, 1 inner pocket, 1 mobile phone pocket on forearm, 1 pocket for sunglasses on upper arm, 1 detachable back pocket that can also be used to store the membrane outer jacket