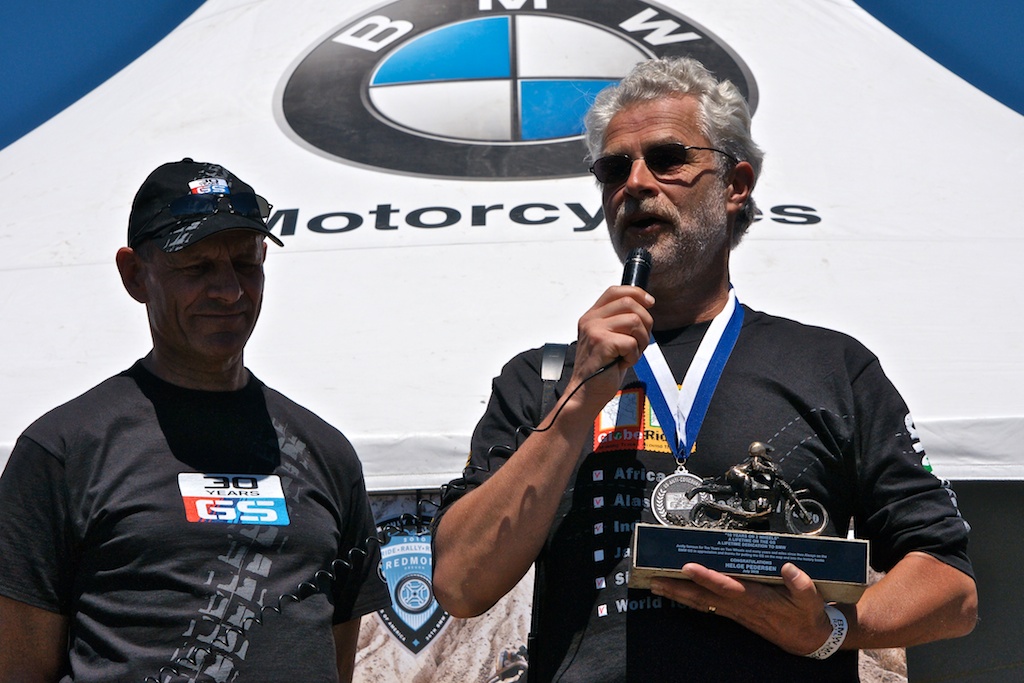 Helge accepting the award from Pieter de Waal, BMW Motorrad USA Vice President.
Touratech-sponsored adventure motorcyclist Helge Pedersen was awarded the 30 Years of GS Lifetime Achievement award in recognition of the contributions he has made to the world of GS and world travel by motorcycle during this year's BMWMOA International Rally in Redmond Oregon.
"It was a great surprise and a honor to receive this award from BMW as we all celebrate 30 years Anniversary of the BMW GS model. Having ridden the GS since it first came available I have been very fortunate to be a member of this exclusive club of world traveling GS riders. The BMW GS is the best bike for this kind of adventure motorcycling and here is for 30 more years with the GS."
– Helge Pedersen, Author, 10 Years on 2 Wheels, Founder, Globeriders
Photojournalist Helge Pedersen is the author of 10 Years on 2 Wheels, which chronicles an amazing journey riding 250,000 miles by motorcycle through 77 countries. Documenting his travels, Pedersen's photographic passion celebrates the diversity of life on earth, focusing on human culture, wildlife and scenic vistas. His photo-essays have appeared worldwide in dozens of motorcycle and outdoor-enthusiast magazines, as well as publications such as National Geographic, TIME and The New York Times. In 1998, Pedersen began sharing his experiences with others and founded GlobeRiders. GlobeRiders specializes in long-duration, adventure motorcycle travel throughout parts of the world neither easily accessible nor commonly visited.
"We're so happy to see Helge receive the 30 Years of GS Lifetime Achievement Award. It's great to see him recognized for all he has done to inspire regular people to explore the world on two wheels. We couldn't be happier for him."
-Paul Guillien, GM, Touratech-USA