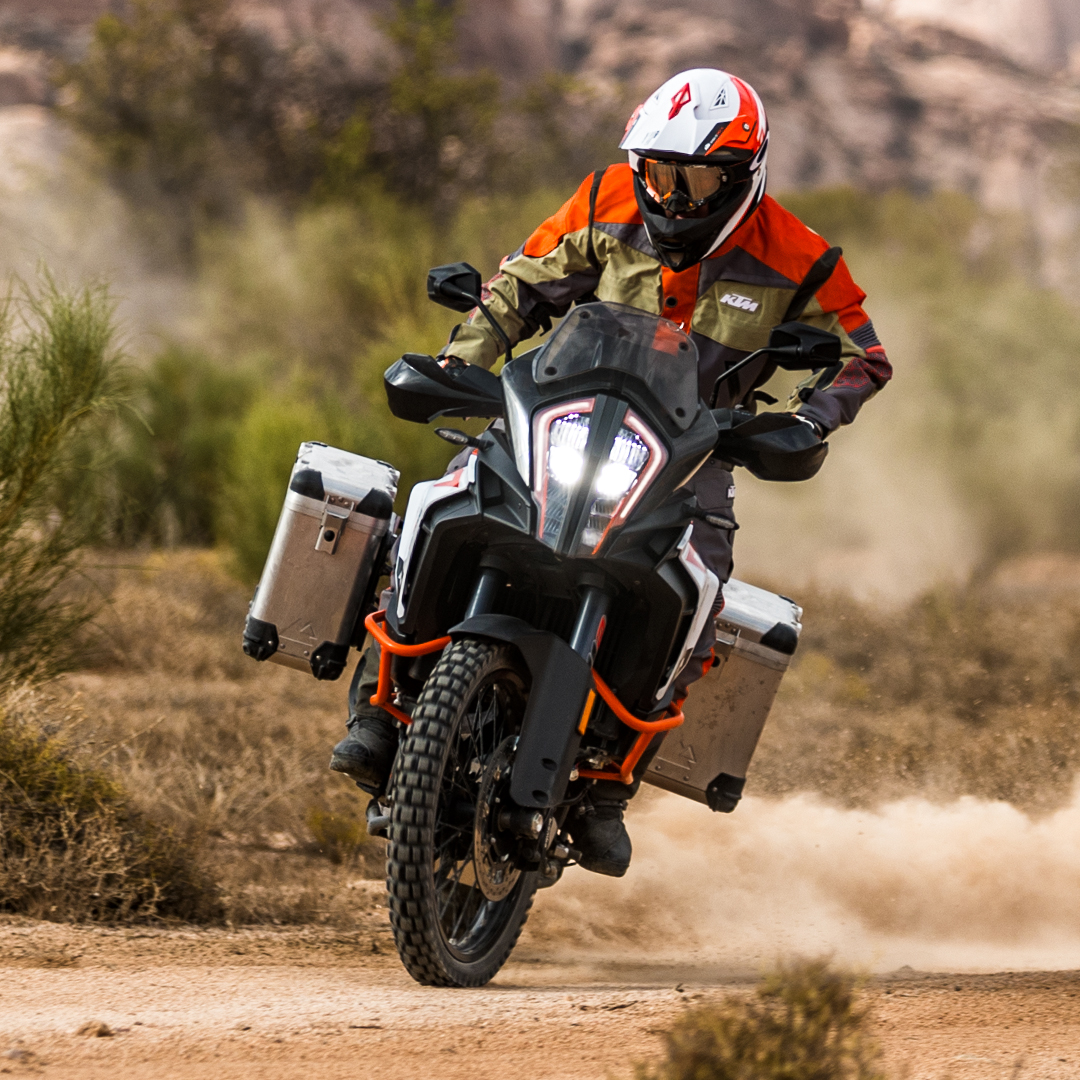 The KTM Adventure Rally in Park City, Utah is this weekend and 2 of Touratech's Adventure Experts are heading down to work in the Touratech booth. When they aren't in the booth Iain and Eric will be participating in the KTM Ultimate Race Qualifier. The qualifier gives riders a chance to participate in the 'Ultimate Race' in Merzouga, Morocco in April 2019. Our guys are both experienced, expert riders and we're hoping they get it done down there!
KTM's Quinn Cody sent the following information on the qualifier and it sounds like it's going to be quite the challenge:
You have signed on for a chance to qualify for the KTM Ultimate Race to be held at the Merzouga Rally in Morocco, April 2019. The two best qualifying riders from the six KTM ADVENTURE Rallies around the world will be given the opportunity to race the KTM Ultimate Race at Merzouga. The Merzouga rally is no joke – soft sand, rough rocky tracks and long hot days will await you. To select the two best riders to compete on behalf of the USA, we have designed a qualifying competition that will challenge not just your riding ability but your physical endurance, mechanical ability, decision making, and mental toughness.
Let me start by saying this will be no walk in the park. If you are not properly prepared you will struggle to finish. The loops and special test I have set up will be very challenging even for the best riders. Below I have outlined all the information needed to be successful at the qualifier at our Park City, Utah KTM ADVENTURE Rider Rally.
Competition Format:
The KTM Ultimate Race Qualifier is most of all a GPS navigation rally. You will be required to navigate to designated waypoints using your GPS unit, a provided GPS file, and a route book. This is not a race and speed will not help you, speeding on public roads will NOT be tolerated! There will be a very lax time limit, and honestly, if you cannot finish within the time limit, you can forget about Merzouga. Riders will not be following a typical GPS track, but rather chasing a series of breadcrumbs linked together by a string line. The string line will loosely follow the route, but it will require some awareness and forethought to choose the correct road or trail.
Along the route are a series of waypoints, at each waypoint, you must stop, take a photo of your motorcycle with the competition number showing and post it to Instagram using #KTMULTIMATERACE #KTMADVENTURERALLY, #KTMADVENTURE, #benlochranch and #wheelhaus. These hashtags will be used for scoring purposes so don't forget to hashtag and post! Many of the areas will have no cell service, so you may need to save your photos and post them when you can, all photos must be uploaded by the closing time each day. Each waypoint will have a different point value listed in your route book, all waypoints are optional, and many of them are on out-and-back trails and are very easy to bypass. You will need to use good judgment to decide if it is worth expending the energy or risking damage to your bike to reach a waypoint.
Riders will compete in one timed Enduro test, and one timed wheel change competition on a provided KTM 1290 SUPER ADVENTURE R. Points will be totaled at the end of each day; only the top 10 riders will advance to Day Two. Total combined points over the two days will determine the overall standings.
This format will reward riders who are well prepared, experienced in GPS navigation, and above all in good physical condition.
Day 1
+/- 210 miles, start time 8:00am
Day one will be a long, challenging ride that will wear you down. The riding consists of mostly pavement, rocky two track and gravel roads with a little bit of single track mixed in. You won't face anything overly technical or extreme, but it will be LONG, I expect the best riders to finish in about 7 hours with a maximum time limit of 9 hours.
Riders will start out at Deer Valley resort, on an easy transfer of nice paved and dirt roads, at mile 48 you will arrive at Benloch Ranch for the Enduro test. Each rider will get two runs on the short but very technical enduro test before continuing. Over the next 150 miles, you will cover some incredibly beautiful and challenging terrain with very technical navigation. There will be a few optional bonus sections along the route where riders can collect extra points by riding a particularly challenging section. There are options for fuel at 55 miles and 150 miles. Upon returning to the Bivouac you will be required to do a timed wheel change on a KTM 1290 SUPER ADVENTURE R, you must remove the rear wheel run around the bike carrying the wheel and re-install the wheel.
Day 2
+/-100 miles Start Time 8:00 am
If you are one of ten riders strong enough to advance to day two, I apologize in advance. Day 2 will be 100 miles of the nastiest big bike two track and single track I could find near Park City. Navigation will be extremely vague, and it will be left up to you to choose the best route between waypoints. The best riders will finish in about 6 hours with a time limit of 8 hours.
Day 2 again starts out at Deer Valley on some of the same beautiful roads as day one; this quickly changes as you begin to explore some of the steepest and highest elevation terrains in the area. Your decision making will be challenged early on as you must decide if it is worth the risk to push forward and gain bonus points or give in and collect the points that are more within reach. Your single track riding skills will be tested as you traverse some long sections of off camber trail where one slip will leave you in big bike hell, struggling to drag your bike back to the trail. All and all day two will be tough no matter how you look at it. My advice, take your time, keep moving forward and know your limits.
Tips and Info:
Preparation will be key to success, you will not finish this event if you and your bike are not properly prepared.
Carry Tools, tow strap, spare tubes, tire changing tools and air compressor; you will probably get a flat at some point.
Carry a rain jacket, the weather is constantly changing in the mountains, and it rains nearly every day.
Use good Off-road adventure tires with heavy duty tubes and at least 30psi; I run 32psi on a 1090 ADVENTURE everywhere to prevent flats.
Get to know your GPS, practice following a GPS track before coming to Park City, determine your preferred zoom level and orientation settings. Learn the menus and how to zoom in and out quickly (you will be doing this a lot).
Your GPS unit must accept a GPX file as some Zumo type units don't work well with this format. If you have a non-Garmin GPS, bring your data cable or SD card reader.
GPS files from each day will have less than 400 data points
If you are using a Phone-based GPS make sure you have solid, proven power source and mount;Rokform and Touratech mounts work well.
Recommended iPhone GPS apps are Rever, Lead Nav, Motion X and Avenza maps.
Download good base maps of the Park City area, USGS topo maps have enough detail to get youthrough. If you are using a phone GPS make sure you save the maps for offline use.
Clear all tracks from your GPS before handing it over
Wear a good hydration system with a minimum 100oz bladder
A personal locator beacon is required. SPOT, Delorme, Garmin. The Kurt Caselli Foundation willbe onsite with rental units for $30.
Sweep riders will be on course to assist you if you have a problem
Each waypoint will have a closing time, if you are having trouble making the closing times youmay be sent to the nearest paved road by sweep or checkpoint crews.
This qualifier is an induvial competition, no outside assistance is allowed except by otherregistered competitors. You can ride with another competitor and help each other, but you willbe disqualified if you ride with someone not registered in the ultimate race qualifier.
Make sure your Instagram account is public so we can see your posts. If you are new to Instagram practice using #s and posting.