By Ron Lieback
Photos by Angela Goodman
There's adventure where memories are made, and there's adventure where memories remain for a lifetime.
For ADV motorcyclists in search of a lifetime of memories, one destination needs to drop into the proverbial bucket list: Touratech Rally West, an AMA-sanctioned event held in the Pacific Northwest.
The event debuted in 2011 with barely 100 people. Back then, base camp was stationed just north of the Bavarian-themed town of Leavenworth, Wash., under the snow-capped Entiat Mountains.
By the second year, the event grew to around 150 participants, and continued this growth trend through 2016. Last year around 600 attended the event now stationed in Plain, Wash., making it the largest Adventure Riding rally in the United States.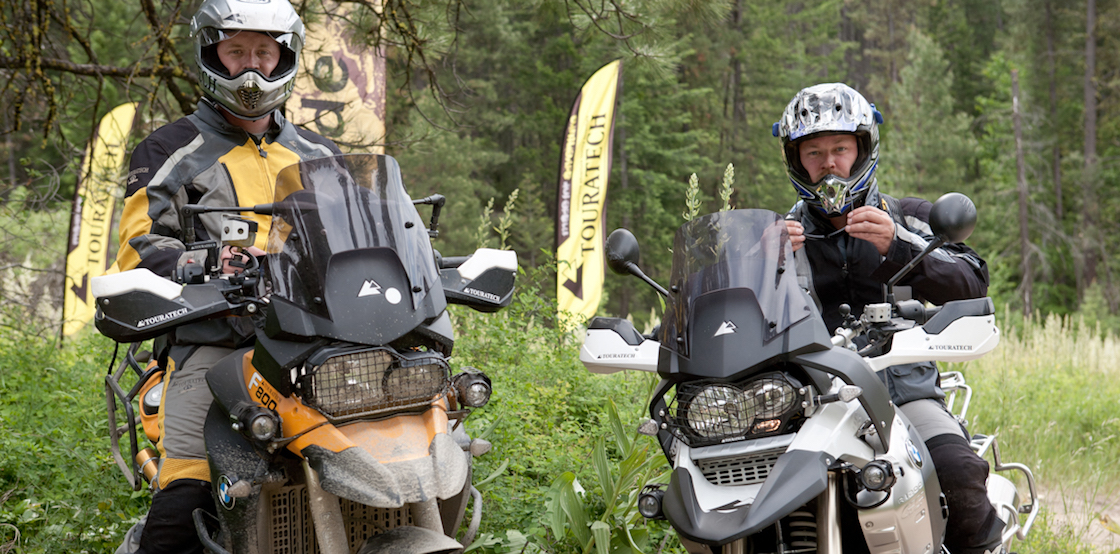 This number is expected to grow for the 2017 Touratech Rally West, which is scheduled for Thursday, June 22, through Sunday, June 25. The ADV Rally will once again be stationed in Plain, an area just outside of Chumstick, which is notorious for alleged Sasquatch sightings. So don't forget the Jif Peanut Butter and Smucker's Strawberry Jam, the two items locals use to lure in Sasquatch every April.
The 7th Annual Touratech Rally West features three nights of camping and two days of serious ADV riding. Multiple novice, intermediate and expert rides are available, led by expert ADV riders, including a few from the Touratech-USA team.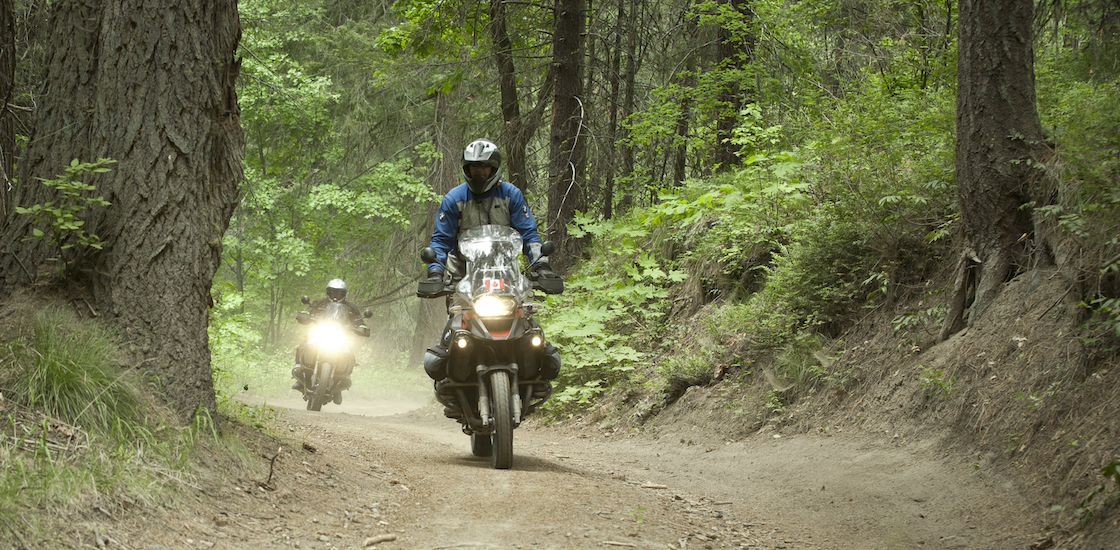 Contingent on how much snow has melted, there will be 13-15 routes available, all taking place in the Entiat Mountains northeast of Leavenworth, Wash., and the eastern foothills of the Cascade Mountain Range.
Regardless of what route you choose, the riders will experience some of the Pacific Northwest's wildest back country, highlighted by romantic landscapes of Wenatchee and Mt. Baker national forests.
One favorite ride is the trek to Lake Chelan, which offers endless views of rolling cliffs and snow-capped mountains hugging the horizon. Once pass Slide Ridge, which is comparable to riding the once unpaved sections of Pikes Peak International Hill Climb, you get a view of Lake Chelan 4,500-foot below, a lake you soon ride along.
Another gem of this ride is the sandy, zigzagging ride to Chelan Butte, which offers a 360-degree view of Washington. Chelan Butte offers spectacular views of the Columbia River, Lake Chelan and additional perspectives of the snow-capped mountains.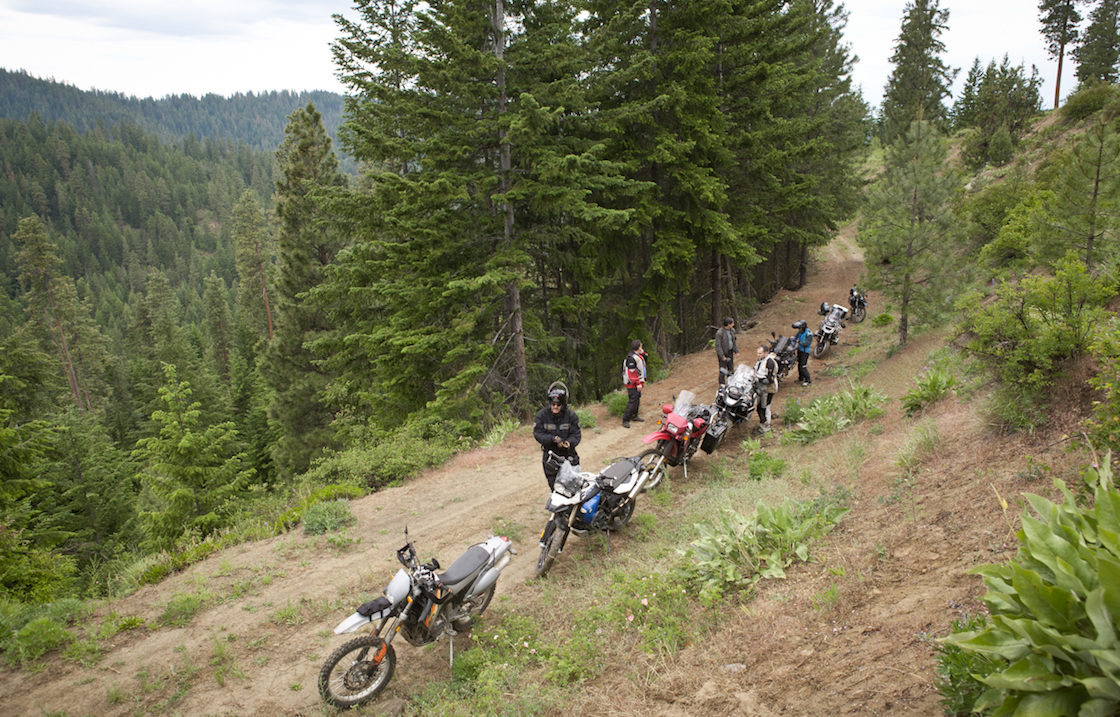 Unlike previous years, Touratech Rally West 2017 will not run in conjunction with the Northwest Overland Festival, a rally for 4WD vehicles, making the venue exclusive to just Touratech and its participants. Due to this change, more on-site motorcycle riding areas will be available for training/schools, along with additional area for tent space.
Also new for 2017 is the addition of KTM and Honda factory trucks. KTM will provide demo rides, and expect to see about 40 ADV-forward vendors on site.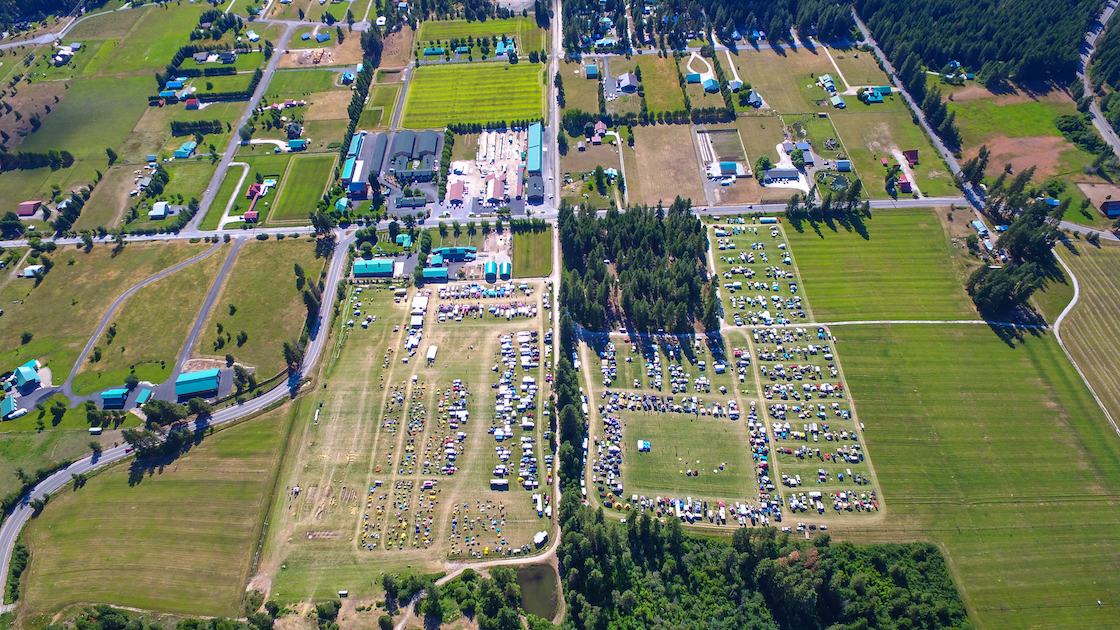 2017 Touratech Rally West, Camping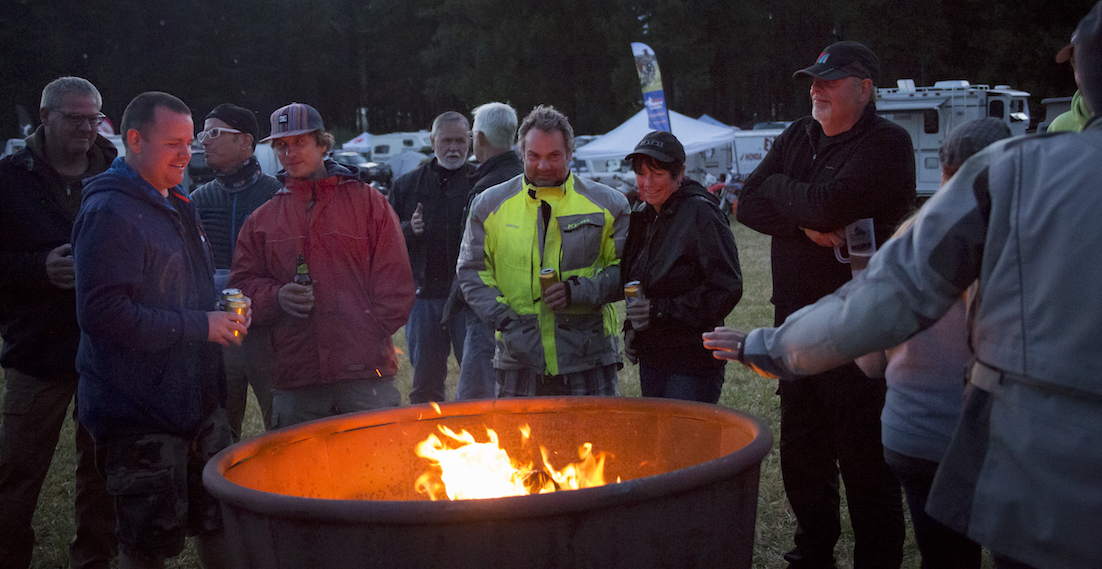 The rides are definitely the highlight of the Touratech Rally experience, but the camaraderie at the campsite is not far behind. As the event has grown yearly, many have chosen to travel far distances in RVs.
No worries; the base-camp's size has doubled to accommodate additional RVs, and allow tent campers to spread out more.
The larger grounds also can keep you away from snoring riders, or close to those who enjoy a few extra spirits and conversation late into the evening. Just remember, as a courtesy to all riders, nighttime festivities before Friday and Saturday riding have a 10 p.m. curfew.
Before the shuteye, though, it's all about having fun. This year's rally will feature a challenge course one night, and a slow-race the other, with cool prize giveaways. A DJ will be on site Saturday, and SheADV will provide a trail-cooking competition.
And of course, showers and drinking water will be available on site;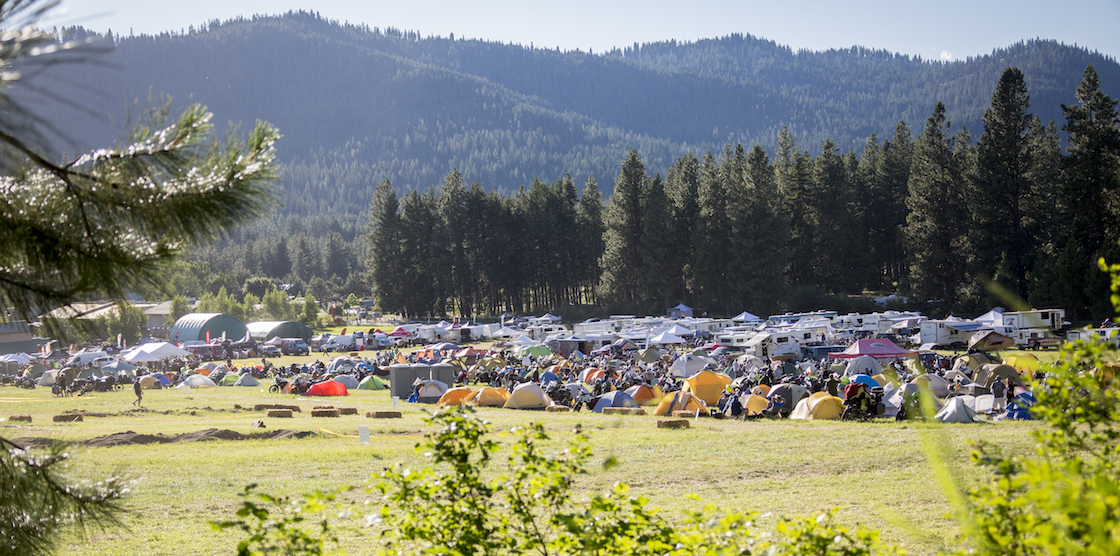 2017 Touratech Rally West, Speaking & Skill Building Opportunities
What's a an adventure rally without training? For 2017, Touratech-USA has teamed up with world-class experts for skill-building opportunities.
Three enduro/off-road training programs will be available during 2017 Touratech Rally West: Jimmy Lewis Off-Road Riding School, Dirt-First Off-Road Training, and PSSOR ADV Training.
Jimmy Lewis needs no introduction; the Baja 1000 Champion and Dakar podium finisher will offer his school's intense "Series 1" class. This class was designed to improve off-road riding skill–especially on large-displacement enduro machines, though Lewis recommends using a smaller bike for classes.
For the third-straight Touratech Rally West, the locals from Dirt-First Off-Road Training will be on site, offering a ladies-only class and various other clinics for all riders.
PSSOR ADV Training will also be present. This group has been with Touratech at nearly every Rally, and provides all-around ADV training for a range of skill levels.
Space for all three training programs is limited; reserve your spot ASAP.
Besides the training schools, Touratech Rally West will also feature speakers, including Jimmy Lewis and Helge Pedersen, the first modern ADV rider who penned "10 Years on 2 Wheels" from his travels aboard a BMW R 80 G/S in the early 1980s when traveling by two across countries was much more challenging–and dangerous–than nowadays.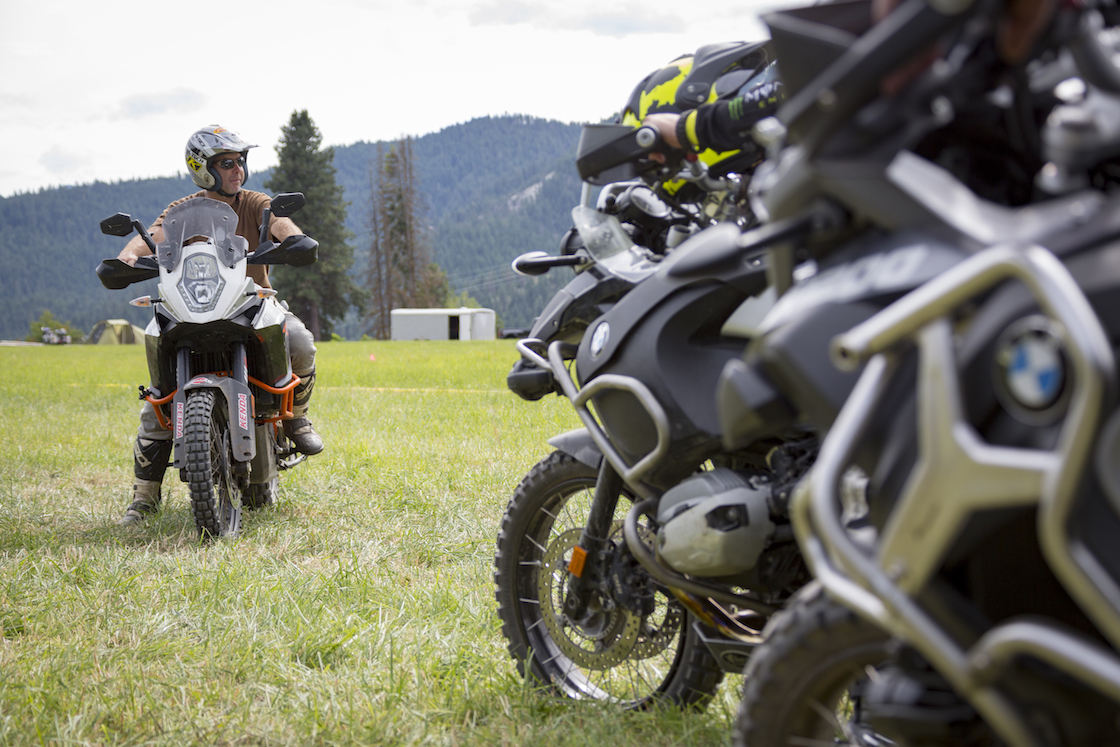 Touratech Rally West 2017: Experience it!
Touratech rallies bring together not only the love of ADV motorcycling, but the camaraderie that goes along with it. There is no skill level to attend; routes are available for every type of rider, and on-site skill training provides the perfect opportunity to bump up a skill level for next year's rally.
As long as your motorcycle is street legal, it's welcome at Touratech Rally West. Come see why this is the largest ADV rally in the USA. For additional information, visit Touratech Rally.